Drop Sug­ar cook­ies are soft, chewy, melt-in-your-mouth sug­ar cook­ie per­fec­tion! With­out even the slight­est hes­i­ta­tion, I can declare this to be our fam­i­ly's all-time favorite Christ­mas sug­ar cook­ie recipe.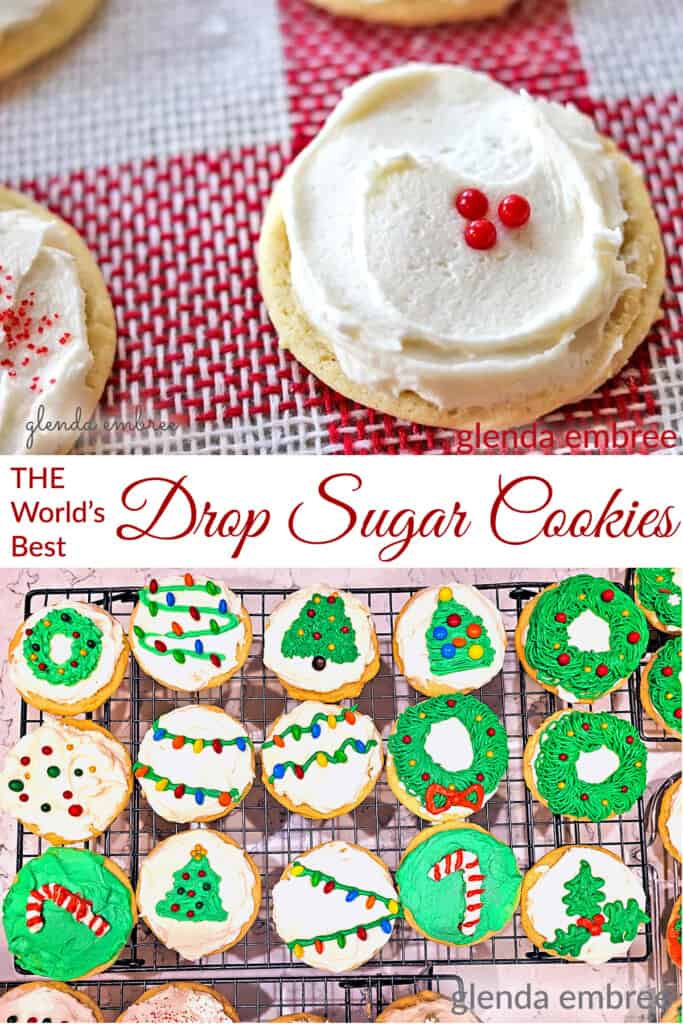 If you polled them, it would­n't be just a wide major­i­ty. I believe you would get a 100% affir­ma­tive from each of them! These sug­ar cook­ies are that good!
Frost­ed Drop Sug­ar Cook­ies are the first cook­ies to dis­ap­pear out of all that I make each year. (Even the ones I hide. lol)
My Drop Sug­ar Cook­ie recipe is the one every­body wants more of. That every­one wants the recipe for. That are most often request­ed for parties.
They also hap­pen to be about the eas­i­est cook­ie I make. What's bet­ter than that?
Wan­na know a secret? I make these all year round, not just for Christ­mas. Yeah…they're that kind of easy and delicious!
Enjoy, my friend!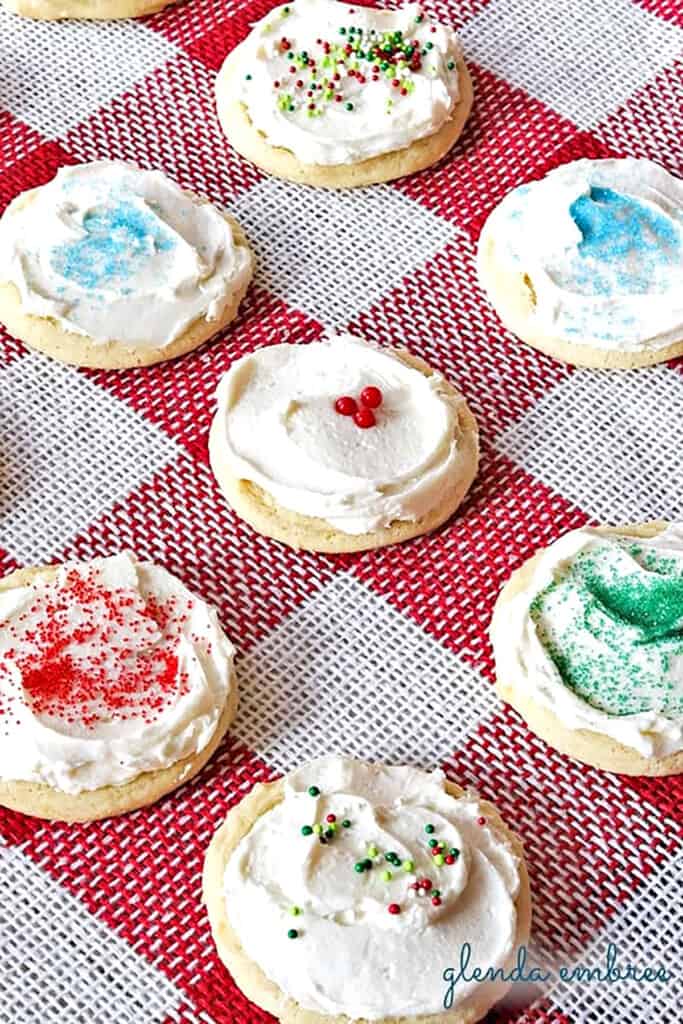 The Ingredients
For the Cookies:
But­ter I use salt­ed but­ter, but use your own pref­er­ence. It does­n't seem to affect the out­come of this drop sug­ar cook­ie recipe.
Gran­u­lat­ed Sugar
Eggs
All Pur­pose Flour
Bak­ing Soda
Salt
For the Frosting:
But­ter
Milk
Pow­dered Sug­ar (con­fec­tion­er's sugar)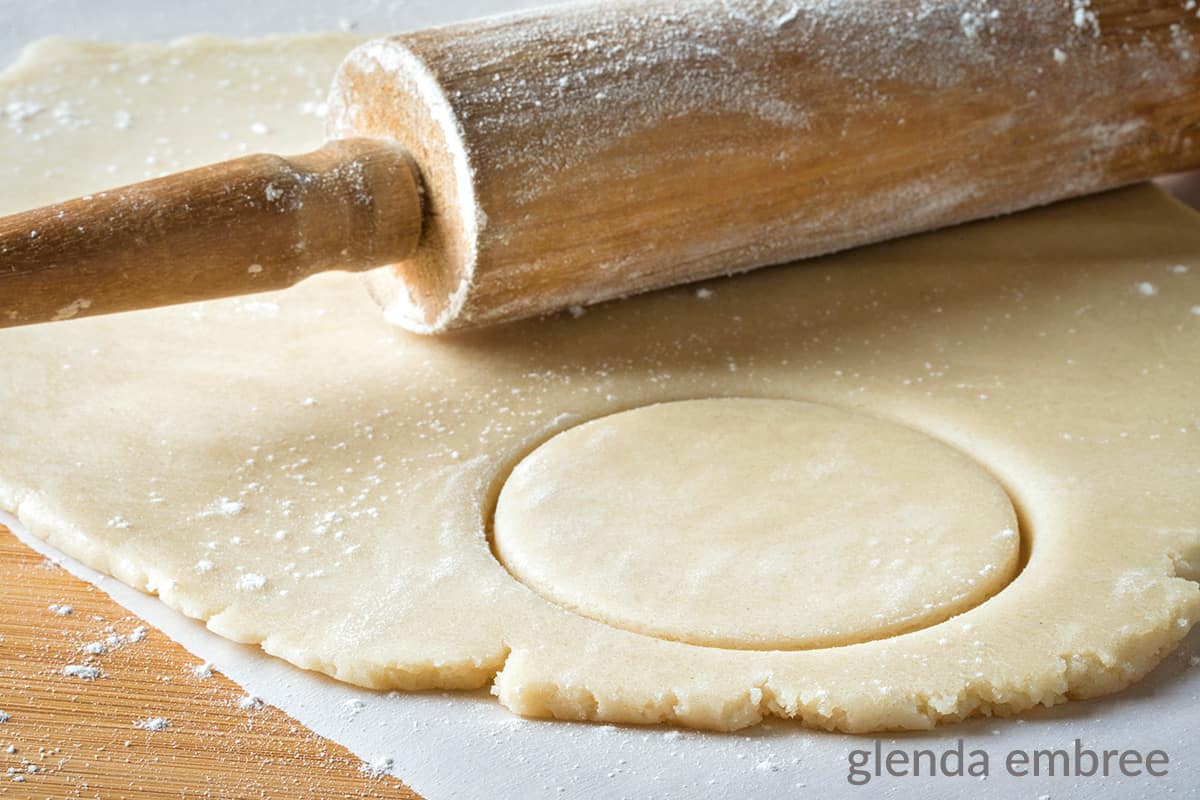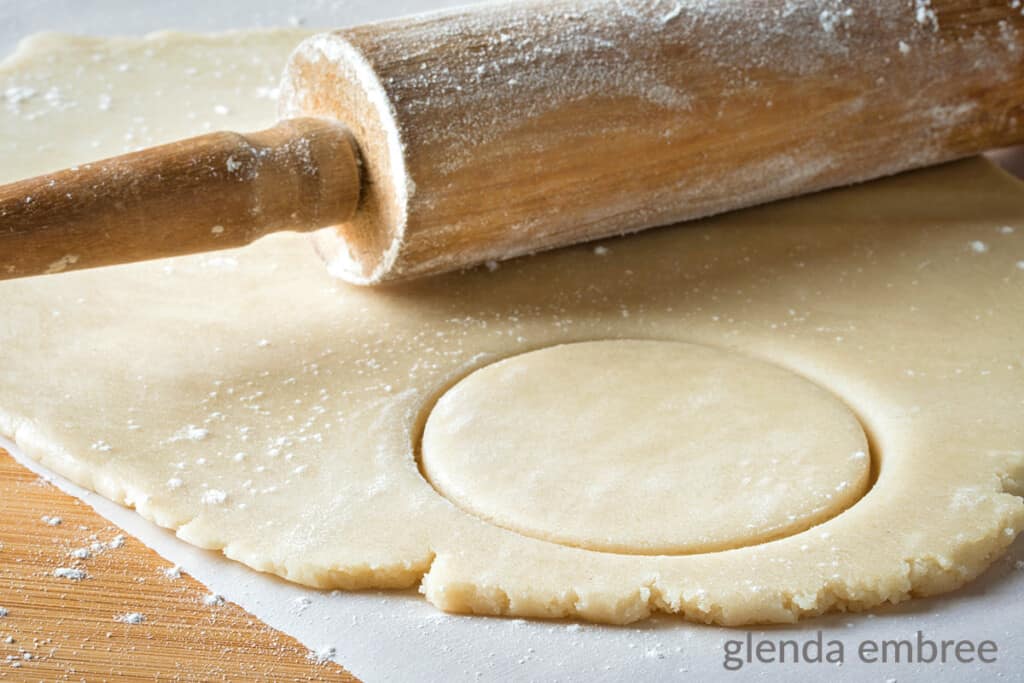 FAQ's
Can I roll out drop cook­ie dough?
I don't rec­om­mend rolling and cut­ting drop cook­ie dough. Tech­ni­cal­ly, you could chill it and then put it between two sheets of parch­ment and roll it out. Then you could cut the cook­ies out. After that you would need to chill the cut cook­ies before bak­ing and even then, this par­tic­u­lar dough will spread more than you typ­i­cal­ly want for cut-out cook­ies. Your cook­ies will lose any def­i­n­i­tion and design dur­ing bak­ing. This dough was made for deli­cious drop sug­ar cook­ies. In a few weeks, I'll share a good cut-out cook­ie recipe.
Why is there no bak­ing pow­der in this recipe?
Bak­ing pow­der cre­ates a big­ger rise and a lighter, "cake-like" crumb. We want these cook­ies to be soft and chewy, not cake-like, so I don't use any bak­ing pow­der. Bak­ing soda is the only leav­en­ing necessary.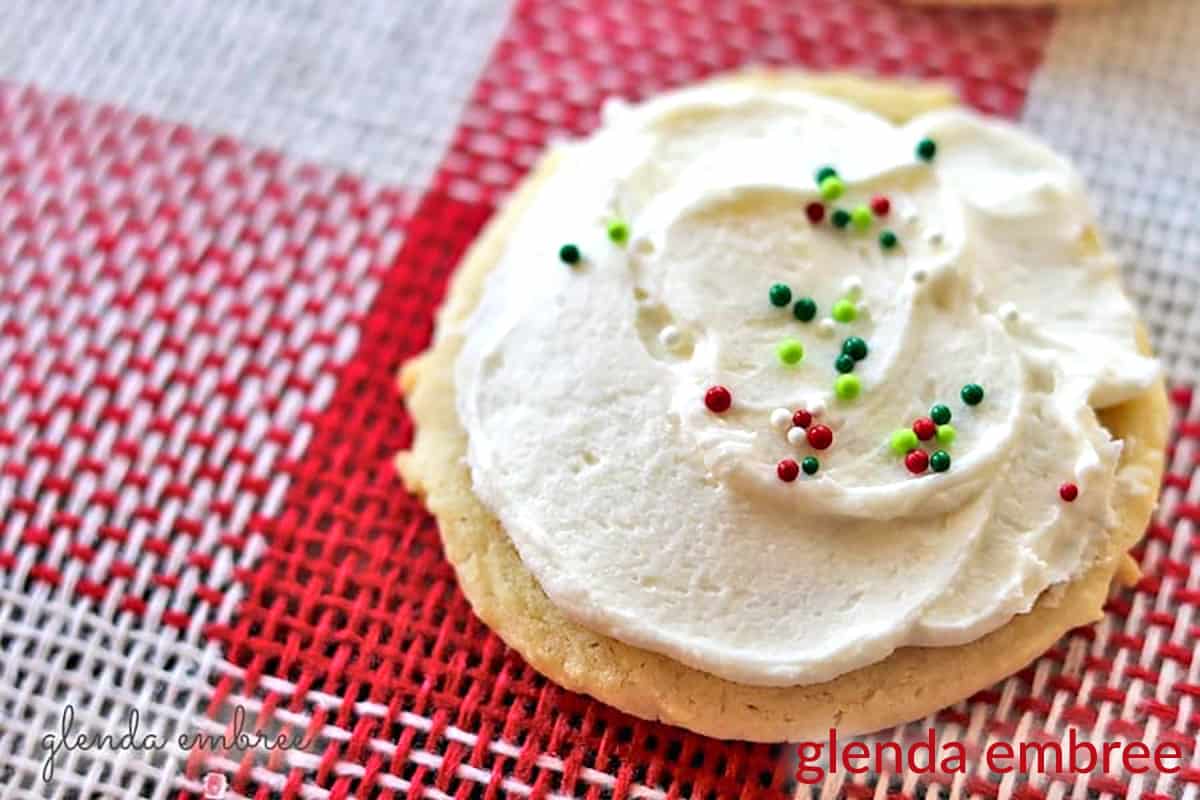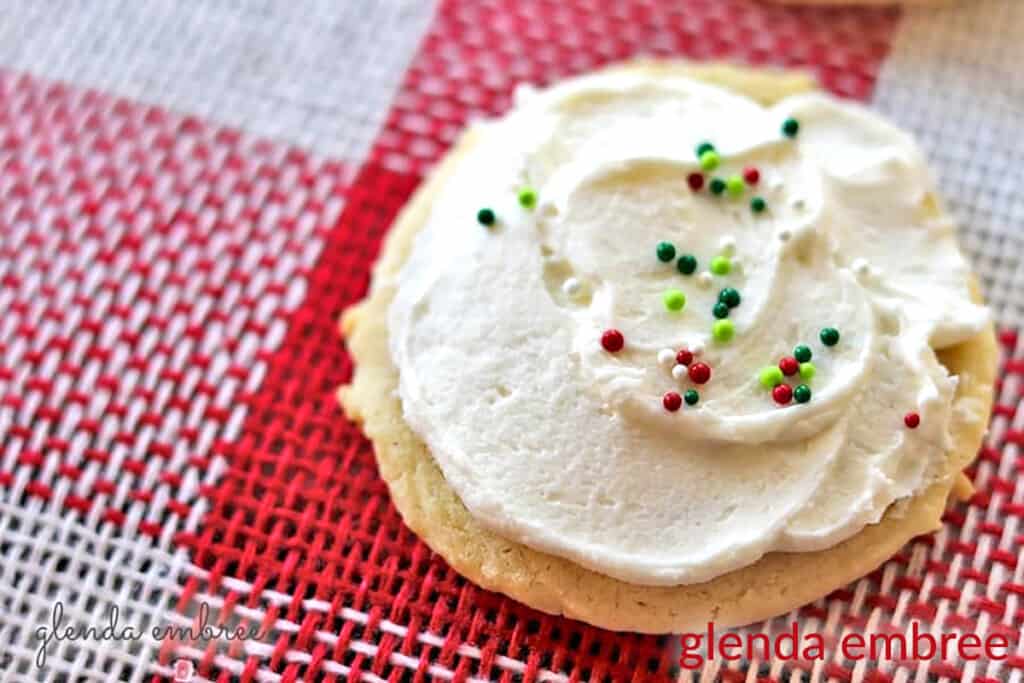 No Need for Rolling and Cutting
It was so impor­tant to me to stress that you can still have fun and nice­ly dec­o­rate these deli­cious, soft and chewy sug­ar cookies.
If you don't have the tools or patience for rolled and cut-out sug­ar cook­ies, you can still cre­ate won­der­ful dec­o­rat­ed cook­ie designs.
Last year, before our fam­i­ly Christ­mas Eve get-togeth­er, my daugh­ters, daugh­ter-in-law and grand­daugh­ters all got togeth­er at my house for a sug­ar cook­ie bak­ing and dec­o­rat­ing party.
You guys! It was so much fun and hope­ful­ly the begin­ning of a new hol­i­day tradition.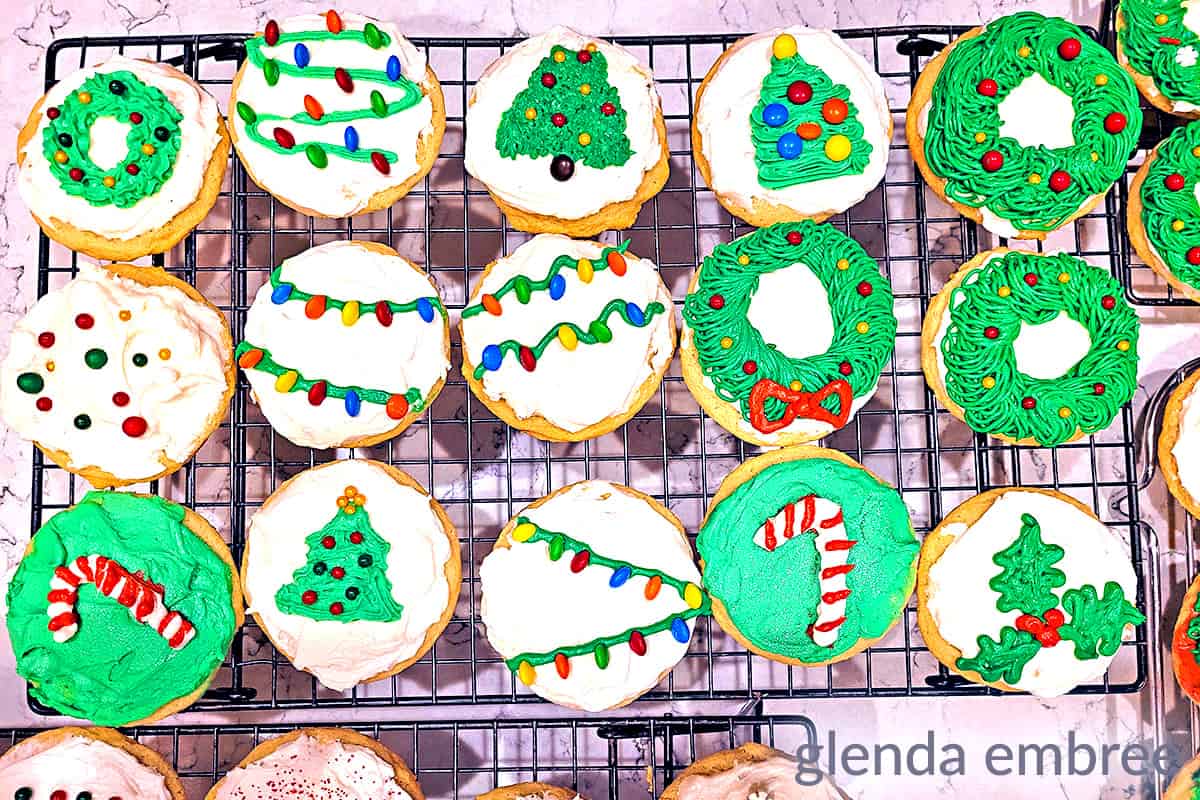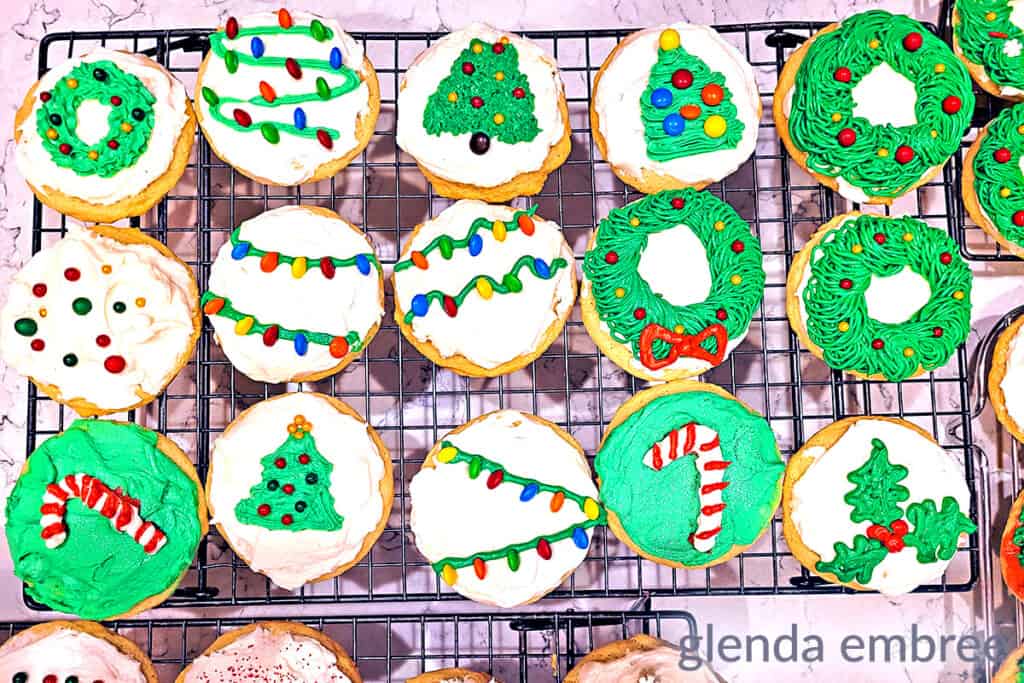 With just a basic but­ter­cream recipe, these soft and chewy sug­ar cook­ies can be frost­ed and dec­o­rat­ed to fit any occa­sion. We used but­ter knives or icing spat­u­las to sim­ply spread the frost­ing over the tops of the cookies.
Then with some pip­ing bags and half a dozen of the most com­mon dec­o­ra­tor tips, some mini M&Ms and var­i­ous Christ­mas cook­ie and cake sprin­kles, we set to dec­o­rat­ing our sug­ar cookies.
I think every­body had great ideas and I love how var­ied the designs were. From the youngest to the old­est, every­body just cre­at­ed what made them hap­py. I think they turned out great!
And what a fun fam­i­ly time we had doing it! You guys have to plan a drop sug­ar cook­ie dec­o­rat­ing par­ty, this year! It'll be a blast!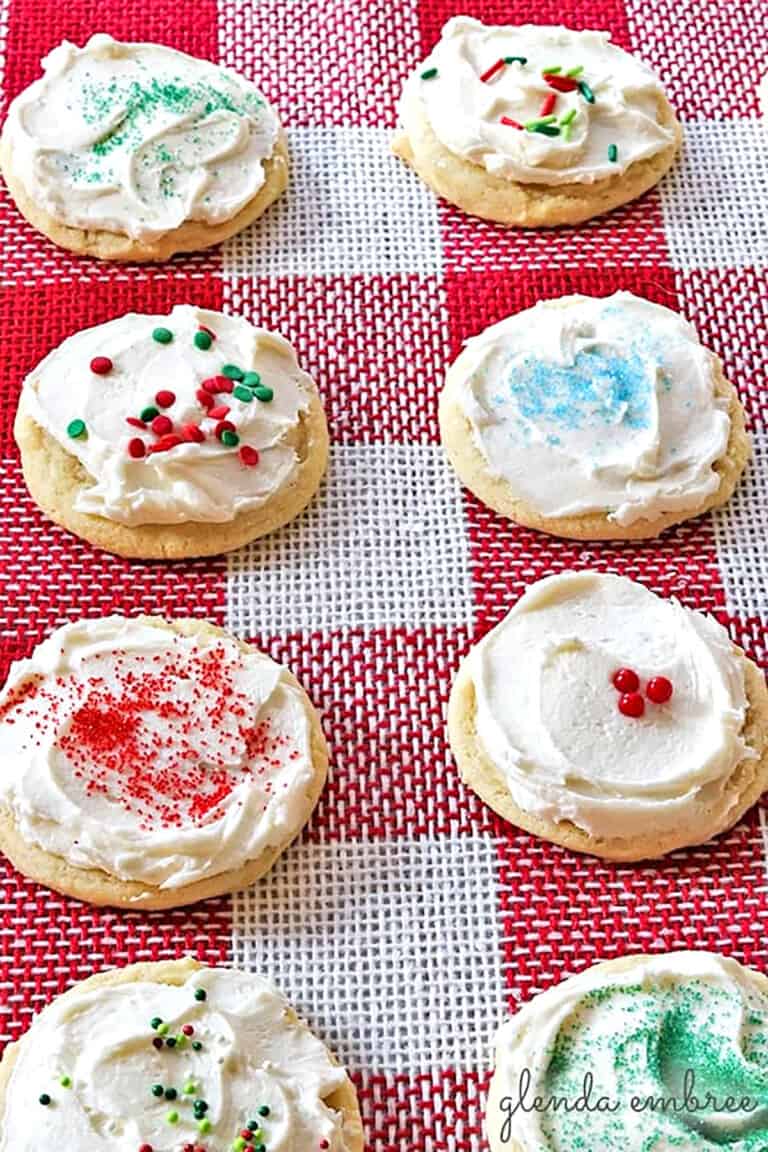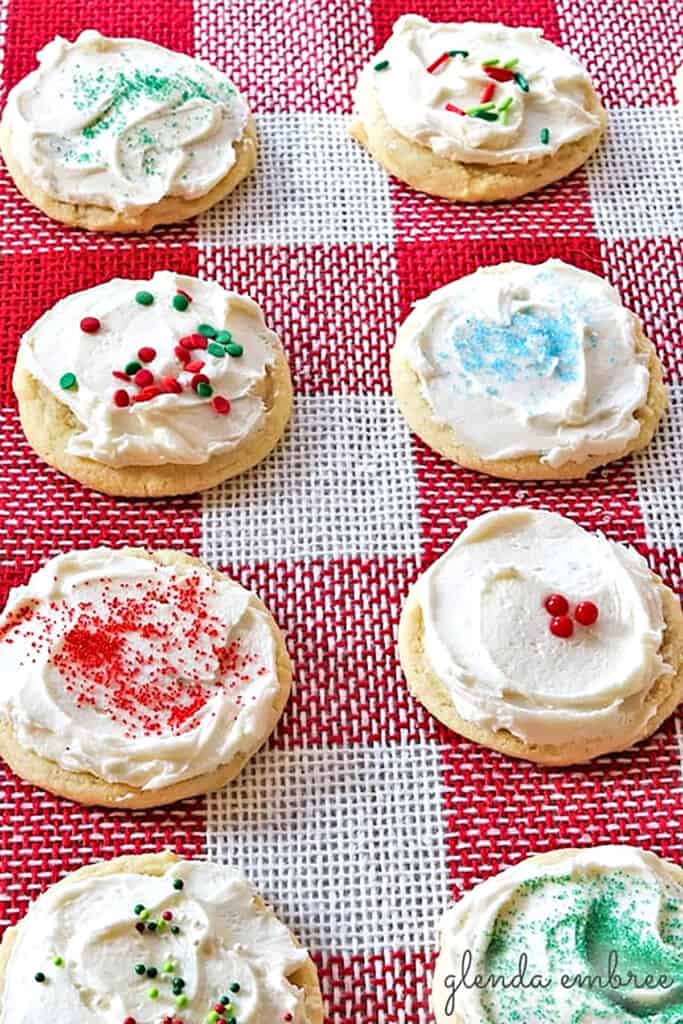 How to Make Frosted Drop Sugar Cookies
There's no big secret to these deli­cious cook­ies. It's the basic cook­ie for­mu­la, again.
Cream the but­ter and sugar.
Beat in the eggs and vanilla.
Add the dry ingre­di­ents and mix until every­thing is ful­ly incorporated.
Drop them by the cook­ie-scoop­ful onto greased or lined cook­ie sheets.
Bake 8 to 10 min­utes. The trick­i­est part of the whole recipe will be fig­ur­ing out the time for your spe­cif­ic oven. (When I'm fig­ur­ing that out, I'll bake one sug­ar cook­ie, just to get a feel for how the dough acts in my oven.)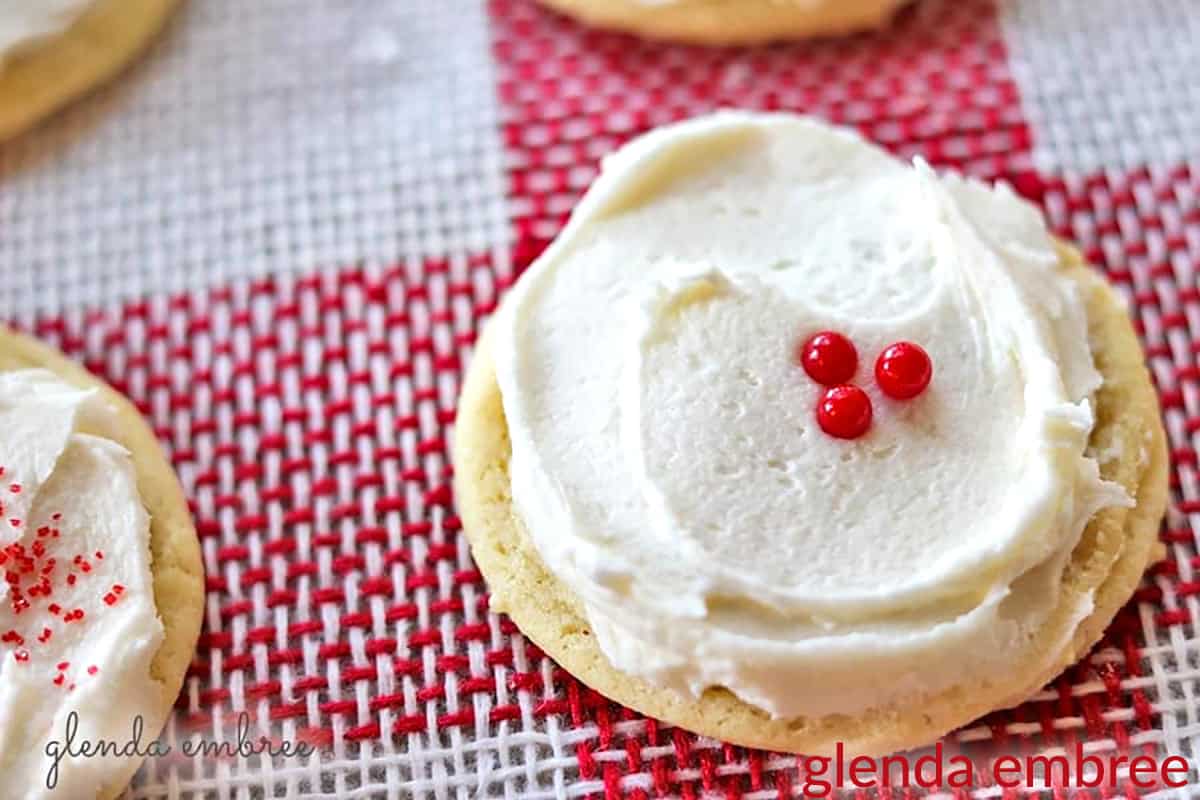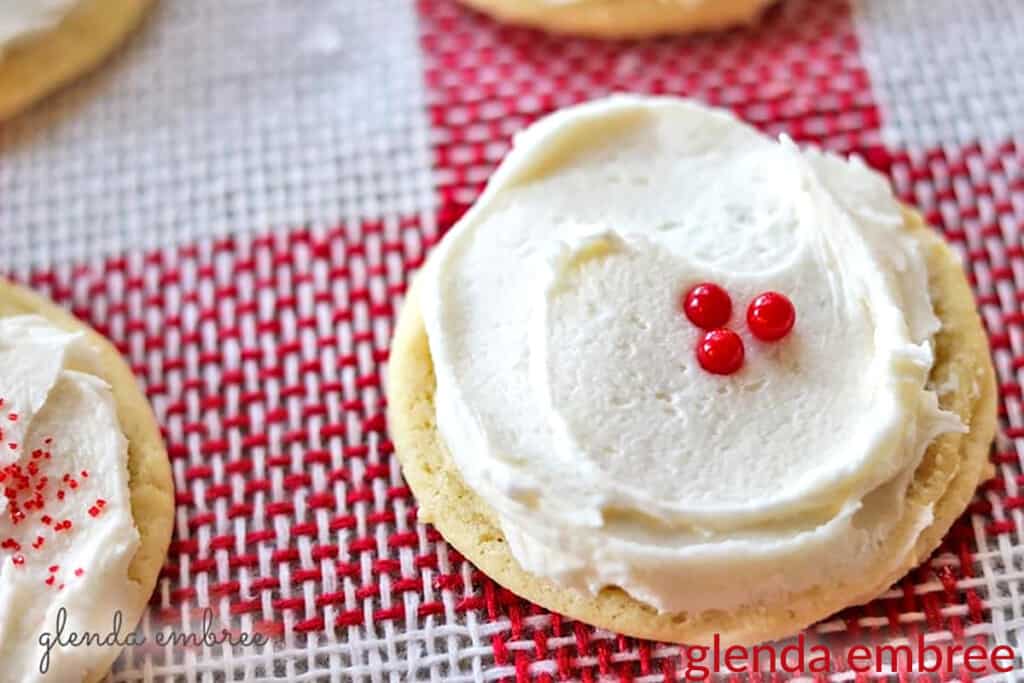 How to Know When the Cookies are Done
These cook­ies will puff up in the oven, the tops will have lost their dampness.
When you touch one, light­ly, with your fin­ger, the top of the cook­ie will feel dry, but you will be able to tell it's still super soft in the mid­dle. That's when you pull them out of the oven. Trust me.
Set the cook­ie sheet right on your cool­ing rack for sev­er­al min­utes. The cook­ies will fin­ish "bak­ing" and set­ting up.
As they cool, they will lose there puffi­ness and be flat­ter. The tops may even look a lit­tle "wrin­kled".
You've done every­thing per­fect­ly. That's exact­ly how they should be. After 3 or 4 min­utes trans­fer the cook­ies to a cool­ing rack to fin­ish cooling.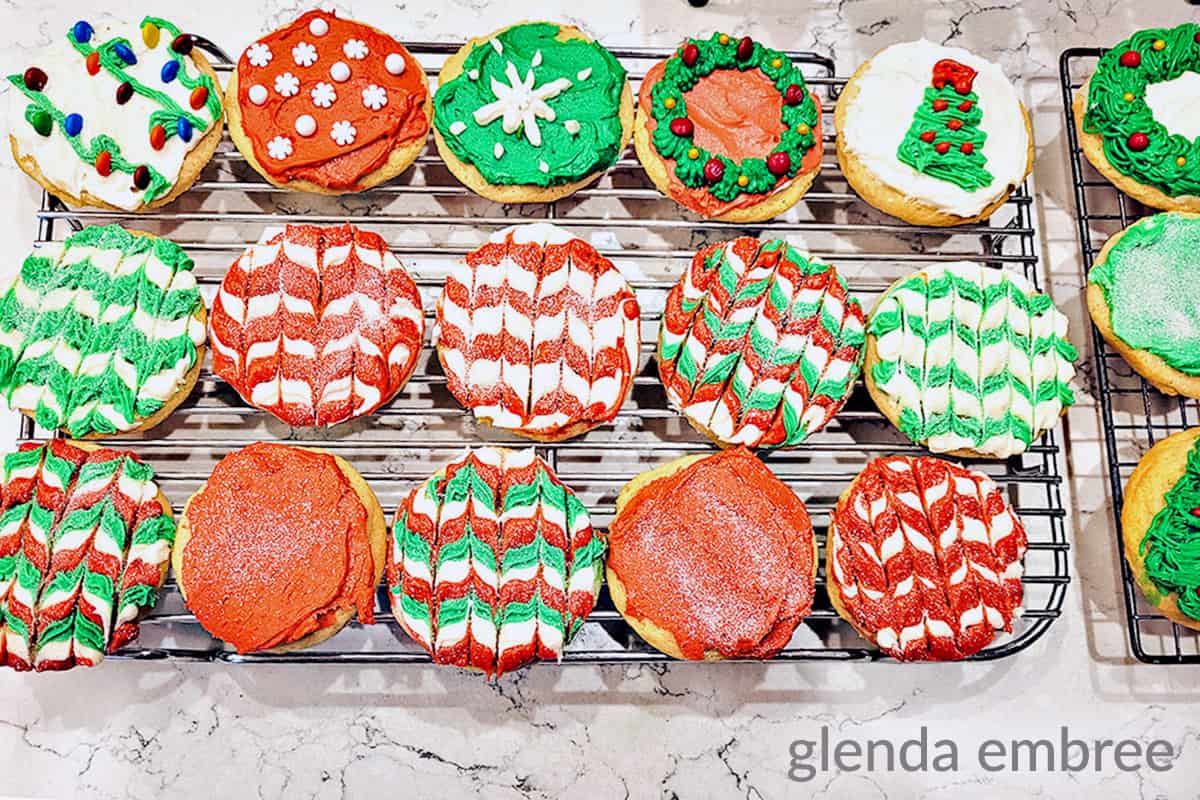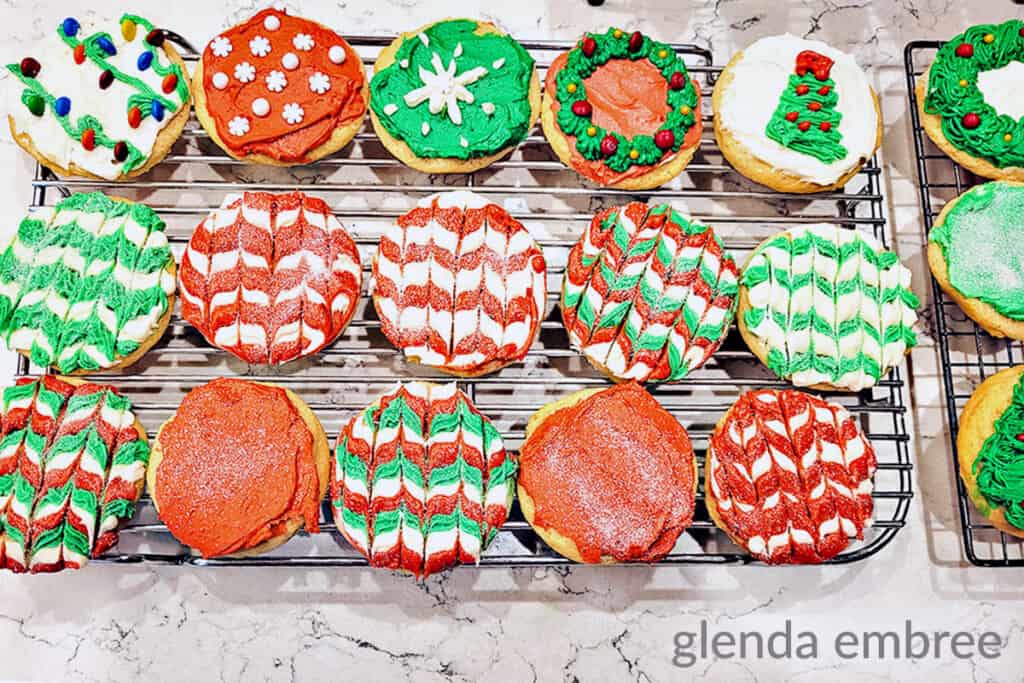 Decorating Sugar Cookies
When they are com­plete­ly cool, these scrump­tious sug­ar cook­ies are soft and chewy.
You can get as elab­o­rate or as sim­ple as you want with your decorating.
Sim­ply spread the frost­ing over the sug­ar cook­ie tops and call it good. That's what we do when it isn't Christmastime.
Or break out the pip­ing bags, can­dy and sprin­kles to cre­ate your own beau­ti­ful sug­ar cook­ie masterpieces.
How­ev­er you decide to dec­o­rate them, you my friend, are going to get the title of Christ­mas Cook­ie Roy­al Bak­er when you put these out for friends and family.
Yes. Be pre­pared for Christ­mas Cook­ie infamy. It belongs to you, now!
Much love and Mer­ry Christmas!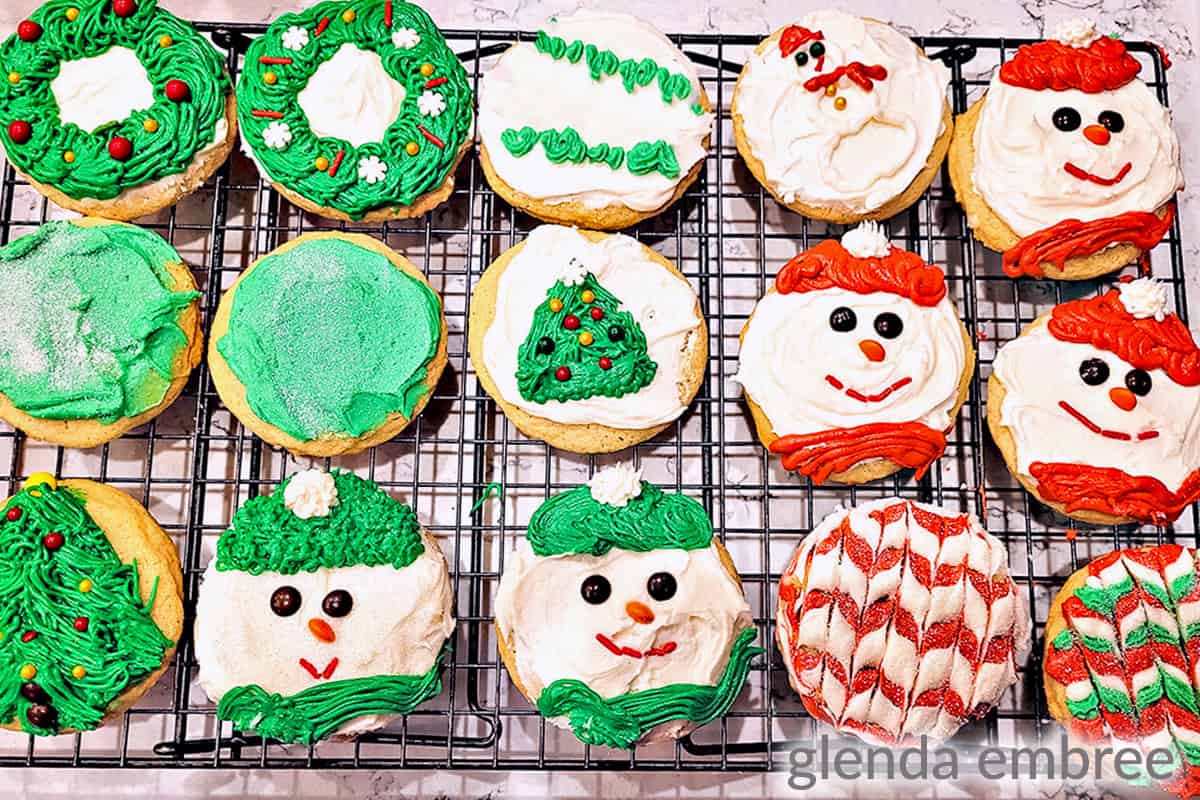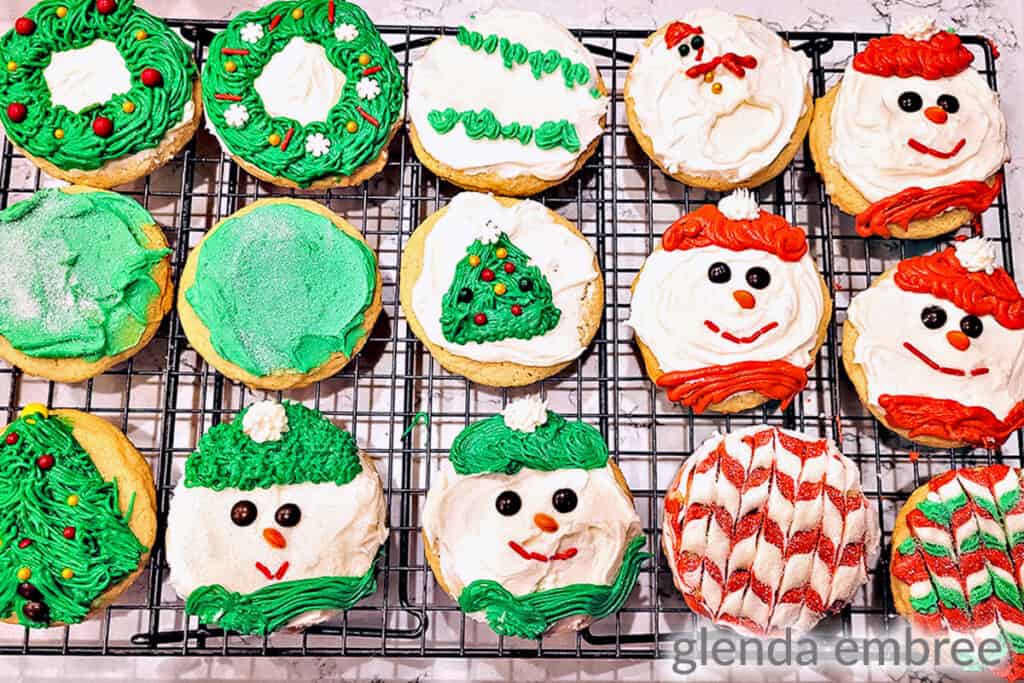 As always, thanks so much for being great sup­port­ers and my favorite blog readers!
If you do make drop sug­ar cook­ies using this recipe, i hope you'll con­sid­er drop­ping by, again and leav­ing a com­ment on this post with a 5 star rating.
Those 5 star rat­ings help oth­er read­ers find our recipes when they do search­es on Google.
Thanks so much and hap­py baking!
The Recipe
Print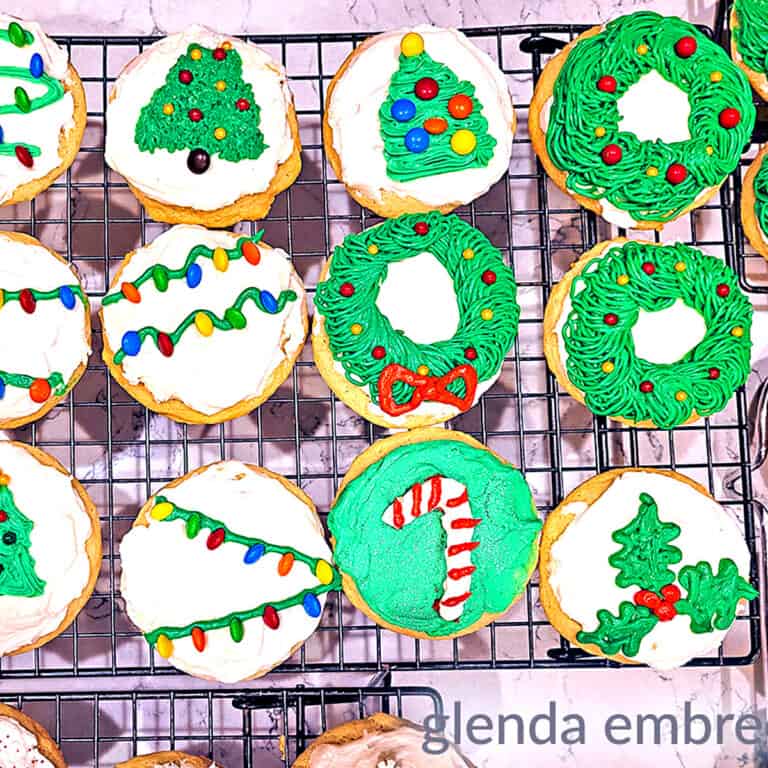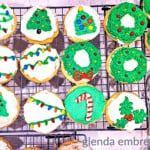 Frosted Drop Sugar Cookies
---
Author:

Total Time:

18 min­utes

Yield:

36

-

40

cook­ies

1

x
Description
Drop Sug­ar cook­ies are soft, chewy, melt-in-your-mouth sug­ar cook­ie per­fec­tion! With­out even the slight­est hes­i­ta­tion, I can declare this to be our fam­i­ly's all-time favorite Christ­mas sug­ar cook­ie recipe.
---
For the Cookies:
1

cup

butter

2

cups

sugar

2

eggs

1 Table­spoon

vanilla

3

to

3 1/2

cups

flour

1 tsp

bak­ing soda

1 tsp

salt
For the Frosting:
1

cup

butter

2 Table­spoon

vanilla

2 Table­spoons

milk

2

lbs. pow­dered sugar
---
Instructions
Cream togeth­er but­ter and sugar.
Add the eggs and vanil­la and beat to combine.
Add the flour, bak­ing soda and salt and mix until all ingre­di­ents are combined.
Drop by cook­ie scoop onto a greased or lined bak­ing sheet.
Bake at 350° for 8 min­utes. (Cook­ies will be puffed up and super soft. They will be bare­ly dried on top. I promise, if you want soft, chewy cook­ies, you need to pull them out, now. Place the cook­ie sheet on a cool­ing rack and allow the cook­ies to set for 3–5 min­utes before tak­ing them off the pan. They will lose their puffi­ness as they settle.)
To make frost­ing, beat all ingre­di­ents togeth­er with a hand mix­er or in a stand mix­er, until a thick creamy frost­ing has formed.
Frost com­plete­ly cooled cook­ies. You can add sprin­kles or dec­o­ra­tions if you choose.
Store in air­tight con­tain­er once frost­ing has set up.
Notes
These freeze extreme­ly well. Put wax paper between the lay­ers if stack­ing. If freez­ing, you can frost them, but I would avoid sprin­kle dec­o­ra­tions as those will bleed as the cook­ie thaws.
Prep Time:

10 min­utes

Cook Time:

8 min

Cat­e­go­ry:

Desserts, Cook­ies

Cui­sine:

Amer­i­can
More Deliciously Easy Christmas Cookies and Desserts