Cheesy Chick­en Spaghet­ti will get the whole fam­i­ly gath­ered from all cor­ners of your world. It is creamy, cheesy pas­ta good­ness and every­one will flip for this sim­ple and deli­cious casserole.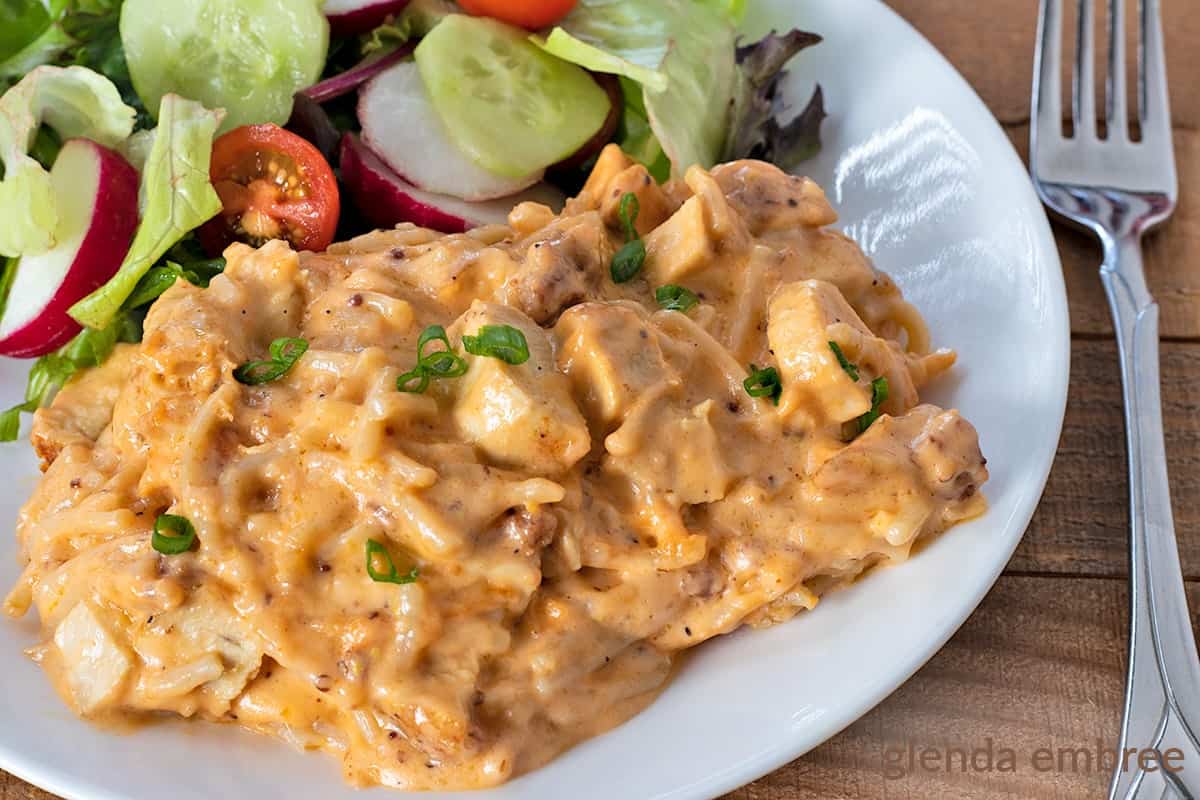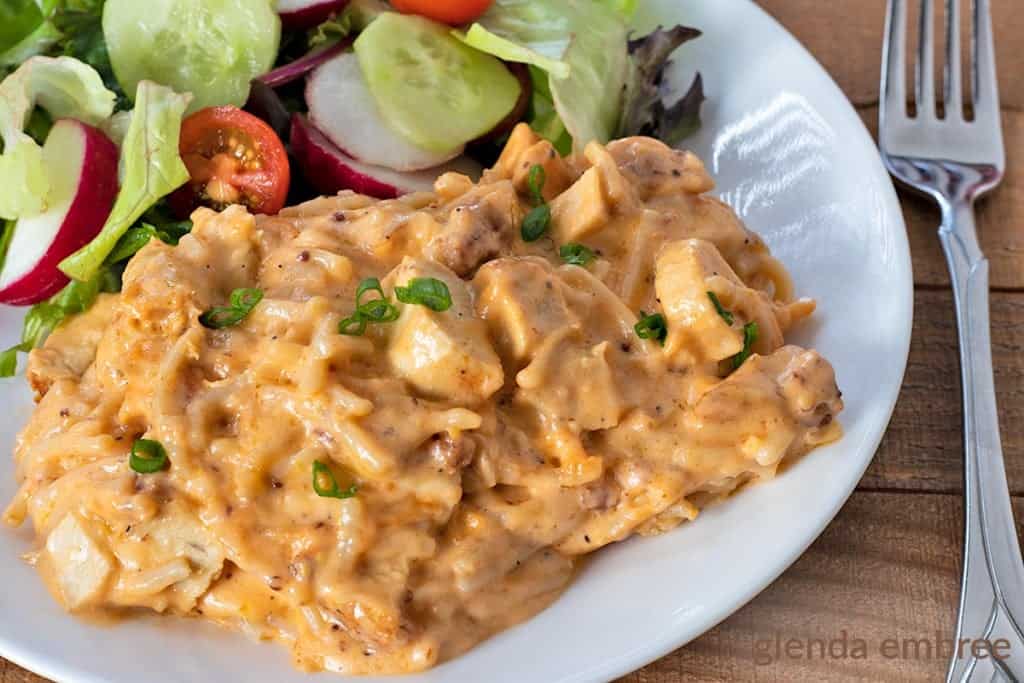 The rich, creamy cheese sauce is bal­anced with the acidic tang of stone ground mus­tard and creamy ranch dress­ing. And all chick­en spaghet­ti is best when it's stud­ded with bacon pieces, right? Um yeah…did I men­tion this is scrumptious?
I love putting this recipe in the meal rota­tion for weeks when I know I'm going to have a lot of busy days or need to use up some left­overs. Cheesy Chick­en Spaghet­ti can be made ahead, so it's great for those who love to meal prep. It can be kept in the fridge for 3 or 4 days. And, it can be frozen for 3–4 months. Be sure to thaw it com­plete­ly before baking.
It also uses most­ly pre-prepped ingre­di­ents or left­overs, so it comes togeth­er quick­ly. I've also pro­vid­ed ingre­di­ent alter­na­tives for mak­ing Cheesy Chick­en Spaghet­ti gluten free. The gluten free ver­sion is just as quick and easy as the standard.
This is a hearty, com­fort food win­ner that will make din­ner plan­ning so easy when your time is at a pre­mi­um. Enjoy, my friend. Have a won­der­ful­ly blessed weekend!
The Ingredients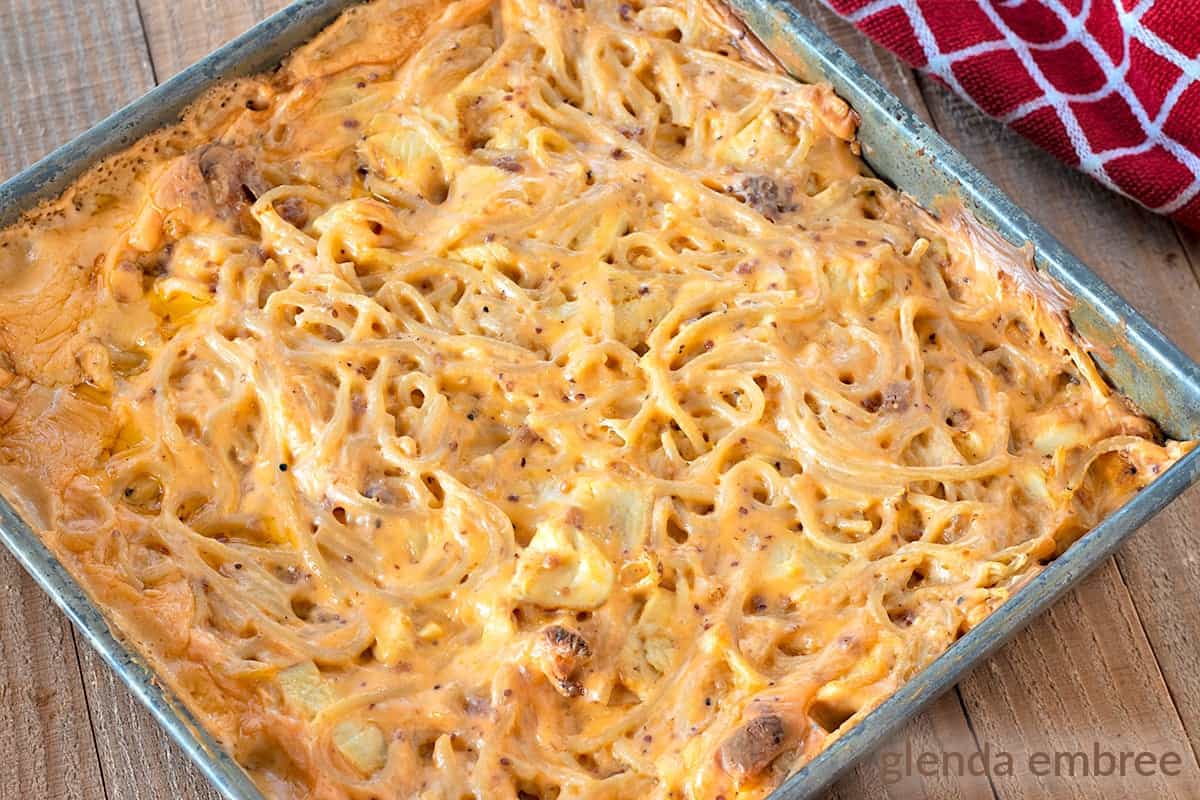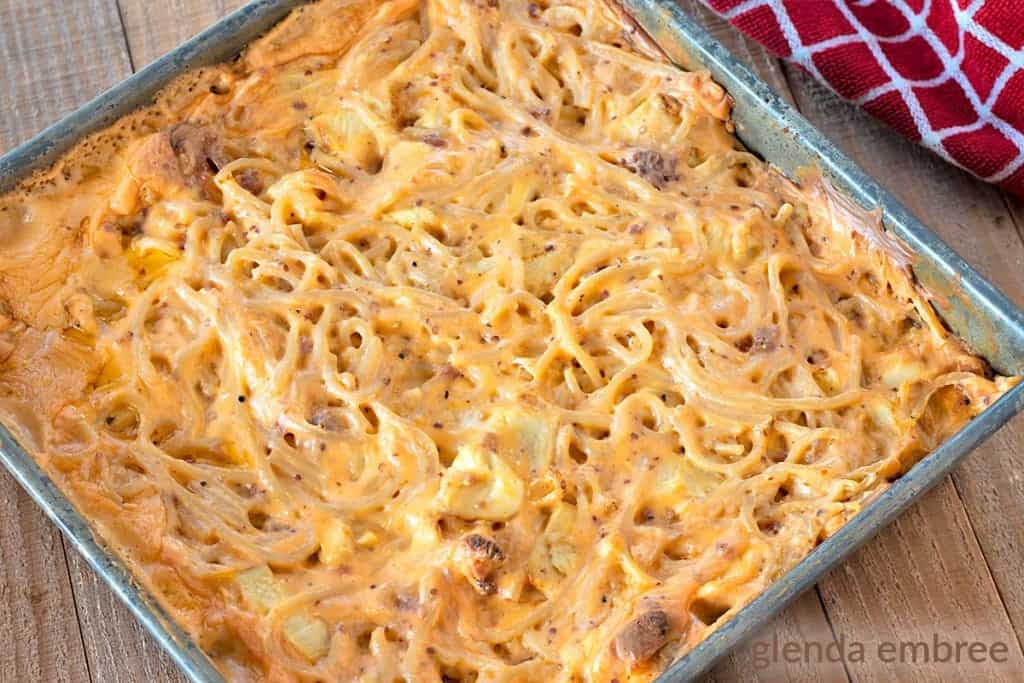 pre-cooked chick­en: There are so many great options avail­able for this, now. If you batch cook chick­en, like me, you prob­a­bly already have some in the fridge or freez­er. If you don't, a rotis­serie chick­en, chick­en left­overs from an ear­li­er meal or pre-cooked frozen chick­en from the freez­er case at your mar­ket will def­i­nite­ly work. You could even change the pro­tein to Ital­ian sausage or ground beef crum­bles, left­over pulled pork or canned tuna. It's a ver­sa­tile recipe. Make it your own.
8 oz of dry spaghet­ti: If you're using stan­dard ingre­di­ents this one is easy. Choose your favorite. If you are mak­ing this gluten free, the absolute best gluten free pas­ta I know is Jovial brown rice pas­ta. Order from them direct­ly and use Pro­mo Code HELLO2021 for 10% off or sub­scribe to their newslet­ter for a 10% off code. Jovial Pas­ta is also avail­able in some Wal­mart stores and by order­ing online from Wal­mart. And it is avail­able on Ama­zon. You may find it in your favorite gro­cery store, too. I've nev­er found anoth­er gluten free pas­ta that works for us and I have tried many. You can't tell Jovial gluten free pas­ta from tra­di­tion­al. It's tru­ly that good.
canned (or home­made) cream of chick­en soup
extra sharp Ched­dar cheese: I just love the fla­vor of extra sharp Ched­dar. You could also use Col­by, Col­by Jack or even just Mon­terey Jack.
cream cheese: This is what puts the extra creamy, cheesy in your Cheesy Chick­en Spaghetti.
bacon pieces: I buy this pre-cooked and crum­bled in the sal­ad dress­ing aisle at the gro­cery store. Be sure to choose REAL bacon pieces, not imi­ta­tion. They are usu­al­ly avail­able in name and store brands.
ranch dress­ing: Be sure yours is gluten free, if you need it. Or make your own.
stone ground mus­tard: Yel­low mus­tard would prob­a­bly work, though I haven't tried it. I pre­fer the spicy bite and acid­i­ty of stone ground mus­tard in cheese dishes.
You CAN Make It Gluten Free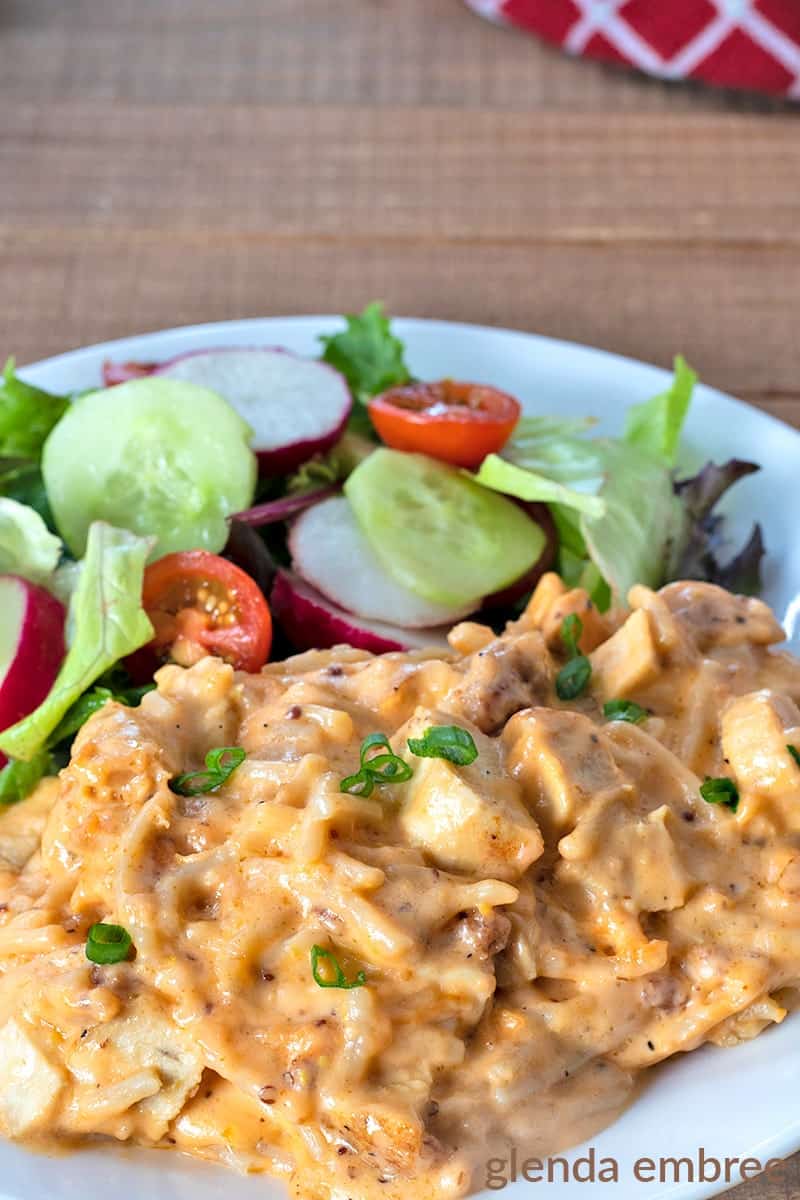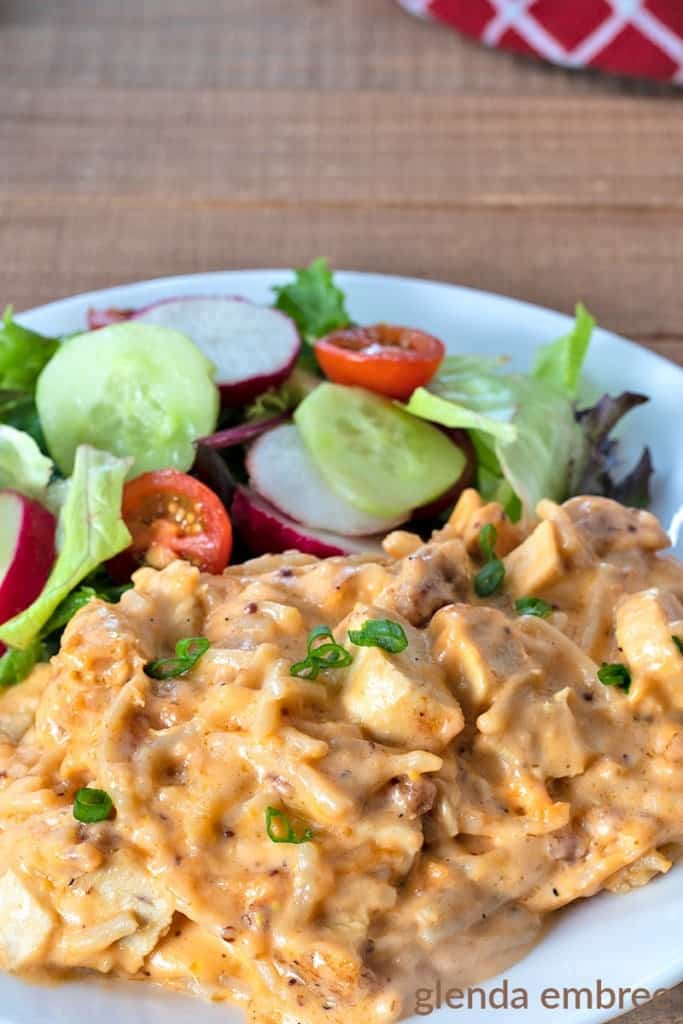 There isn't a lot of alter­ation nec­es­sary to make this deli­cious casse­role gluten free for the peo­ple you love most. The two ingre­di­ents where you need to watch for gluten are the pas­ta and the cream of chick­en soup. Some ranch dress­ing may sneak in wheat, but I think it is rare. Just check your labels.
When­ev­er, I cook gluten free pas­ta, be it for Cheesy Chick­en Spaghet­ti, or any oth­er favorite fam­i­ly dish, I use ONLY Jovial Brown Rice Pas­ta. I have test­ed and tried many gluten free pas­tas. They are infe­ri­or in taste and in tex­ture. Noth­ing comes close to Jovial. And, that's because it's near­ly impos­si­ble to tell it from tra­di­tion­al pas­ta. It comes in a wide vari­ety of shapes, so you can find some­thing that fits your favorite recipes.
Jovial does­n't know me from Adam, but I tell every­one about this pas­ta, because we went so long with­out being able to find a good gluten free alter­na­tive. I'm excit­ed we found the best. And I'm excit­ed that now you have, too!
Gluten Free Cream of Chick­en Soup is even on the shelf in my small town Wal­mart. I can buy both the name brand and the store brand. Both have worked well in my recipes. We are so lucky to live in a time where alter­na­tives are more read­i­ly avail­able. Your gro­cery store prob­a­bly car­ries it, too. If not, it's easy to make at home. Use my recipe.
How to Make Cheesy Chicken Spaghetti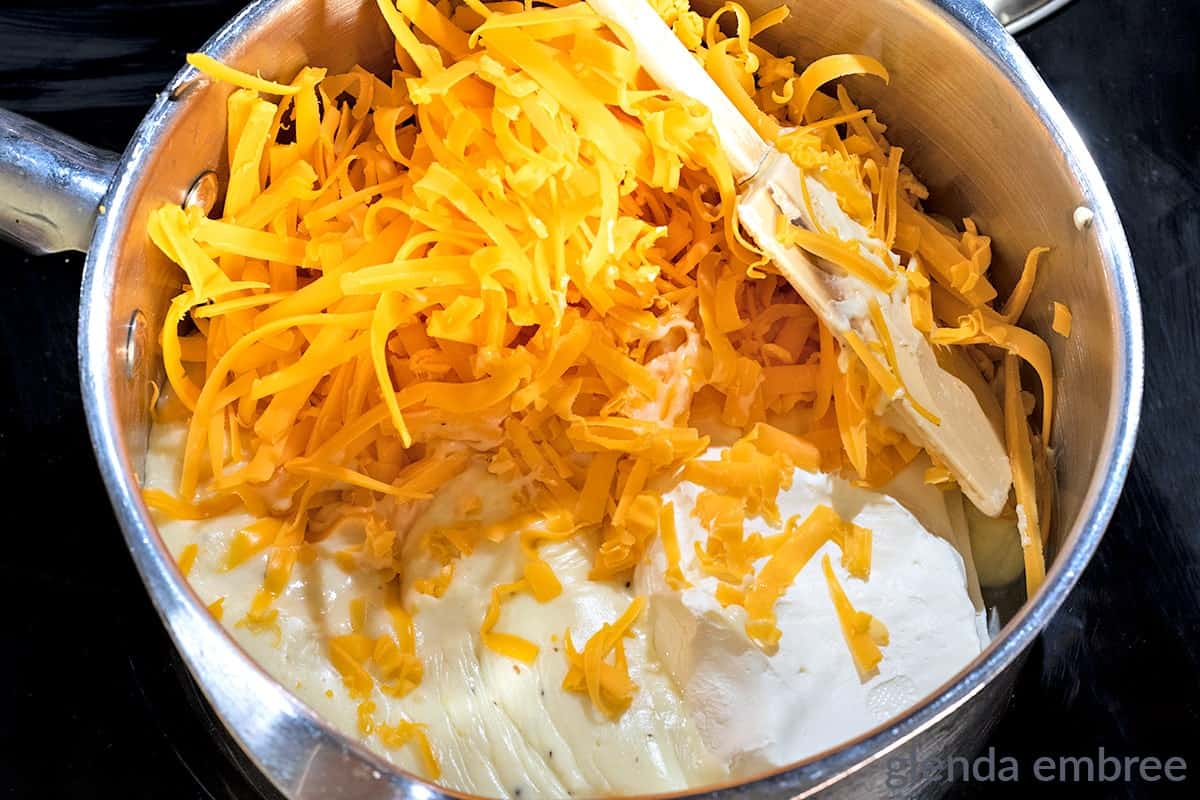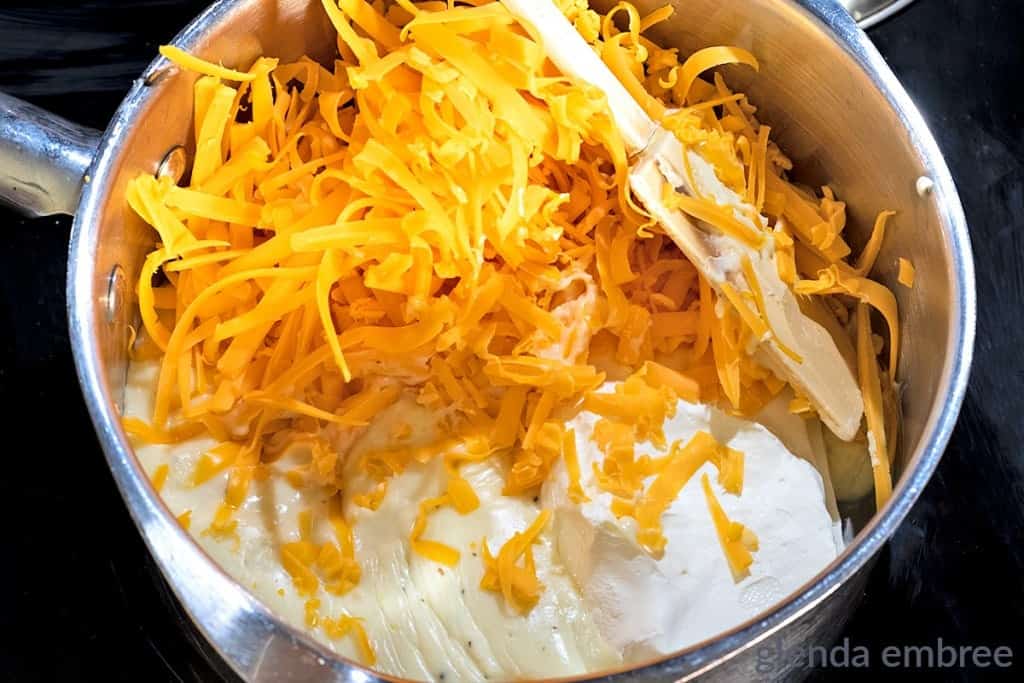 Cook spaghet­ti and drain.
While spaghet­ti is cook­ing, melt grat­ed ched­dar, cream cheese, cream of chick­en soup, ranch dress­ing and stone ground mus­tard over medi­um heat. Stir to pre­vent scorch­ing. This will net you a thick and creamy cheese sauce for the casserole.
Put pre-cooked chick­en, spaghet­ti and bacon into a 9x9 pan and stir togeth­er. Cut the spaghet­ti into small­er lengths if that makes it eas­i­er to mix.
Pour the cheese sauce over the spaghet­ti mix­ture and toss to coat every noo­dle and piece of chick­en. When sauce is even­ly dis­trib­uted, bake the Cheesy Chick­en Casse­role at 350° for 20–30 min­utes. The casse­role will be bub­bling around the edges and heat­ed through.
Serve with a tossed green sal­ad or your favorite veg­gie side.
The Recipe
Print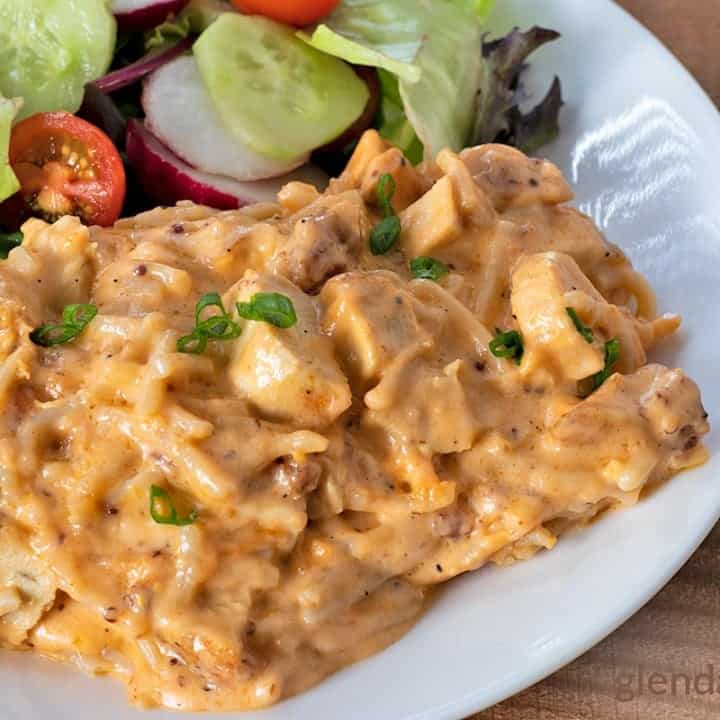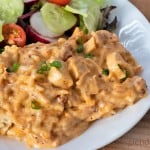 Cheesy Chicken Spaghetti
---
Author:

Total Time:

30 min­utes

Yield:

6

serv­ings

1

x

Diet:

Gluten Free
Description
A per­fect quick-fix sup­per for hec­tic nights! Cheesy pas­ta with chick­en — what's not to love? The whole fam­i­ly will flip for this deli­cious casse­role. It can be made ahead and kept in fridge or freez­er and left­overs heat in the microwave for per­fect lunch­es the next day.
---
2 1/2

cups

cooked, chopped chick­en (can use left­overs, rotis­serie chick­en, etc.)

8

oz

dry spaghet­ti (For Gluten Free: Jovial brown rice spaghet­ti)

1

(10.75 oz) can cream of chick­en soup (For Glu

ten

Free: buy glu

ten

free or make your own )

1

(8 oz) block extra sharp Ched­dar cheese (about

2 cups

), (Grate your own so it melts properly.)

1

(8 oz) block cream cheese

3/4

cup

bacon pieces (I buy a bag of real bacon pieces in the sal­ad dress­ing aisle.)

1/3

cup

ranch dressing

2 Table­spoons

stone ground mustard
---
Instructions
Pre­heat oven to 350°
Cook and drain spaghetti.
While spaghet­ti cooks, make the cheese sauce by adding the cream of chick­en soup, cream cheese, grat­ed cheese, ranch dress­ing and mus­tard to a saucepan. Heat over medi­um heat, stir­ring often until the cheese is melt­ed and all ingre­di­ents have incor­po­rat­ed into a creamy sauce.
Chop or shred pre-cooked chick­en, if it isn't already done.
In a 9x9 bak­ing pan, mix spaghet­ti, bacon pieces and chicken.
Pour cheese sauce over the spaghet­ti mix­ture and stir to thor­ough­ly com­bine and coat all the ingredients.
Bake at 350°, uncov­ered, for 30 minutes.
Option­al: Gar­nish with thin­ly sliced green onions or chopped, fresh parsley.
Notes
Make ahead. Great for meal prep and for freez­er. Keep in fridge for 3 to 4 days before bak­ing. Keep in freez­er for 3 — 4 months before bak­ing. When frozen, thaw com­plete­ly before baking.
Prep Time:

10 min­utes

Cook Time:

20 min­utes

Cat­e­go­ry:

Main Dish, Casserole

Method:

bake

Cui­sine:

Amer­i­can
Key­words: casse­role, spaghet­ti, chick­en, cheese, bacon