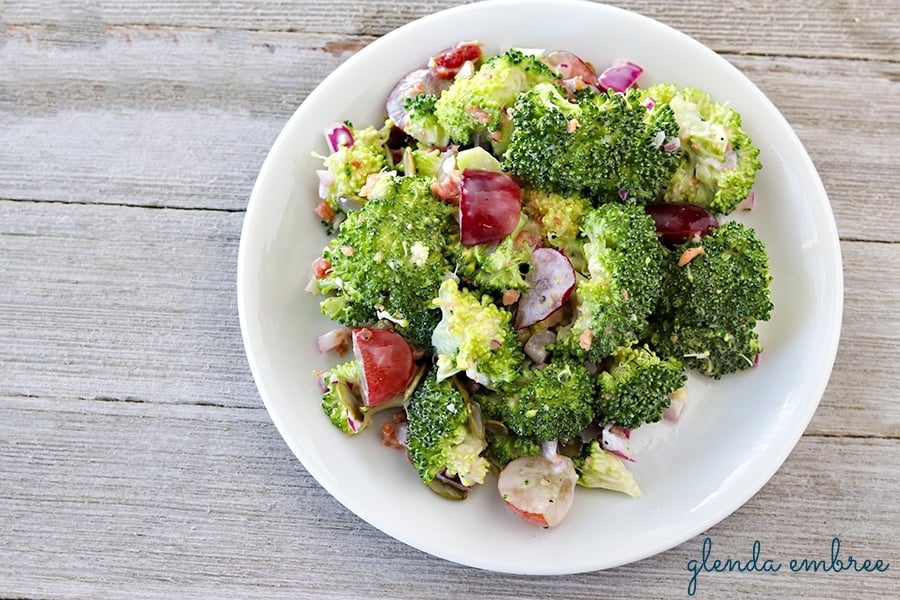 Hands down — this is my favorite Broc­coli Sal­ad of all time. Five ingre­di­ents and a home­made dress­ing, fab­u­lous fla­vors and tex­tures, PLUS you can make it ahead, to save time! What's not to love?
If you're look­ing for some­thing sim­ple and a lit­tle lighter to add to your hol­i­day menus, you can't miss with this col­or­ful and deli­cious sal­ad. A tiny invest­ment of ingre­di­ents and time nets a huge win on your host­ess-with-the-mostest rating!
What's In Easy Broccoli Salad?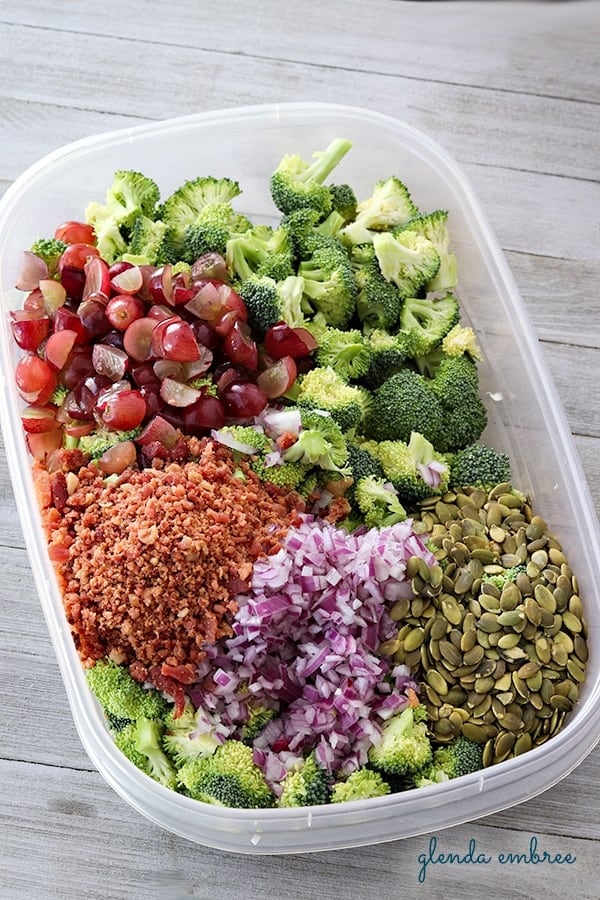 Broc­coli Sal­ad recipes are every­where. You won't have trou­ble find­ing one if you are googling recipes. But, this one is spe­cial. It's so sim­ple. It lit­er­al­ly comes togeth­er in min­utes. And the fla­vors. Oh, my good­ness, the fla­vors! You have the crispy, crunchy, green veg­gie good­ness of the broc­coli. There's a hint of smok­i­ness from the bacon. Then add in that touch of savory uma­mi that only onions can bring to a par­ty. Yum!
I did­n't stop there, though. When I pulled this recipe togeth­er, I want­ed it to have a pop of sweet­ness to com­ple­ment the savory sal­ad and tangy dress­ing. Enter red grapes. Pump­kin seeds round out the taste and tex­ture explo­sion, adding their own pleas­ing crunch. Seri­ous­ly, friends, this is not only deli­cious, you're going to feel pret­ty good about eat­ing it!
Adding Bacon to the Salad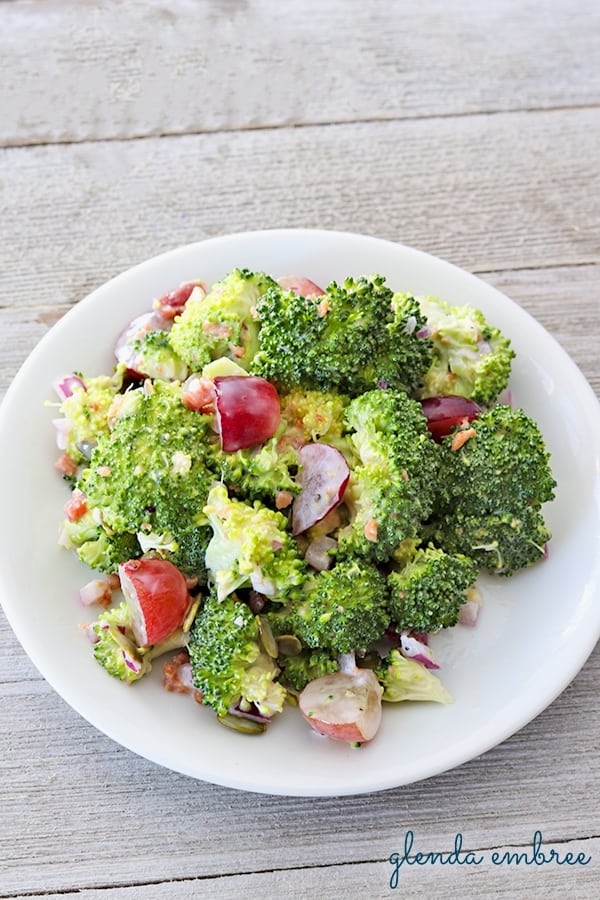 You could make this a veg­e­tar­i­an dish by leav­ing out the bacon. You decide for your own fam­i­ly. Per­son­al­ly, I love the smoky, salty fla­vor it con­tributes. And this recipe uses a small amount.
And speak­ing of small amounts, bacon can be pricey. If you're like me and it's not some­thing you always have on hand, you don't have to buy an entire pack­age of bacon for one recipe. It's, often, a more cost-effec­tive and time sav­ing option for me to buy a bag of real bacon pieces (bits) for recipes like this. Real is the oper­a­tive word. Don't grab those hard lit­tle fake bacon bits. You can actu­al­ly pur­chase dif­fer­ent size pack­ages of pre-cooked real bacon, already crum­bled for recipes. I pick them up in the condi­ment aisle, next to sal­ad dress­ing and crou­tons, at my local Walmart.
So, you decide. To bacon, or not to bacon? I vote yes!
How to Make the Best Easy Broccoli Salad
Cut fresh broc­coli flo­rets into bite-sized pieces. I also like to cut the grapes into quar­ters, or at least halves. Mince up the onion, too, while you're doing all your prep-work.
Put the broc­coli, grapes, bacon, pump­kin seeds and onion into a large sal­ad bowl. This is a good-sized sal­ad and will be enough for at least 12 peo­ple. A larg­er bowl or con­tain­er that will give you plen­ty of room to mix it, will work best. (I love using the gal­lon-size *Rub­ber­maid TakeA­longs for sal­ads and cold side dish­es. They can be stacked one-on-top-of-the-oth­er in the fridge to max­i­mize my shelf space. They work great for stor­ing cook­ies, brown­ies, din­ner rolls and left-overs, too.) Toss and com­bine the ingre­di­ents and then set the sal­ad aside, to make the dressing.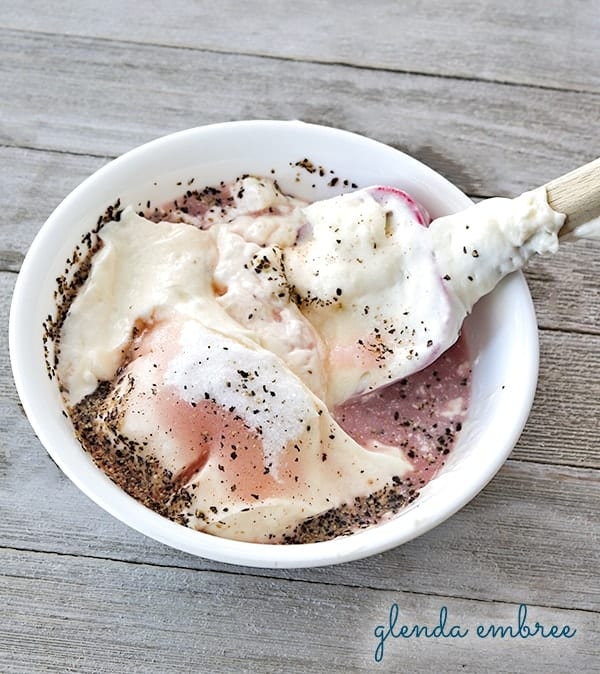 Homemade Dressing or Bottled?
If you have a favorite creamy vinai­grette-style dress­ing, go ahead and use it, if it saves you time. I pre­fer to make my dress­ing, so I can get the per­fect bal­ance of creamy, tangy and sweet.
It also makes the PERFECT amount for this sal­ad. With a bot­tled dress­ing, the temp­ta­tion will be to over­dress the sal­ad, in the begin­ning. Instead, it's best to let the sal­ad mar­i­nate for sev­er­al hours. The veg­gies will "weep" into the dress­ing cre­at­ing more dress­ing vol­ume and moisture.
My recipe uses ingre­di­ents that are always in my fridge and pantry, so it comes togeth­er in a flash. I mix mayo, red wine vine­gar and sug­ar with a lit­tle salt and black pep­per. That's it! So easy, but so yummy.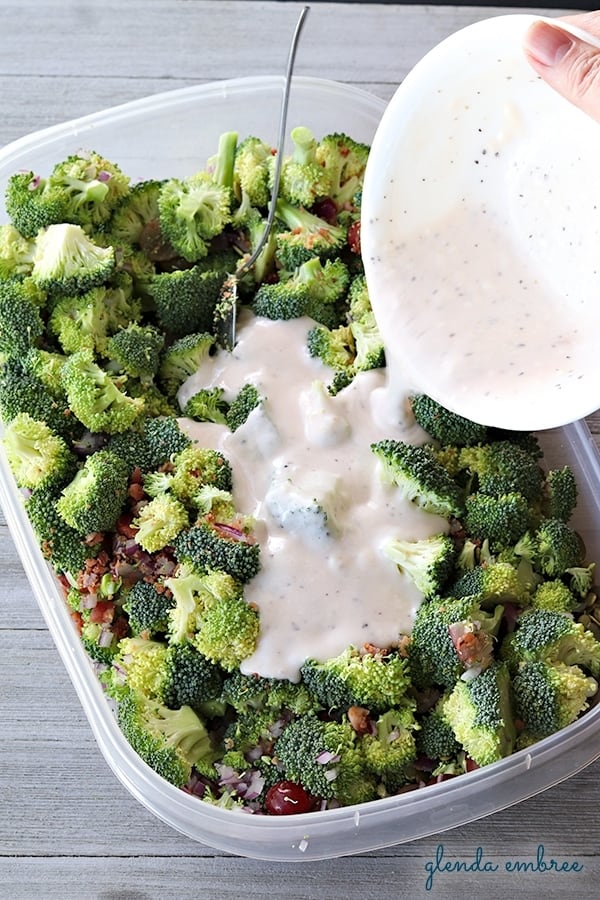 Mix the dress­ing into the sal­ad and stir long enough to be sure every­thing is even­ly coat­ed. As I men­tioned, it will seem like there's not enough dress­ing. I promise. There is. Cov­er the sal­ad and pop it in the fridge to mar­i­nate for at least four hours. The longer it sets, the more fla­vor­ful and deli­cious it becomes.
Enjoy!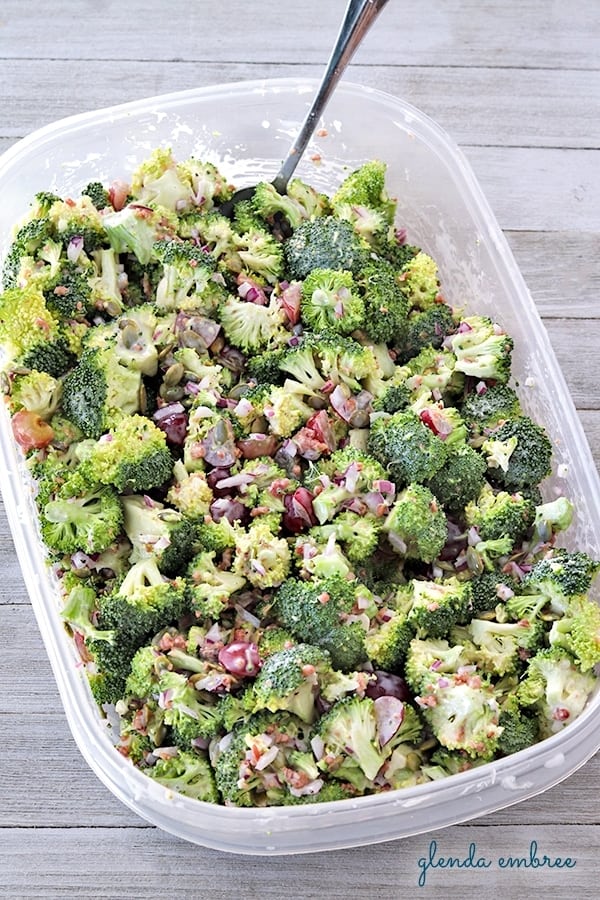 Print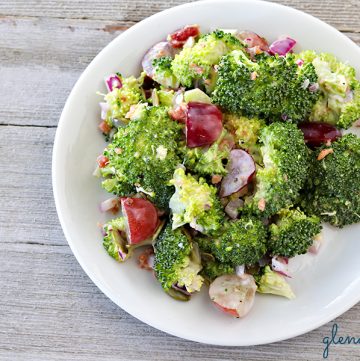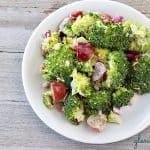 Broccoli Salad
---
Author:

Total Time:

15 min­utes

Yield:

12

serv­ings

1

x
For the Salad:
8

cups

fresh broc­coli flo­rets, cut into bite-sized pieces

1

small red onion, minced

2

cups

red grapes, cut into quarters

1

cup

pump­kin seeds (pepi­tas)

1/2

cup

bacon bits
For the Dressing:
1/2

cup

red wine vinegar

1/3

cup

sugar

2

cups

mayonnaise
salt and pep­per, to taste
---
Instructions
Wash and cut the broc­coli and grapes.
Mince the onion.
In a large serv­ing bowl mix the broc­coli, grapes, onion, bacon pieces and pump­kin seeds. Set aside.
Mix the dress­ing by whisk­ing togeth­er the may­on­naise, vine­gar and sug­ar. Add salt and pep­per to taste.
Pour dress­ing over broc­coli mix­ture and stir to combine.
At first, you will feel like this is not enough dress­ing for so much sal­ad. The sal­ad will seem only light­ly coat­ed. That's per­fect. Trust me. The veg­gies will "weep" as the sal­ad mar­i­nates in the fridge, cre­at­ing more mois­ture and adding to the dress­ing. This cre­ates a light, refresh­ing sal­ad that will absorb all the tangy, sweet ele­ments of your dress­ing and enhance every nook and cran­ny of your sal­ad. In four hours, your sal­ad will be ful­ly dressed.
Cov­er the sal­ad and allow it to sit in the refrig­er­a­tor for at least 4 hours. Overnight is even bet­ter. The fla­vor becomes more deli­cious the longer it sits.
Prep Time:

15 min­utes

Cat­e­go­ry:

Sal­ad, Side Dish, Vegetables

Cui­sine:

Amer­i­can
Need some more Veg­etable and Side Dish ideas for your hol­i­day menus? Take a look at my Sweet Pota­to Casse­role Recipe!