Sour Cream Spice Cake is every­thing you love about fall bak­ing in one delec­tably sim­ple dessert.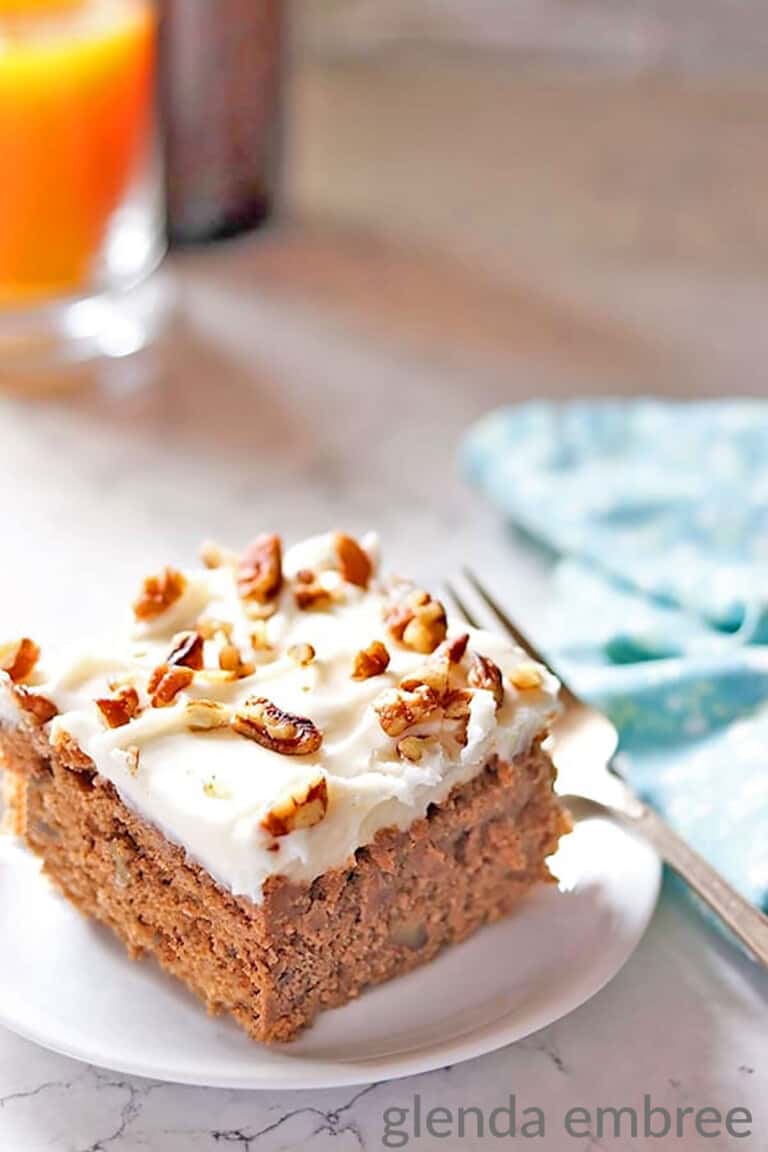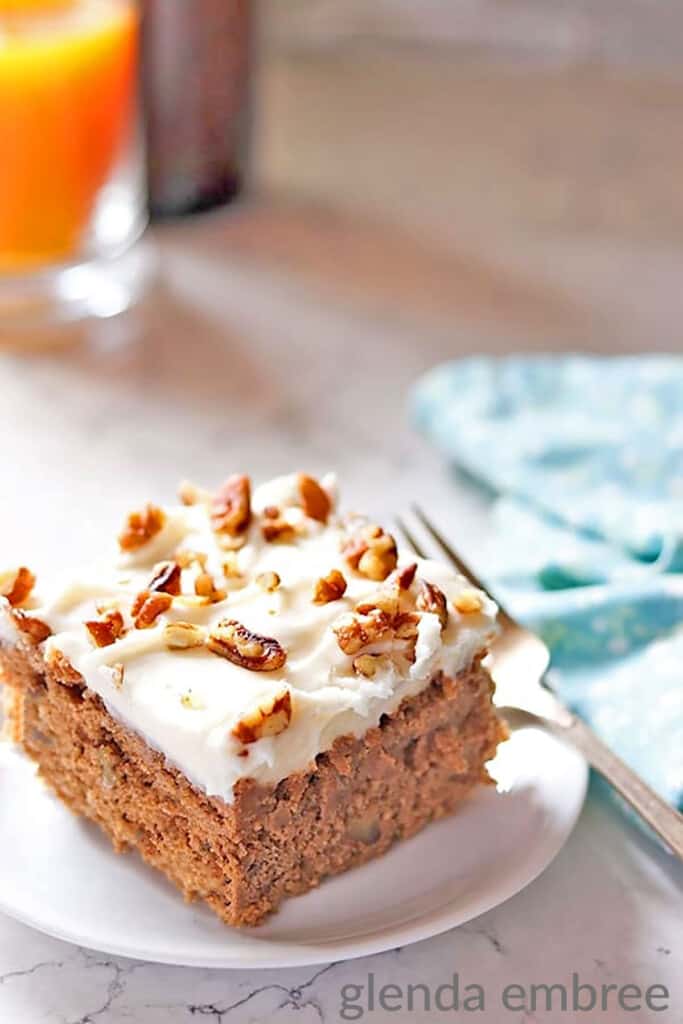 Dark brown sug­ar brings carame­ly rich­ness and pecans add delight­ful tex­ture to this fla­vor­ful and fes­tive Sour Cream Spice Cake.
The warm spices we asso­ciate with autumn and the hol­i­days, (name­ly cin­na­mon, nut­meg, gin­ger and clove), are del­i­cate­ly bal­anced with cit­rus. in this moist and ten­der cake.
The vel­vety smooth cream cheese frost­ing is Sour Cream Spice Cake's crown­ing glo­ry. Mmmmm…you're going to love it!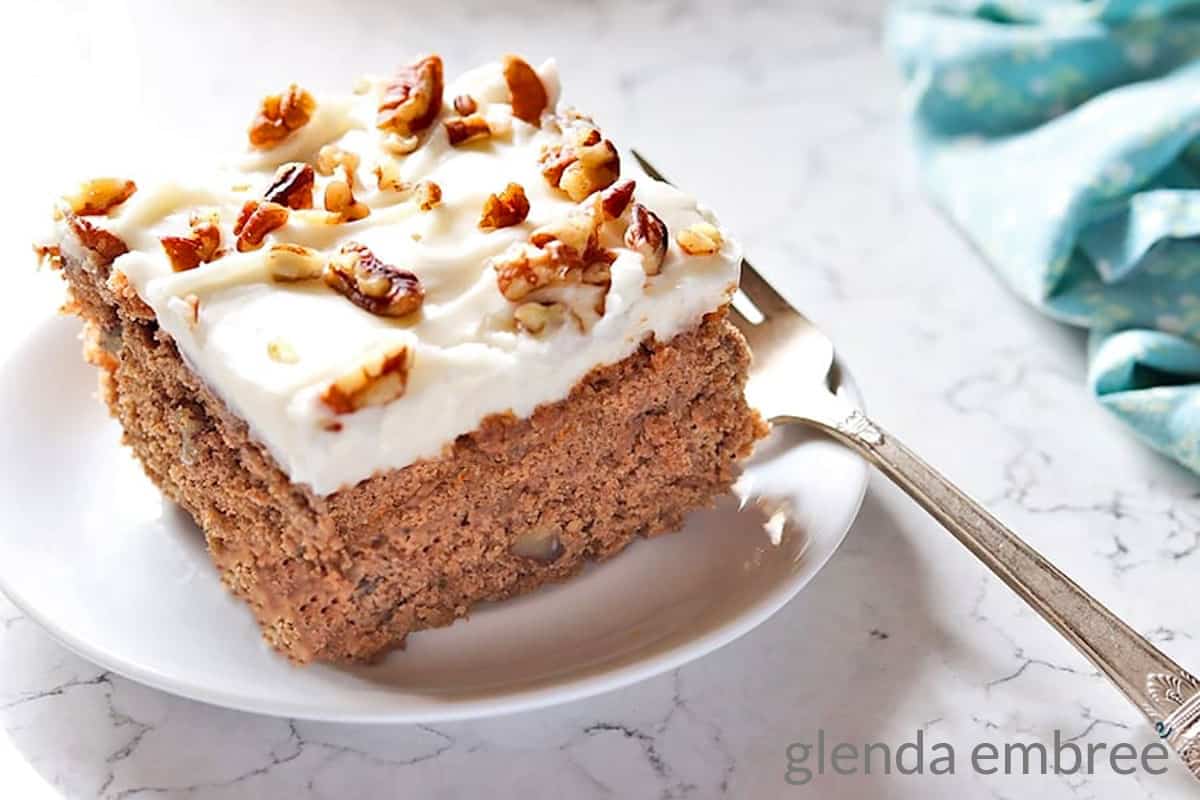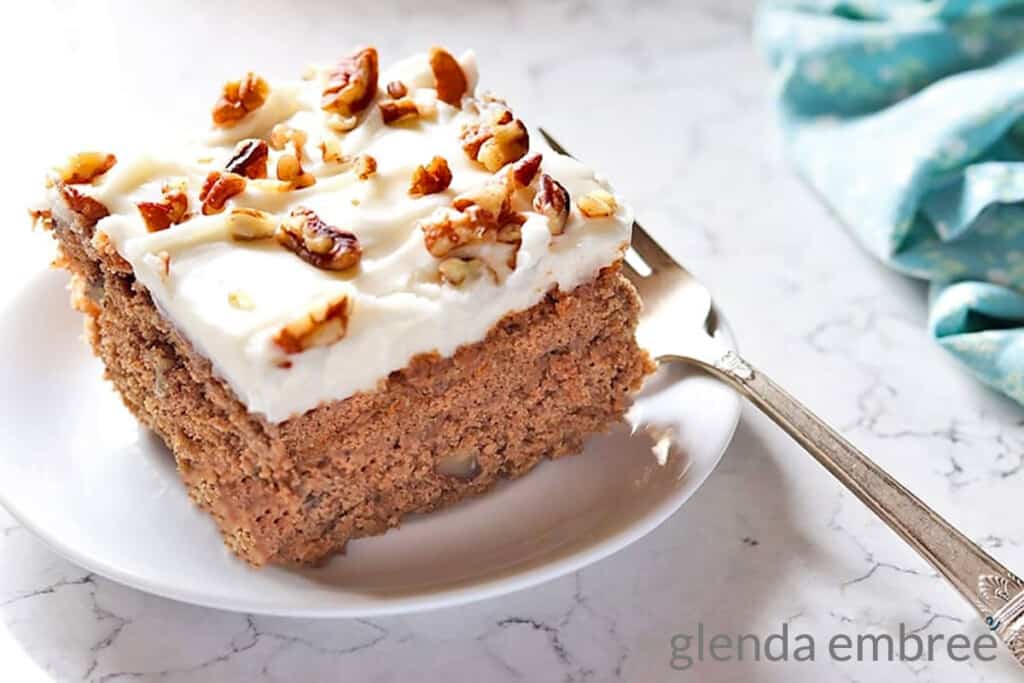 The Ingredients
But­ter
Dark Brown Sugar
Apple­sauce
Orange, zest and juice
Sour Cream
Eggs
All Pur­pose Flour
Bak­ing Powder
Bak­ing Soda
Salt
Spices: Cin­na­mon, Nut­meg, Gin­ger, Cloves
Cream Cheese Frosting
Chopped Pecans
You're read­ing the recipe cor­rect­ly. There is only dark brown sug­ar in this cake. It cre­ates a rich­er, more carame­ly fla­vor than you would achieve with just gran­u­lat­ed sugar.
The sour cream is impor­tant, again for rich­ness, but also for mois­ture in this bat­ter. You could prob­a­bly sub­sti­tute plain Greek yogurt, though I haven't tried that in this recipe.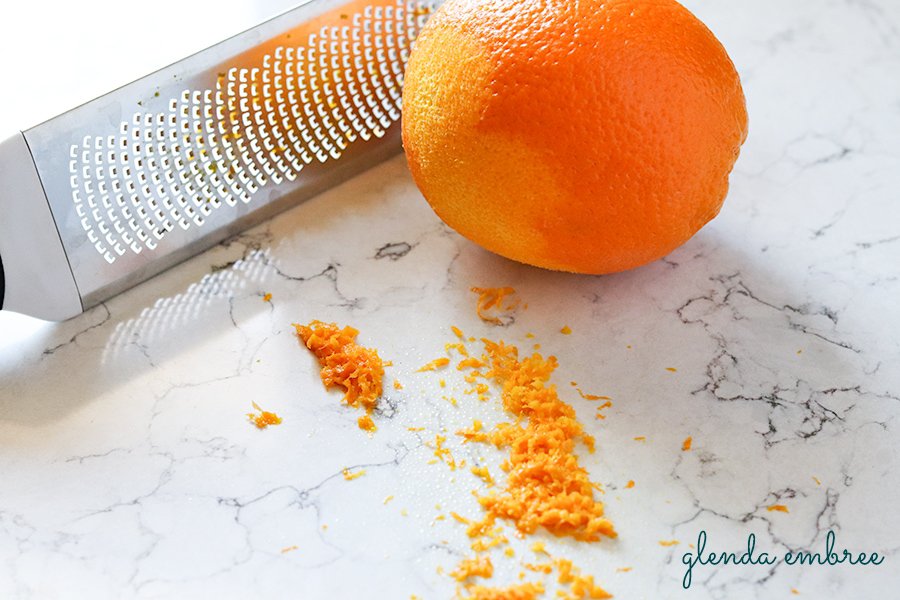 The Orange
I used a large orange for this recipe. It net­ted me well over 1/3 cup of juice, but not quite a half cup.
Be sure to zest the orange before juic­ing it. If you just have orange juice in the fridge and want to use that, you could make it work, but the real cit­rus fla­vor comes from the oils in the zest.
In my opin­ion, omit­ting it will def­i­nite­ly change the flavor.
The apple­sauce does­n't add tons of apple fla­vor. It is more for mois­ture and to cut back on the amount of fat needed.
I use unsweet­ened because that's my pref­er­ence. If you have sweet­ened apple­sauce on hand, it should be fine.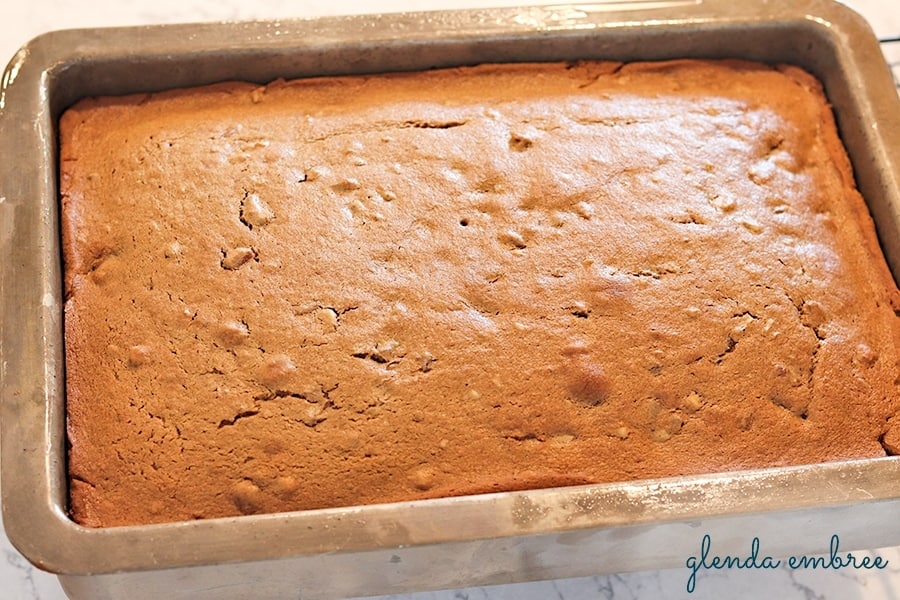 How to Make Sour Cream Spice Cake
You won't believe how easy this spice cake is to make and how quick­ly it comes together!
Start by cream­ing the but­ter and brown sug­ar togeth­er in the bowl of your stand mix­er. You can cer­tain­ly whip this up by hand, but I used my Bosch stand mix­er. A mix­er just makes the process quick and easy.
Add the apple­sauce, sour cream, orange juice, zest, eggs and vanil­la. Mix until they are well incorporated.
Mix in the flour, bak­ing pow­der, bak­ing soda, salt and spices.
When the bat­ter is mixed, stir in the chopped pecans.
Bake the sour cream spice cake in a 350° oven.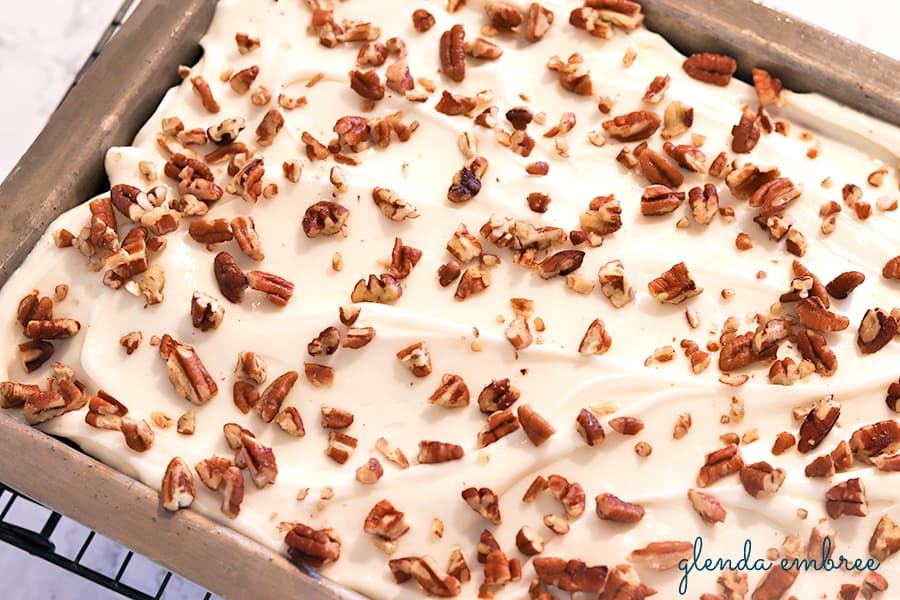 Finishing Your Spice Cake
The Sour Cream Spice Cake will need to cool on a rack.
Unless I'm mak­ing this for some spe­cial occa­sion, I leave it right in the pan to ice it.
The recipe in the card, below, makes the per­fect amount of Cream Cheese Frost­ing for icing it in the pan. If you are bak­ing the cake in two lay­ers, or you are remov­ing the 9x13 from the pan to ice the sides, too, you will need to dou­ble the cream cheese frost­ing recipe.
When there's no hint of heat left in the Sour Cream Spice Cake it's time to fin­ish it off.
Icing the Cake
Beat togeth­er the soft­ened sour cream, vanil­la, milk and pow­dered sug­ar for the most deli­cious Cream Cheese Frosting.
Spread the frost­ing over the Sour Cream Spice Cake. I like to sprin­kle a few extra chopped pecans over the top, because well…delicious. You do you. If you have extra and love them like me, it real­ly is spectacular.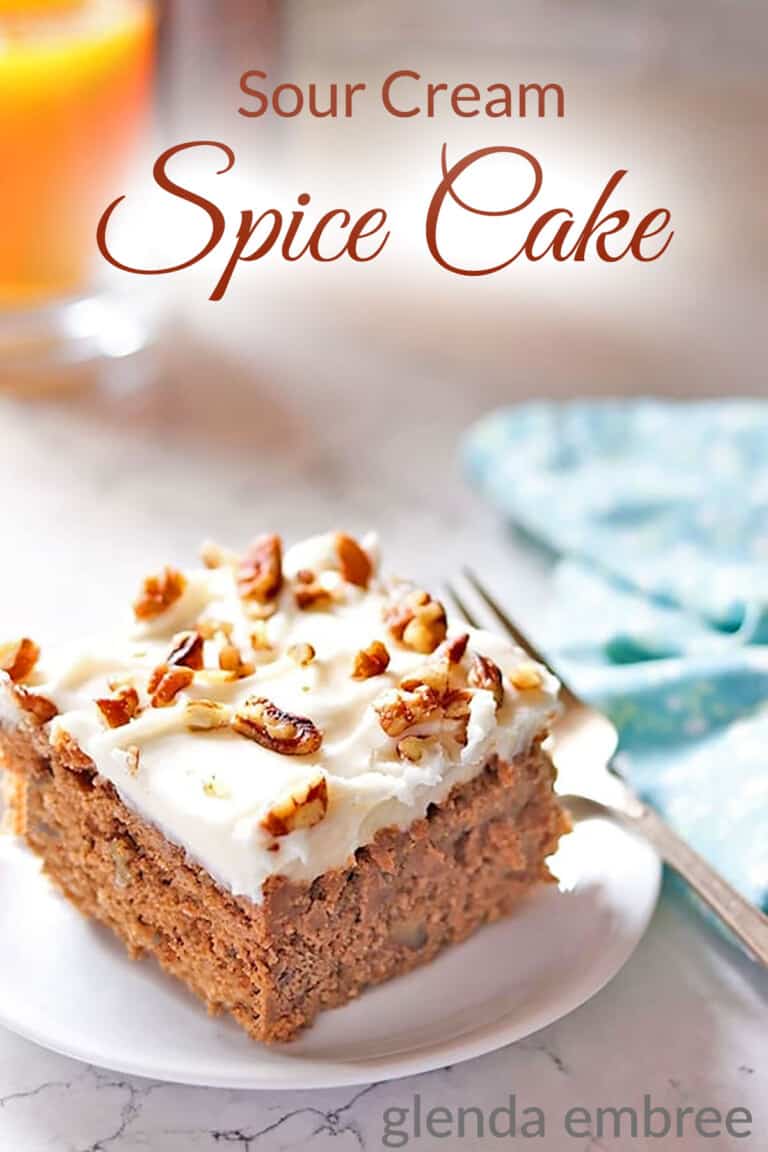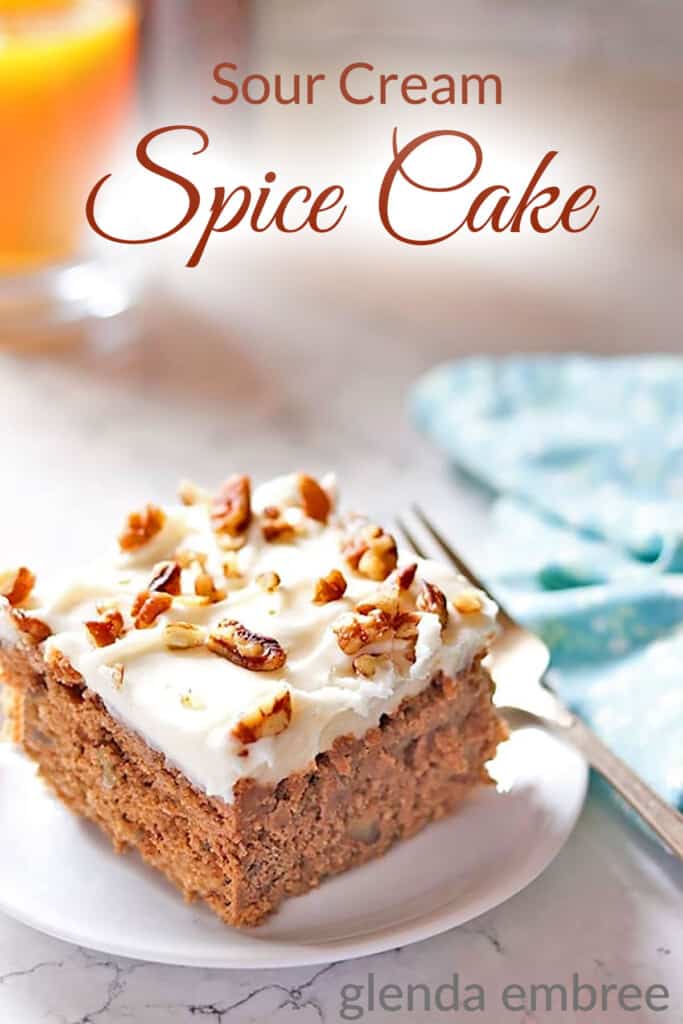 Storing the Cake
I keep this cake in the fridge because I love how it tastes served cold. Not a neces­si­ty, but in my opin­ion, it's when it's at its ulti­mate best. Seal it in an air­tight con­tain­er before storing.
To freeze your Sour Cream Spice Cake to enjoy on anoth­er day, dou­ble wrap the pan with alu­minum foil. Store in the freez­er up to 3 months.
How easy is that? And you guys, Sour Cream Spice Cake is scrumptious!
The Recipe
Print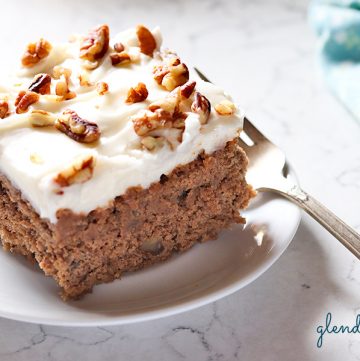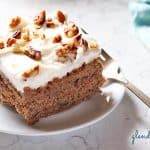 Sour Cream Spice Cake
---
Author:

Total Time:

45 min­utes

Yield:

15

-

24

serv­ings

1

x
Description
If fall and the hol­i­days could be baked into a cake, this moist and deli­cious spice cake would be it! The light cit­rus notes are a beau­ti­ful com­ple­ment to the warm spices and the tangy cream cheese frost­ing is perfection!
---
1

cup

but­ter, softened

1 3/4

cups

dark brown sugar

1/2

cup

unsweet­ened applesauce

1

large orange, zest and juice

1

cup

sour cream

4

eggs

2 1/4

cups

all pur­pose flour

1 tea­spoon

bak­ing powder

1 tea­spoon

bak­ing soda

1 tea­spoon

salt

2 Table­spoons

cinnamon

1 tea­spoon

nutmeg

1 tea­spoon

ginger

1/2 tea­spoon

cloves

1

cup

chopped pecans

1

recipe Cream Cheese Frost­ing (see in notes)
---
Instructions
Pre­heat oven to 350° and grease a 9x13 cake pan.
Cream the but­ter and brown sug­ar togeth­er in the bowl of your stand mixer.
Add the apple sauce, sour cream, eggs, orange juice, zest and vanil­la and beat until the ingre­di­ents are incorporated.
Add the flour, bak­ing pow­der, bak­ing soda and spices. Mix until the dry ingre­di­ents are ful­ly incor­po­rat­ed into the batter.
Mix in the pecans.
Bake in a greased 9x13 pan, for 35–45 min­utes at 350°.
Remove the cake from the oven when the edges have pulled slight­ly away from the sides of the pan and a tooth­pick insert­ed in the cen­ter comes out clean.
Cool the cake, in the pan, on a cool­ing rack.
When com­plete­ly cool, frost it with one recipe of Cream Cheese Frost­ing (recipe in the notes, below) and if desired, sprin­kle with a few addi­tion­al chopped pecans.
Notes
Cream Cheese Frost­ing Recipe (enough to ice a cake in a 9x13 pan)
In the bowl of your stand mix­er beat a soft­ened 8 oz bar of cream cheese, 1 Table­spoon of vanil­la, and 1 pound of pow­dered (con­fec­tion­ers) sug­ar, until the frost­ing is smooth and creamy. If the con­sis­ten­cy is too thick for you, add 1–3 tea­spoons of milk, a tea­spoon at a time, until you achieve the desired consistency.
Frost your com­plete­ly cooled cake.
Prep Time:

10 min­utes

Cook Time:

35 min­utes

Cat­e­go­ry:

Dessert, Cake

Method:

Bak­ing

Cui­sine:

Amer­i­can
More Delicious Desserts