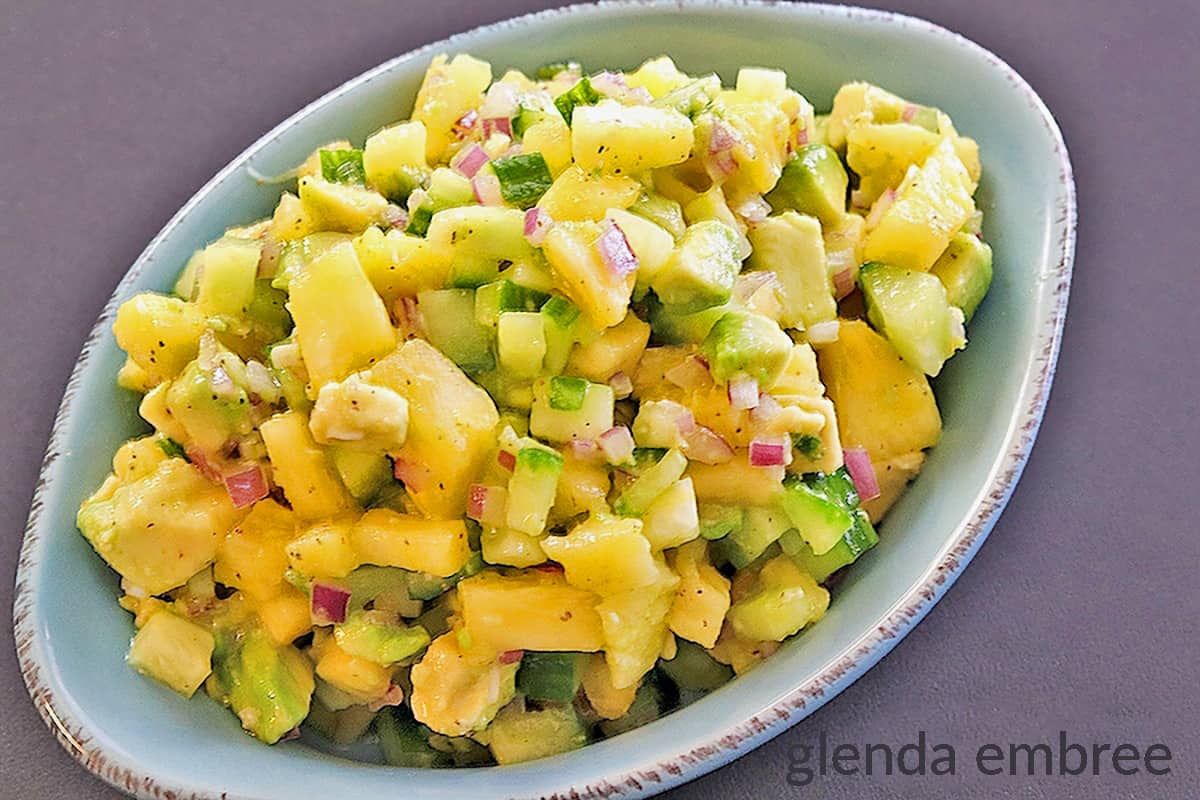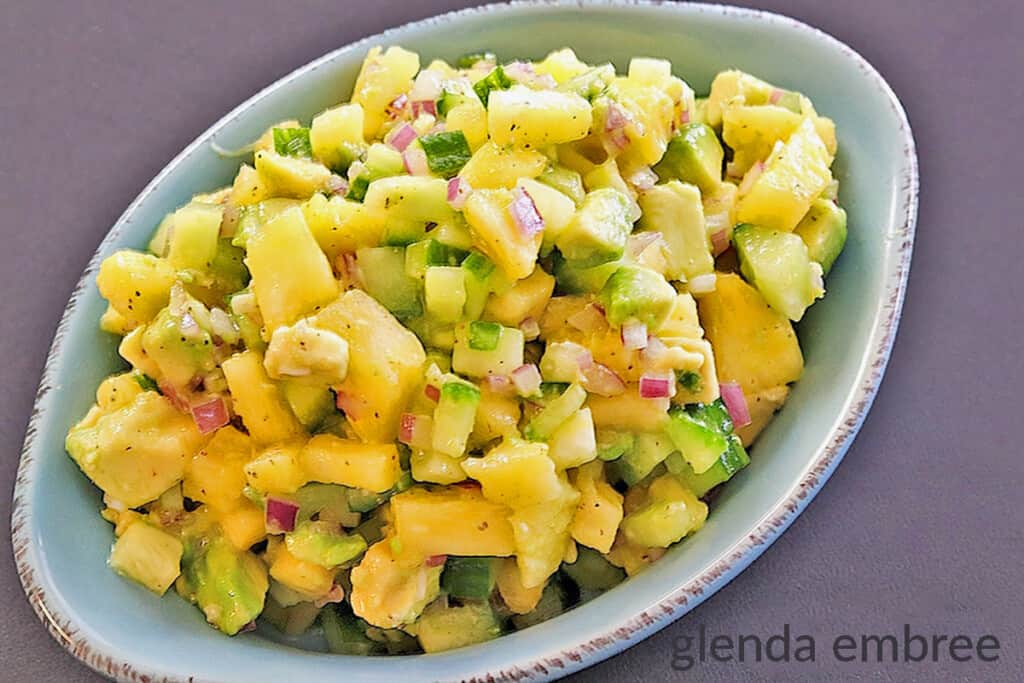 Pineap­ple Avo­ca­do Sal­sa is light and refresh­ing. It's com­plete­ly deli­cious and 5‑ingredient sim­ple! If you're try­ing to be true to any spe­cial diet, this recipe is Gluten-Free, Grain-Free, Dairy-Free, Whole 30 and Paleo. You get the crispy crunch of fresh cucum­ber, the soft, creamy deca­dence of avo­ca­do and the sweet­ness of fresh pineap­ple. And every­thing is bal­anced by the tart, acid­i­ty of a lit­tle lemon juice and the addi­tion of savory red onion. This deli­cious top­ping (or side) hits every scrump­tious fla­vor note. You're going to want it on the din­ner table, often!
Pineap­ple Avo­ca­do Sal­sa is a beau­ti­ful com­ple­ment to most any main dish. We serve it on fish or over chick­en. It's extra­or­di­nary inside fish tacos and we love it with pork loin, too! And the beau­ty of it is that it also makes a won­der­ful side or stand-alone sal­ad! I love putting it over mixed greens and adding some diced left­over chick­en or tuna for a great sal­ad lunch.
You can also add a lit­tle heat, and spice things up, by blend­ing in minced jalapeno. No mat­ter how you serve Pineap­ple Avo­ca­do Sal­sa, you won't be disappointed.
Good for you nev­er tast­ed so good! I hope you love it!
Print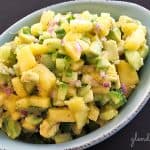 Pineapple Avocado Salsa, Quick and Easy
---
Author:

Total Time:

10 min­utes

Yield:

2 cups

1

x
1/2

a fresh pineap­ple, diced small

1/2

an Eng­lish cucum­ber, diced small

1/2

small red onion, minced fine

1

avo­ca­do, diced small

1

lemon, zest and juice
salt and pep­per, to taste
---
Instructions
Mix all ingre­di­ents in a bowl with a tight-seal­ing lid. Serve over or beside your favorite chick­en, fish or pork dishes.
Left­overs can be refrig­er­at­ed 3–4 days, if they last that long.
Prep Time:

10 min­utes

Cat­e­go­ry:

Sides, Condi­ments

Cui­sine:

Amer­i­can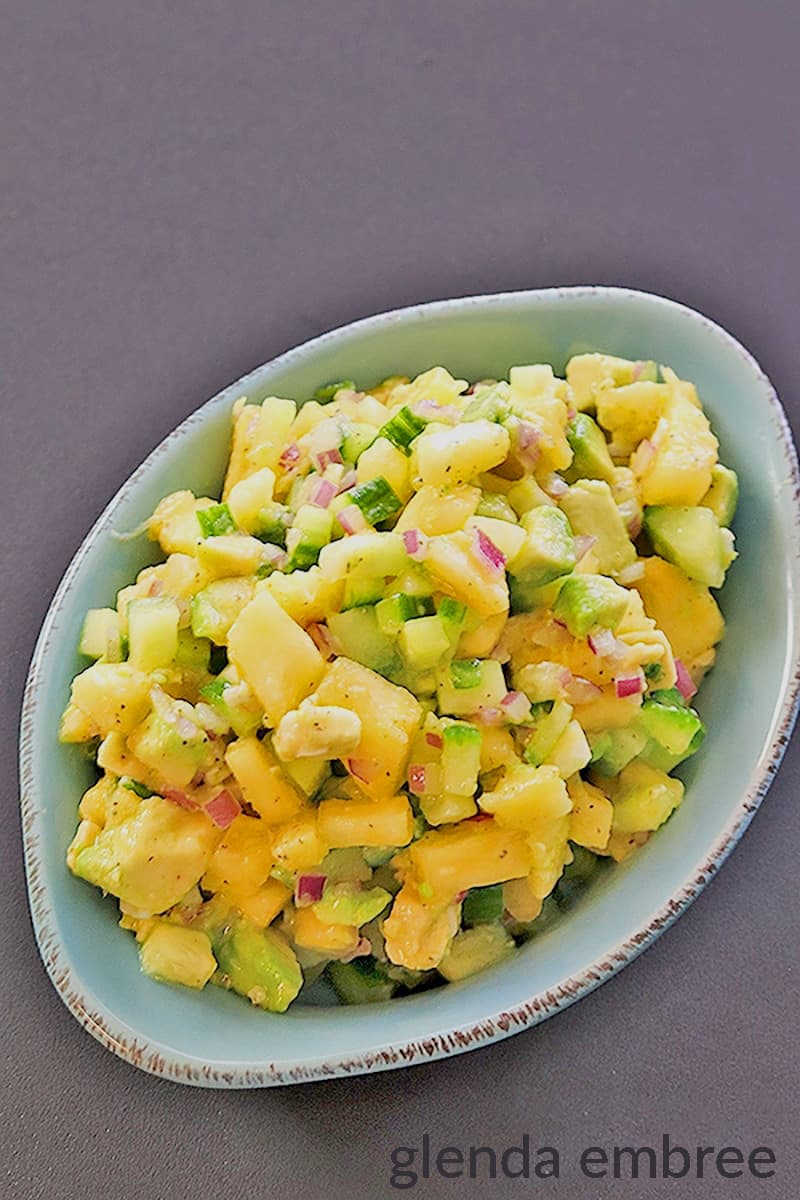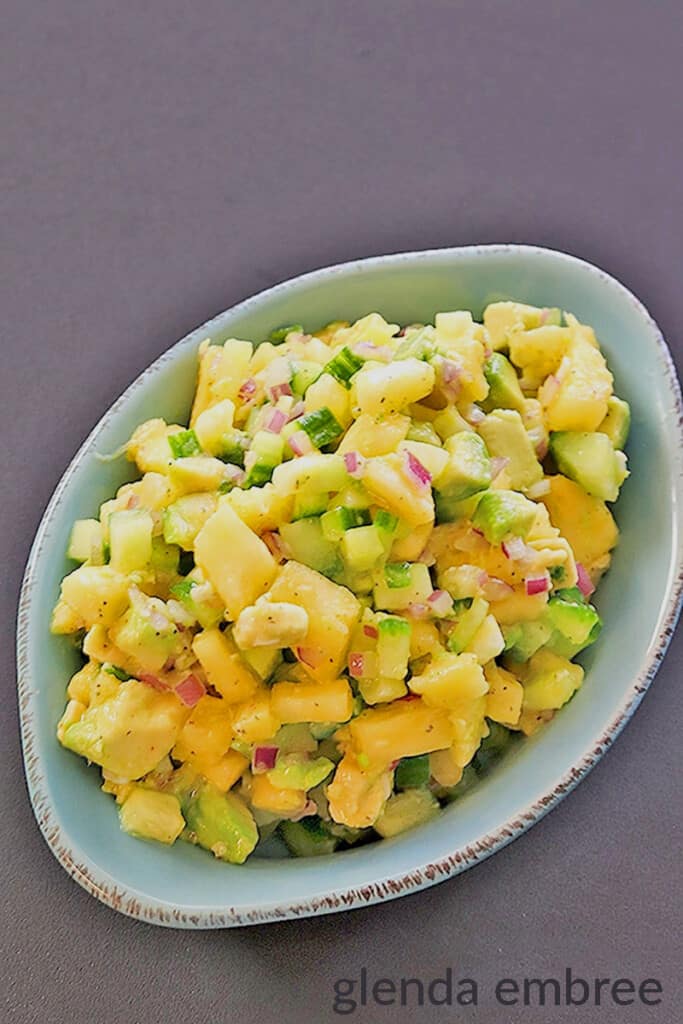 How to Make Pineapple Avocado Salsa
It takes less than ten min­utes to toss this yum­my recipe togeth­er. It will, hon­est­ly take you longer to read this entire post, but it was impor­tant for me to include some infor­ma­tion on relat­ed knife skills, i.e., small dic­ing and minc­ing. Your time invest­ment, to make the recipe, will be in chop­ping the ingre­di­ents and that's going to go quick­ly, once you know the tricks.
Dicing the Pineapple
Start by cut­ting the top off your fresh pineap­ple and then the bot­tom. Now that you've cre­at­ed a flat sur­face on the bot­tom of the pineap­ple, stand it up on your cut­ting board and use your chef's knife to peel away the out­er skin and bris­tles. Toss all of that waste away.
Con­tin­ue on, with the pineap­ple stand­ing on end, and work­ing down from the top to the bot­tom, using your *chef's knife, to cut the pineap­ple in half and then into quarters.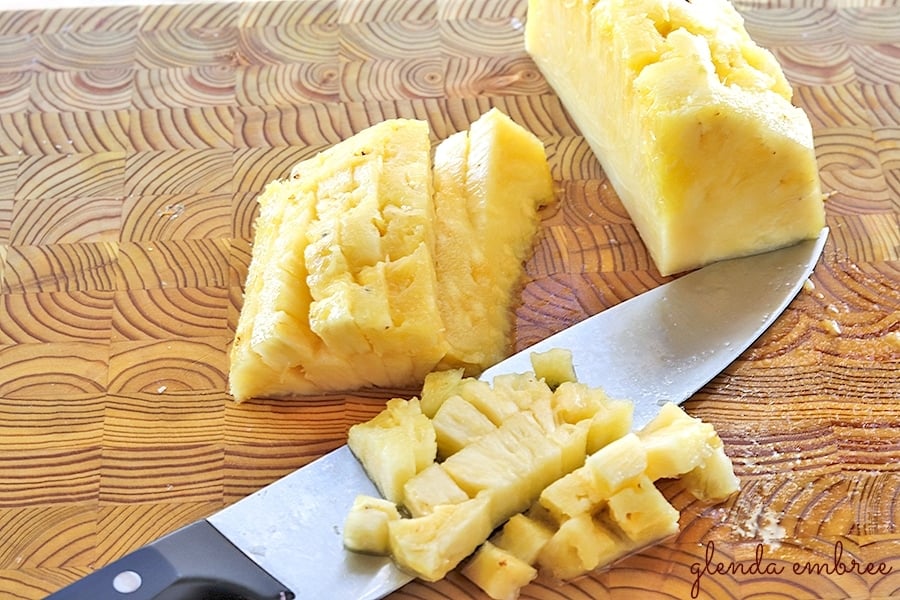 Once it's quar­tered, each piece of the pineap­ple will have a piece of cen­ter core, still attached. Stand the quar­ter on end and with the chef's knife, slice off that tri­an­gle of core. *This is the knife I ordered on Ama­zon, in 2016. It's high qual­i­ty and I use it dai­ly. I ful­ly expect it will last me my entire life­time, so it was a solid­ly eco­nom­i­cal invest­ment. I con­sid­er it one of my most essen­tial kitchen tools.*
Now, slice the pineap­ple quar­ter, still stand­ing on end, in half, to cre­ate two slices of pineap­ple. Lay the slices down, one on top of the oth­er and cut them length­wise into nar­row strips. Then turn, the whole sec­tion of strips and start­ing at the end, begin cut­ting off the small dices.
Repeat the process for the oth­er pineap­ple quarters.
Dicing the Cucumber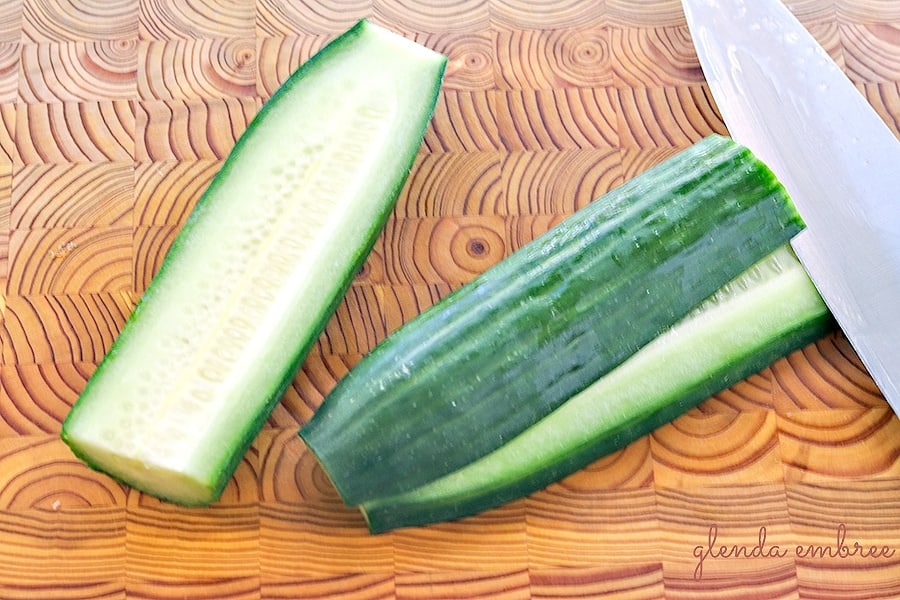 It's basi­cal­ly the same process to small dice a cucum­ber. Remove both ends so you're work­ing with flat sur­faces. Stand the cucum­ber on end and slice it in half lengthwise.
Slice each half in half, the same way. Lay slices one on top of the oth­er and cut them length­wise into long, thin strips.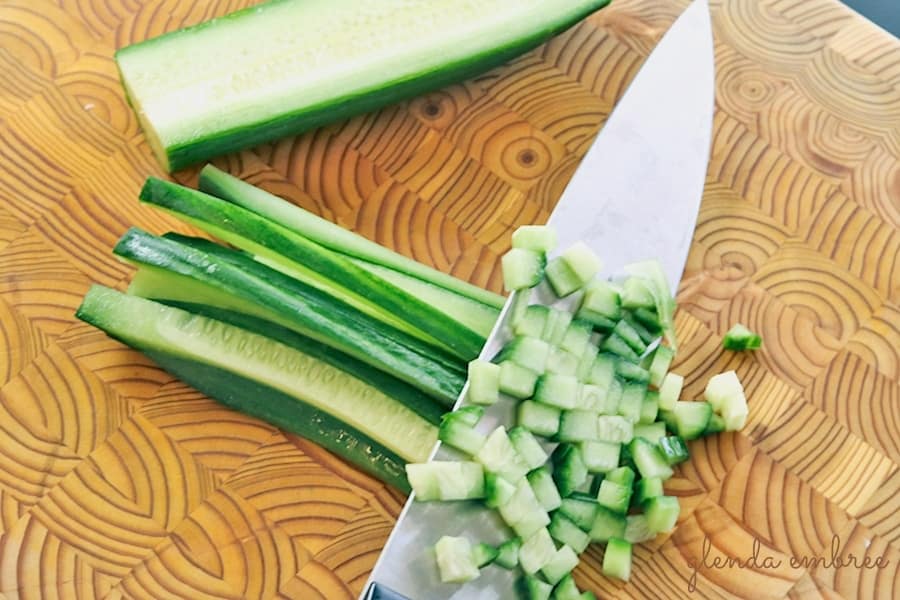 Turn the group of strips so you can eas­i­ly maneu­ver your *knife and begin cut­ting off the dices on the end.
Like any­thing you want to slice, the width of your strips and thick­ness of your slices will deter­mine the size of your dice or mince. Adjust them and you will get a dif­fer­ent size result. For this Pineap­ple Avo­ca­do Sal­sa, I have kept every­thing to a small dice or even a mince.
Mincing Onions without Crying a River
Every once in a while, I do get caught and an onion will have me cry­ing my eyes out, but hon­est­ly, that's not the norm. I don't wear safe­ty gog­gles or hold a piece of bread in my mouth or any of the oth­er old wives tales float­ing around out there. Yet, I can typ­i­cal­ly chop and cut onions with­out weep­ing. A super sharp knife is the key. You need to be able to slice through the onion, not saw through it.
I'm no pro­fes­sion­al chef, so I don't have culi­nary school knife skills. But, I do know what has worked for me. So, start with a very sharp knife and try these instructions.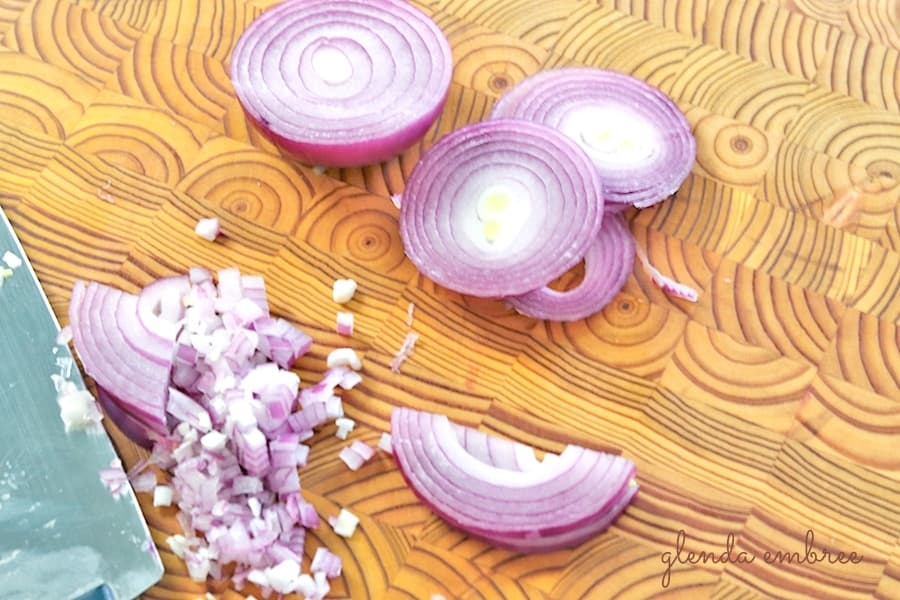 I start by cut­ting both ends off the onion and then peel­ing off the out­er "paper" layer.
Next I cut the onion into round slices, par­al­lel to the cut ends. The thick­ness of the slices will deter­mine how large or small your dices or minces end up. For this sal­sa, I want­ed fine­ly minced onion, so I cut the slices very thin.
Stack two or three slices and cut them in half. Take one stack of the halves and turn them so you can begin minc­ing off the onion pieces from the end. You're work­ing on a curve, so you will need to rotate the slices, slight­ly after a few cuts, to keep cut­ting the pieces off and get them uniform.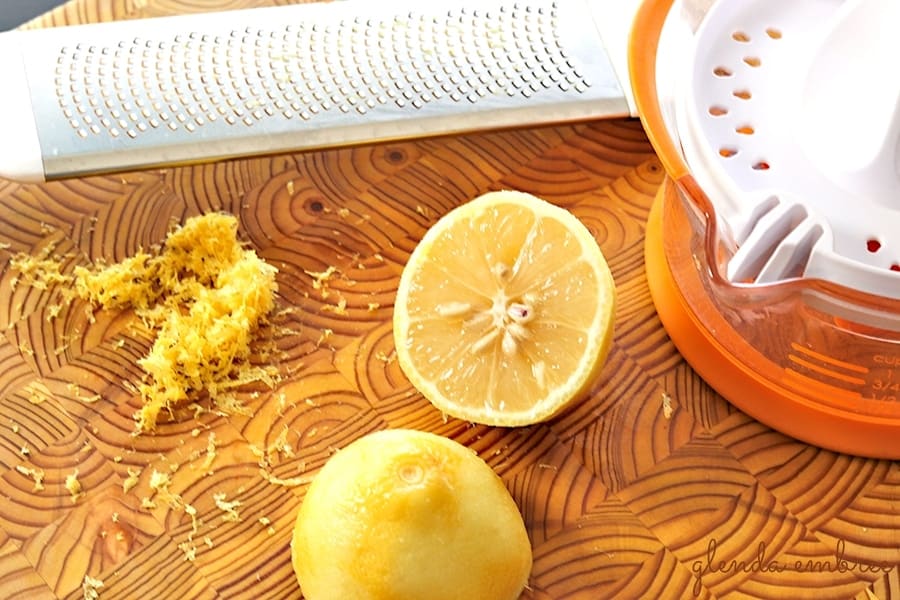 Zesting and Juicing the Lemon
There's no spe­cial trick to this real­ly and sev­er­al types of tools that may work. I have a microplane grater that I use for zest­ing. I love it because it's quick, sim­ple and easy to clean. You could use the small side of a box grater, which would be my next choice, or alter­na­tive­ly, it may be pos­si­ble to use a veg­etable peel­er to remove large sheets and then chop them with a knife.
The crit­i­cal thing to remem­ber about zest­ing is that you only want to remove the out­er yel­low lay­er of the skin. The thick white pith under­neath is quite bit­ter. If you're going to try remov­ing the zest with a veg­etable peel­er or a knife, that will be your biggest dif­fi­cul­ty — get­ting only the yel­low skin.
*Here's a microplane grater, like I use.
Once the lemon, is zest­ed, I cut it down the cen­ter, in a line par­al­lel to the two ends. I don't have a fan­cy elec­tric juicer, but mine catch­es all the seeds, is easy to use and easy to rinse out. Juice both halves for this recipe.
*Here's my juicer.
Mix Up Your Pineapple Avocado Salsa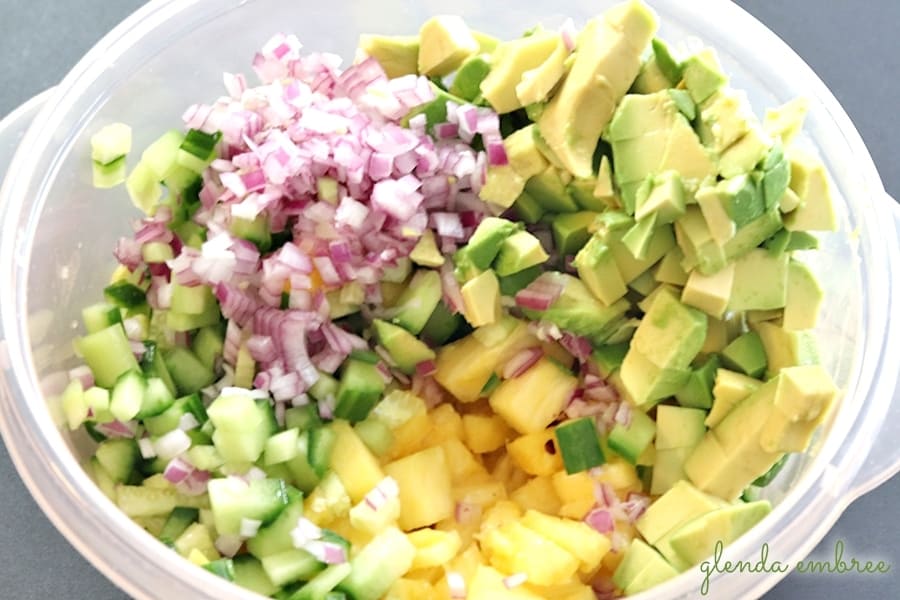 Now the easy part! Toss every­thing in a bowl and stir it togeth­er. Add salt and pep­per to taste. Your sal­sa is ready to serve! We have kept it in the fridge for four days, when it last­ed that long. The acid­i­ty of the pineap­ple and lemon juice kept the avo­ca­do green and perfect.
You guys, I'm not even kid­ding. This is so deli­cious! It does­n't get bet­ter than some­thing that's good for you to eat, that is some­thing you LOVE to eat. I can't wait for you to try it!
It would be deli­cious on my Crock-Pot Pork Car­ni­tas!