Orange Short­bread Cook­ies melt in your mouth! They're del­i­cate, citrus‑y and luscious!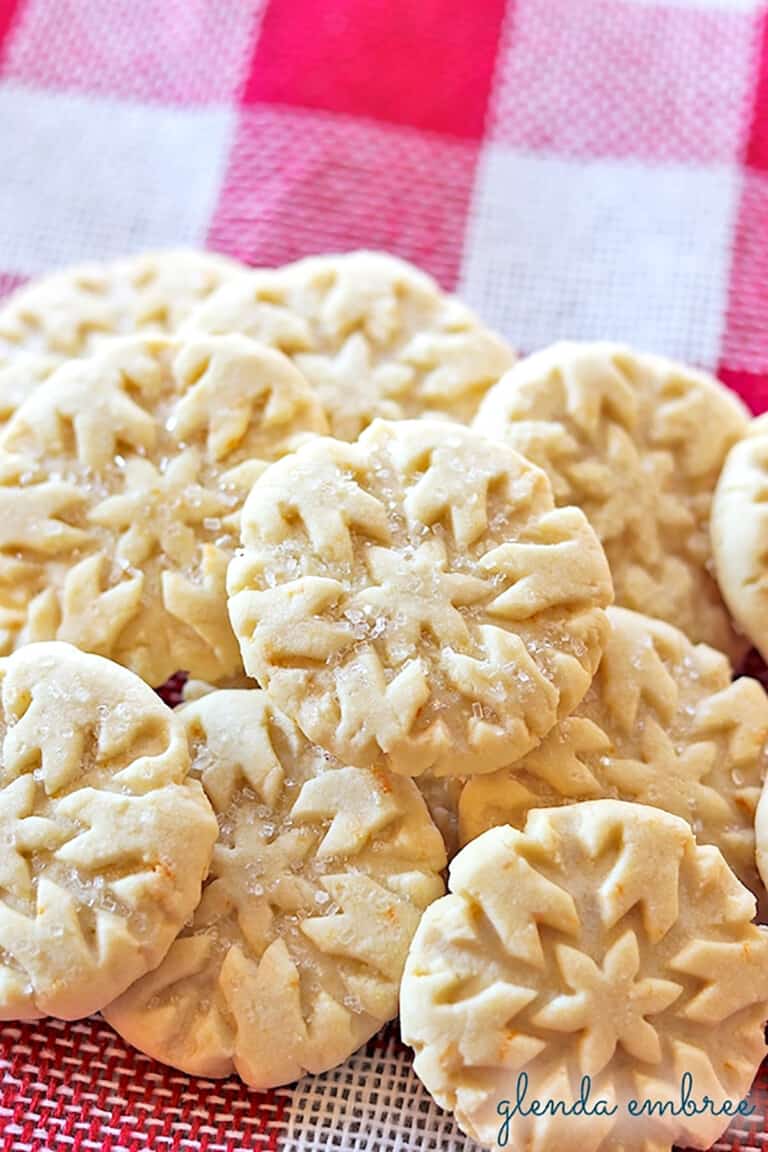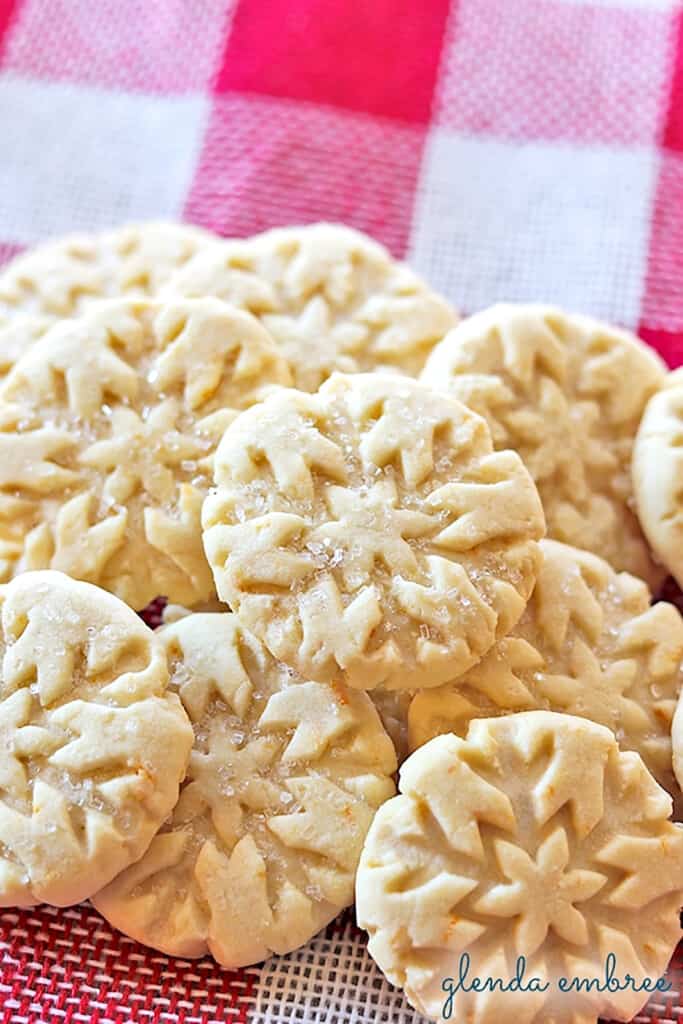 When I think of short­bread cook­ies, I pic­ture those swirly cook­ies that show up in hol­i­day tins around Christ­mas­time. As a kid, I liked them, but there were so many oth­er cook­ie options that they did­n't real­ly hold my interest.
My Orange Short­bread Cook­ies are melt-in-your-mouth deli­cious. They're sim­ple and they're not over­ly sweet.
The hint of cit­rus is what sets them apart and makes them so spe­cial. The crisp/soft cook­ie just sort of melts away as you chew. And you're left with a lin­ger­ing citrus‑y sweetness.
As I have got­ten old­er, I've dis­cov­ered that the not over­ly sweet part has so much more appeal, for me. There are so many sweet and rich foods swirling around us over the hol­i­day sea­son. Some­times it's just too much.
I have found these lus­cious Orange Short­bread Cook­ies to be sweet relief! You're gonna love them, too!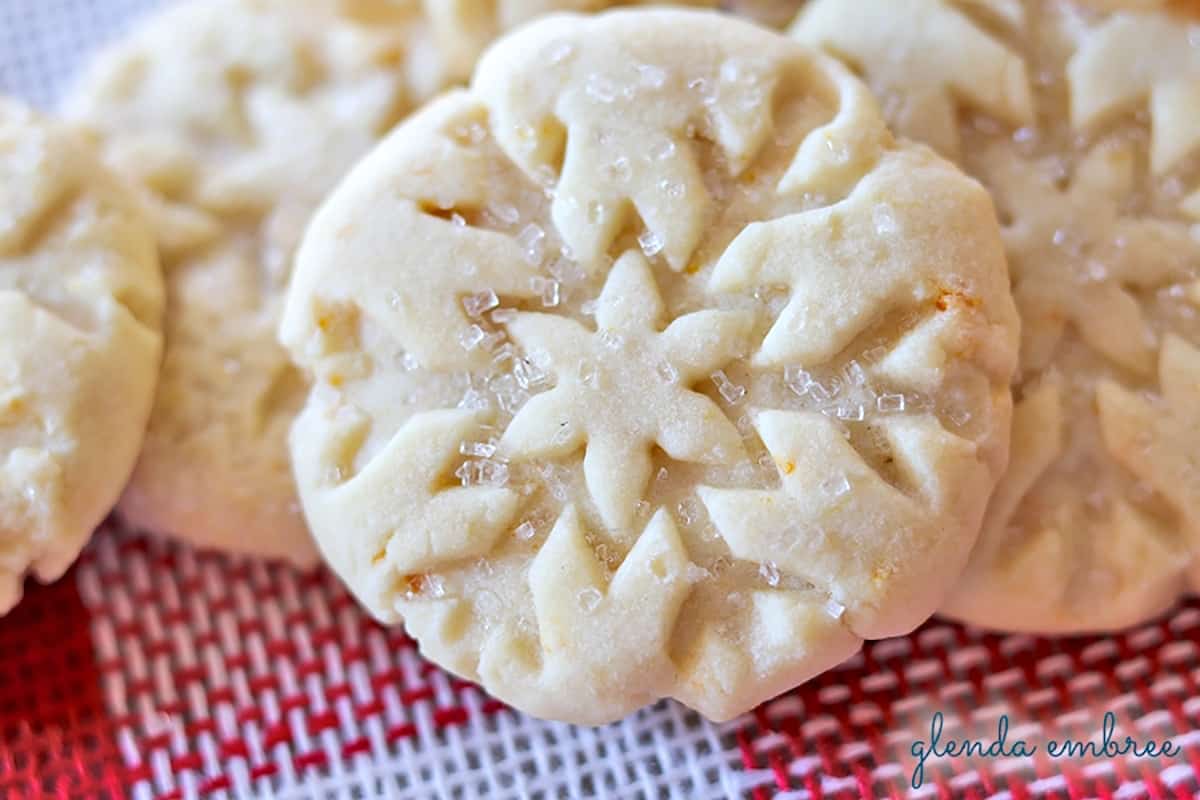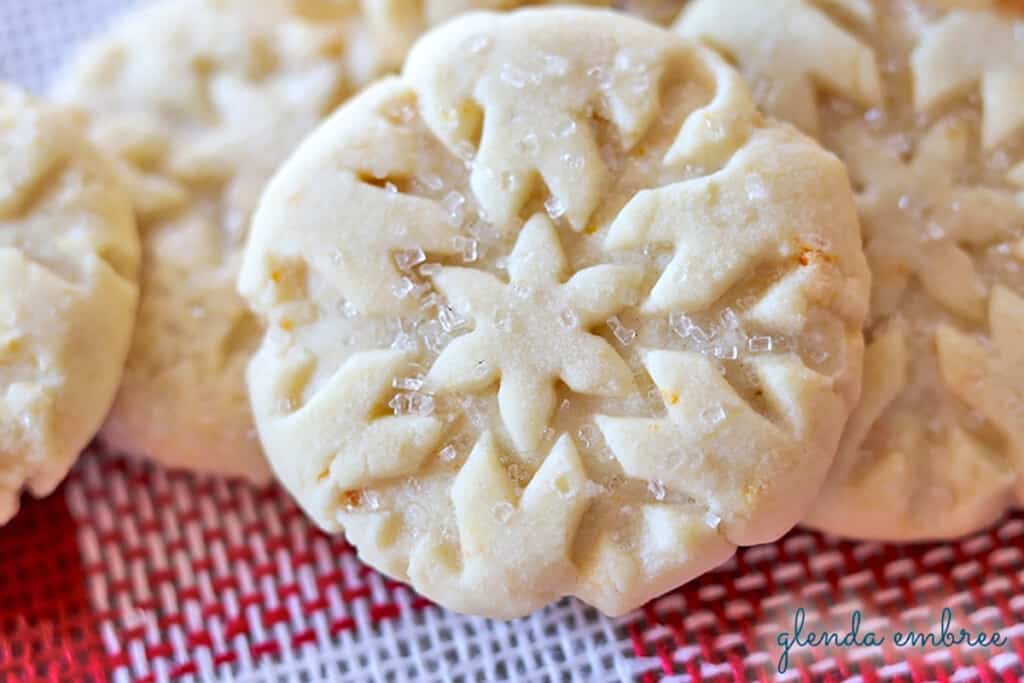 The Ingredients
But­ter
Flour
Pow­dered Sugar
Corn Starch
Orange Zest
How to Make Orange Shortbread Cookies
Start by zest­ing two or three oranges to get 2 Table­spoons of zest. Save the oranges in the fridge, to eat or juice, lat­er on. They'll keep in the crisper draw­er for 2 or 3 days with their zest missing.
The rest of this recipe is so sim­ple. You won't believe how easy Orange Short­bread Cook­ies are to make!
Cream togeth­er the but­ter, sug­ar and orange zest. You can mix these by hand or in a stand mix­er. I made quick work of it in my *mix­er.
Now, add the flour and corn­starch and begin com­bin­ing them with the but­ter mix­ture. At first, it's going to look crumbly and sandy as the dough starts com­ing togeth­er. Keep mix­ing. You will see larg­er clumps of smooth dough start­ing to come togeth­er. It will seem dri­er than reg­u­lar cook­ie dough and that's right. You did every­thing perfectly!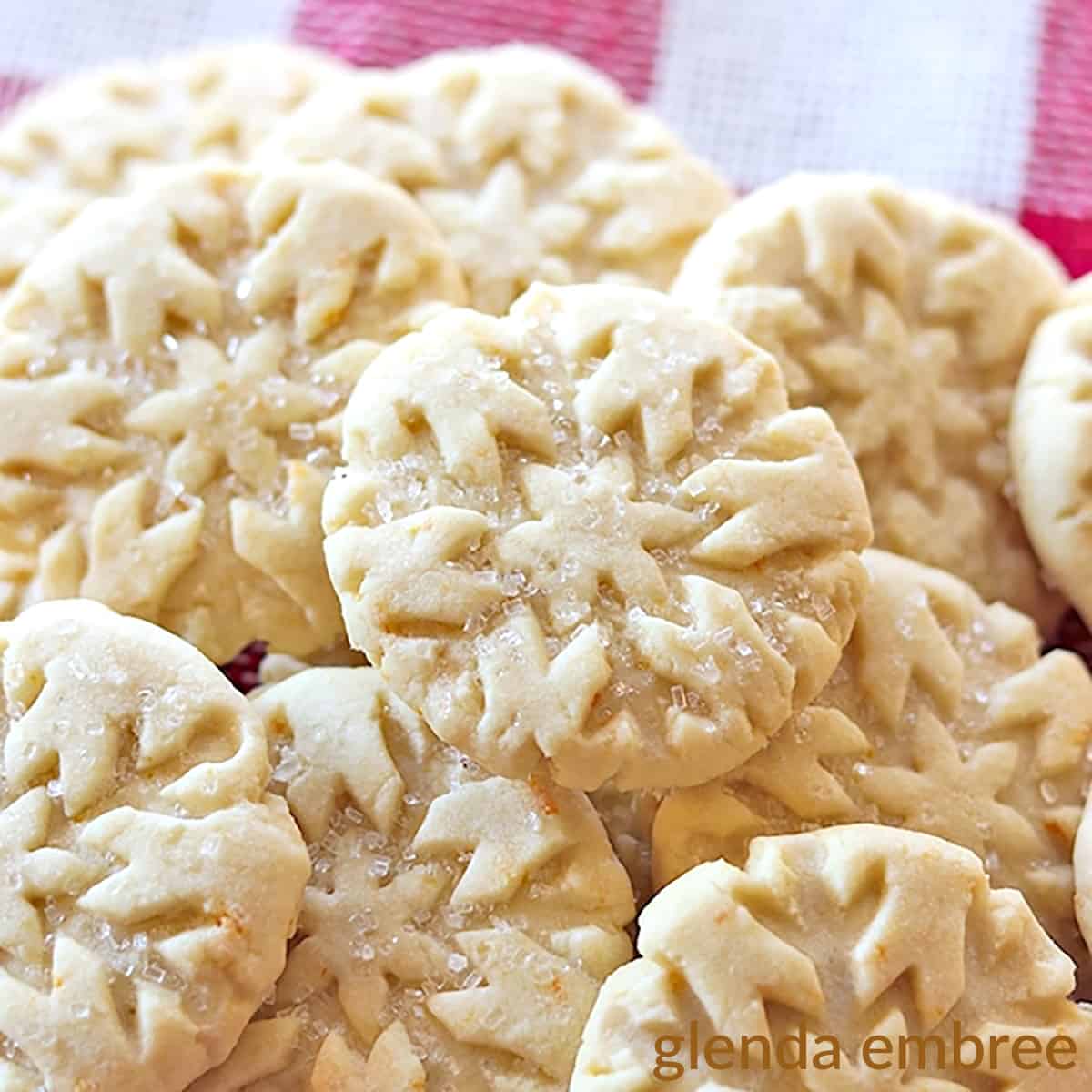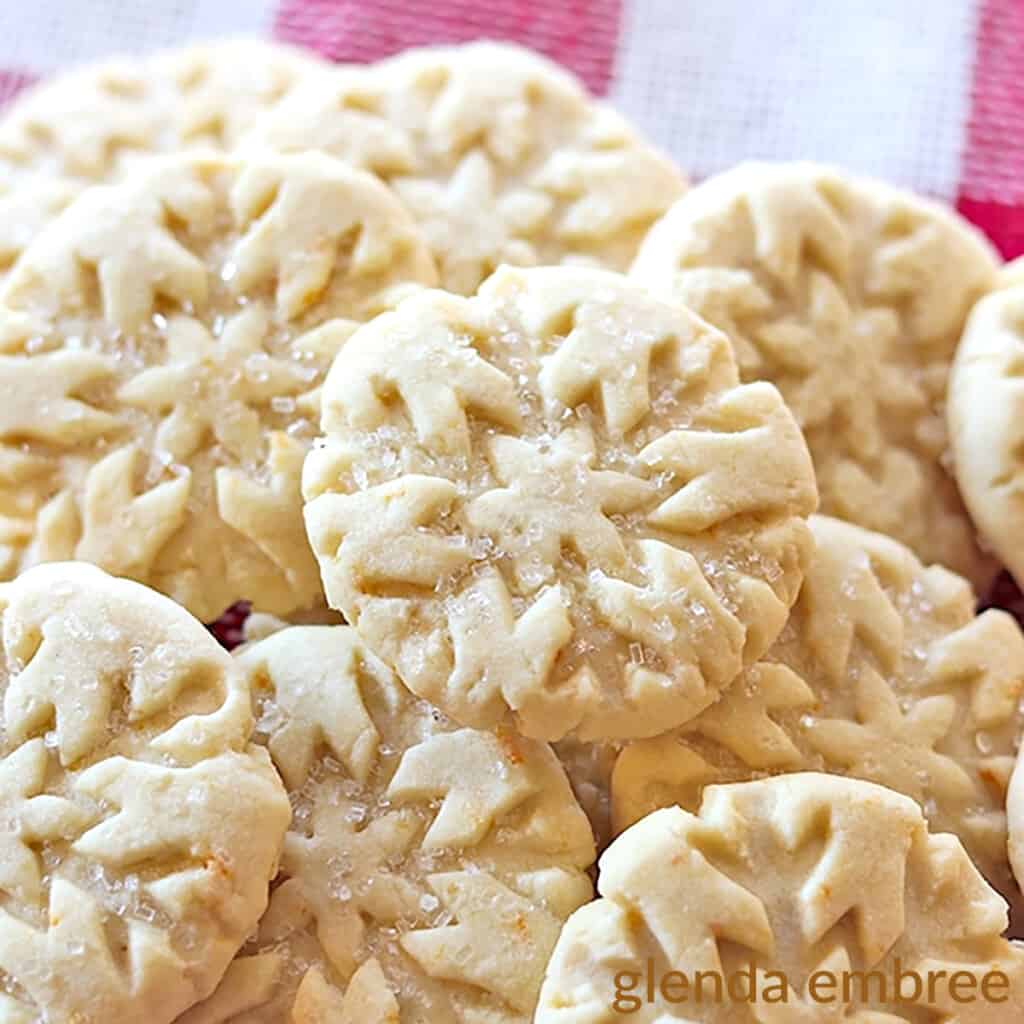 Baking and Decorating Orange Shortbread Cookies
To form the cook­ies, roll the dough into 1 1/2 inch balls. Place them on a greased or lined cook­ie sheet.
Next you need to press them down until they're about 3/8 inch thick. You can use the tines of a fork, the bot­tom of a glass, even a meat mal­let to press the cook­ies and cre­ate a design. I had a snowflake insert from an old cook­ie cut­ter and I used that for my press. Get cre­ative. I'll bet you have things in the house that would make cute designs.
It is com­plete­ly option­al, and not part of the recipe, but I like to sprin­kle the pressed cook­ie dough with sparkling sug­ar at this point. It adds just a touch of sweet­ness and crunch to the cook­ie and cre­ates a "spark­ly" appearance.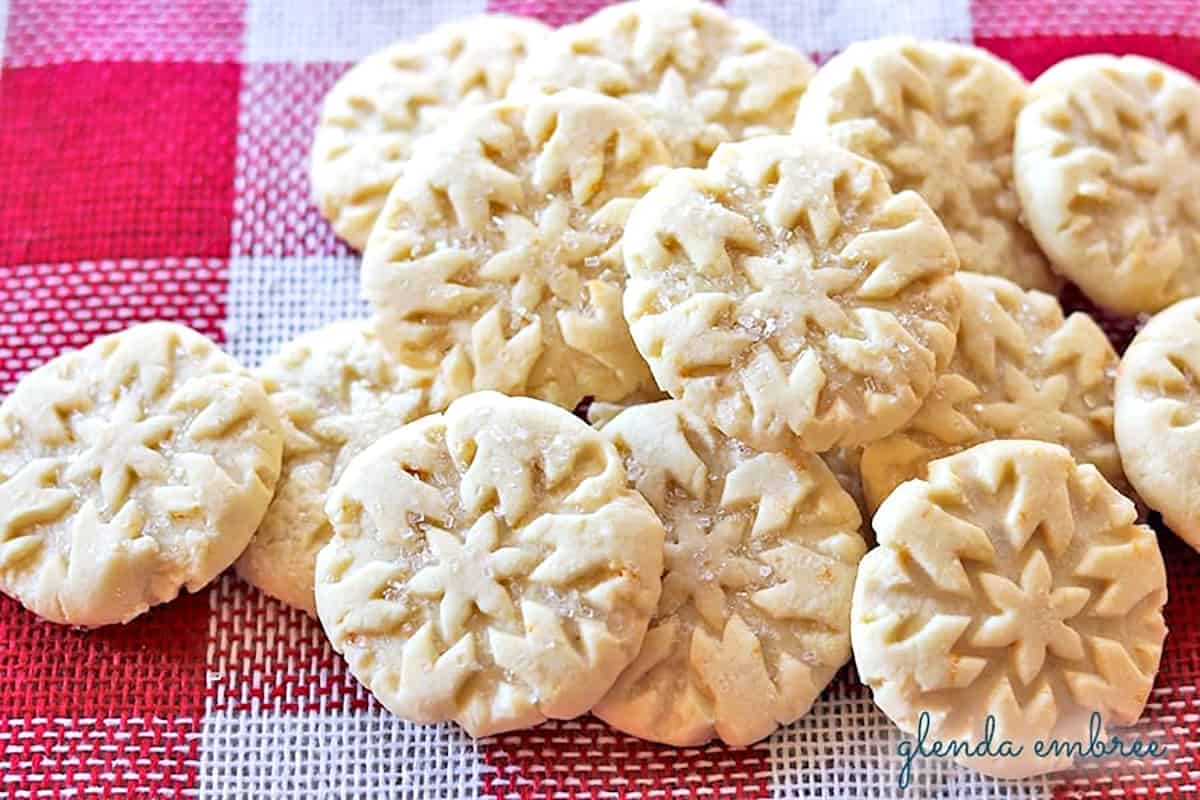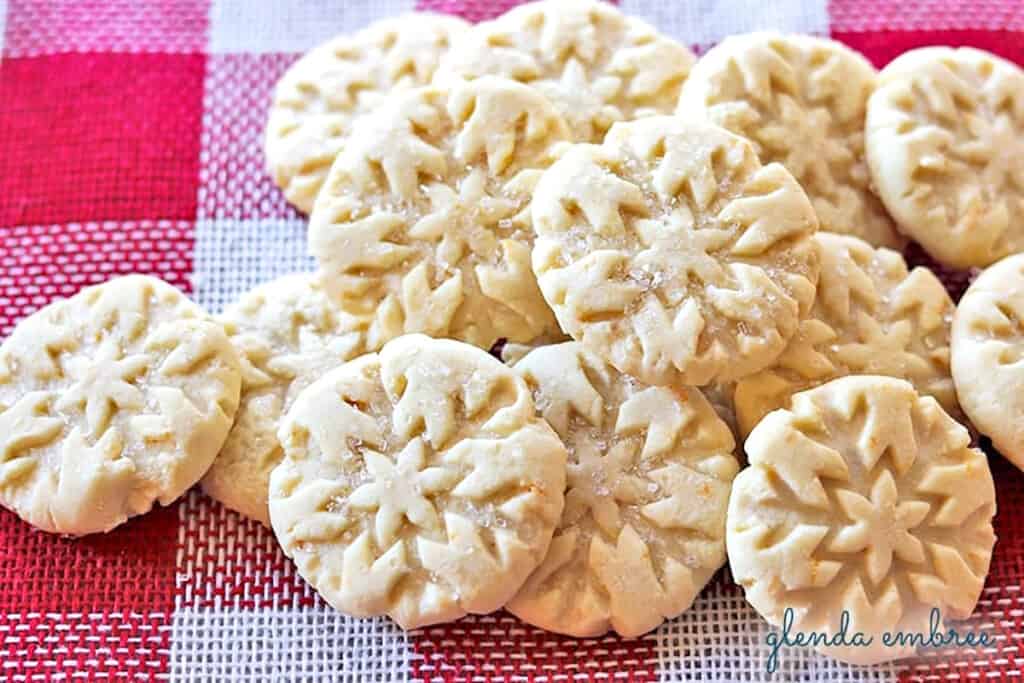 Once the orange short­bread cook­ies are pressed out, bake them for 20 min­utes at 300°.
When they come out of the oven, they'll still be pret­ty del­i­cate. I set the tray on a cool­ing rack and let it be while I get a new pan of cook­ies ready for the oven. By the time I fin­ish, the cook­ies are ready to be trans­ferred from the tray to the cool­ing rack.
These are best served com­plete­ly cool and are the per­fect com­ple­ment to a cup of tea or hot cocoa. In my opin­ion, Orange Short­bread Cook­ies are not just for Christ­mas­time. I think they would be an excel­lent "every day" cook­ie, since they are less sweet and are real­ly so versatile.
I hope you'll enjoy the easy recipe for Orange Short­bread Cook­ies as much as I do!
Print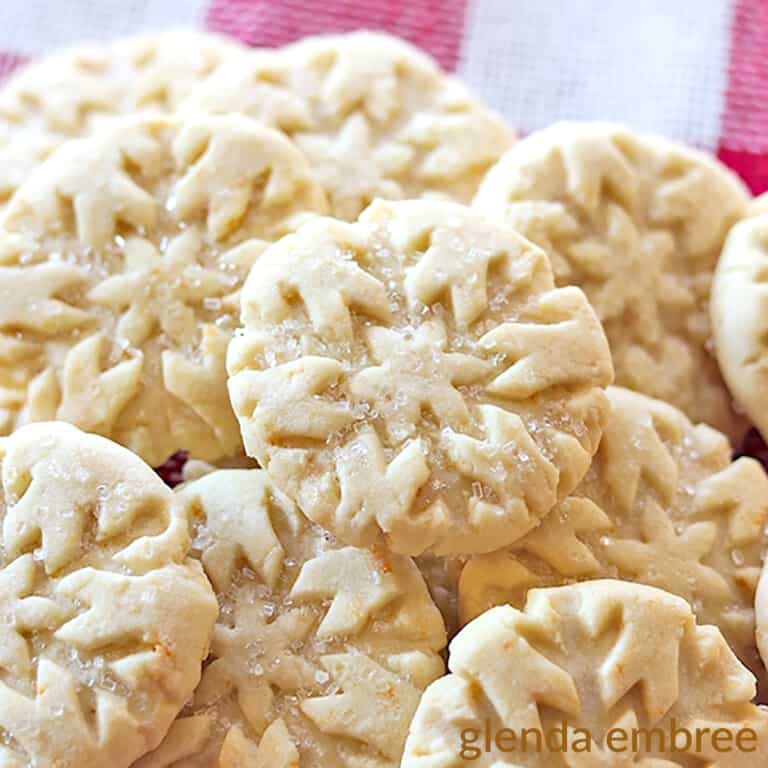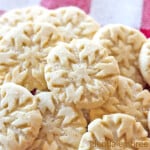 Orange Shortbread Cookies
---
Author:

Total Time:

40 min­utes

Yield:

3

dozen

1

x
Description
Orange Short­bread Cook­ies are melt-in-your-mouth deli­cious. Sim­ple to make. Not over­ly sweet. Love­ly cit­rus notes. My very favorite shortbread!
---
2

cups

but­ter, softened

1

cup

pow­dered sugar

2 Table­spoons

orange zest (zest of

2

or

3

large oranges)

3

cups

flour

1 1/2

cups

corn­starch (or arrow­root powder)

---
Instructions
Cream but­ter, pow­dered sug­ar and orange zest in the bowl of a food proces­sor or stand mixer.
Add the corn­starch and flour and mix to com­bine. The dough will come togeth­er, first, as crumbly and sandy. Con­tin­ue mix­ing and it will become a smooth dough, that breaks apart into large clumps. It will not hold togeth­er as one large ball. The dough is dri­er than reg­u­lar cook­ie dough.
Roll the dough into balls in the palm of your hand, press­ing them into a smooth sym­met­ri­cal sphere. Balls should be about 1 1/2 inch­es in diam­e­ter with no cracks in them.
Place the balls on an ungreased cook­ie sheet and flat­ten using a fork or the bot­tom of a glass. I had a snowflake insert for a cook­ie cut­ter that worked well. Use any dec­o­ra­tive imprint­er you have to flat­ten the cook­ies to a thick­ness of 3/8″.
Bake at 300° for 20 minutes.
Remove from oven and leave on cook­ie sheet for 3 min­utes before putting them on the cool­ing rack. Allow to cool com­plete­ly and then store for 24 hours before serving.
Notes
These cook­ies are so deli­cious and del­i­cate. They will melt in your mouth when you take a bite. Wait­ing 24 hours to serve them is impor­tant, so they don't crum­ble before they get to your mouth. Patience will be a deli­cious­ly reward­ed virtue!
Prep Time:

20 min

Cook Time:

20 min

Cat­e­go­ry:

Dessert, Cook­ies

Method:

Bak­ing

Cui­sine:

Amer­i­can
More Delicious Cookie Recipes
And, if you're look­ing for even more cook­ie recipes to add to your hol­i­day reper­toire, check out my recipe for these yum­my Soft Chewy Gin­ger Cook­ies or any of the deli­cious cook­ies, below.