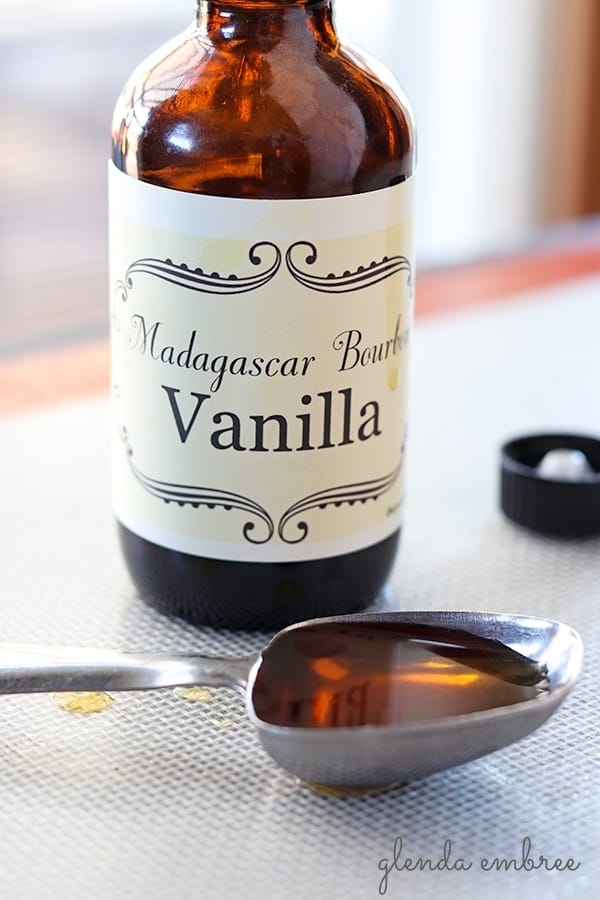 Once you have baked with Homemade Vanilla Extract, you will never go back to adding store-bought vanilla to your family-favorite recipes!
Homemade Vanilla Extract is a must in my kitchen, now. Certain recipes can never have the rich, depth of flavor we recognize and love, without the addition of vanilla. It has never been more evident to me that the quality of the vanilla has a tremendous impact on the flavor of what you're baking, than when I was making our daughter's wedding cake.
That there is a flavor difference between "Imitation" Vanilla and "Pure" Vanilla Extract is hardly a kitchen secret. It's a fairly universal piece of knowledge. But, what I, (and maybe you), didn't know is that even when I was buying "pure" vanilla extract, some brands were adding water, sugar or other ingredients. Be sure to read your labels.
Another key fact to keep in mind is that many vanilla extracts available at the store are "single-fold" vanillas, using only one or two beans per cup of alcohol. This results in a much weaker flavored vanilla. We will be creating high-quality "double-fold vanilla". It uses 6 beans per cup (8 oz) of alcohol.
Print
Homemade Vanilla Extract
---
Author:

Prep Time:

10 min

Cook Time:

0 min

Total Time:

10 minutes

Yield:

4 cups

1

x
Description
Homemade Vanilla Extract will put you off of ever buying it in the store, again.  The deep, rich flavor is unmatched!
---
---
Instructions
Slice vanilla beans open, lengthwise.  Then slice in half or thirds to get them to fit your bottles, if necessary.
Place 1 1/2 beans in each of eight (4 oz) bottles.
Pour 1/2 cup vodka over the beans in each bottle.
Tighten lids on bottles and tuck away in a cool dark cabinet to "ripen".  Let the vanilla set at least 2 months.  The flavor will be deeper and richer the longer you let it sit.  A good way for me to know when I need to make the next batch is to start a new batch when I hit the half-way point on the last batch.
---
Notes
If you make this for your own personal use, and not for gifting, you can certainly use one large bottle and place all the beans into it.  Since I bake often, that's exactly what I do for my own kitchen.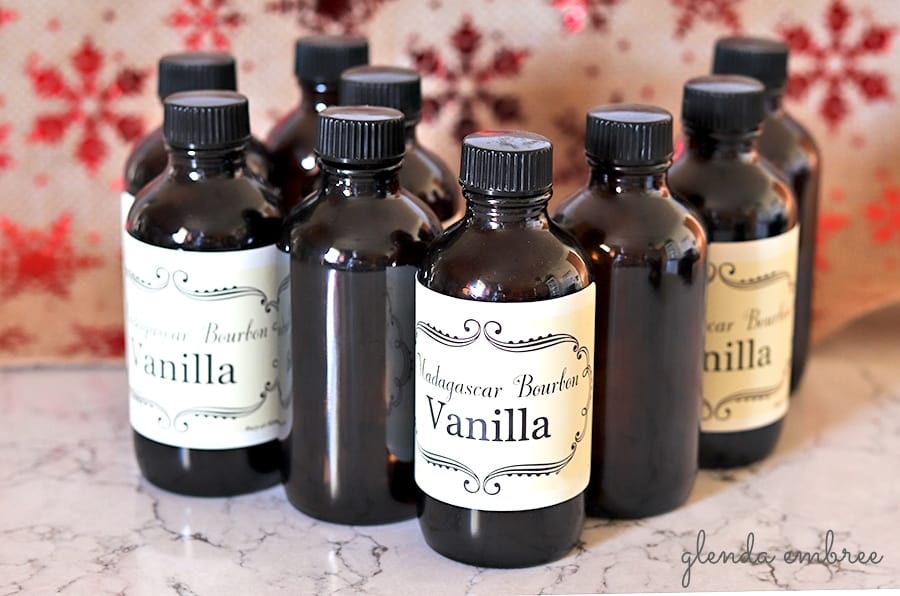 With the significant difference in quality and flavor, comes a significant difference in cost. Weather conditions, plant shortages and market concerns all affect the price of vanilla beans, throughout the year. Over the past five years, dramatic shortages have multiplied that cost many times over, as you must certainly have recognized when you purchased vanilla extract, at the store, now.
So, when I pay the extra for a "pure" product, like Madagascar Bourbon Vanilla, that's exactly what I want it to be. I've decided the one way to be certain I get the best value for my extract dollars is to make my own. When you see how easy it is to make and how much the rich, depth of vanilla flavor enhances your baked goods, you'll be a convert, too!
The recipe I'm sharing will make EIGHT 1/2 cup (4 oz) bottles of Madagascar Bourbon Vanilla Extract. It's the vanilla bomb! You'll have plenty for your own kitchen and some for gifting, if you like. What a great addition to gift baskets you make for Christmas! Anyone would love to receive this wonderful baking elixir, fashioned by your very own hands.

How to Make Homemade Vanilla Extract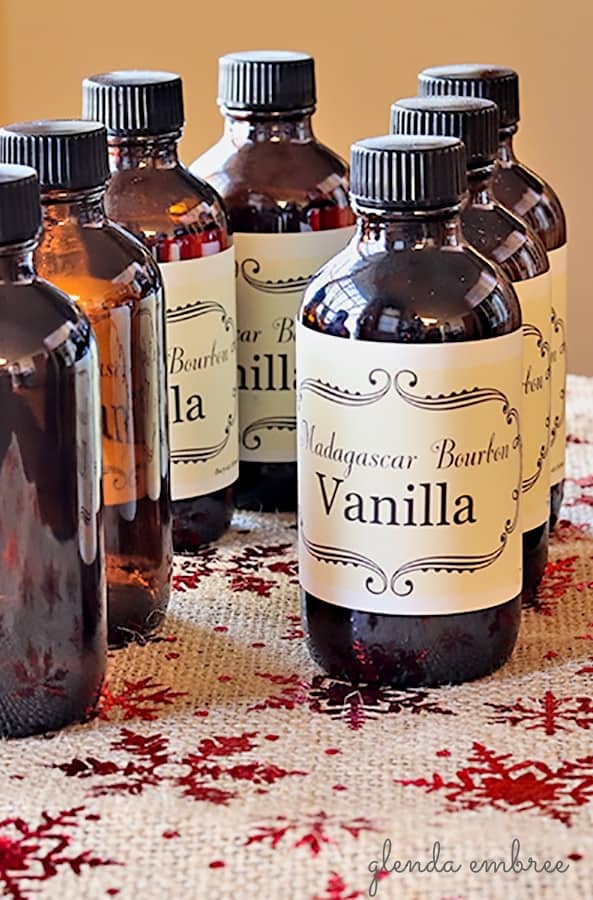 Clean and sterilize the bottles and lids you'll be using by running them through the hottest cycle on your dishwasher.
I prefer these *dark amber bottles, I found on Amazon, when I make extracts for gifting. The bottles are a perfect 1/2 cup (4 oz) size, that's great for gifting or for use in your own kitchen, too. I like the "vintage-y" look of them, plus dark bottles help to keep the light from degrading your extract. Like high-quality oils and vinegars, always store vanilla extract in a cool, dark cabinet or pantry.
The Difference Between Grade A and Grade B Vanilla Beans
Cut the vanilla beans down the side, lengthwise. And then, cut the pieces small enough to fit inside your bottle (2″-3″). I buy *Grade A Madagascar Bourbon Vanilla Beans. Grade A beans should be soft, flexible and moist. The vanilla oil from the beans should be obvious on the outsides of the skin. High-quality beans produce extraordinarily flavorful extract. Madagascar Bourbon beans produce a rich, dark and creamy flavor with sweet and buttery undertones that are superior for baking and for drink recipes. The beans are wonderfully fragrant and your luscious vanilla extract will be, too.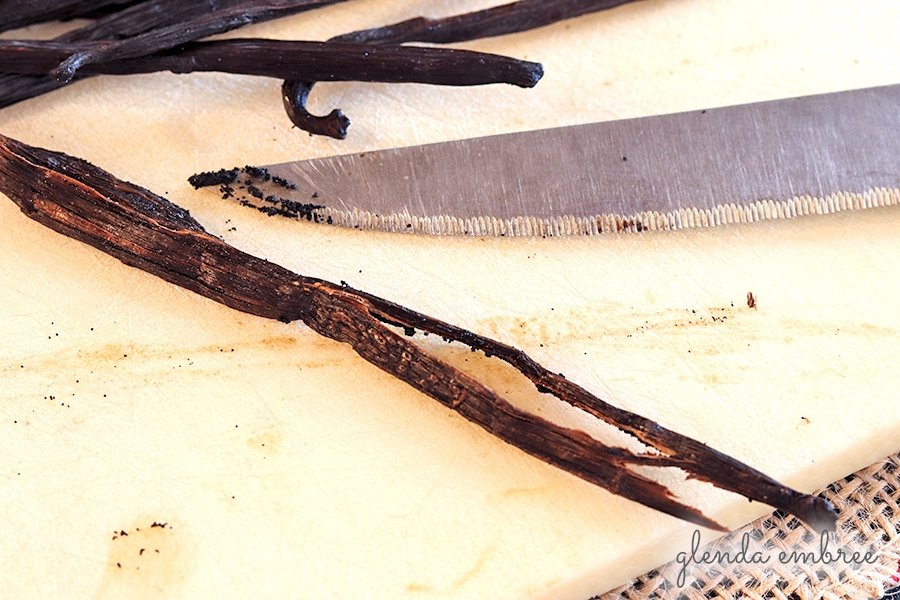 *Grade B Madagascar Bourbon Vanilla Beans work just as well, as A, but they are drier and will most likely need to soak even longer, in the alcohol before your vanilla is ready to use. The benefit is that they are slightly less expensive. Whichever grade you prefer, it will always be more cost-effective to make your own Homemade Vanilla Extract.
Homemade Vanilla Extract Saves You $$$
Comparing the prices of two different brands of Madagascar Bourbon Vanilla, I found at Walmart, one was $20.95 for a 4 oz bottle and the other was $6.44 for 1 oz (that's $25.76 for 4 oz). Our cost, all in, using Grade A beans, and including the vodka and the bottle (which you'll reuse over and over), is only $8.90 for 4 oz! That's about 1/3 the cost of store-bought and YOU control the ingredients.
How to Make Homemade Vanilla Extract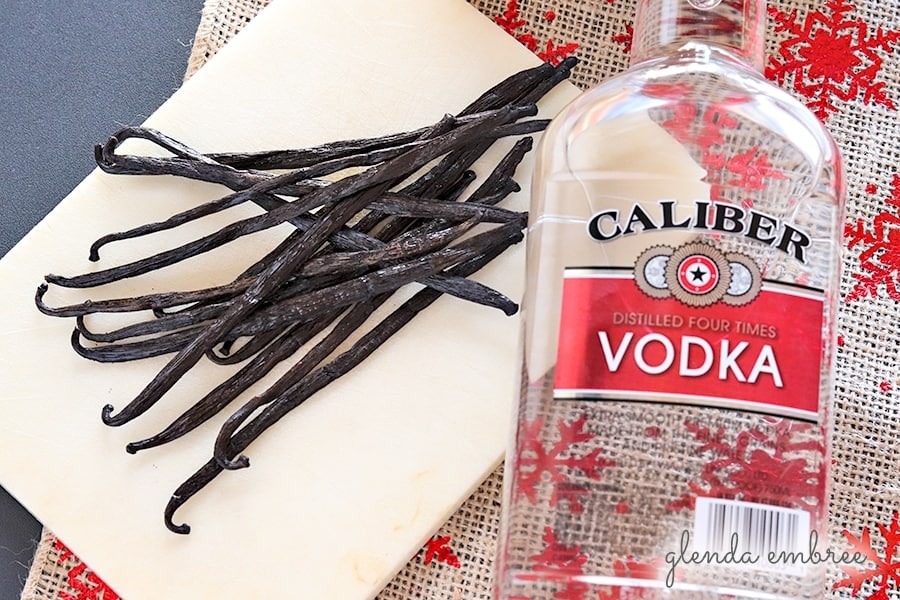 Place the prepared beans in the bottles and cover with alcohol. You can use different kinds of alcohol to make vanilla. Vodka, bourbon, brandy, or even rum, should work. Whatever alcohol you choose should be between 70 and 90 proof to make the best vanilla. I, personally, prefer the least expensive vodka, I can find.
I've used brandy, before, and felt that the alcohol's flavor overwhelmed the vanilla aroma and the taste I wanted. Bourbon made fabulous vanilla, but the flavor was not appreciably different from that made with vodka, and vodka is much less expensive. I have never tried rum, but if you do, I would love to hear your experiences. The nice thing about the alcohol for extracts is that it doesn't have to be expensive to make high-quality vanilla. I buy the bottom-shelf, cheapest brand I can find at Walmart and my vanilla is always spectacular!
Inexpensive vodka, high-quality vanilla beans and some bottles to store it in are all you need to make premium Homemade Vanilla Extract. You can TOTALLY do this!
NOTE: For someone like me, who bakes frequently and goes through a lot of vanilla, you can do what I do. Amber bottles are saved for gifting, only. For personal use, I add the vanilla beans directly to the vodka bottle. One large bottle of vanilla extract makes more sense for me. I just store it in my dark pantry, out of the light. Take out the cost of the bottles and my vanilla costs even less than we calculated, above. Yay, for saving money!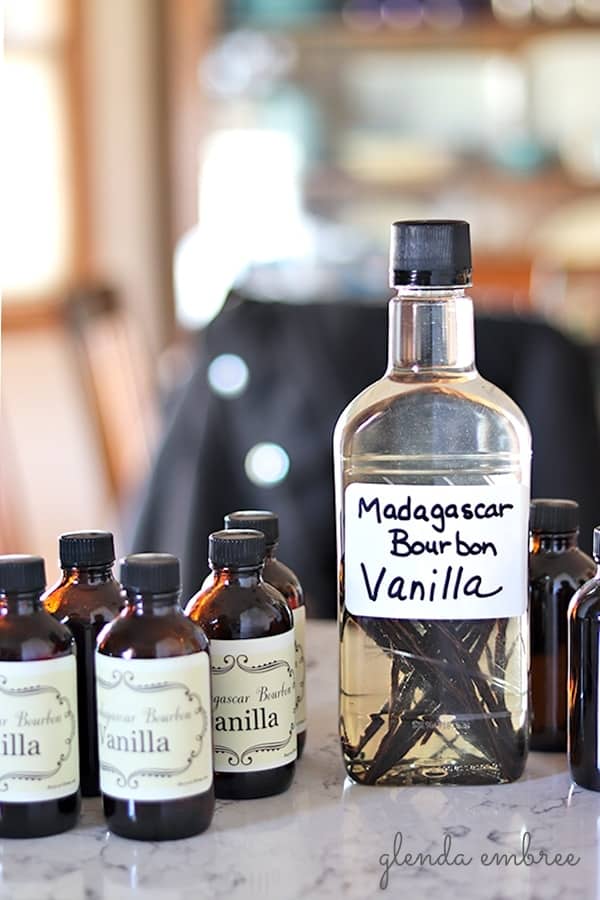 Compare the picture above, to the one below. On November 25, I started a new bottle of vanilla. Now, only eight days later, look at what has already begun to happen! Imagine the fullness of flavor that will have developed at the end of the full two months!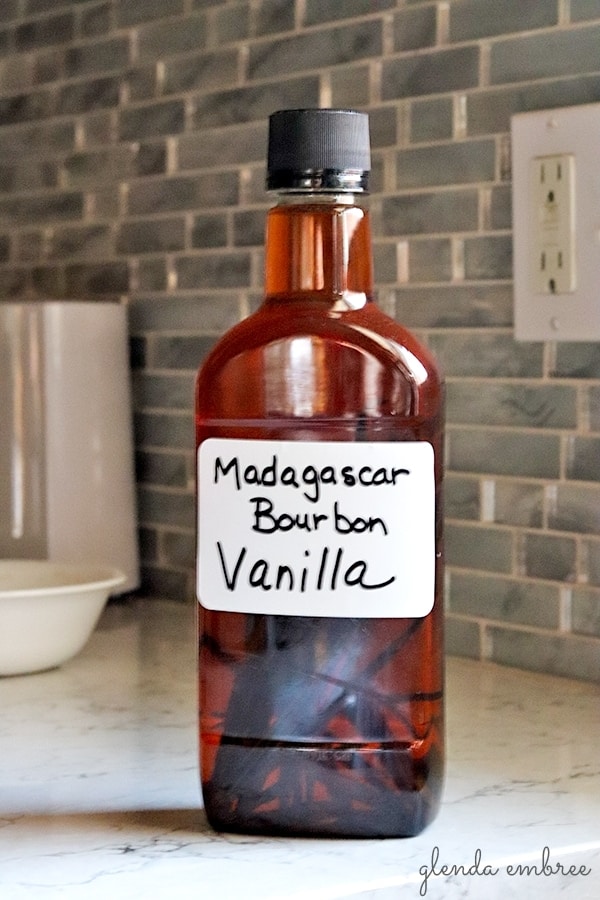 Finishing Touches
Now, just screw the lids on your bottles and store in a cool, dark place to allow it to "ripen". It will take a minimum of 2 months and the flavor will become deeper and richer, the longer it sets.
I do add one more step if I'm giving the vanilla as gifts. I like to add pretty labels, so everyone knows what's inside and the date it will be ready to use. That way, if I grab a bottle out of the cabinet for a quick gift, it's already labeled. I can just place it in the basket or gift bag, without having to stop and label it. Download some free printable labels HERE or by clicking the image below. Just print them out on peel and stick labels. I formatted them to fit on Avery Labels #25395.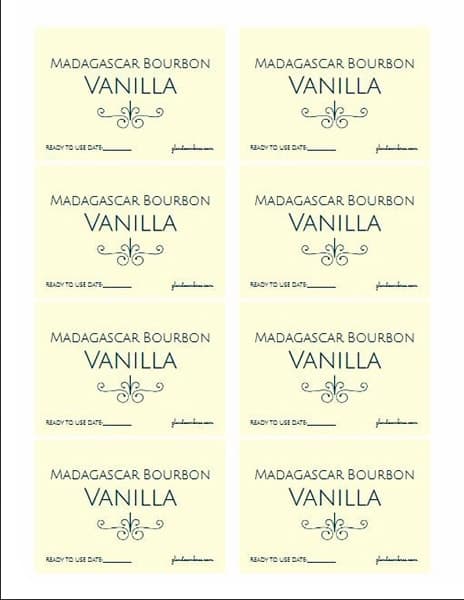 Go! Be a vanilla extract creating champ! Make fabulous and affordable gifts for the bakers in your life. You can do this! Your baked goods and the people who love to eat them will adore you.
Recipes to Use Homemade Vanilla Extract In