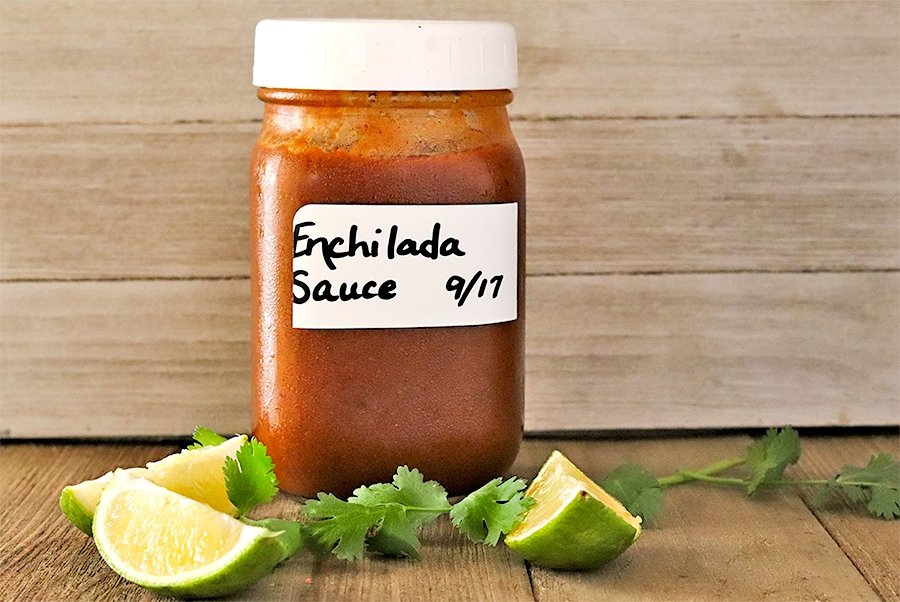 Deep, bold flavor with some serious heat! Friends, my Homemade Enchilada Sauce changed my mind about enchiladas. Past experience had convinced me that I hated enchilada sauce. Every brand of canned sauce I had ever tried tasted muddy and bitter to me. Enchilada sauce was definitely "on the list" of things I did not eat.
After years of seeing gorgeous pictures of enchiladas being served and people seemingly enjoying them, I knew I had to be missing something. I did a little research and holy cow! The wide variance in ingredient lists and in the quantities was astounding. I found recipes with as little as a couple teaspoons of chili powder and others with as much as 4 Tablespoons. Each of those were for recipes that made about 2 cups of sauce. No wonder some taste muddy and bitter.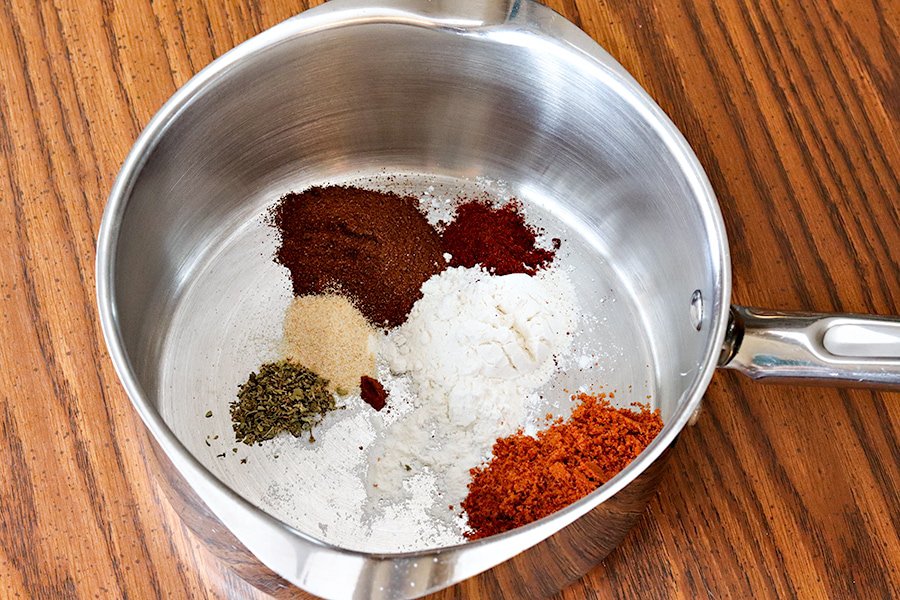 Choose the Right Pepper Powder for the Job
American chili powder, isn't just chili peppers. It's usually a blend of any number of varieties of chili peppers, cumin, paprika, salt and oregano. Many contain onion powder and garlic powder, too. Because you can never be 100% sure what chilis were used, you can't be 100% sure of the heat level. For me, chili powder has more influence on the FLAVOR of a dish than on the spiciness. And if you go overboard, it can get a little bitter.
If you want a higher spice level in your enchilada sauce, without muddying the flavor, choose chipotle powder (smoked and dried jalapenos) or cayenne (dried cayenne peppers). Keep in mind that cayenne has a heat level 8-12 times hotter than chipotle powder. If substituting one for the other, you're going to want significantly less of the cayenne. Cayenne is all about the heat and not much flavor. Chipotle powder can bring the heat, but also adds some nice, smoky notes. I prefer chipotle powder in my Homemade Enchilada Sauce.
What You Need to Make Enchilada Sauce
oil (I use avocado, but choose your favorite.)
all-purpose flour
chili powder
chipotle powder
cumin
garlic powder
oregano
cinnamon
Caldo de Tomate (tomato bouillon) I buy it at Walmart, but Amazon carries it if you can't find it in the ethnic section of your local store.
chicken stock
apple cider vinegar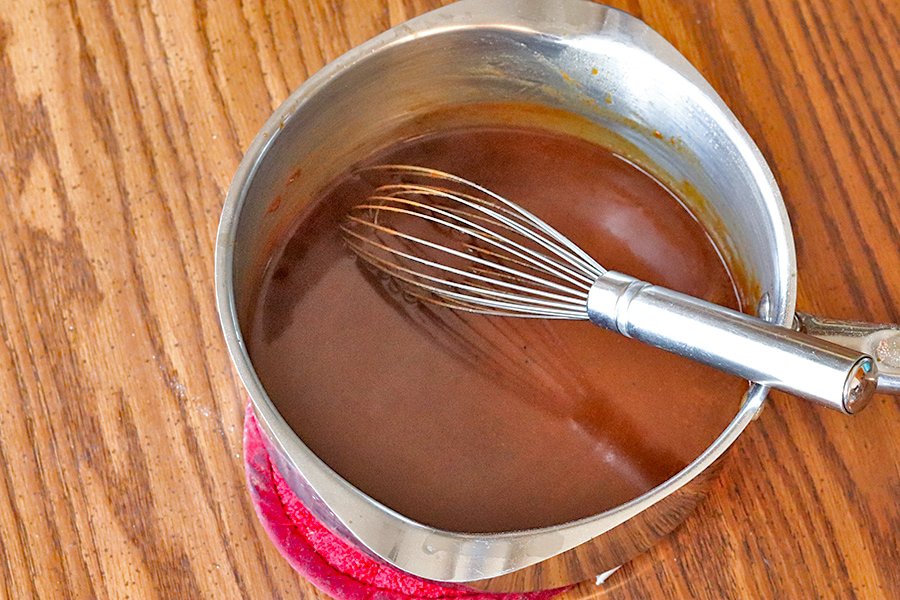 How to Make Homemade Enchilada Sauce
Make a spicy roux by placing the flour and all the spices in a sauce pan.
Add the oil and whisk everything together to combine.
Begin cooking the roux over medium heat, allowing the flour taste to cook out and the spices to toast. Continue heating over medium heat until the roux bubbles and thickens. (One or two minutes)
In a separate bowl, dissolve the Caldo de Tomate and vinegar in the chicken stock.
Add the chicken stock and vinegar to the roux in the pan, whisking to keep the sauce smooth.
Reduce the heat to low and let the sauce cook for an additional 5-7 minutes. It will reduce down and become slightly thicker.
Print
Delicious Homemade Enchilada Sauce
---
Author:

Prep Time:

5 min

Cook Time:

10 min

Total Time:

15 minutes

Yield:

6 1/2 cups

sauce

1

x
Description
The flavor of this enchilada sauce is so superior to any canned version I have ever eaten, that there is really no comparison.  It is definitely spicy.  The perfect level of heat for our family.  You could cut the chipotle powder in half for a milder sauce, however.
---
Scale
Ingredients
1/2 cup

+ 2 Tablespoons oil (I use avocado.  Choose your favorite.)

1/2 cup

all-purpose flour

3 Tablespoons

chili powder

1 Tablespoon

chipotle powder

5 teaspoons

teaspoons ground cumin

1 1/2 teaspoon

garlic powder

1 1/2 teaspoon

dried oregano
pinch of cinnamon

1/3 cup

Caldo de Tomate

6 cups

chicken stock

1 Tablespoon

apple cider vinegar
---
Instructions
Add the flour and all the spices to a medium-size sauce pan.
Whisk in the oil and continue stirring until everything is thoroughly combined. You will have started a thin, spicy roux. 
Begin heating your roux over medium heat and cook for 1-2 minutes, to toast the spices and cook out the flour taste. 
In a separate bowl, dissolve the Caldo de Tomate and vinegar in the chicken stock.
As the roux begins to bubble and thicken slightly, add the chicken broth mixture to the pan.  Stir constantly until everything is combined and the sauce is smooth, with no lumps.
Reduce the heat to low, just to keep the sauce simmering, and let it cook down for 5 – 7 minutes.  Though it is not a super thick sauce, it WILL thicken slightly.  (Don't think gravy, but something more the consistency of hot syrup.  It will easily coat the back of a spoon, before slowly dripping off.)
Remove the sauce from heat and use in your favorite recipes, like my Family Favorite Enchilada Casserole.
---
Notes
This recipe usually makes 6 or 6 1/2 cups of sauce for me.  That's the equivalent of about 3 (15 oz) cans purchased at the store.  You could cut the recipe in half if you need less; but this sauce freezes well, so any leftovers are easy to store.  Having it pre-made saves time the next time you need some.
Category:

sauce

Cuisine:

Mexican
How to Use Homemade Enchilada Sauce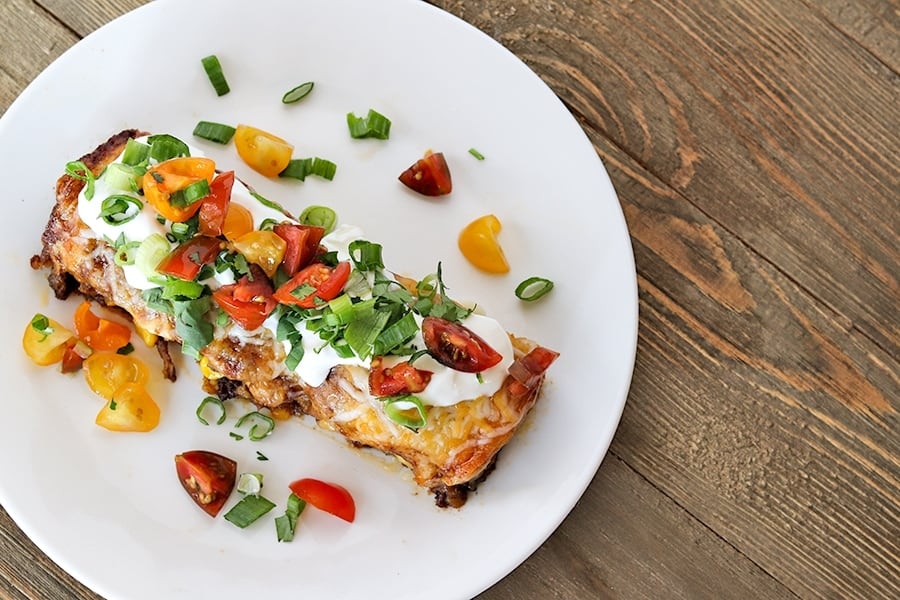 Use this rich, flavorful Homemade Enchilada Sauce in recipes like Family Favorite Enchilada Casserole, Barbacoa, or even a cheesy enchilada dip for game day! It will be perfect for chicken or beef enchiladas and if you love enchilada-style soups, it will take their flavor over the moon!
Give it a try, my friend. I hope you love it!