Gluten-Free Gra­nola is 5‑minute sim­ple and absolute­ly scrump­tious! It's a sat­is­fy­ing and fla­vor­ful choice for an easy breakfast.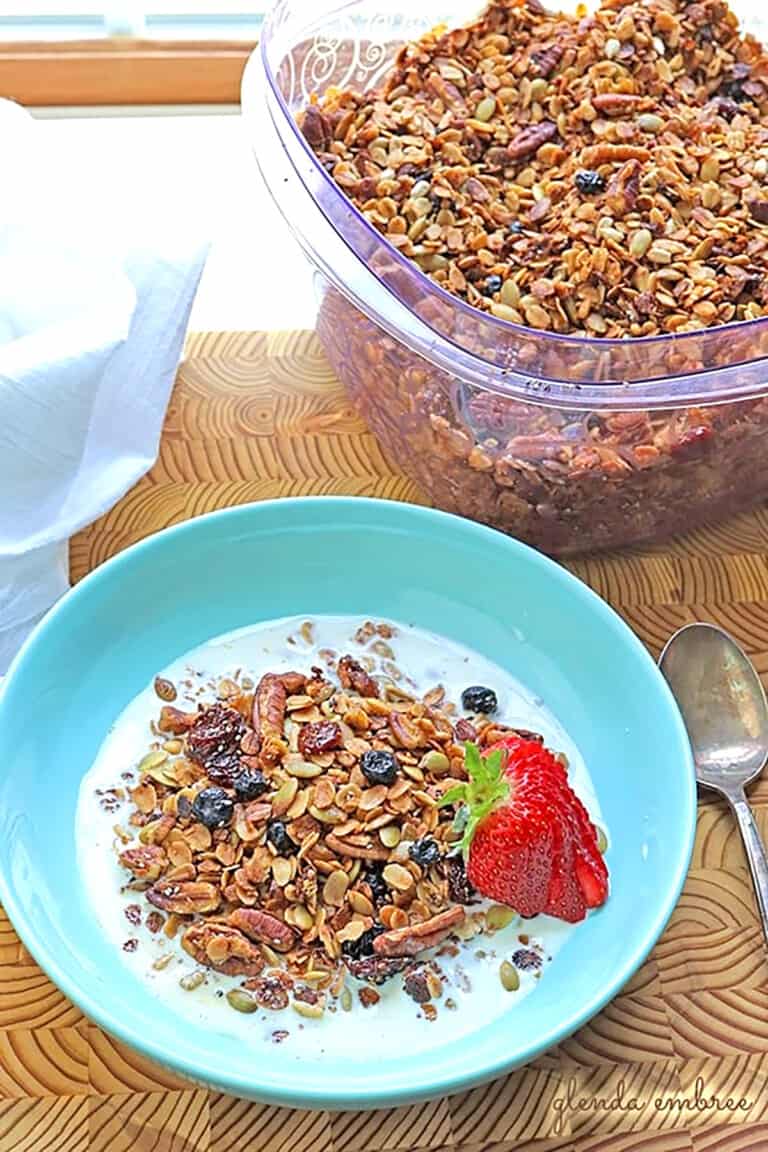 Start your morn­ing with light­ly sweet­ened, toasty good­ness! This sim­ple recipe boasts healthy fats from avo­ca­do and nuts to help keep you feel­ing full until lunch.
It con­tains plen­ty of pro­tein from all the nuts and seeds. It's loaded with fiber and fla­vored with raw, unfil­tered local hon­ey, cin­na­mon and vanil­la. Plus it has the chewy, sweet­ness of dried fruit. What's not to love?
The nuts and oats toast as the gluten-free gra­nola bakes, draw­ing all those nat­ur­al oils to the sur­face and inten­si­fy­ing the deli­cious fla­vors and aromas.
The tex­tures become even more crisp and in com­bi­na­tion, all the ingre­di­ents meld into a light­ly sweet and fill­ing breakfast.
You can add any dried fruit you pre­fer. I like to mix it up and depend­ing on the day, might use cran­ber­ries, blue­ber­ries, apri­cots, pineap­ple, cher­ries or even raisins. As a mat­ter of fact, I like using combinations.
Today, it was blue­ber­ries and cher­ries. If you're feel­ing par­tic­u­lar­ly deca­dent, you could even throw in a hand­ful of gluten-free dark choco­late chips. Yum!
I hope you'll give this easy gluten-free gra­nola recipe a try. It's only a 5‑minute mix-up and then into the oven. Being gluten-free makes it a good choice for me and for oth­ers in my fam­i­ly to begin a healthy day.
Gluten-Free Granola as a Snack
This yum­my gra­nola also makes a good pick-me-up after­noon snack. I made yogurt at the end of last week, so I dressed it up with some fresh fruit and my home­made gra­nola. Delish!
I also have a sneaky sus­pi­cion this would be excep­tion­al on baked fruit. I haven't tried it yet, but I'm guess­ing it would be a love­ly gluten-free option for top­ping apple crisp.
I'll have to add that to my list of exper­i­ments and let you know! lol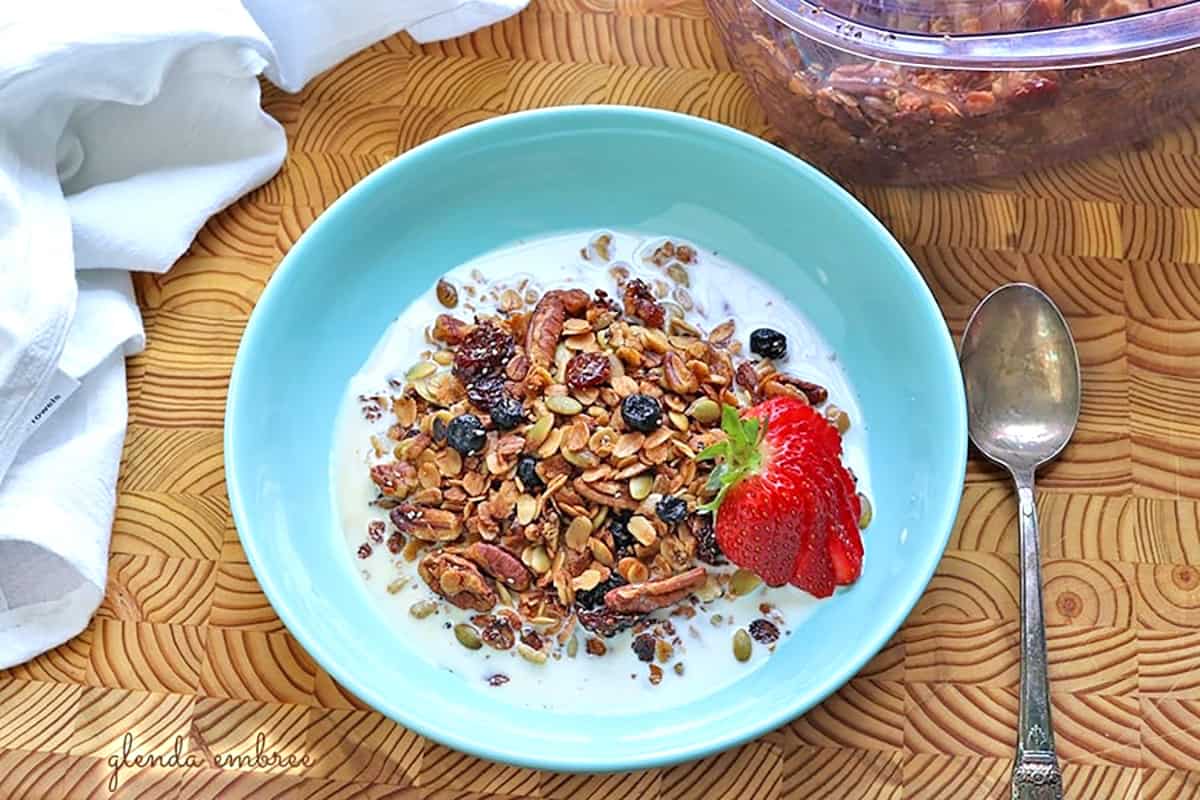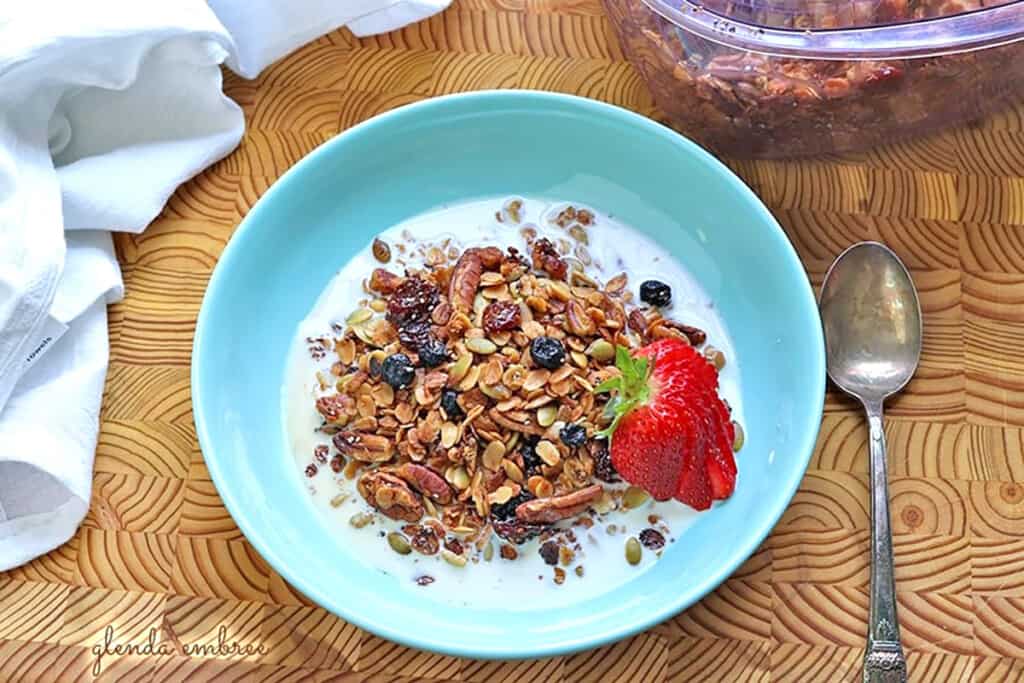 There are a lot of pos­si­bil­i­ties for some­thing so incred­i­bly sim­ple and tasty! Bake some and grab the milk! Enjoy, my friend! Be well.
How to Make Gluten-Free Granola
The process for mix­ing up and bak­ing Gluten-Free Gra­nola is so sim­ple you'll have it in the oven in 5 min­utes and be enjoy­ing it in around half an hour. Your kids will love the way it tastes and you'll love that you know exact­ly what's in it!
Start by toss­ing all the dry ingre­di­ents, except the dried fruit, into a large mix­ing bowl. You're going to stir the fruit in after bak­ing, since dried fruit can become hard and bit­ter in baking.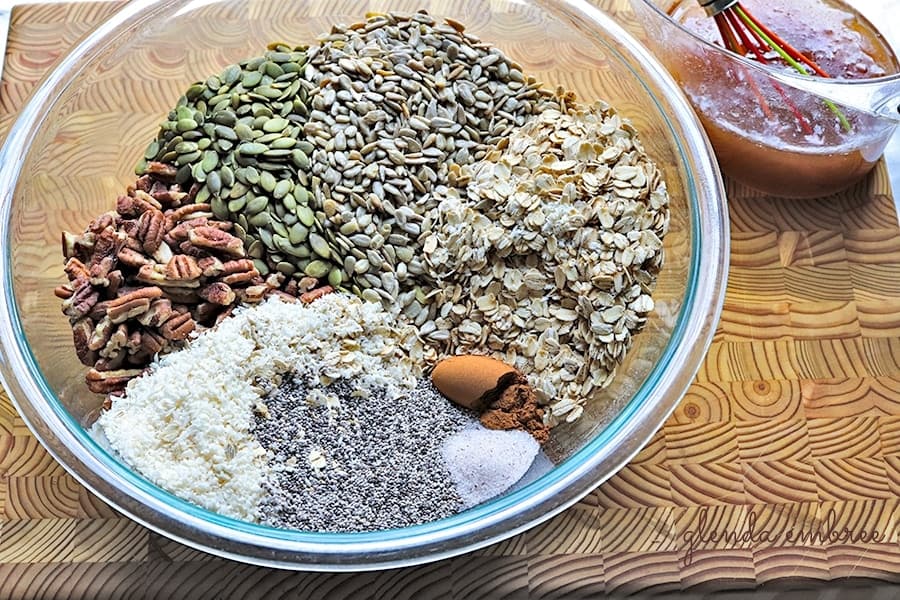 Once the dry ingre­di­ents are stirred togeth­er and every­thing is even­ly incor­po­rat­ed, whisk the oil, hon­ey and vanil­la togeth­er. Pour it over the dry ingre­di­ents in the bowl. Care­ful­ly stir and turn the mix­ture, being dili­gent to coat all the ingre­di­ents with the syrupy liquid.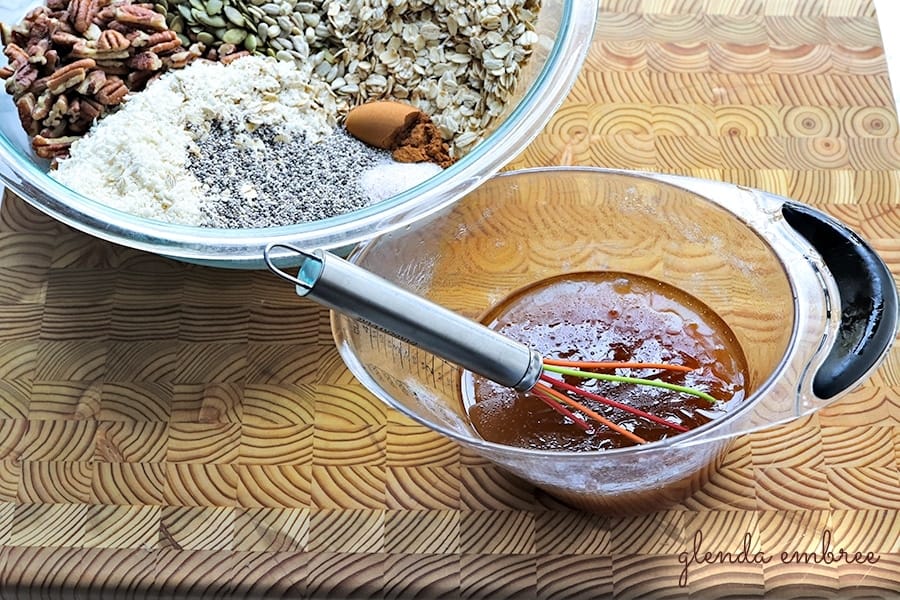 Baking the Granola
Pour the Gluten-Free Gra­nola mix­ture into a light­ly oiled *bak­ing sheet with raised sides. Pop the tray into a pre­heat­ed, 350° oven. After 10 min­utes, give pull out the tray and give the mix­ture a stir. Pop it back in the oven and allow it to con­tin­ue bak­ing for anoth­er 10–12 min­utes. You want the nuts and oats to have deep­ened in col­or. Be sure not to over­bake, though. The hon­ey, like any sug­ar, can burn if left in the heat too long. 20–22 min­utes should be about the per­fect amount of time.
The gra­nola crisps up and clumps a lit­tle as it cools. When it's com­plete­ly cool trans­fer it into an air­tight con­tain­er and store at room tem­per­a­ture for up to 2 weeks. When I take it off the tray, I break up any big clumps to be more bite-sized. And about half mine is usu­al­ly just the ingre­di­ents loose and unclumped. You can size them to your own per­son­al preference.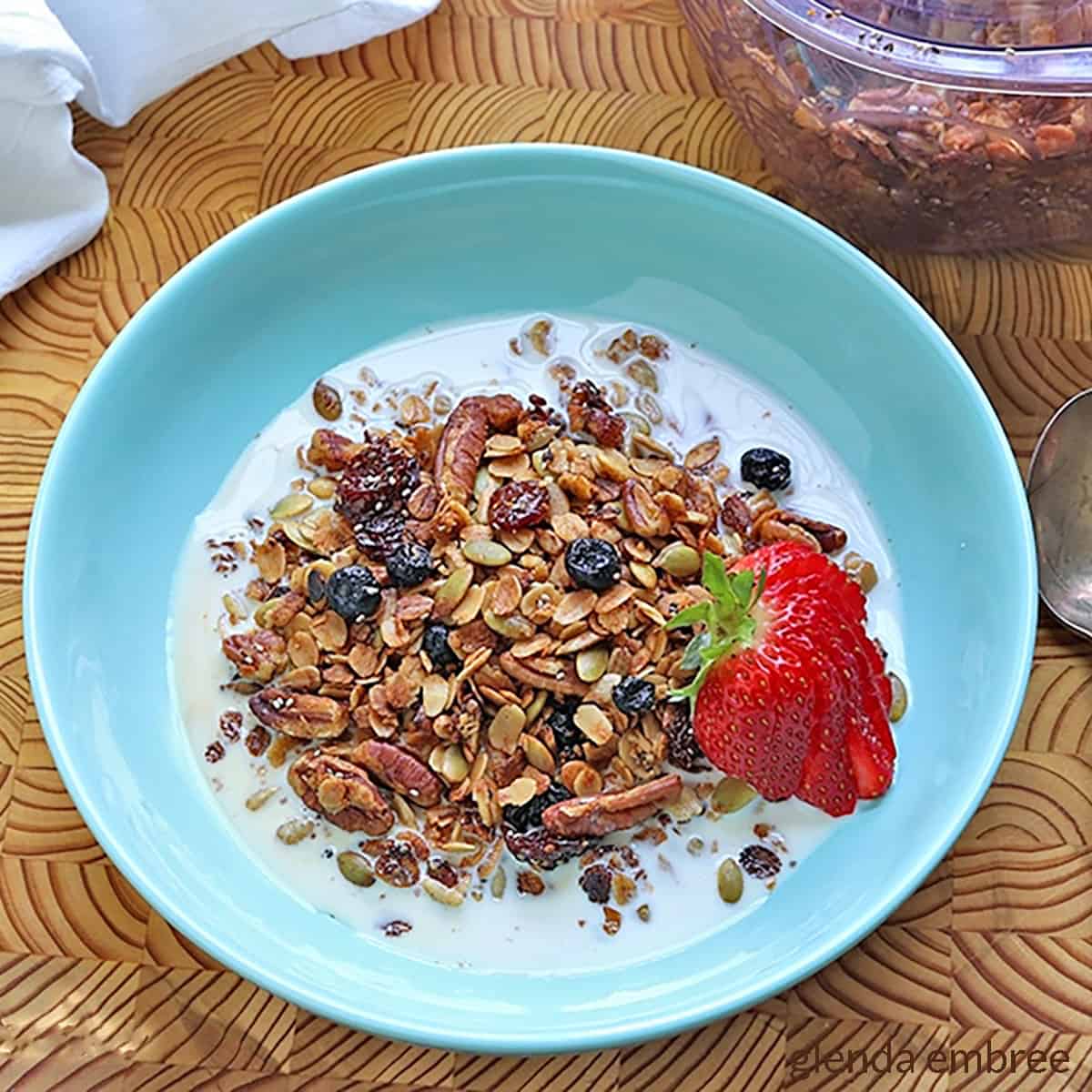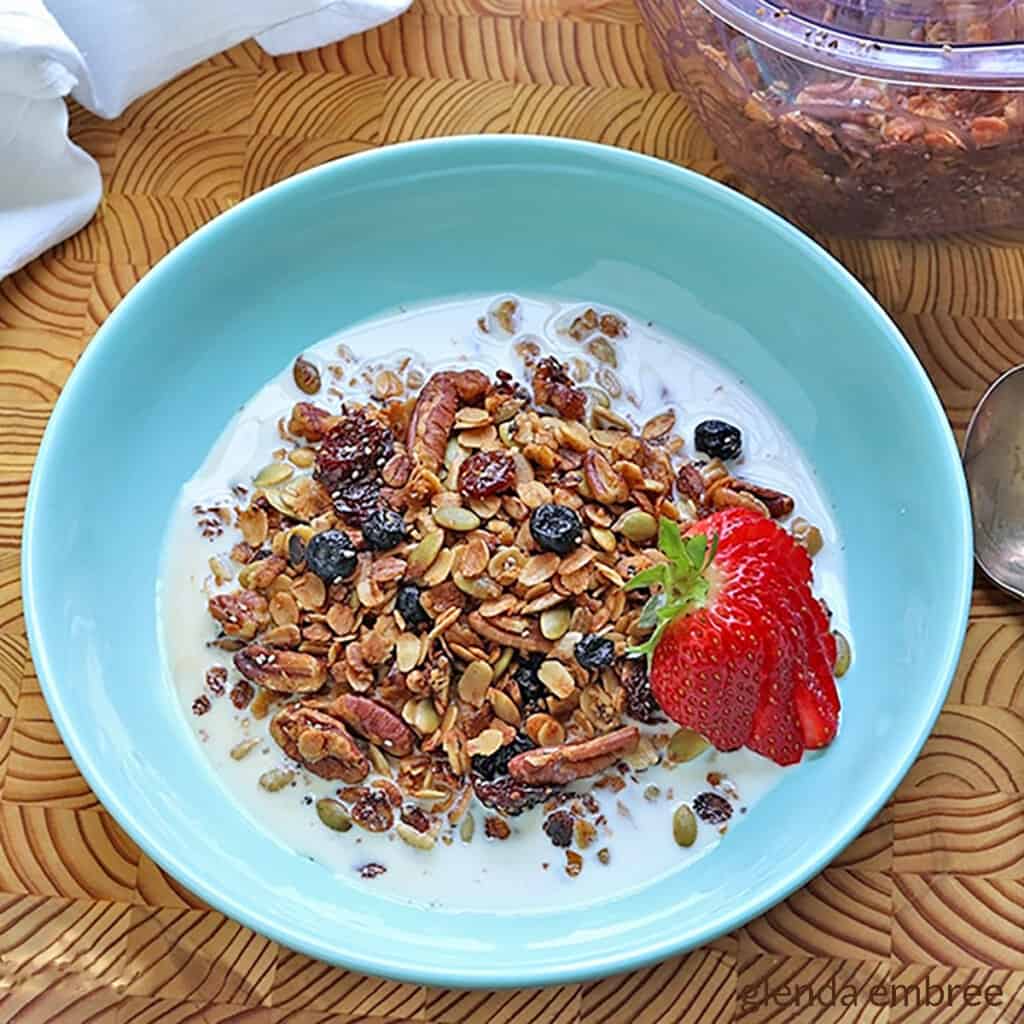 Go make some gluten-free gra­nola for break­fast or a yum­my snack! It won't take long and you'll have more for the rest of the week!
The Recipe
Print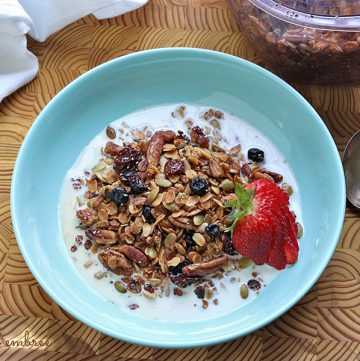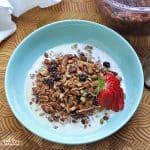 Gluten-Free Granola
---
Author:

Total Time:

25 min­utes

Yield:

7

-

8

cups

1

x

Diet:

Gluten Free
Description
Break­fast with­out the guilt. It's loaded with healthy fats, fiber, pro­tein and fruit. Deli­cious fla­vor and tex­ture and com­plete­ly gluten-free. This easy recipe is a keeper!
---
4 cups

rolled oats, gluten-free


1 cup

unsweet­ened shred­ded coconut (or flakes)

1 cup

chopped pecans

1 cup

raw pump­kin seeds

1 cup

dried fruit, chopped into small pieces

1 tea­spoon

sea salt

1 tea­spoon

cinnamon

1/2 cup

avo­ca­do oil (or melt­ed coconut oil)

1/2 cup

hon­ey (or maple syrup)

1 tea­spoon

vanilla
option­al, 1/4 cup chia seeds (You don't have to add these, if you don't have any. But I always do. They add a ton of pro­tein and I love the tex­ture when they've absorbed some liquid.)

---
Instructions
Pre­heat oven to 350°
Light­ly oil a rimmed *bak­ing sheet or line it with parch­ment paper.

In large bowl mix oats, coconut, pecans, pump­kin seeds, chia seeds, salt and cinnamon.
Add the oil, hon­ey and vanil­la and mix well to coat every piece of the gra­nola mixture.
Pour onto pre­pared pan and spread into an even layer.
Bake 20–22 min­utes, stir­ring half-way through.
Cool the gra­nola com­plete­ly. Your gra­nola will get crisper as it cools.
Break the cooled gra­nola into chunks and toss in the dried fruit.
Store in an air­tight con­tain­er at room tem­per­a­ture for up to 2 weeks. Or store in a sealed freez­er bag, in the freez­er, for up to 3 months. (Allow frozen gra­nola to thaw at room tem­per­a­ture for 5–10 min­utes before serv­ing, as the dried fruit freezes very hard.)
Prep Time:

5

Cook Time:

20

Cat­e­go­ry:

Break­fast

Method:

Bak­ing

Cui­sine:

Amer­i­can
Key­words: gra­nola, gluten-free, cere­al, breakfast
More Delicious Breakfast Recipes
If you're search­ing for even more great ideas for break­fast, you are going to love my Home­made Break­fast Sausage. It's gluten-free, sug­ar-free and Whole30 com­pli­ant, not to men­tion absolute­ly delicious.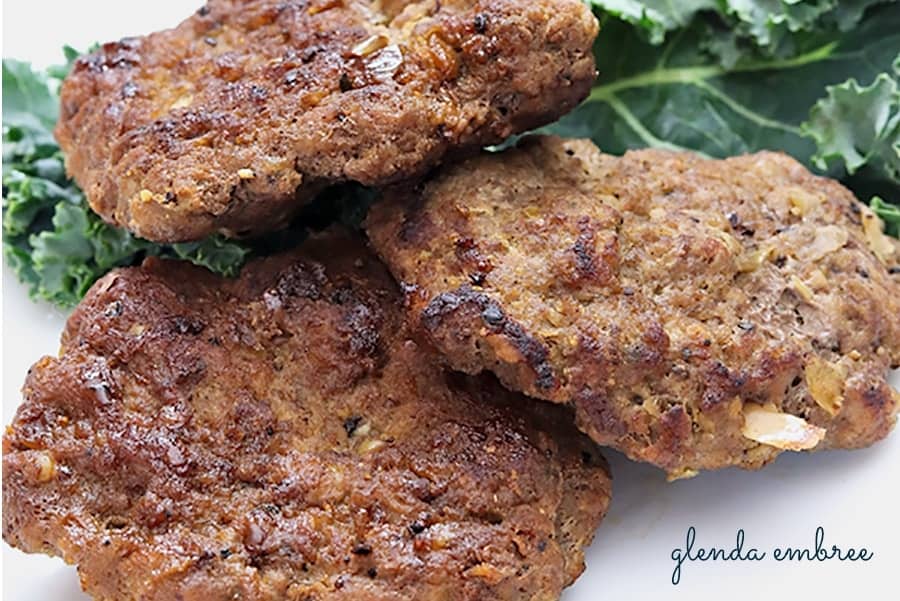 More Gluten-Free Recipes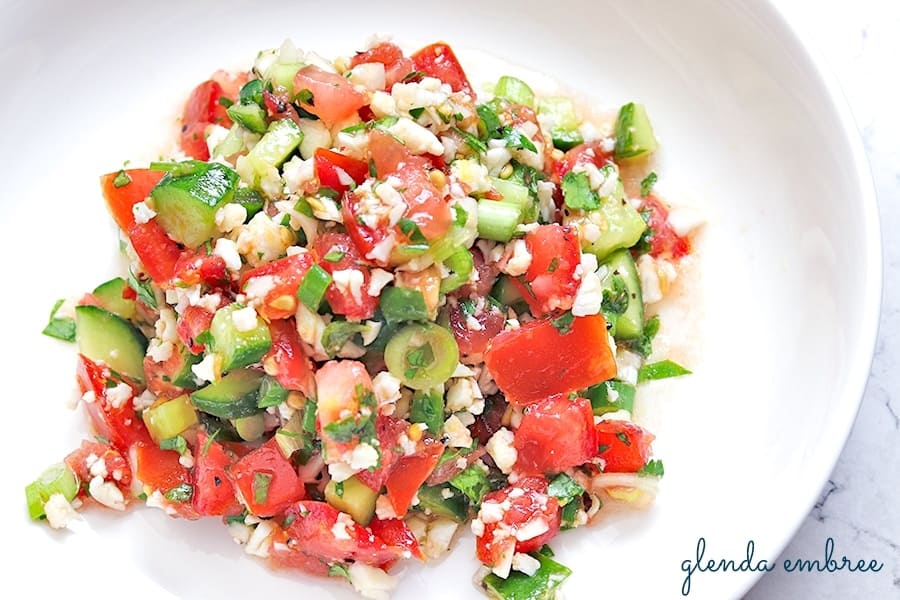 Yum! This Easy Tab­bouleh recipe replaces the grain with cau­li­flower rice and believe me, Friend, you aren't going to miss it! Gluten-Free and Delicious!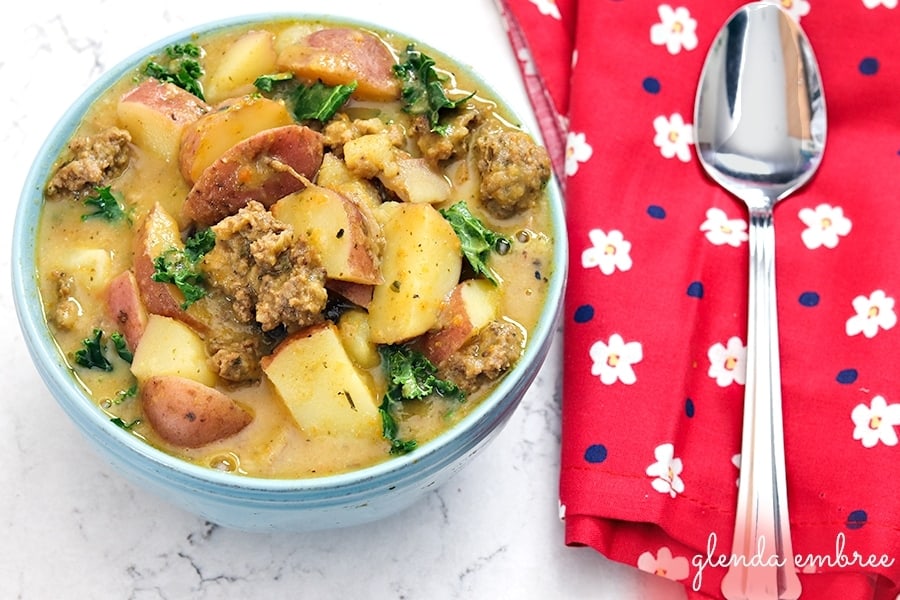 I made over the beloved Zup­pa Toscana soup, so it was Gluten-Free, Sug­ar-Free and Whole30 com­pli­ant. This. soup. is. SO. good! You won't be able to get enough. Grab this recipe to add to your gluten-free files!