Sweet Potato Fries are a happy indulgence that makes everyone smile. Even my "don't like sweet potatoes" people LOVE these easy oven fries. And, my "definitely loves sweet potatoes guy" declared that he could eat a wheelbarrow full of them! lol He is always my "does this recipe work" barometer.
Sweet Potato Fries are crisp, salty and beautifully caramelized on the outside with a deliciously soft and sweet interior. It's the perfect sweet and salty balance with a crunch that is so important to an ideal snack. Believe it or not, that beautiful flavor and texture is achieved in the oven and you only need three ingredients to create it yourself!
No more limp and floppy sweet potato fries. No splattering oil or deep-frying. You won't ever need to buy frozen, again.
You're about to become a sweet potato fries professional. You and your family will enjoy the delicious freshness of these scrumptious fries over and over, again. And they're easy for you to make. This recipe is definitely a keeper!
Let's make some Sweet Potato Fries!
Print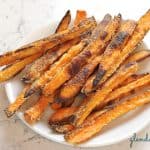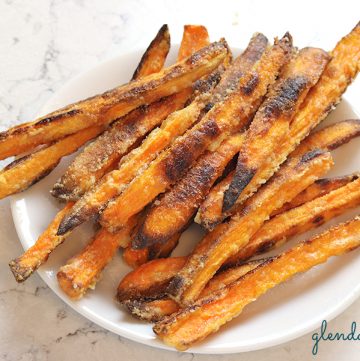 Sweet Potato Fries
---
Author:

Prep Time:

15 minutes

Cook Time:

30

Total Time:

45 minutes

Yield:

4

–

6

servings

1

x
Description
---
Scale
Ingredients
1 1/4

–

1 1/2

lbs sweet potatoes, peeled and cut into

1/4

-inch thick fries

3 Tablespoons

arrowroot starch (can substitute corn starch, potato starch or tapioca flour)

1/4 cup

avocado oil (or oil of your choice)

2 teaspoons

salt
---
Instructions
Move both oven racks, one under the other, to the center of the oven.  Preheat oven to 425°.  (If you have convection in your oven, it works to use that, too.)
Cover two sheet-pans with parchment paper.  (You could use foil or even just the bare tray.  Covering it just makes clean up so easy.)
Peel sweet potatoes and cut into fries that are about 1/4-inch thick.  I find that it's easiest to cut the sweet potato in half, lengthwise.  (If the potato is particularly long, you could cut it in half width-wise, too, to make it easier to work with.)  Working with one half at a time, place it flat side down on the cutting board.  Use a sharp chef's knife to cut that half into 1/4-inch strips.  Now you can take your "planks" and split them down the middle (or even in thirds, if it's a large sweet potato) to get, roughly 1/4-inch thick fries.  This is the part of the process that takes the longest, but with a little practice, you'll eventually be able to complete it in 10 minutes or less.
Put the cut fries into a gallon zip-top bag.
Add the arrowroot powder and salt. (Use the starch you have on hand in your pantry, i.e. cornstarch, potato starch, or tapioca powder. *SEE NOTE)
Close the bag and shake, vigorously,
Open the bag and add the oil.
Close bag and shake vigorously.
Arrange the fries across the two prepared cookie sheets, in single layers.  Fries should not be stacked on top of each other.
Roast in preheated oven for 15 minutes.
Remove trays from oven and flip the fries.  Return to the oven, rotating each tray to the opposite rack that it was on previously.
Continue roasting for 10-15 minutes, until your fries are crisp.  (Fries will get even crisper as they cool.)
Remove from oven and taste one.  Add additional salt, if needed.
Serve.
---
Notes
*NOTE
Potato Starch and Potato Flour are completely different products.  They CANNOT be interchanged.  Only potato starch will work in this recipe.
Tapioca Starch is sold labeled as starch or flour.  Both are the same thing.
Arrowroot Powder is sold labeled as powder, starch or flour.  All three are the same thing.
I have only made this recipe with arrowroot starch, because it is commonly on my pantry shelf.  I would not hesitate to try any of the other suggested starches, because I have cooked with all of them and find them to be fairly interchangeable, as coatings.  However, the results I achieved above were reached using arrowroot powder. 
Category:

Side Dish, Snack, Appetizer

Cuisine:

American
*Affiliate Link
How to Make Sweet Potato Fries
1) Peel the sweet potatoes. Cut them into 1/4-inch thick fries. You're working with a round object and cutting it into rectangular shapes, so cut yourself the necessary slack to recognize they won't be identically shaped. While it's never going to be perfect, it IS important to try and keep the sweet potato fries relatively uniform in thickness, so they cook evenly.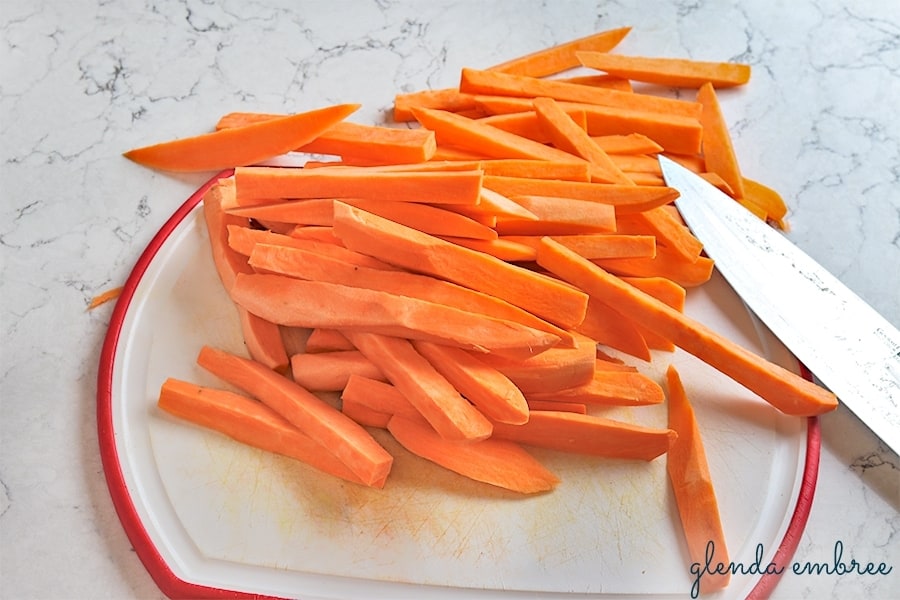 2) Place the cut fries into a gallon zip-top bag. Add the arrowroot powder and salt to the bag. Shake vigorously until every fry is coated with the starch.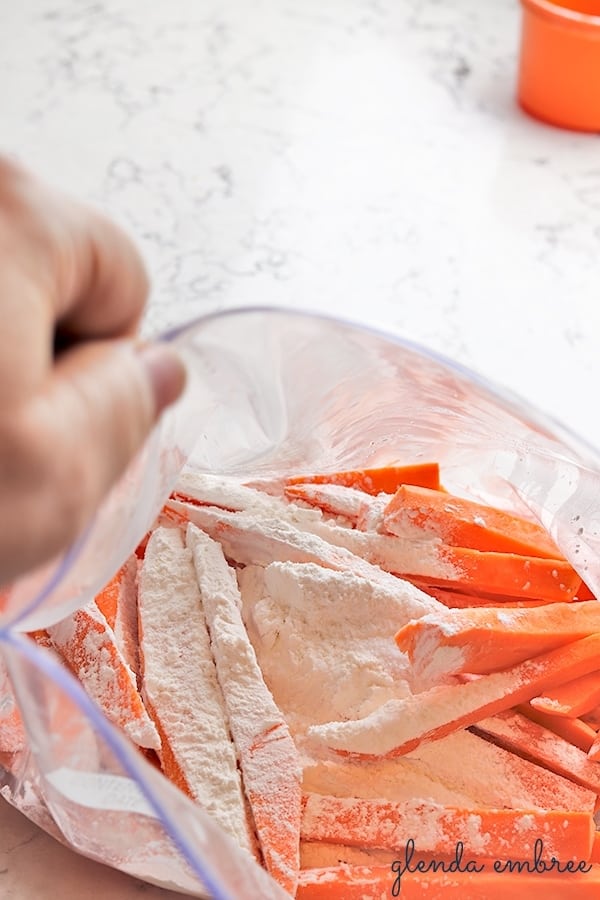 Once the arrowroot has coated every fry, open the bag and add the oil you've chosen. I use avocado oil, since it is neutral in flavor, has great nutritional value and has one of the highest smoke points. Pour it in, close the bag and shake, again.
When all the fries are coated with oil, open the bag and begin distributing the sweet potato fries between your two prepared *cookie sheets/baking trays.
*Affiliate Link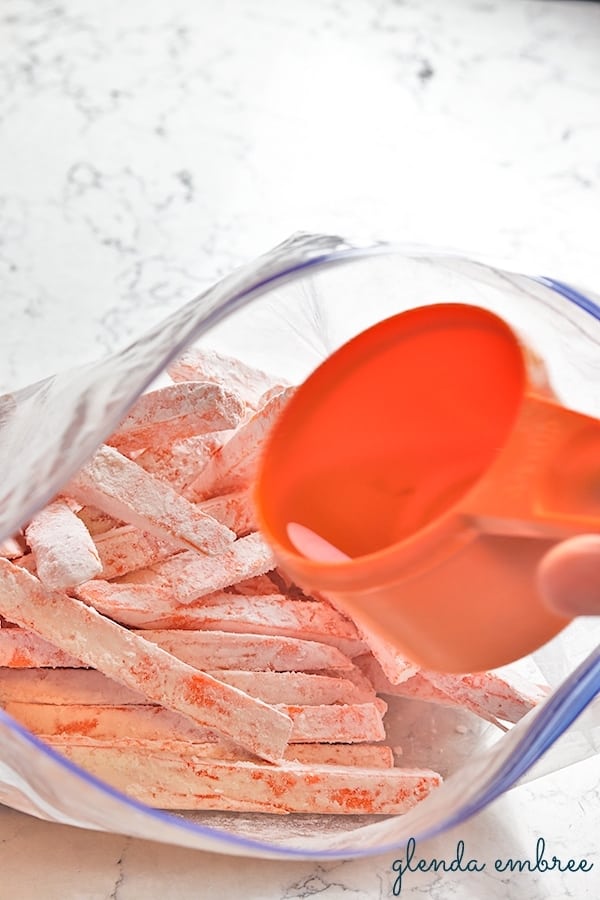 Ready for the Oven
I like to watch and be sure the fries are in a single layer (none stacked on top of another) and there is even a little space between each of them. Try not to have any touching.
Distribute the fries across the baking sheets, place both trays in the pre-heated oven, one on each rack. Set the timer for 15 minutes.
At the end of 15 minutes remove both trays. Flip the fries over (this is only necessary once). Return the cookie sheets to the oven, placing each one on the opposite rack that it began on. Set the timer for 10 more minutes. At the end of 10 minutes, check your fries. If you can hold one without it being floppy and limp, they are done. You can go as much as another 5 minutes, if needed.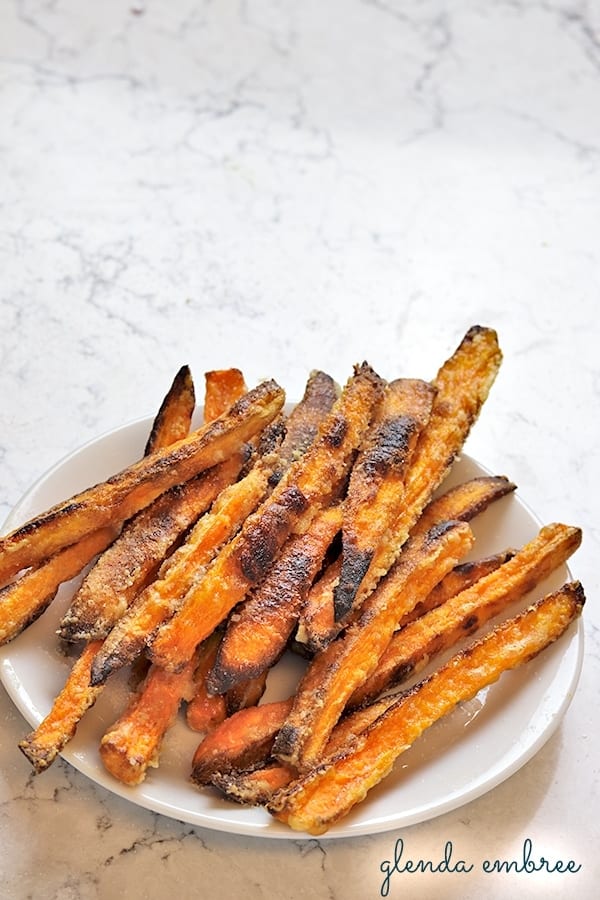 Remove the sweet potato fries from the oven and taste to see if they need additional salt. Salt them if necessary. Serve as a snack or a side dish. I love these fries dipped in my Cheesy Hot Sauce Dip, but feel free to serve them with your favorite condiments.
Enjoy!