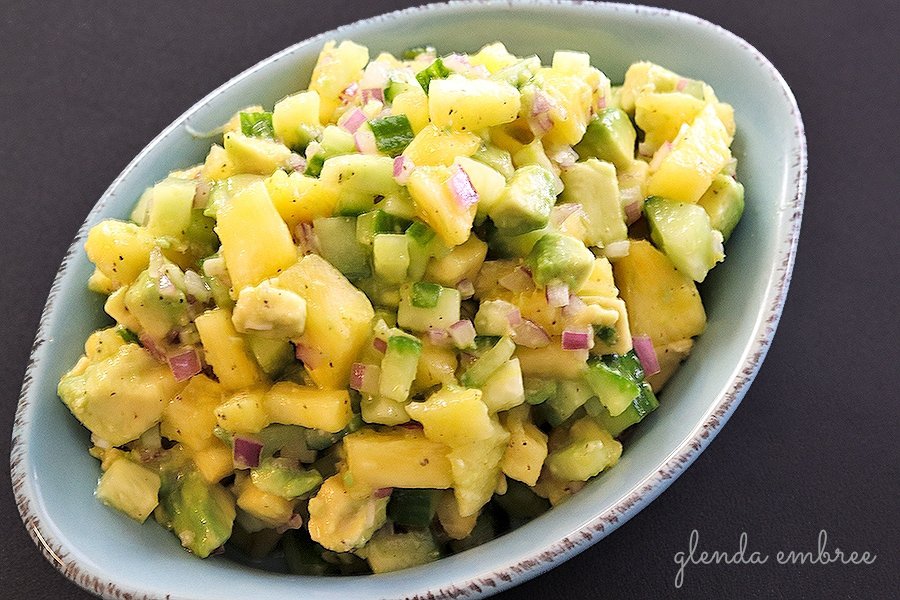 Pineapple Avocado Salsa is light and refreshing. It's completely delicious and 5-ingredient simple! If you're trying to be true to any special diet, this recipe is Gluten-Free, Grain-Free, Dairy-Free, Whole 30 and Paleo. You get the crispy crunch of fresh cucumber, the soft, creamy decadence of avocado and the sweetness of fresh pineapple. And everything is balanced by the tart, acidity of a little lemon juice and the addition of savory red onion. This delicious topping (or side) hits every scrumptious flavor note. You're going to want it on the dinner table, often!
Pineapple Avocado Salsa is a beautiful complement to most any main dish. We serve it on fish or over chicken. It's extraordinary inside fish tacos and we love it with pork loin, too! And the beauty of it is that it also makes a wonderful side or stand-alone salad! I love putting it over mixed greens and adding some diced leftover chicken or tuna for a great salad lunch.
You can also add a little heat, and spice things up, by blending in minced jalapeno. No matter how you serve Pineapple Avocado Salsa, you won't be disappointed.
Good for you never tasted so good! I hope you love it!
Print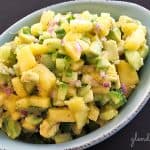 Pineapple Avocado Salsa, Quick and Easy
---
Author:

Prep Time:

10 minutes

Total Time:

10 minutes

Yield:

4 cups

1

x
Scale
Ingredients
1/2

a fresh pineapple, diced small

1/2

an English cucumber, diced small

1/2

small red onion, minced fine

1

avocado, diced small

1

lemon, zest and juice
salt and pepper, to taste
---
Instructions
Mix all ingredients in a bowl with a tight-sealing lid. Serve over or beside your favorite chicken, fish or pork dishes.
Leftovers can be refrigerated 3-4 days, if they last that long.
---
Category:

Sides, Condiments

Cuisine:

American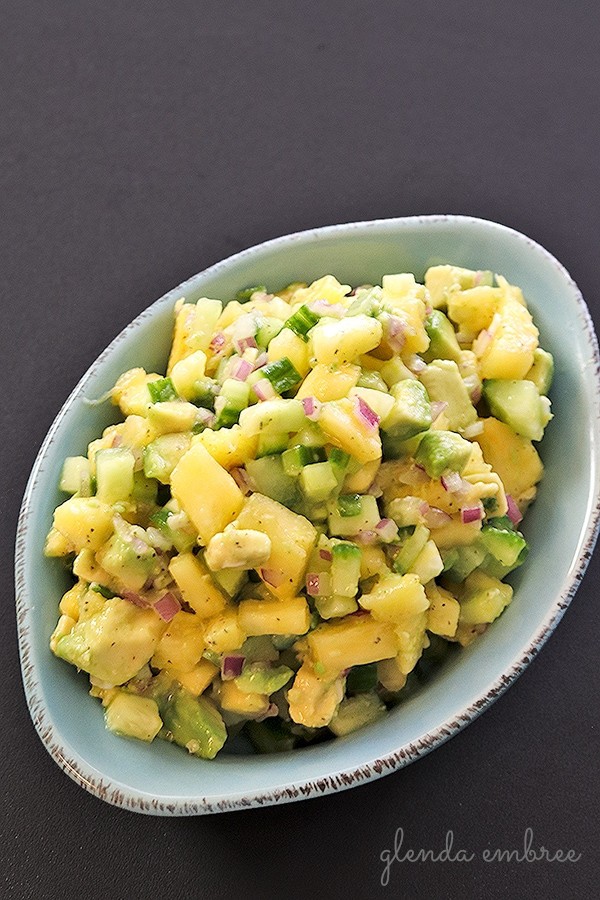 How to Make Pineapple Avocado Salsa
It takes less than ten minutes to toss this yummy recipe together. It will, honestly take you longer to read this entire post, but it was important for me to include some information on related knife skills, i.e., small dicing and mincing. Your time investment, to make the recipe, will be in chopping the ingredients and that's going to go quickly, once you know the tricks.
Dicing the Pineapple
Start by cutting the top off your fresh pineapple and then the bottom. Now that you've created a flat surface on the bottom of the pineapple, stand it up on your cutting board and use your chef's knife to peel away the outer skin and bristles. Toss all of that waste away.
Continue on, with the pineapple standing on end, and working down from the top to the bottom, using your *chef's knife, to cut the pineapple in half and then into quarters.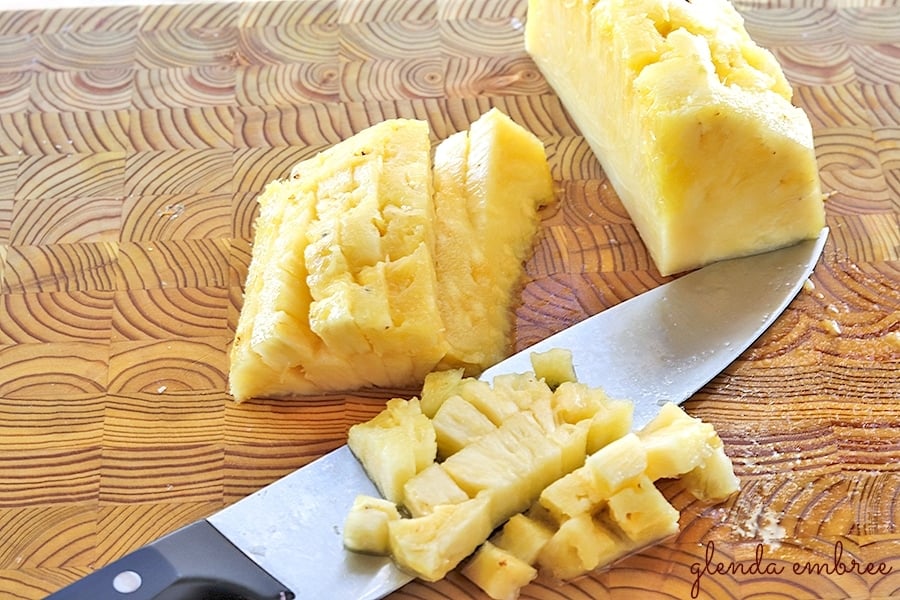 Once it's quartered, each piece of the pineapple will have a piece of center core, still attached. Stand the quarter on end and with the chef's knife, slice off that triangle of core. *This is the knife I ordered on Amazon, in 2016. It's high quality and I use it daily. I fully expect it will last me my entire lifetime, so it was a solidly economical investment. I consider it one of my most essential kitchen tools.*
Now, slice the pineapple quarter, still standing on end, in half, to create two slices of pineapple. Lay the slices down, one on top of the other and cut them lengthwise into narrow strips. Then turn, the whole section of strips and starting at the end, begin cutting off the small dices.
Repeat the process for the other pineapple quarters.
Dicing the Cucumber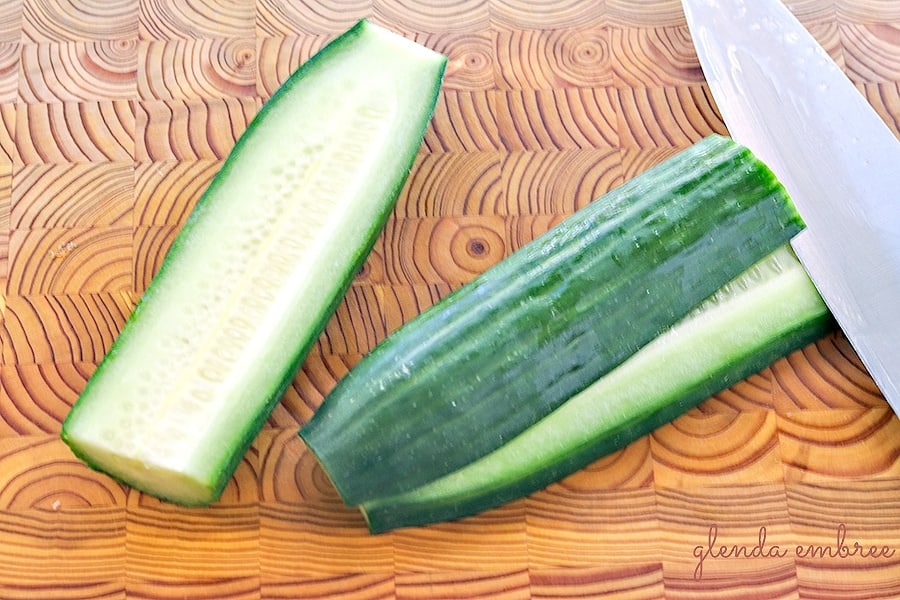 It's basically the same process to small dice a cucumber. Remove both ends so you're working with flat surfaces. Stand the cucumber on end and slice it in half lengthwise.
Slice each half in half, the same way. Lay slices one on top of the other and cut them lengthwise into long, thin strips.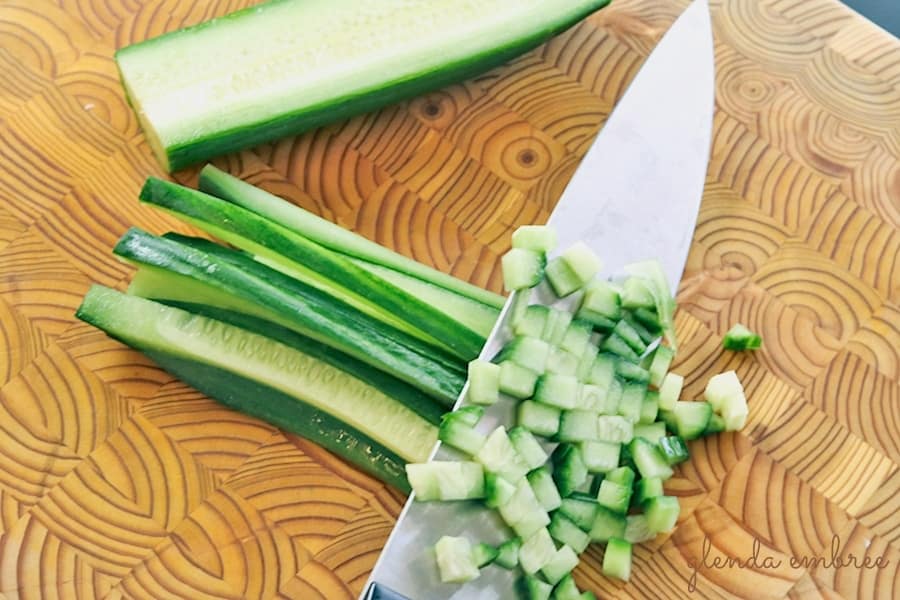 Turn the group of strips so you can easily maneuver your *knife and begin cutting off the dices on the end.
Like anything you want to slice, the width of your strips and thickness of your slices will determine the size of your dice or mince. Adjust them and you will get a different size result. For this Pineapple Avocado Salsa, I have kept everything to a small dice or even a mince.
Mincing Onions without Crying a River
Every once in a while, I do get caught and an onion will have me crying my eyes out, but honestly, that's not the norm. I don't wear safety goggles or hold a piece of bread in my mouth or any of the other old wives tales floating around out there. Yet, I can typically chop and cut onions without weeping. A super sharp knife is the key. You need to be able to slice through the onion, not saw through it.
I'm no professional chef, so I don't have culinary school knife skills. But, I do know what has worked for me. So, start with a very sharp knife and try these instructions.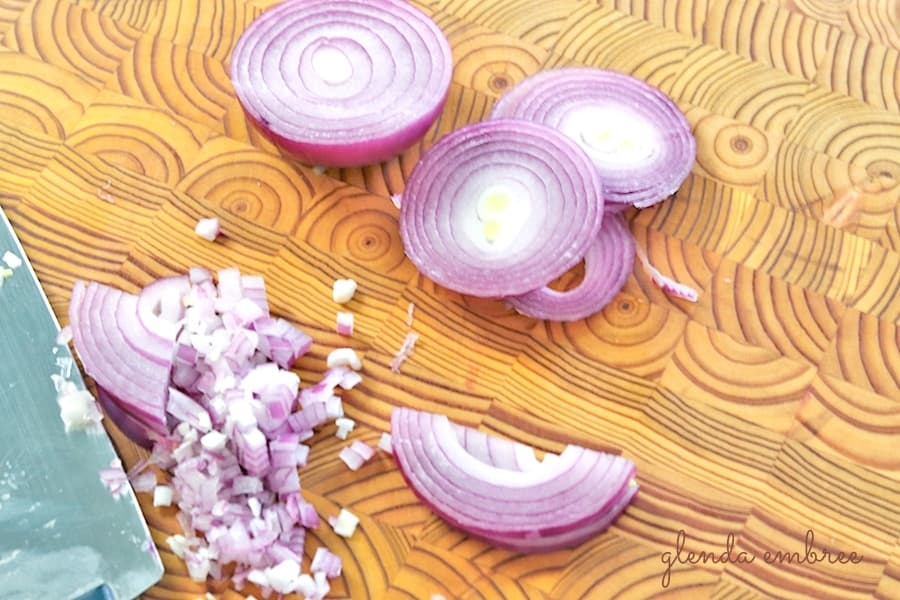 I start by cutting both ends off the onion and then peeling off the outer "paper" layer.
Next I cut the onion into round slices, parallel to the cut ends. The thickness of the slices will determine how large or small your dices or minces end up. For this salsa, I wanted finely minced onion, so I cut the slices very thin.
Stack two or three slices and cut them in half. Take one stack of the halves and turn them so you can begin mincing off the onion pieces from the end. You're working on a curve, so you will need to rotate the slices, slightly after a few cuts, to keep cutting the pieces off and get them uniform.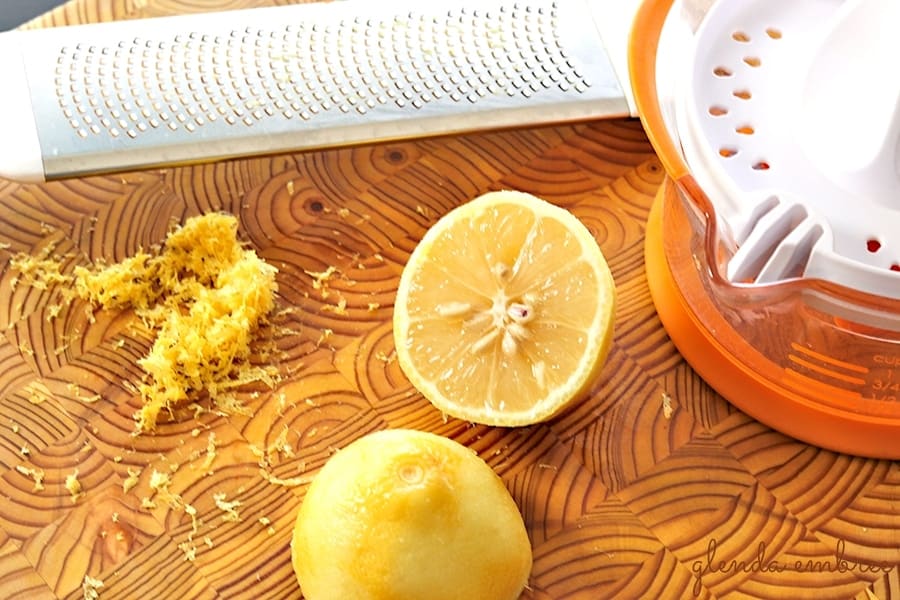 Zesting and Juicing the Lemon
There's no special trick to this really and several types of tools that may work. I have a microplane grater that I use for zesting. I love it because it's quick, simple and easy to clean. You could use the small side of a box grater, which would be my next choice, or alternatively, it may be possible to use a vegetable peeler to remove large sheets and then chop them with a knife.
The critical thing to remember about zesting is that you only want to remove the outer yellow layer of the skin. The thick white pith underneath is quite bitter. If you're going to try removing the zest with a vegetable peeler or a knife, that will be your biggest difficulty — getting only the yellow skin.
*Here's a microplane grater, like I use.
Once the lemon, is zested, I cut it down the center, in a line parallel to the two ends. I don't have a fancy electric juicer, but mine catches all the seeds, is easy to use and easy to rinse out. Juice both halves for this recipe.
*Here's my juicer.
Mix Up Your Pineapple Avocado Salsa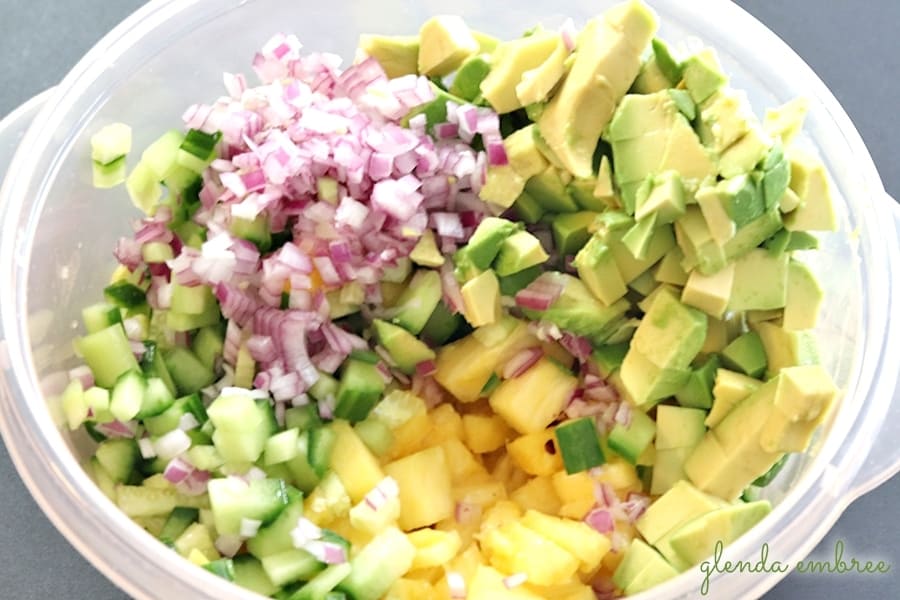 Now the easy part! Toss everything in a bowl and stir it together. Add salt and pepper to taste. Your salsa is ready to serve! We have kept it in the fridge for four days, when it lasted that long. The acidity of the pineapple and lemon juice kept the avocado green and perfect.
You guys, I'm not even kidding. This is so delicious! It doesn't get better than something that's good for you to eat, that is something you LOVE to eat. I can't wait for you to try it!
It would be delicious on my Crock-Pot Pork Carnitas!