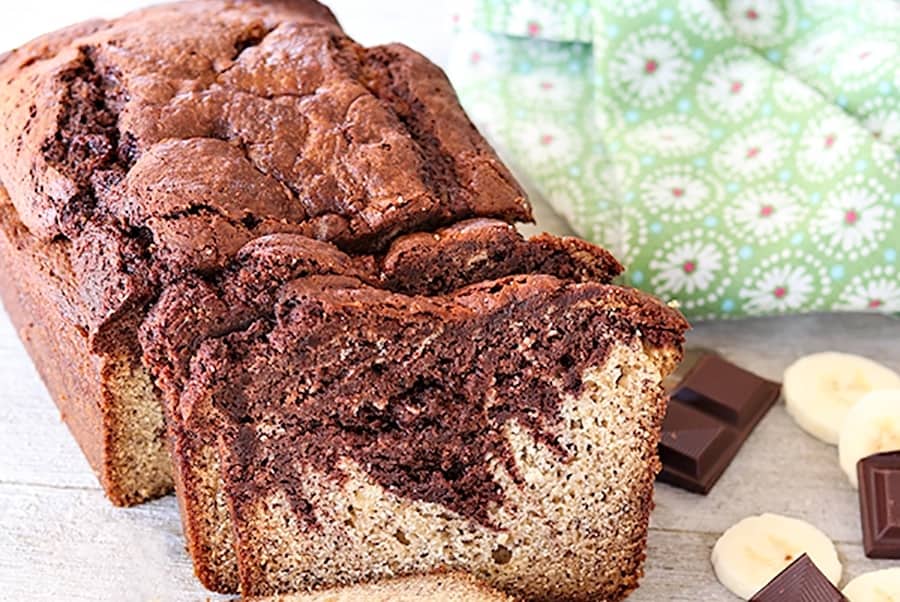 Our fam­i­ly's favorite banana bread recipe has been amped up a bit with the addi­tion of a choco­late swirl, in my fourth recipe post for #Choc­to­ber­fest. I'm not gonna lie, I'm pret­ty proud of myself on this one. Choco­late Swirl Banana Bread turned out beau­ti­ful­ly! Choco­late and banana is a deli­cious fla­vor combination.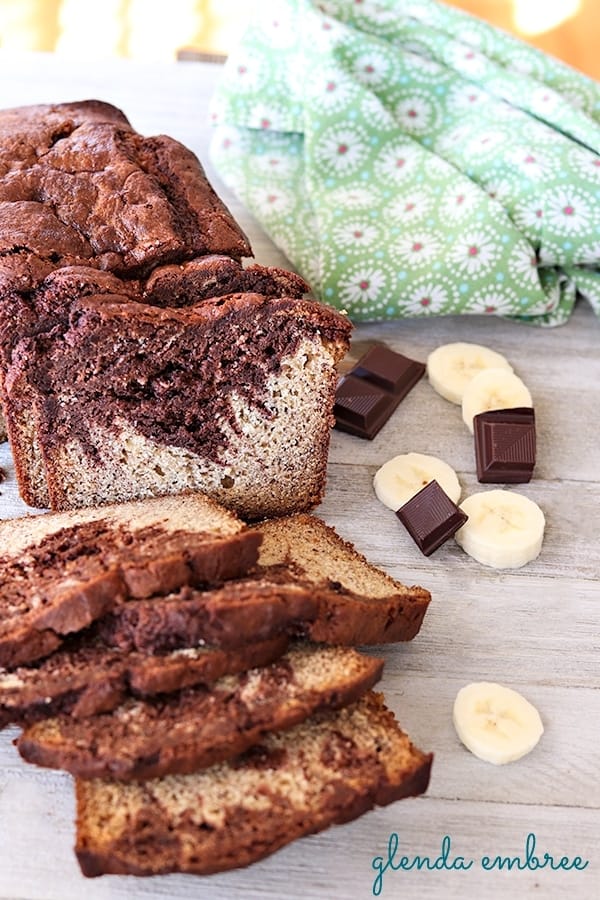 The orig­i­nal banana bread recipe has been in my hus­band's fam­i­ly for decades and I've been mak­ing it for 35+ years, now. Typ­i­cal­ly, I bake it up as muffins, for fast, on-the-go-break­fasts, but I decid­ed to try to "dress up" some loaves this week. Choco­late Swirl Banana Bread is the deli­cious result.
In my opin­ion, the fla­vor of quick breads is devel­oped most after it has been frozen or at least refrig­er­at­ed, overnight. It seems to help them hold a moist ten­der crumb, as well. Refrig­er­at­ing or freez­ing Choco­late Swirl Banana Bread enhances and inten­si­fies the fla­vors of both the banana and the choco­late. This will be your go-to recipe for home-baked gifts this hol­i­day sea­son or for a treat at a potluck.
How to Make Chocolate Swirl Banana Bread
Mix­ing this up is pret­ty straight­for­ward, like a typ­i­cal banana bread. The main dif­fer­ence is that you're going to divide the bat­ter and add choco­late to some of it, at the end.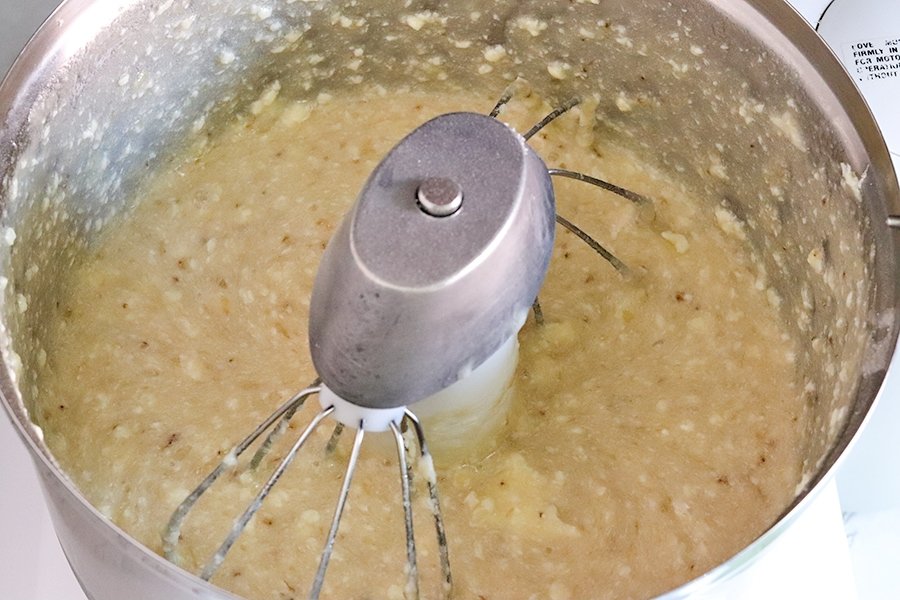 Start by cream­ing the but­ter and sug­ar with mashed bananas.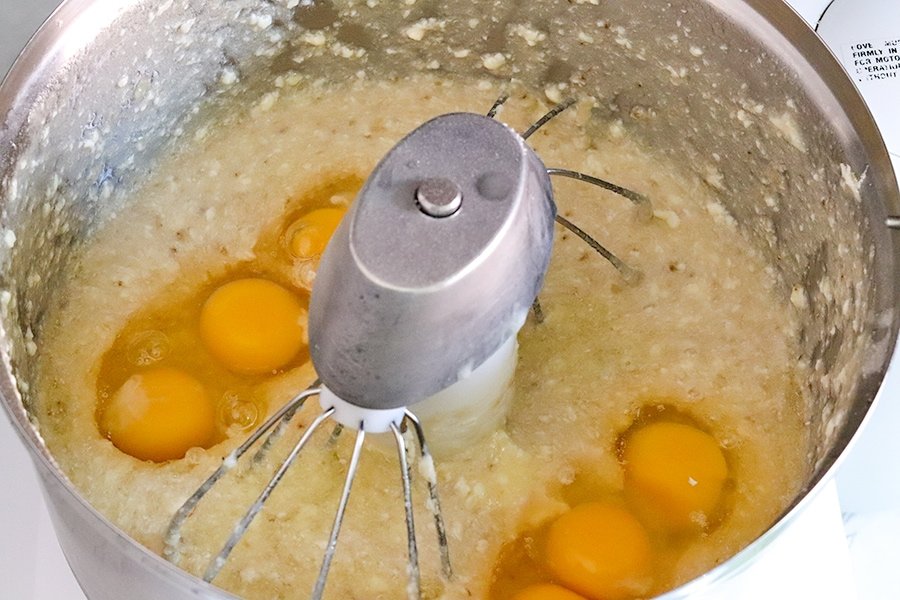 After that, beat in the eggs. In case you were won­der­ing, this recipe is easy to mix by hand, but even eas­i­er in my *stand mix­er. Toss­ing it all togeth­er in there is sim­ply a force of habit for me. You can eas­i­ly do it, either way.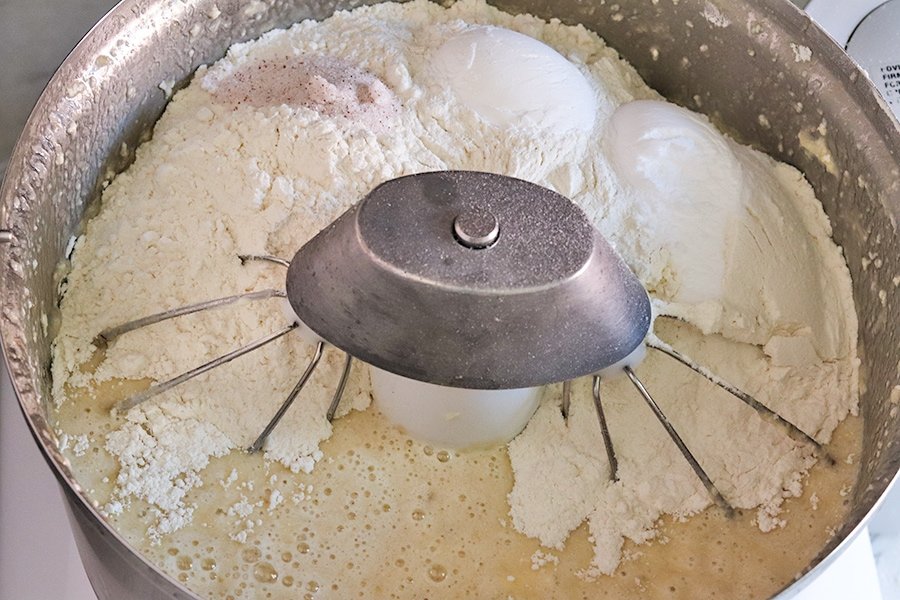 Fold the dry ingre­di­ents into the liq­uid mix­ture in your bowl. As with any quick bread, only mix long enough to ful­ly incor­po­rate the dry ingre­di­ents. Over-mix­ing can make quick breads tough.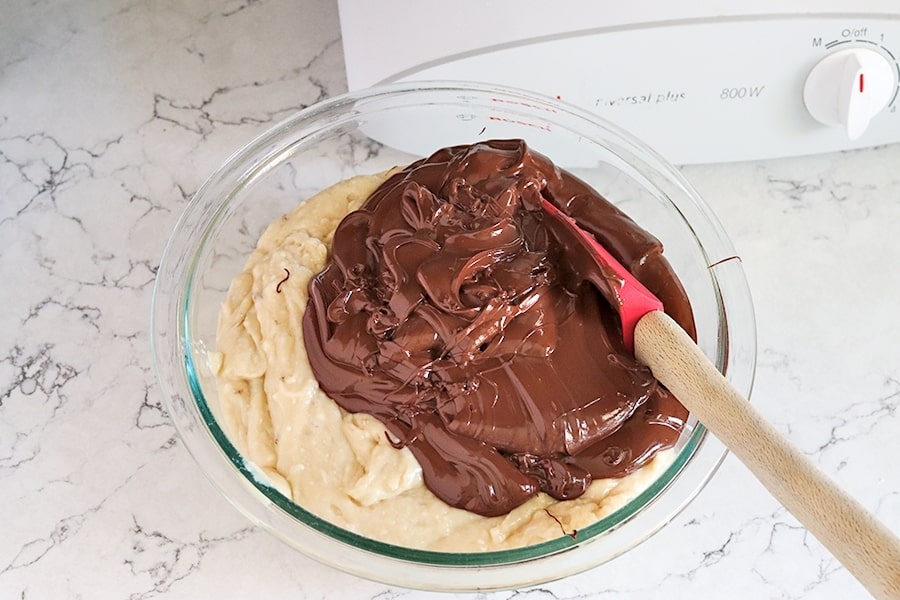 Next, blend melt­ed choco­late into 4 cups of your divid­ed bat­ter. Set it aside and divide the plain bat­ter between three (3) *8x4-inch loaf pans.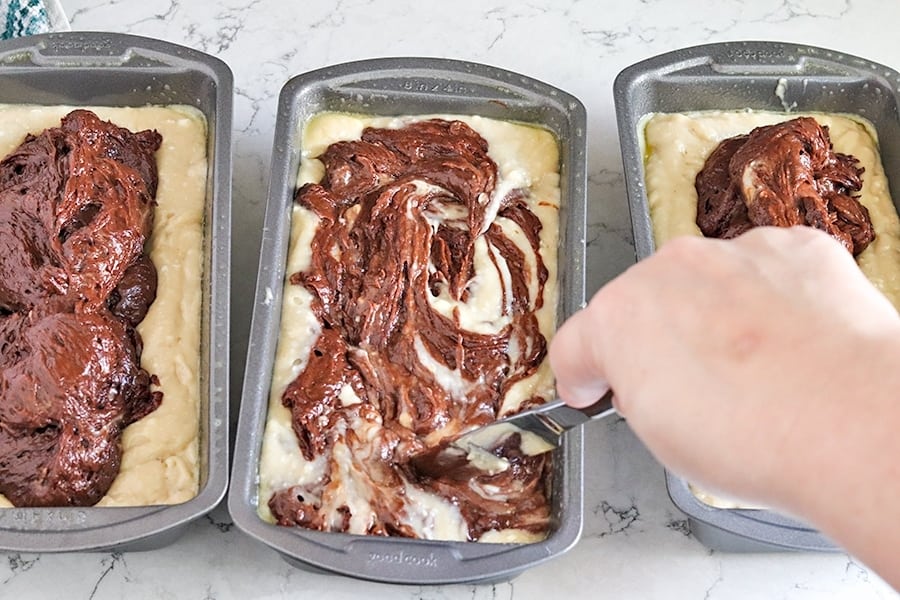 Divide the choco­late bat­ter in thirds and spoon it down the cen­ter of each loaf. The next step is to use a but­ter knife or fork to twirl the choco­late bat­ter down and through the plain bat­ter, cre­at­ing a swirl pattern.
Bake the loaves. Remove the pans from the oven and rest them on a cool­ing rack for ten min­utes. After ten min­utes, take the loaves out of the pans and con­tin­ue to cool them. When cool­ing is com­plete, wrap them for freez­ing or storing.
How to Use and Store Chocolate Swirl Banana Bread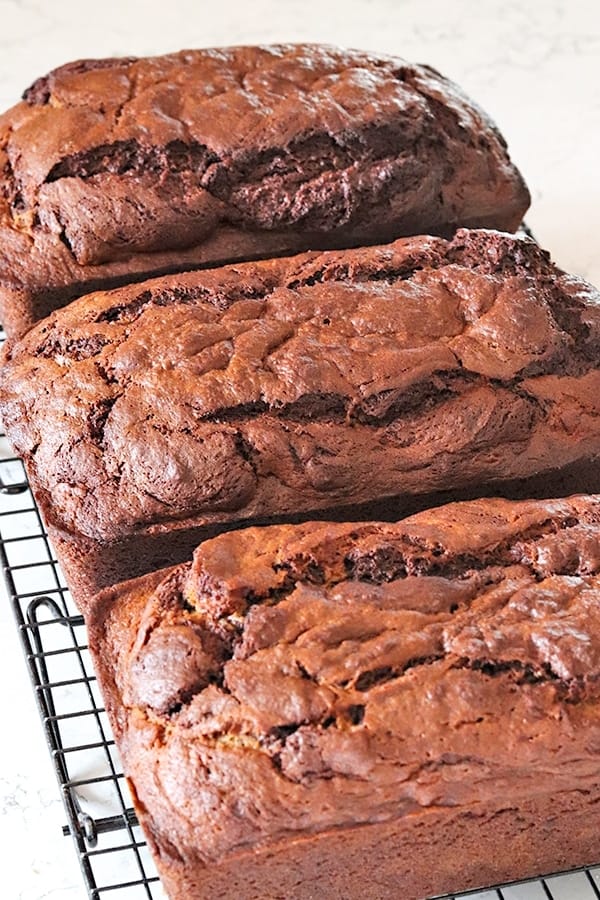 To pre­vent freez­er burn, once the loaves are com­plete­ly cool, wrap them in plas­tic wrap and then foil. In this way, you will pre­vent freez­er burn and lock in the won­der­ful fla­vor. If you're leav­ing a loaf out to enjoy over the next few days, zip-top bags are an excel­lent option.
Imag­ine these beau­ti­ful loaves wrapped up with a bow for neigh­bors and friends over the hol­i­days. Who would­n't love such a gift?
Use Choco­late Swirl Banana Bread as a treat at home, or for gifts to friends and neigh­bors. Regard­less of the ways you choose to use it, my the­o­ry is it will be enjoyed and gone in min­utes. So, be sure to make the whole batch, even if three loaves seems like a lot, right now. The chal­lenge is hav­ing any­thing left to save in the freez­er! I promise.
Print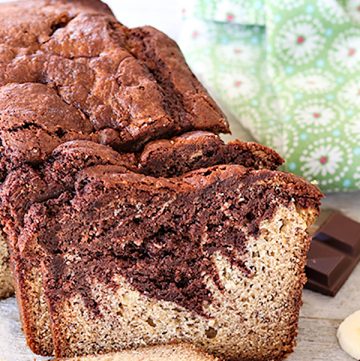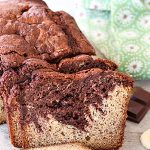 Chocolate Swirl Banana Bread
---
Author:

Total Time:

1 hour 10 minutes

Yield:

3

loaves

1

x
3

cups

sugar

1 1/2

cups

but­ter (no sub­sti­tutes, here)

9

ripe bananas

6

eggs

6

cups

unbleached all pur­pose flour

1 Table­spoon

bak­ing powder

1 Table­spoon

bak­ing soda

1 1/2 tea­spoons

salt

2

cups

semi-sweet or dark choco­late chips
---
Instructions
Peel and mash bananas. I toss mine in my stand mix­er and mash them up.
Add the but­ter and sug­ar and beat well.
Beat in the eggs.
Mix in the dry ingredients.
The bat­ter will be thick when it is finished.
Melt the choco­late chips in the microwave.
Take 4 cups of the banana bread bat­ter and put it into anoth­er mix­ing bowl. Add the melt­ed choco­late and stir to com­plete­ly incor­po­rate it.
Grease 3 (8x4) loaf pans.
Divide the plain bat­ter, even­ly, between the three pans.
Next, add one-third of the choco­late bat­ter in a strip down the cen­ter of each loaf pan.
Using a but­ter knife or a fork, swirl the choco­late into the plain batter.
Bake the loaves for 60–75 min­utes (depend­ing on your oven) at 350°. Loaves will begin to pull away from sides of pan and when test­ed with a tooth­pick, tooth­pick will come out clean. Loaves will be fair­ly dark on top, but you can always lay a sheet of foil over them for the last 15 or 20 min­utes if you feel they are too dark for your taste.
Remove from the oven and allow to cool in the pan for at least ten min­utes, before remov­ing the loaves. If they set longer, it's fine. They will still come out, if you greased the pans, well.
Once the loaves have cooled, and you've sam­pled all you can hold, lol, seal them tight­ly in zip-top bags or wrap with plas­tic wrap and then foil. At that point, they can be placed in the freez­er or in the refrig­er­a­tor, overnight, to allow the fla­vors to develop.
We love this bread best, served cold, from the fridge. The moist, dense tex­ture is deli­cious­ly sat­is­fy­ing and the fla­vor is unmatched.
Prep Time:

10 min­utes

Cook Time:

60 min­utes

Cat­e­go­ry:

Bread, Quick Bread

Cui­sine:

Amer­i­can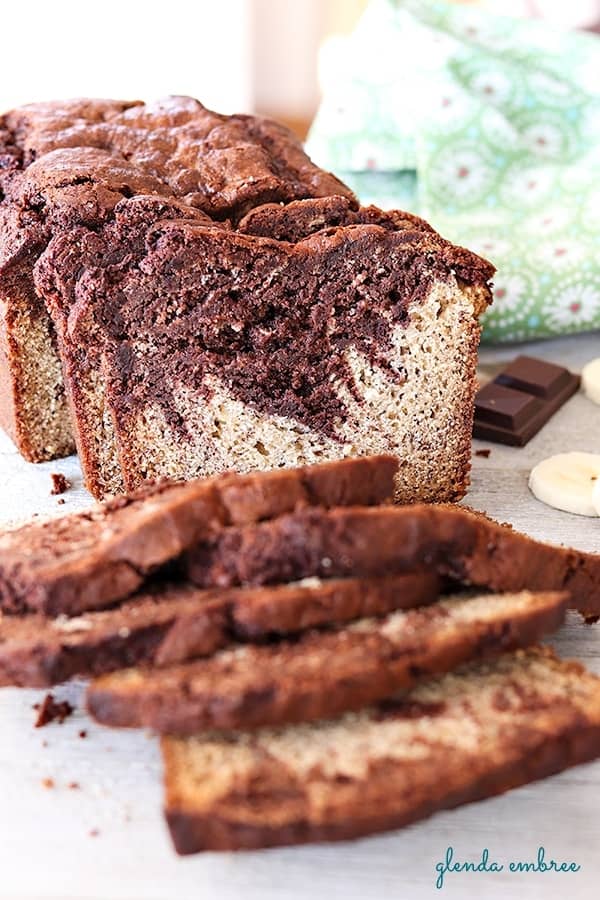 I hope you love this Choco­late Swirl twist on our fam­i­ly favorite Banana Bread recipe. It makes my day when one of my recipes can become a favorite treat at your house, too. Enjoy, friend!
P.S. Remem­ber to check out the recipes from all my choco­late-lov­ing friends, too! You won't want to miss even one!
P.P.S. The GIVEAWAY! The GIVEAWAY!