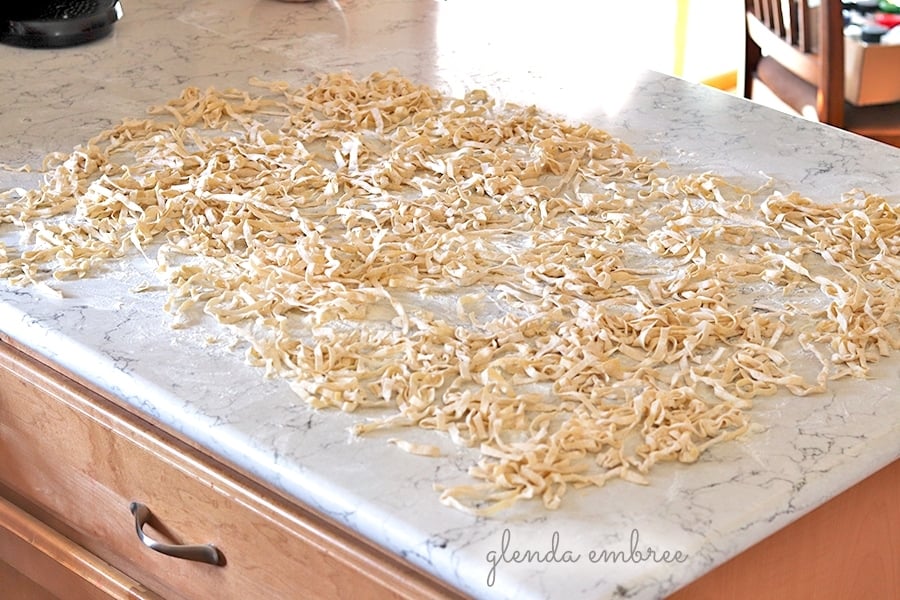 Homemade pasta only requires two simple ingredients — flour and eggs. Since those are fairly standard pantry ingredients in most households, you almost always have what you need for this simple base to any scrumptious meal. These ingredients are inexpensive which means making your own noodles is a great way to stretch your dinner dollars and make a meal more filling for less money.
You're going to think I'm nuts, but there is something about working with pasta dough — any dough, really — that is SO therapeutic for me. It really gives me such joy! Then, I get to share it with my family. You definitely need to give this a try.
Homemade pasta is incredibly easy to make. It does require more of your time than just opening a pre-packaged dry pasta, but the flavor and texture difference is worth the extra effort and will pay huge dividends with the oooohs and aaaaahs of your delighted family and friends.
Homemade noodles are a go-to in our house with dishes like Chicken Parmesan, but most especially with my husband's all-time favorite, Chicken and Noodles over Mashed Potatoes. There's no need to be intimidated by the idea of making your own noodles. You definitely CAN create fresh, delicious pasta for your family and guests, anytime the urge overtakes you.
The Secret Homemade Pasta Formula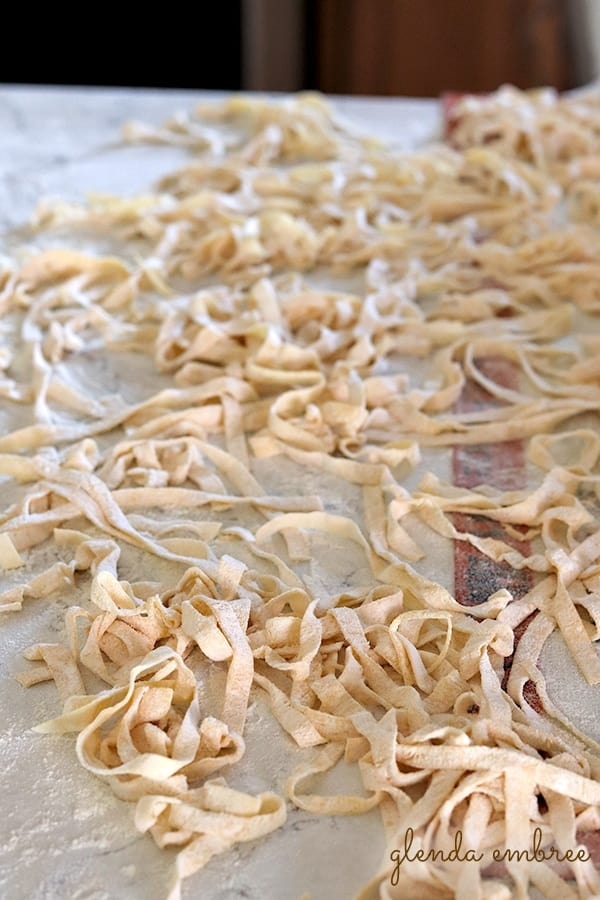 The "secret formula" is really a ratio. And once you understand it, homemade pasta for any number of servings, will be simple.
The ratio that gives beautiful homemade egg noodles their tender, delicious texture is 1 part eggs to 1.5 parts flour. Simple! With this ratio you can create the perfect number of pasta servings by remembering to use 1 egg per portion of pasta. Serving 2 people? Then start with 2 eggs and add 1.5 times the flour. 12 people? You'll need a dozen eggs and 1.5 times the flour.
I already know your next question. How do I measure flour based on number of eggs? You can't. Most of you will be able to crack your eggs into a liquid measuring cup and read the measurement, then multiply it by 1.5 to measure your flour with a dry measuring cup. This can work. But, for many reasons, it's not nearly as accurate (and 100% successful every time), as the method I'm about to show you.
We're going to get into the reasons you should really be weighing flour when you measure it, in a different post. For today, let me say that the simplest way to ensure your homemade pasta is perfect every time, is to use a kitchen scale for the measuring. Here's how I do it.
How to Use the Tare Feature on a Kitchen Scale
A *good kitchen scale doesn't need to be costly, but I do recommend digital and it must have a tare feature.
The tare feature is what allows you to have a bowl or container on the scale, but weigh only the ingredients inside it. The weight of the bowl will not be calculated with your ingredients.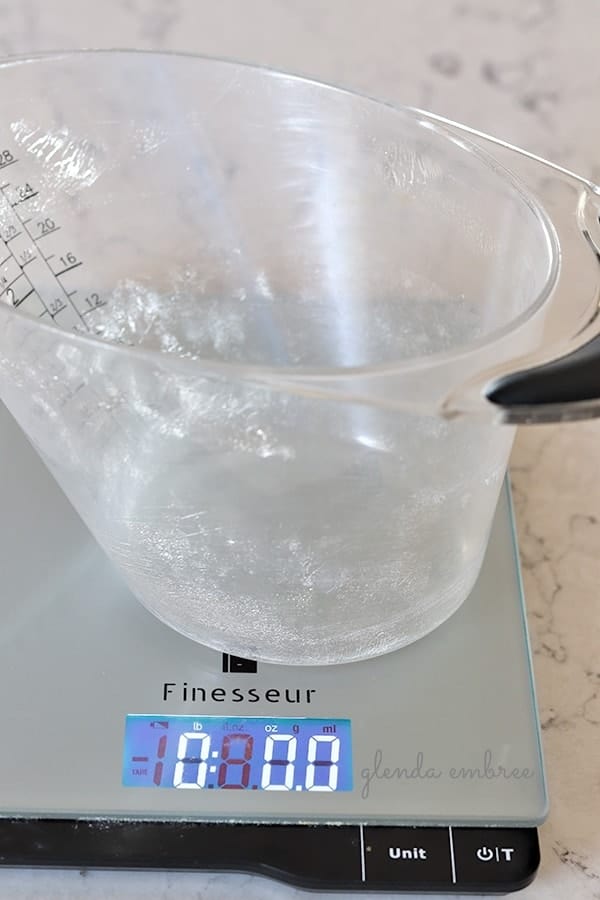 Set the empty container on the scale and push the tare button. This will set the digital display to zero, even though the bowl is actually sitting on the scale.
Now, measure the ingredients into the bowl and the scale will give you the accurate weight of just that item, without the weight of the container added in. How simple and wonderful is that?!!
Using a Kitchen Scale to Measure Ingredients for Homemade Noodles
Set the scale to weigh in grams. Then set a bowl, or in my case a measuring cup, on the scale. Select the tare button to zero out the display.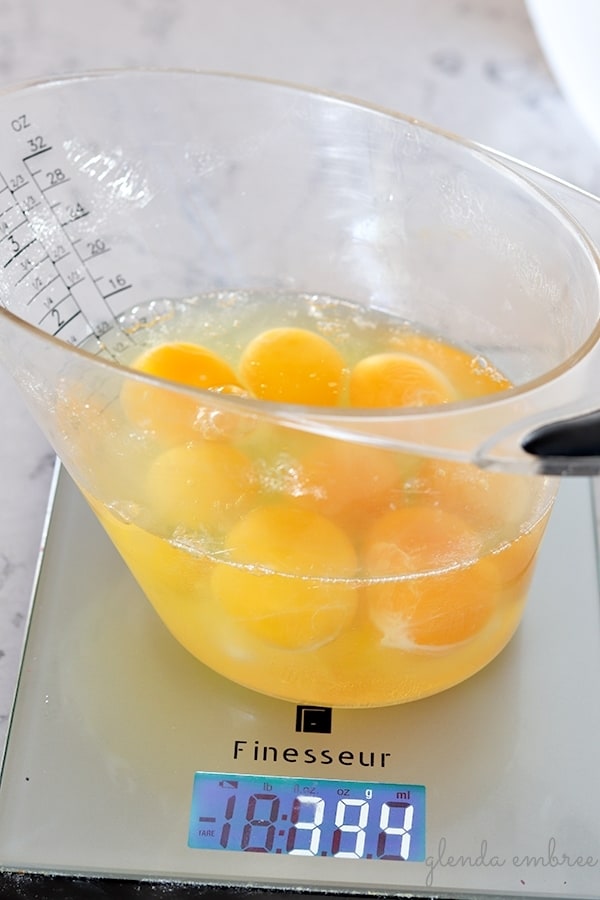 Now, crack the number of eggs you need for the portions of pasta you'll be making into the bowl you have tared on your kitchen scale. In my experience, a large egg usually weighs around 50 grams.
I made 8 portions of homemade pasta, so needed 8 eggs. As you can see, they came in at just under 400 grams, as I expected.
Now, knowing the weight of my eggs, I can accurately measure the needed flour by simply multiplying that number by 1.5. I will need around 600 grams of flour — 591 grams to be exact.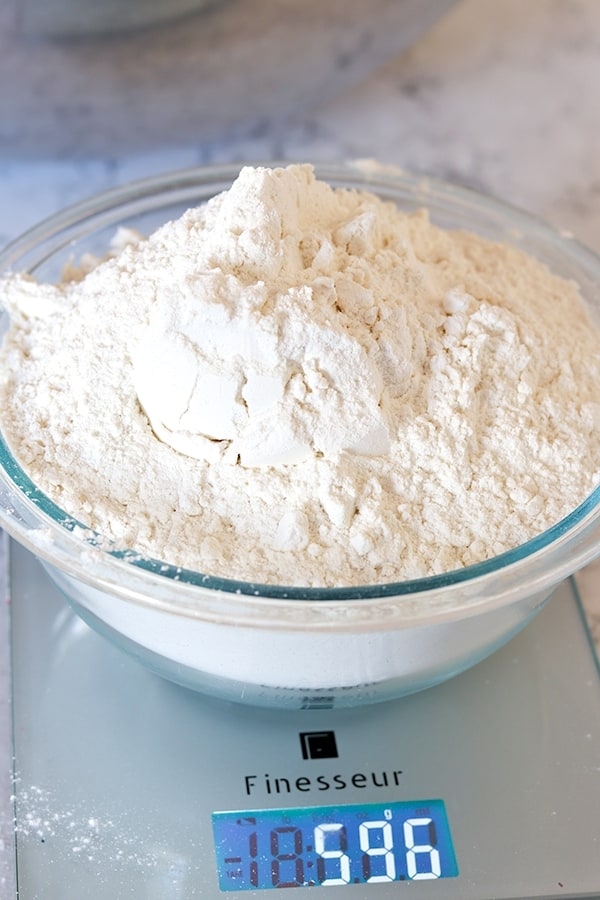 I was easily able to remove the extra 5 grams of flour from the bowl and have the perfect amount for the number of eggs I had chosen. This is a precise and simple way to ensure success with ANY recipe.
How to Make Homemade Pasta
Mix your measured eggs and flour in a large bowl. You can accomplish this most easily with a wooden spoon or with your hands.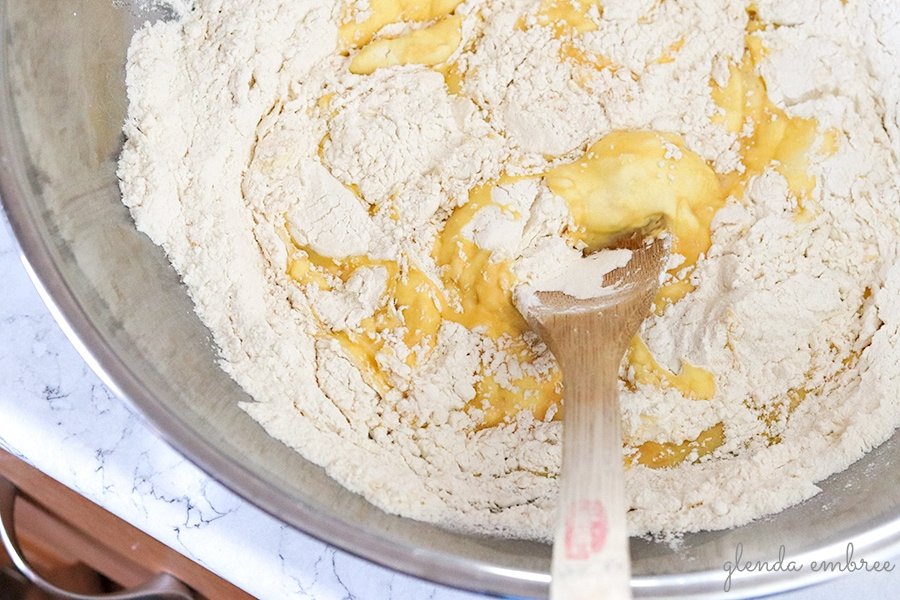 The flour and eggs will begin to come together in a shaggy mass of dough.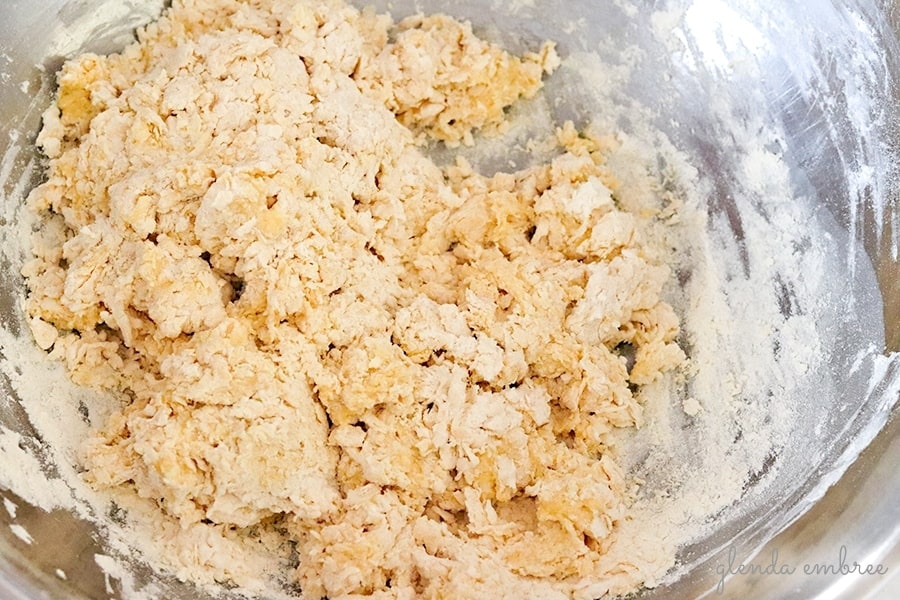 Lightly flour your work surface or counter top and pour the shaggy dough out. Begin working it together with your hands until it forms a ball.
Knead the dough for 5 to 10 minutes until the ball of dough is smooth. Flatten the dough ball into about a 1-inch disc, cover and let it rest for 20-30 minutes.
After the dough has rested, it will be easier to roll, whether using a pasta machine or rolling it out by hand. I have rolled it with a rolling pin and cut the noodles with a pizza wheel for decades. I have had a pasta machine for 7 or 8 years, now, but never actually spent any time with it to learn how to use it. (It was still in the box when I pulled it out for this post. lol) What a waste of a wonderful kitchen gadget! I'm a convert for sure! I loved using it and the pasta was beautiful!
Using a Pasta Machine to Make Your Pasta
Dividing my rested dough into quarters, I used one quarter at a time to begin rolling. I put it through the roller on the *pasta machine, making sure it was set at the thickest setting. Three times I ran the dough through at that thickness. Then I folded the strip of dough into thirds, took this new, thicker strip and ran it through the machine, three more times, at the thickest setting.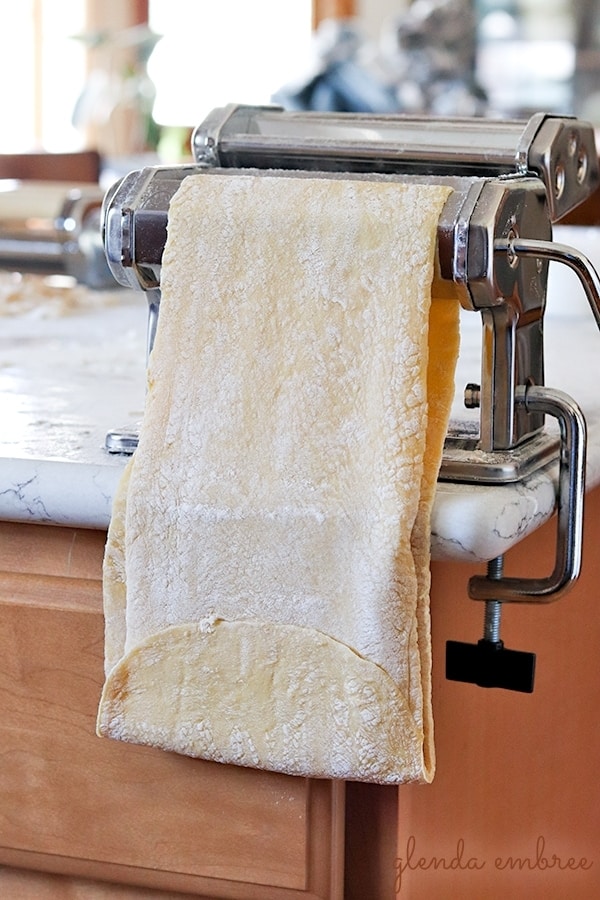 Before I started reducing the thickness of the noodles, I sealed the ends of my strip together in a loop. Then, as the noodles got thinner and the strip got longer and longer, I was better able to hold and control it.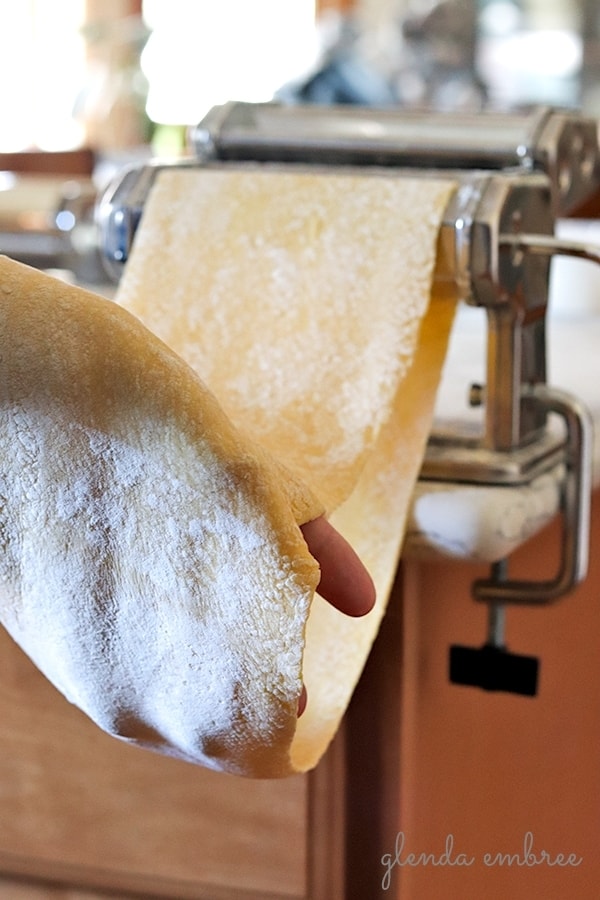 Then, it was as simple as turning the dial on the side of my pasta machine. I rolled the dough through and little by little, reduced the thickness of my homemade pasta. It wouldn't have been necessary to go quite as thin as I did, but I wanted to see just how thin it would go. The pasta was tender and light — really lovely. Perfection!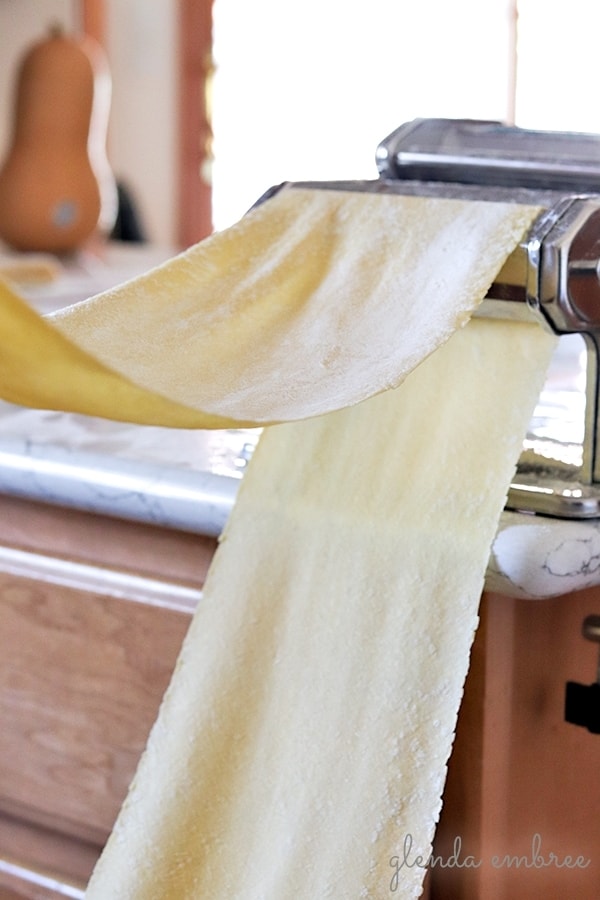 After getting the dough rolled to the desired thickness, I cut through the loop to remove the strip of dough. Attaching the wide noodle head, I fed the sheet of dough back into the pasta machine. I cut the pasta to the length I wanted for fettuccine. It would have been just as easy to cut them short for egg noodles.
Now all that's left is to boil and eat these lovely homemade noodles. Homemade pasta can also be dried and frozen to use for future meals! Check the recipe card, below, for details.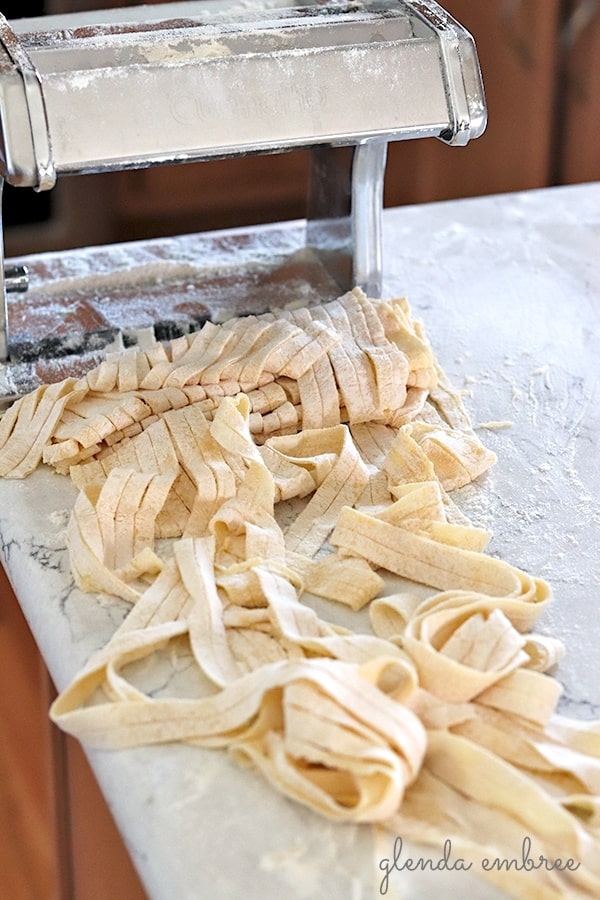 Print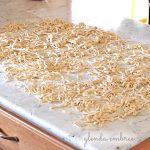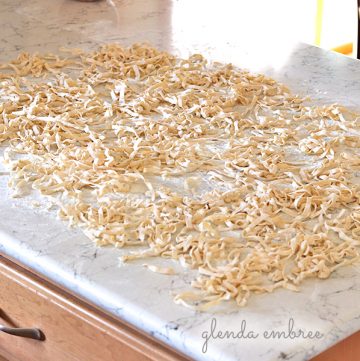 Homemade Pasta
---
Author:

Prep Time:

45 minutes

Cook Time:

10 minutes

Total Time:

55 minutes

Yield:

8

servings

1

x
Description
This simple formula will allow you to prepare homemade pasta for one to dozens.  Tender, delicious homemade noodles are easy to make and really stretch food dollars by making a dish more filling.
---
Scale
Ingredients
1

egg per person/portion being served (I used 8 eggs [

394 grams

].)
flour at

1.5

times the amount/weight of the eggs (I used

591 grams

.)
---
Instructions
Set the tare function on your kitchen scale and measure the weight (in grams) of the number of eggs you will be using.
Multiply the weight of the eggs by 1.5 and then measure out that weight of flour.
Stir the flour and eggs together until they begin to form a shaggy mass.
Once it has come together, into that shaggy mass, pour everything out onto a lightly floured work surface or counter top.
Knead the dough, pressing it with the heel of your hand, folding it over, kneading, fold until it is velvety smooth. This will take around 5-10 minutes.
Cover (I just set a bowl over the top, right there on the counter.) and allow to rest for about 20 minutes.  The resting period is important, so the gluten can relax and the homemade noodles will be easy to roll.
After the rest period, roll and cut the homemade pasta dough.  SEE NOTES.
Homemade pasta can be added to boiling liquid and cooked immediately after cutting.  Fresh pasta cooks in about half the time as dried, so be sure to check it earlier than you do pre-packaged dried varieties.  Always season plain boiling water with abundant amounts of salt to boil pasta.  A drop of the water on the tongue should taste salty or like broth for noodles to be properly seasoned.  Alternatively, homemade pasta can be cooked in stock, instead of water, for additional flavor.
Homemade pasta can also be left to dry on the counter and then frozen to store for later.  Leave it to dry on the counter for several hours.  I usually leave mine overnight, especially if the homemade noodles are thick.  The important factor is that the noodles be completely dry all the way through.  You want them to snap, not bend.  Freeze the dried pasta in a zip-top bag for up to three months.
---
Notes
You can flour the counter top and use a rolling pin to roll out the noodle dough.  Roll it to your desired thickness.  The rolled dough can then be cut with a sharp knife, though I feel a pizza wheel makes this job so much easier.
My personal preferred method is to use a *pasta machine to roll and cut the homemade pasta.  I am able to roll the dough much thinner and the noodles can quickly be cut to uniform widths.
Both methods work, so if you don't have a pasta machine don't allow that to prevent you from making homemade pasta.  I have made this recipe for decades using the rolling pin and pizza wheel method.  Now, that I have a pasta machine, I just prefer that method.
Category:

Pasta, Side Dish

Method:

Boiling

Cuisine:

American
Keywords: pasta, noodles, homemade
Dishes that Would Be Fantastic with Pasta Made from Scratch
Homemade Noodles would be perfect with these recipes! Check them out, today!