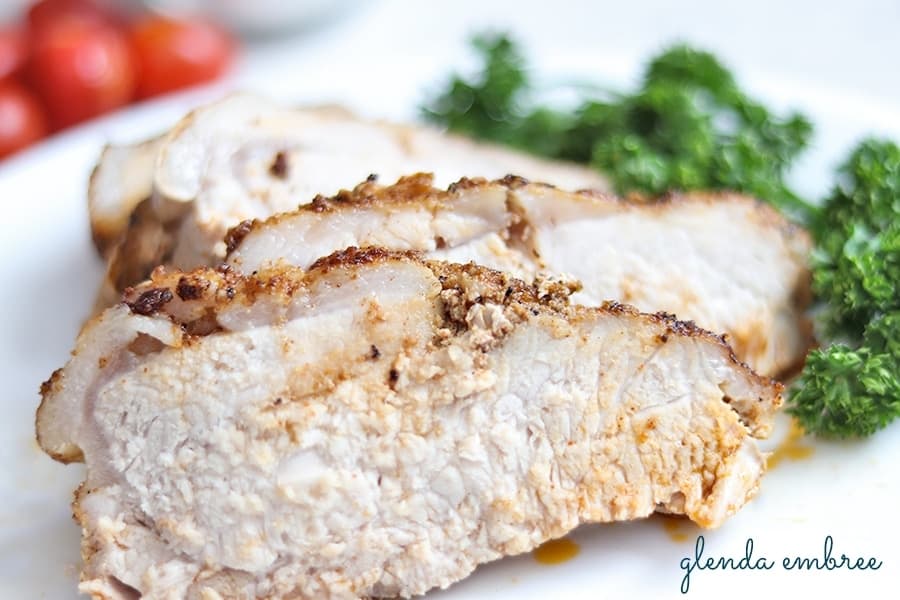 A homemade Savory Pork Loin is a perfect low-stress and simple dish to serve on weeknights, and yet, it's exceptional flavor makes it special enough to serve at a dinner party with friends. Pork easily takes on the flavors you apply to it, so your options are pretty much limitless. THIS roast recipe is scrumptiously savory with a touch of smoky heat from the chipotle and ginger. Plus, it's satisfyingly tender and juicy. DELISH!
An added benefit of roasting an entire loin is the leftovers. They are superb for lunches through the week or for preparing another simple dinner on a hectic night. Leftovers can be used, sliced thin, in sandwiches or shredded for pulled pork on nachos or even a barbecue pizza. Add some to stuffed baked potatoes, crisp some up for carnitas and eat in a tortilla with your favorite toppings. Homemade Savory Pork Loin leftovers are also great in Asian dishes like pork lo mein or pork fried rice. You're only limited by your imagination! I love cook once, eat many times kind of dishes! Don't you?
I like this recipe for weeknights, because it's only about 5 minutes of prep and then into the oven. You can even do the 5 minute prep the night before, so all you have to do when you get home is stick it in the oven. Also, if you're going to be gone all day, the recipe can be prepared in the crock pot. That way a delicious homemade dinner is ready to serve when you arrive home from work. No worries and no fuss! See the notes section of the recipe card for crock pot instructions.
Print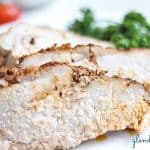 Savory Delicious Pork Loin
---
Author:

Prep Time:

5 minutes

Cook Time:

1 hour

Total Time:

1 hour 5 minutes

Yield:

10

–

15

servings

1

x
Scale
Ingredients
4

–

5

lb pork loin

1/4 cup

avocado oil (or your preferred oil)

1 Tablespoon

kosher salt

1 Tablespoon

coarsely ground black pepper

2 teaspoons

garlic powder

1 teaspoon

onion powder

1/2 teaspoon

powdered ginger

1 teaspoon

smoked paprika

1/2 teaspoon

chipotle powder (or

1/8 teaspoon

cayenne, *SEE NOTE)
---
Instructions
Whisk together the easy spice paste.  Put the avocado oil and all the seasonings and spices into a bowl and whisk until they are combined and form a thick paste.
Place the pork loin, fat cap up, into a *9×13 pan.  With a sharp chef's knife or butcher knife, score the top of the roast in a criss-cross pattern.  You don't have to go very deep.  Just get through the fat cap.  That way all your seasonings will go right into the meat.
Pour the spice paste onto the roast, and with your hands, massage it over the top and sides of the pork loin.
Roast at 350° for  45 minutes to an hour, until the internal temperature has reached 145°. 
Remove from the oven and tent loosely with foil.  Allow the pork loin to rest for 10 to 15 minutes, before slicing.
---
Notes
*Cayenne is 8-10 times hotter than chipotle powder and it does not have the smoky flavor of chipotle.  If substituting cayenne for the chipotle in this recipe, you will only use 1/8 teaspoon and the flavor will be slightly different.
****CROCK POT INSTRUCTIONS**** 
Prep this recipe in the base of your crock pot, instead of a 9×13 pan.  Follow all other instructions as the recipe indicates.  Cook on low for 8 hours or until the internal temperature of the pork loin registers 145°.  Remove from the crock pot and tent with foil for a 10-15 minute rest period before slicing.
Category:

Meat, Main Dish, Pork

Method:

Roasting

Cuisine:

American
Keywords: roast, pork, main dish, pork loin
*Affiliate Link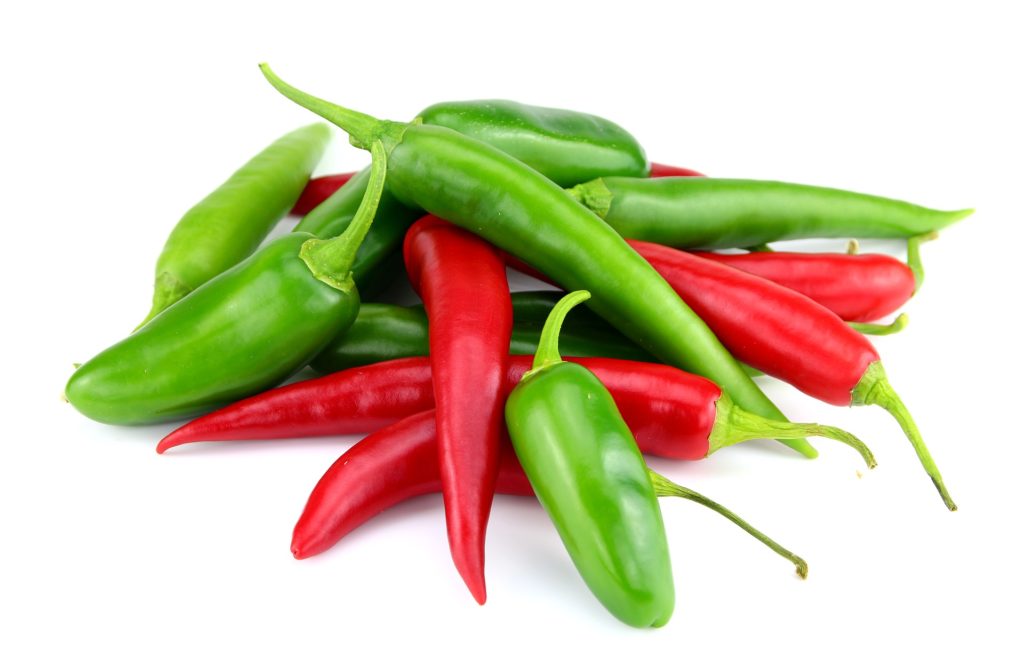 Understanding the Heat Level and Flavors of Chilies & Hot Pepper Seasonings
There are big differences in the spicy spices and seasonings we commonly use in American recipes. Chili Powder, Cayenne Pepper and Chipotle Powder have extremely different heat levels and they have very different flavor profiles.
American chili powder, isn't just chili peppers. It's usually a blend of any number of varieties of chili peppers, cumin, paprika, salt and oregano. Many contain onion powder and garlic powder, too. Because you can never be 100% sure what chilis were used, you can't be 100% sure of the heat level. For me, chili powder has more influence on the FLAVOR of a dish than on the spiciness. And if you go overboard, it can get a little bitter. Chili powder would definitely not be a great choice for this recipe.
If you want more heat in your spice paste, without muddying the flavor, choose chipotle powder (smoked and dried jalapenos) or cayenne (dried cayenne peppers). Keep in mind that cayenne has a heat level 8-12 times hotter than chipotle powder. If substituting one for the other, you're going to want significantly less of the cayenne. Cayenne is all about the heat and not much flavor. Chipotle powder can bring the heat, but also adds some nice, smoky notes. I prefer chipotle powder in this pork loin rub, because it combines with the smoked paprika for that additional layer of smoky flavor that makes this recipe special.
How to Make a Homemade Savory Pork Loin Roast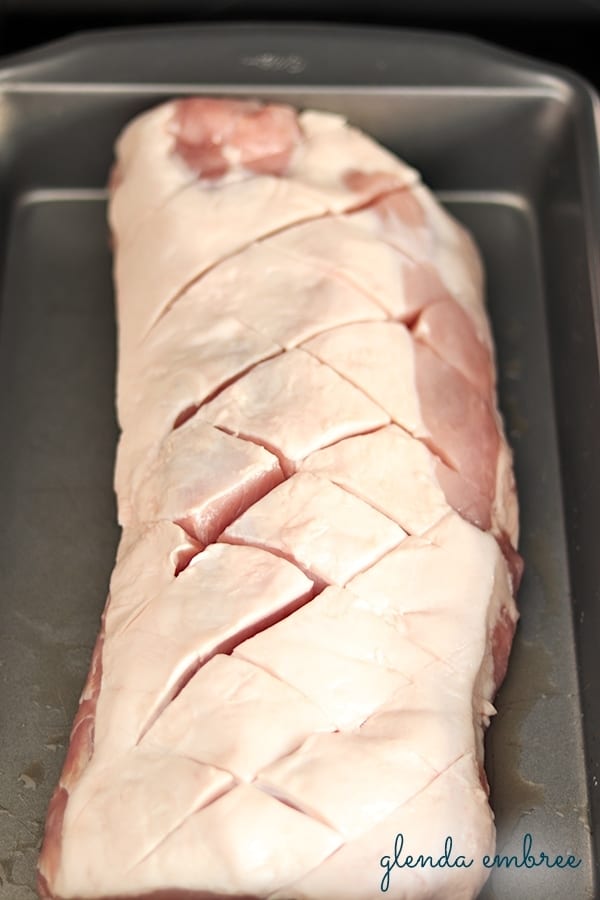 Preheat the oven to 350°.
Whisk together the oil and all the spices/seasonings, in a bowl, until they become a thick paste.
Place the pork loin into a 9×13 pan, fat cap up. (See the recipe card for crock pot instructions.) Criss-cross score the top of the loin, just deep enough to get through the fat cap. This is going to let all that delicious flavor sink deep into the roast.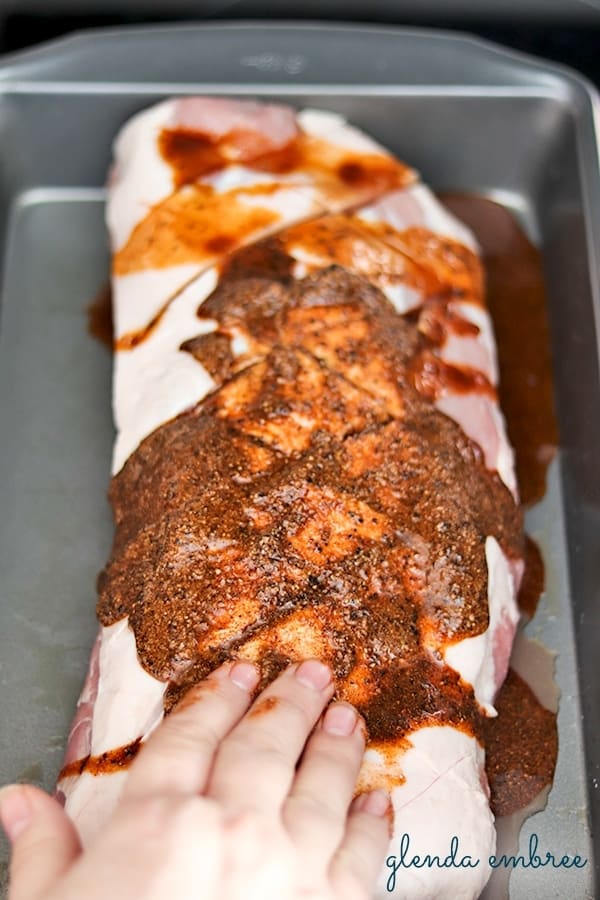 Apply the paste to the top and sides of the pork loin, being sure to cover it evenly. Massage it over the top, down the sides and into the criss-crosses.
Place the savory pork loin roast into the preheated oven. Don't cover it.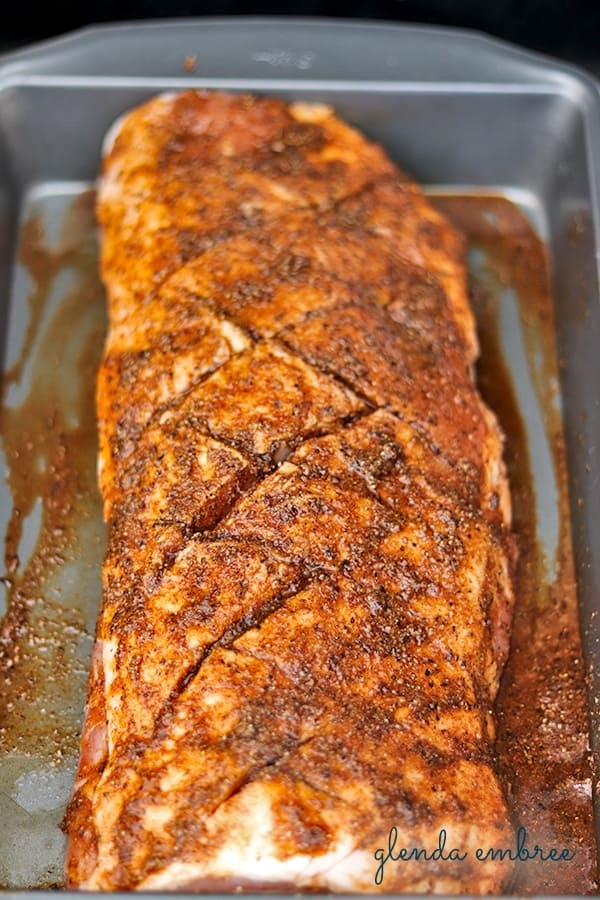 Roast the pork for 45 minutes to an hour, until the internal temperature at the center of the roast is 145°. Then remove it from the oven and tent it loosely with foil. Allow it to rest for 10 to 15 minutes before slicing.
Serve this delicious pork roast with your favorite side and enjoy the added benefit of multiple meals from one short 5-minute prep! I know you're going to love this recipe! Make it part of your regular meal rotation to save time, money (whole pork loins are less than $2 per pound) and to eat like a king. Enjoy my friend!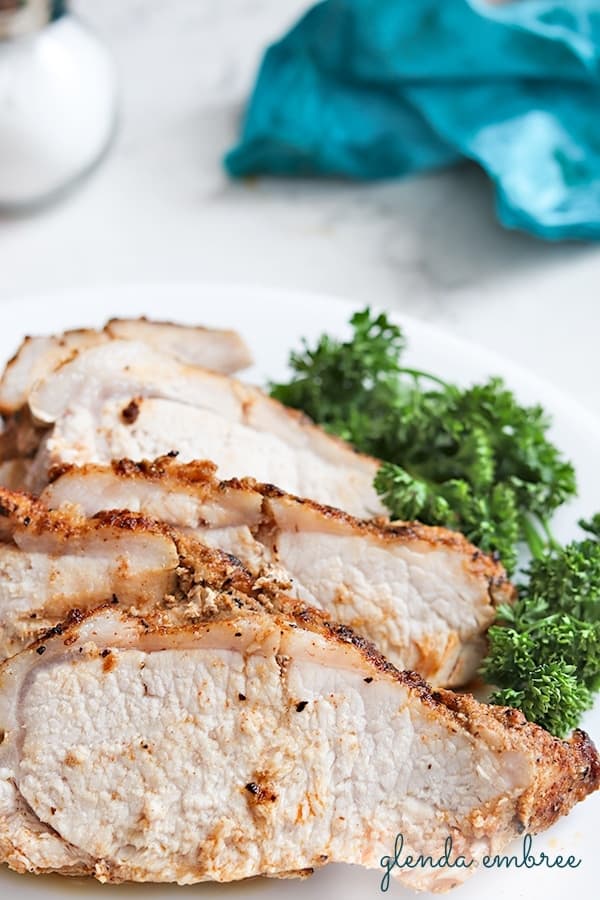 Try My Crock Pot Carnitas, too: Another Economical and Flavor-Packed Pork Recipe for your family favorites meal rotation.