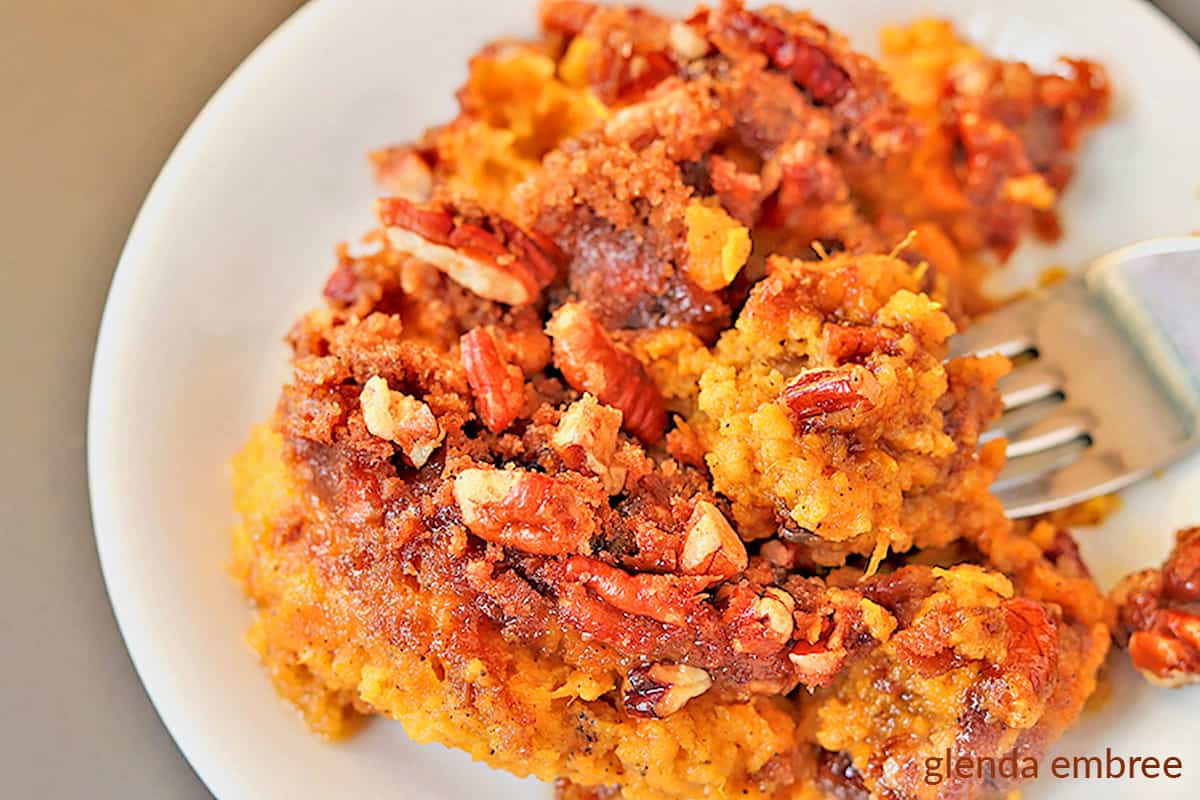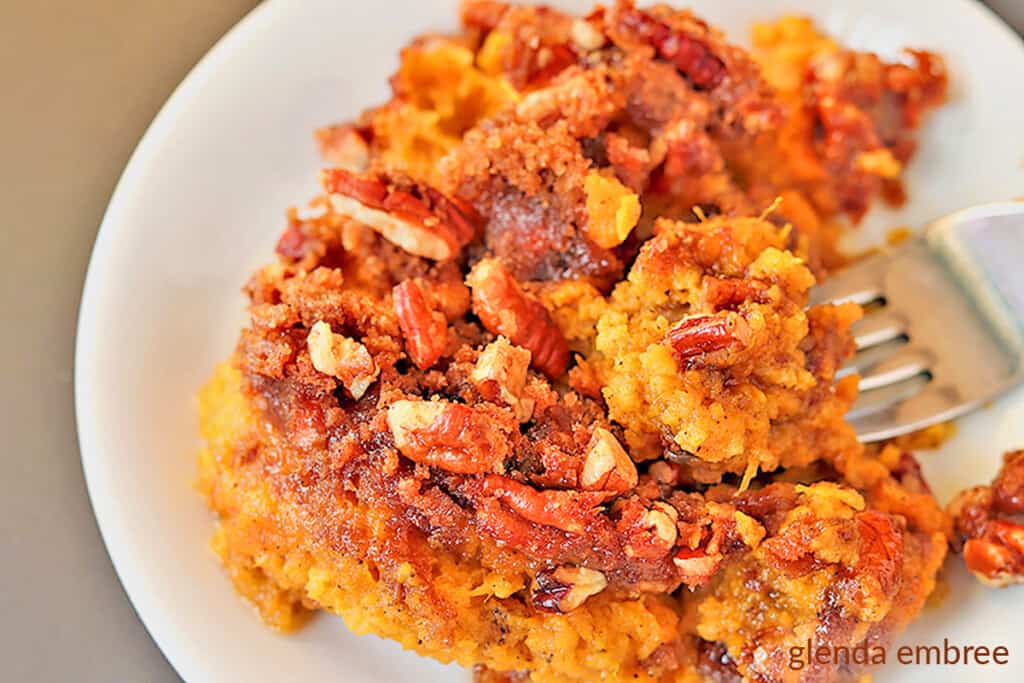 Sweet Pota­to Casse­role is the scrump­tious­ly per­fect com­ple­ment to all your savory hol­i­day dish­es. With a crunchy streusel top­ping it sat­is­fies with a great com­bi­na­tion of tex­tures, too. You might be tempt­ed to bake this deli­cious casse­role in a pie crust and serve it for dessert. But, don't do it. Veg­eta­bles nev­er tast­ed so good! You're going to be the hero of your kitchen with this one!
Six Ingredients for the Sweet Potato Casserole & Five for Streusel Topping
Sweet pota­toes and pecans are sta­ples in my pantry, but even if they're not in yours, they're like­ly the only two ingre­di­ents you will need to add to the shop­ping list for this ele­gant hol­i­day side dish.
Fresh sweet pota­toes, eggs, milk, sug­ar, but­ter and vanil­la are the only ingre­di­ents in sweet pota­to casse­role. The streusel top­ping com­bines but­ter, brown sug­ar, flour, cin­na­mon and pecans for a crisp, deli­cious top­ping on the creamy potatoes.
Make Sweet Potato Casserole Ahead and Freeze
To freeze Sweet Pota­to Casse­role for use at a future date, sim­ply stop after Step 5, in the recipe. Be sure your casse­role is 100% cool before cov­er­ing. Cov­er and seal the pan tight­ly with heavy duty foil. (If you only have reg­u­lar foil, use a dou­ble lay­er to pre­vent freez­er burn. Freeze the casse­role for up to 3 months. How awe­some is that?
Being able to pre­pare parts of big meals ahead of time is a huge time saver. Plus, savvy cooks dou­ble recipes when they make them. It takes no more time to mix up a dou­ble batch, than a sin­gle. Bake one and put the oth­er in the freez­er for a potluck or gath­er­ing, lat­er. You are so smart!
When you take the casse­role out of the freez­er to bake, be sure to thaw it in the fridge overnight. It should be com­plete­ly thawed. Then top with the Streusel Top­ping and bake just as steps 6–8, of the recipe, instruct.
How to Make Sweet Potato Casserole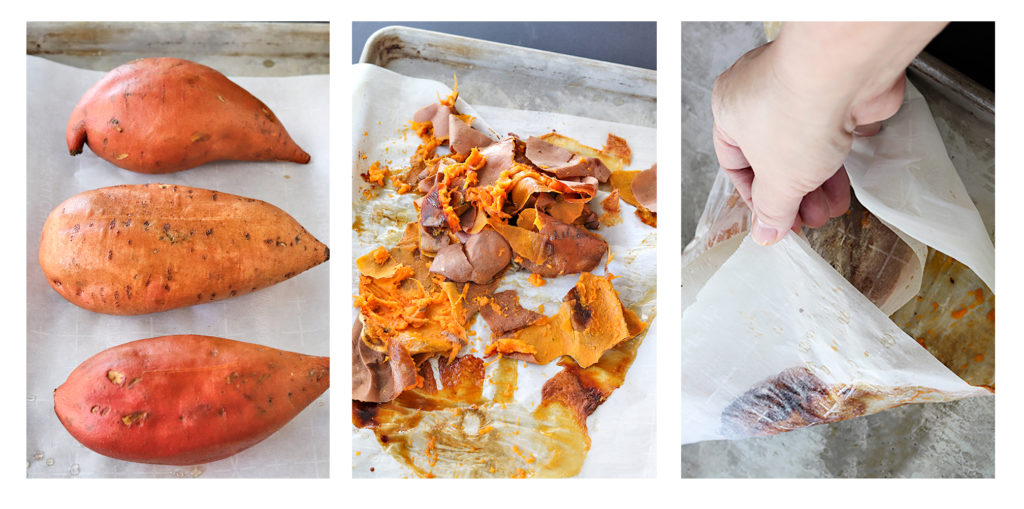 You'll need to bake the sweet pota­toes, before you start mix­ing up this recipe. The pas­sive bak­ing time is some­thing you should plan ahead for, since they'll need an hour to an hour and a half to bake, depend­ing on their size.
Then, remove the skins and mash them. I actu­al­ly mash them right in the mea­sur­ing cup I am using to mea­sure them for the recipe. It only requires a fork.
Mix­ing up the Sweet Pota­to Casse­role is a five-minute task. Put the sweet pota­to pulp in a mix­ing bowl with the sug­ar, eggs, but­ter, milk and vanilla.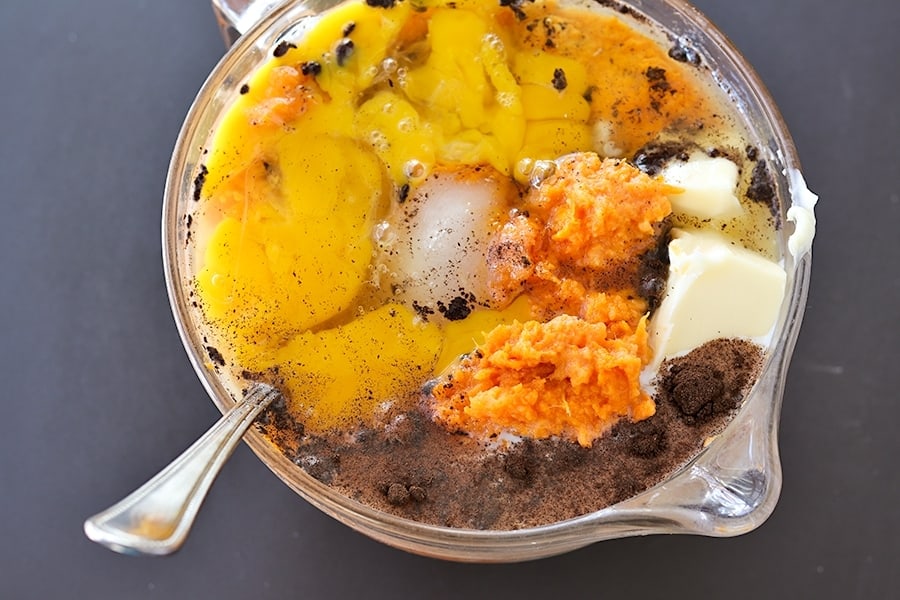 Whisk them to com­bine all the ingre­di­ents and pour every­thing into a 9x13 bak­ing dish. (You could also fill indi­vid­ual *ramekins, depend­ing on how you plan to serve the casse­role. See image, below.)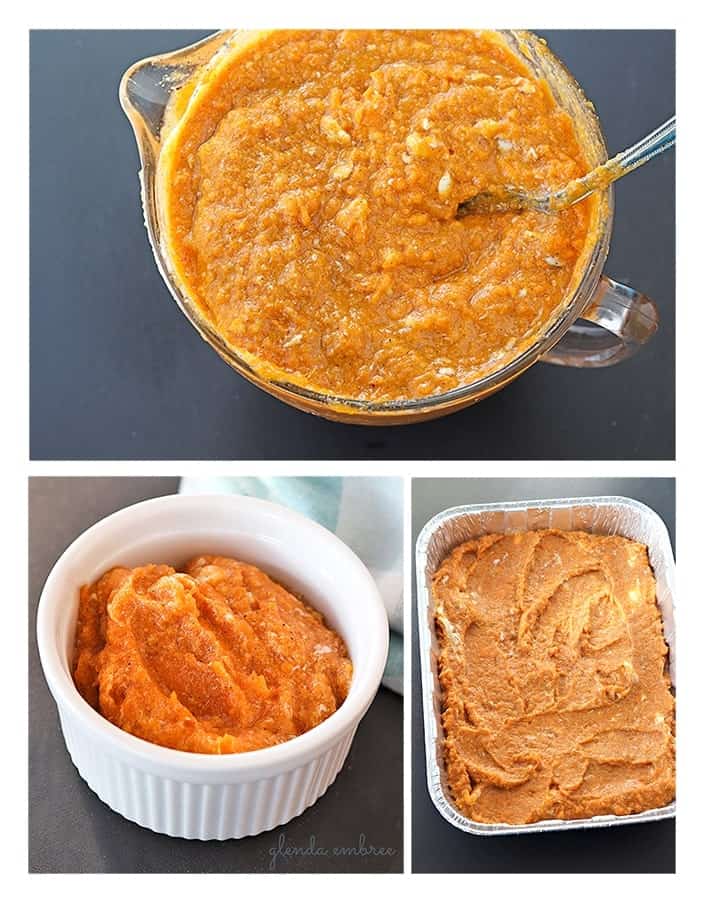 Cov­er the sweet pota­toes with Streusel Top­ping and bake for thir­ty minutes.
Divine! Sweet Pota­to Casse­role will be a cel­e­bra­tion hit on your hol­i­day menu. It's actu­al­ly deli­cious any time of year and a per­fect com­ple­ment to deli­cious Fall dish­es like my friend, Sarah's, slow cook­er pork loin. Enjoy!
Print
Sweet Potato Casserole
---
Author:

Total Time:

35 min­utes

Yield:

10

—

12

serv­ings

1

x
3 1/2

—

4

cups

sweet pota­toes, baked and mashed (2 very large sweet potatoes)

2/3

cup

sugar

1/2

cup

but­ter, softened

2

eggs, light­ly beaten

1 tea­spoon

vanilla

1/3

cup

milk
Top­ping
1/3

cup

but­ter, melted

1

cup

brown sugar

1 Table­spoon

cinnamon

1/2

cup

flour

1

cup

chopped pecans
---
Instructions
Bake 2 — 3 sweet pota­toes in a 350° oven for 60 — 90 min­utes. Place the washed sweet pota­toes on a parch­ment-lined *bak­ing sheet. Pierce the skins to pre­vent burst­ing. A fork will slide into them eas­i­ly and they will be ten­der, when done.
Cool pota­toes 20–30 min­utes until they are not too hot for you to handle.
Remove sweet pota­to skins and mash the pulp. I actu­al­ly use a fork and mash them right in the mea­sur­ing cup, I'm work­ing with. You will need 3 1/2 to 4 cups of mashed pulp. Any­thing with­in that range will def­i­nite­ly work.
Beat sweet pota­to sug­ar, but­ter, eggs, vanil­la and milk until ful­ly com­bined. Mix­ture will be smooth with a few small sweet pota­to lumps. (You could use a mix­er to get it per­fect­ly smooth, but I just use a spoon or whisk and it comes togeth­er beau­ti­ful­ly in less than a minute.)-
Pour the sweet pota­to mix­ture into a *9x13 bak­ing pan (or indi­vid­ual ramekins).
To make the Streusel Top­ping, com­bine the but­ter, sug­ar, brown sug­ar, cin­na­mon and pecans in a small bowl. Stir to be sure every­thing is com­bined and even­ly dis­trib­uted. Mix­ture will be crumbly.
Even­ly dis­trib­ute the streusel top­ping over the sweet pota­to mixture.
Bake at 350 for 30 — 35 min­utes minutes.
Prep Time:

5 min

Cook Time:

30 min

Cat­e­go­ry:

Side Dish, Vegetable

Cui­sine:

Amer­i­can