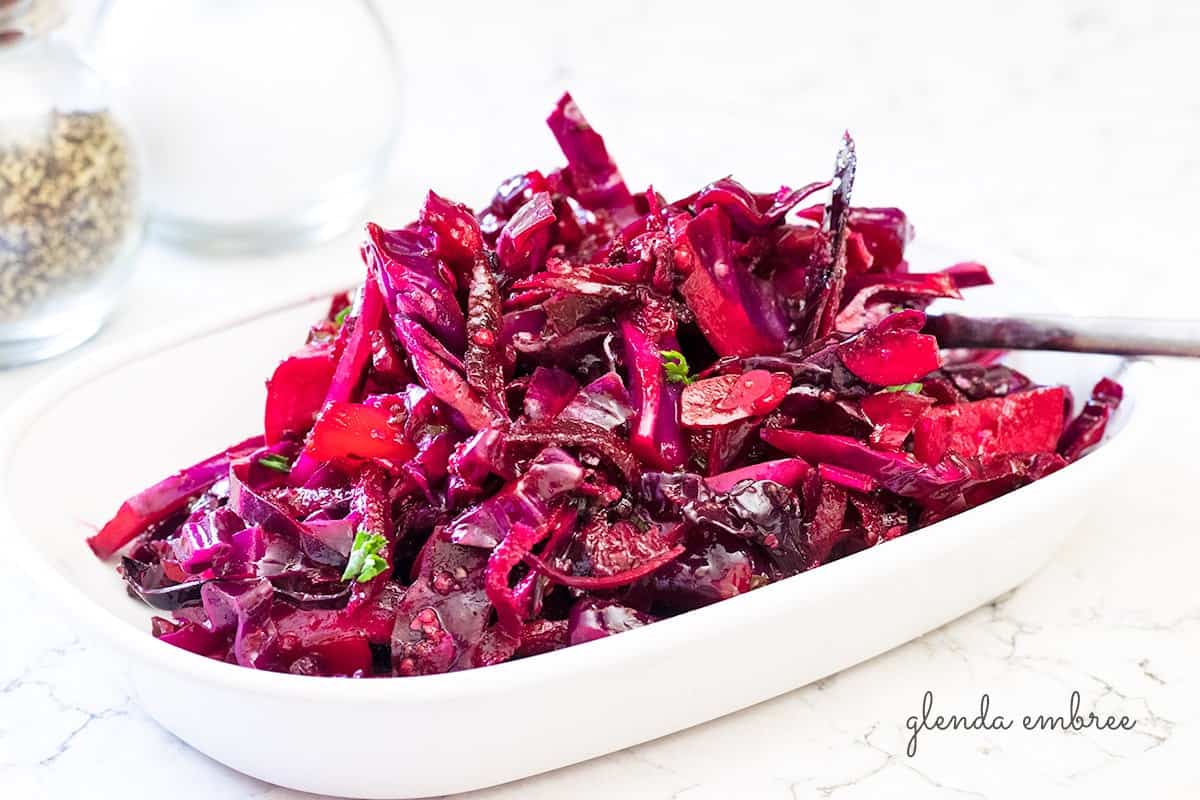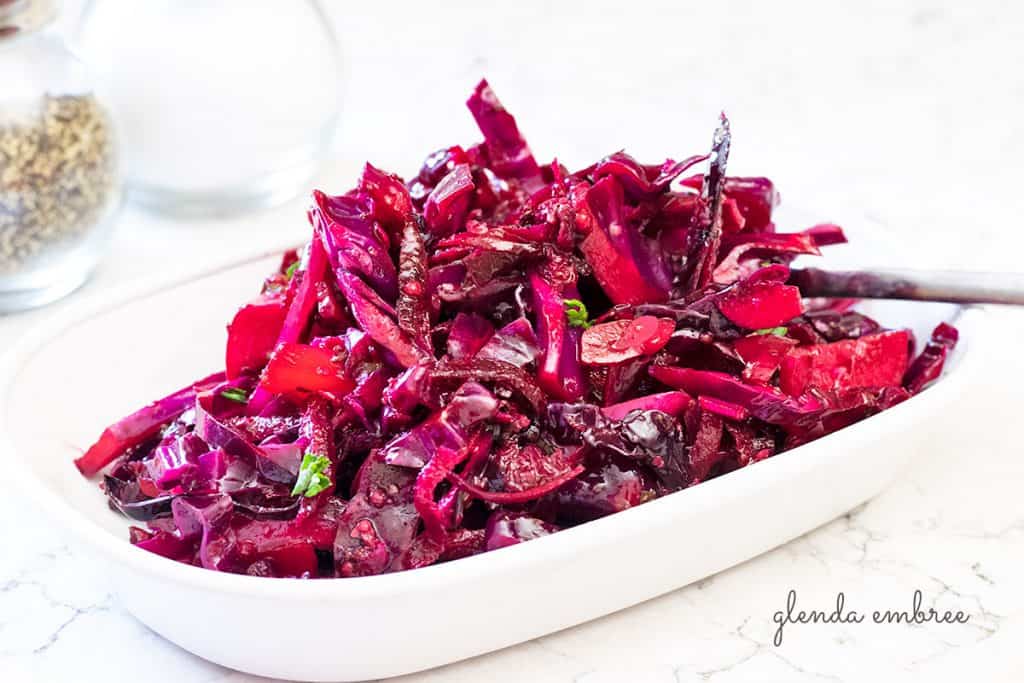 Ruby Coleslaw is my new favorite sal­ad! Per­fect for sum­mer pic­nics, bar­be­cues and potlucks, it's a vine­gar-based coleslaw that uses all the scrump­tious red and pur­ple veg­gies I could find. The thin­ly sliced veg­eta­bles mar­i­nate in a DELISH light­ly sweet and tangy dress­ing. It's a unique sum­mer sal­ad your friends and fam­i­ly will love. Plus, the jew­el-tone col­or is absolute­ly gorgeous!
Coleslaw is a sum­mer­time sta­ple. I like it in all it's forms, creamy may­on­naise-based coleslaws and vine­gar-based ones, too. But, I also like mix­ing it up a lit­tle. Nobody wants to eat the same things over and over. Ruby Coleslaw is a unique slaw that brings some deli­cious vari­ety to sum­mer menus.
Tick­ing all the "good for you box­es", Ruby Coleslaw is health food you'll love to eat. Yes. Healthy food can be deli­cious food. I know you already knew that, right?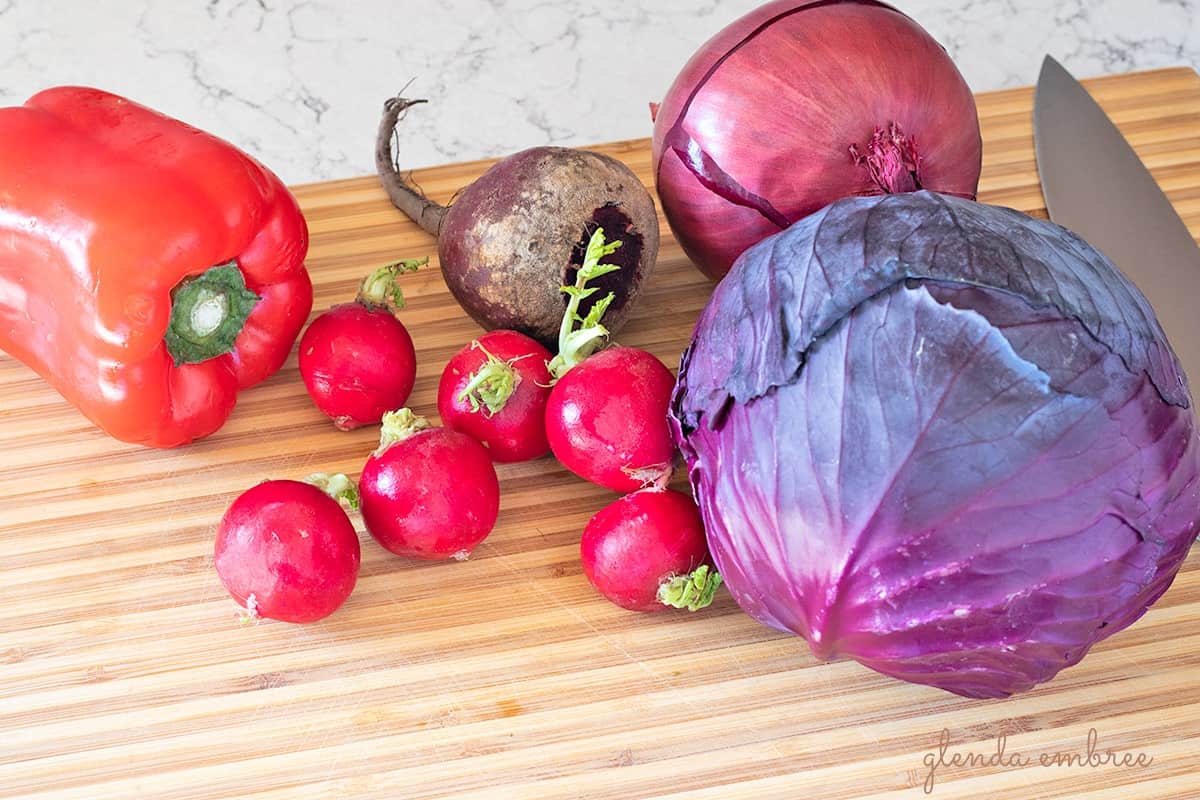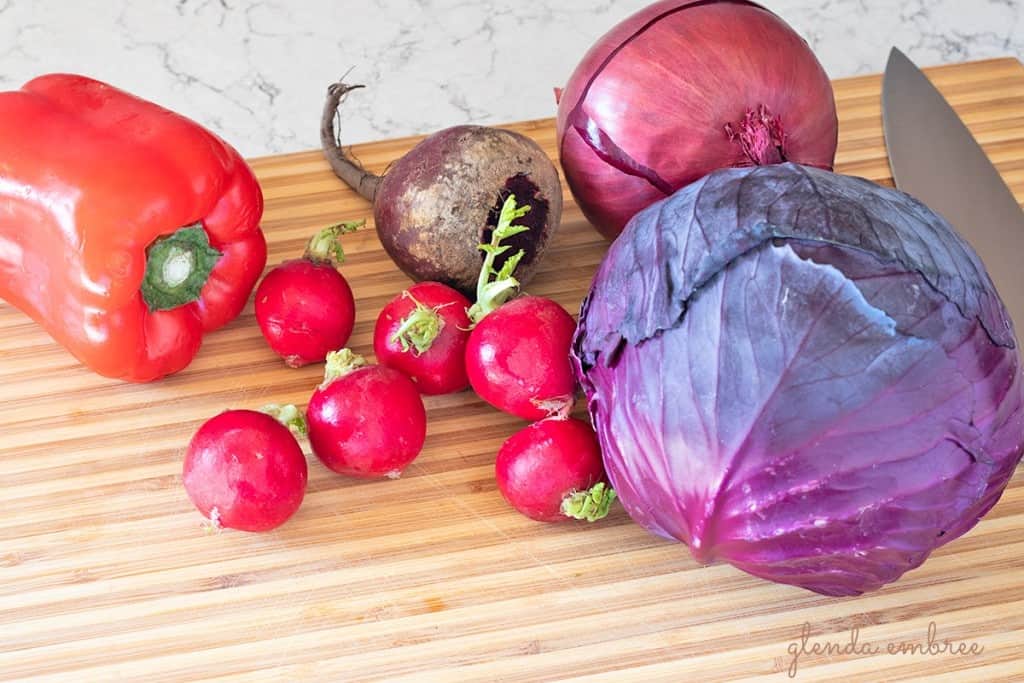 This coleslaw is gluten-free, dairy-free, and refined sug­ar-free. The pur­ple cab­bage is loaded with fiber and antiox­i­dants, plus Vit­a­mins K and C. (Love cab­bage recipes? Check out my Ground Beef and Cab­bage, too.) The beets add folate, man­ganese, iron, potas­si­um and Vit­a­min C. Red onions add more antiox­i­dants, man­ganese, as well as Vit­a­mins B6 & C. Radish­es and Bell pep­pers put this deli­cious sal­ad over the top in vit­a­mins, min­er­als and essen­tial nutri­ents. If being beau­ti­ful and deli­cious isn't enough, you have to get excit­ed that Ruby Coleslaw is a pow­er­house of nutrition.
Prepping the Vegetables
5 com­mon fresh veg­eta­bles is all you'll need to toss this pret­ty sal­ad togeth­er. Grab a medi­um head of pur­ple cab­bage, a red onion, a beet, radish­es and a red bell pepper.
Start by cut­ting the head of cab­bage in half. You'll only be using half in this recipe so you can wrap the rest and store it in the fridge to use lat­er in the week.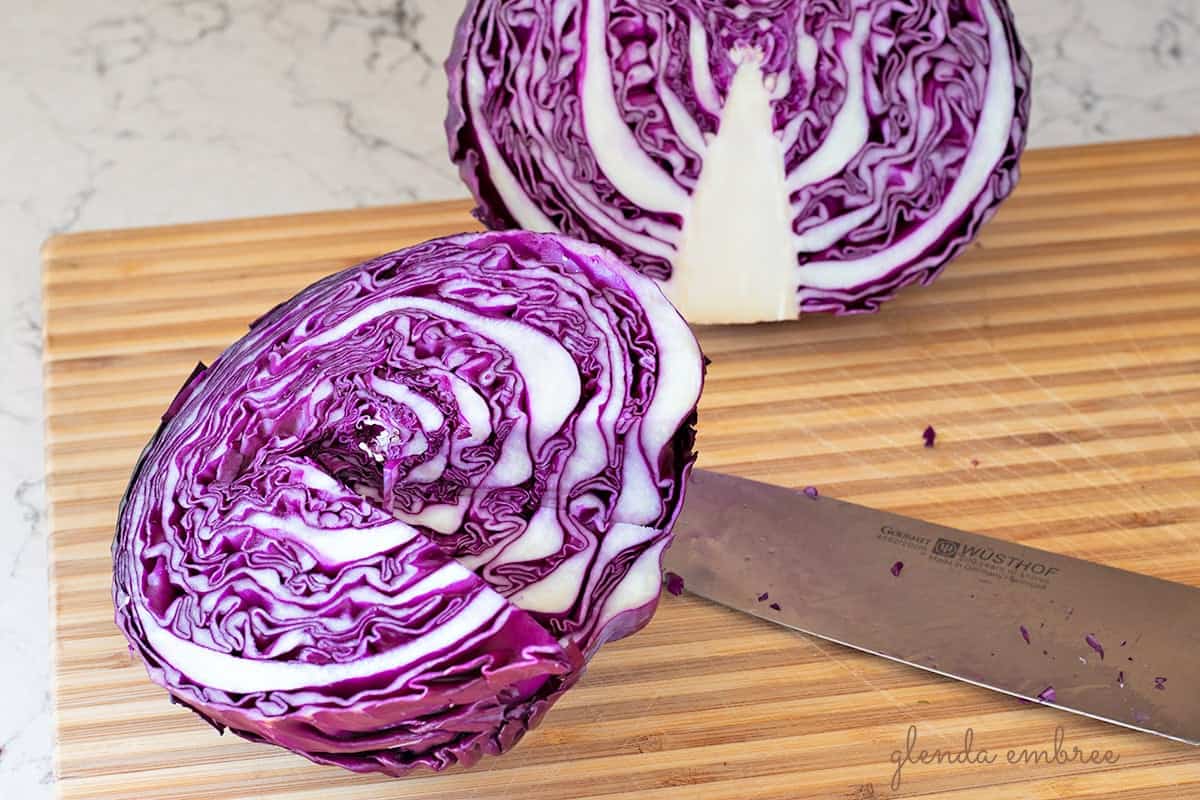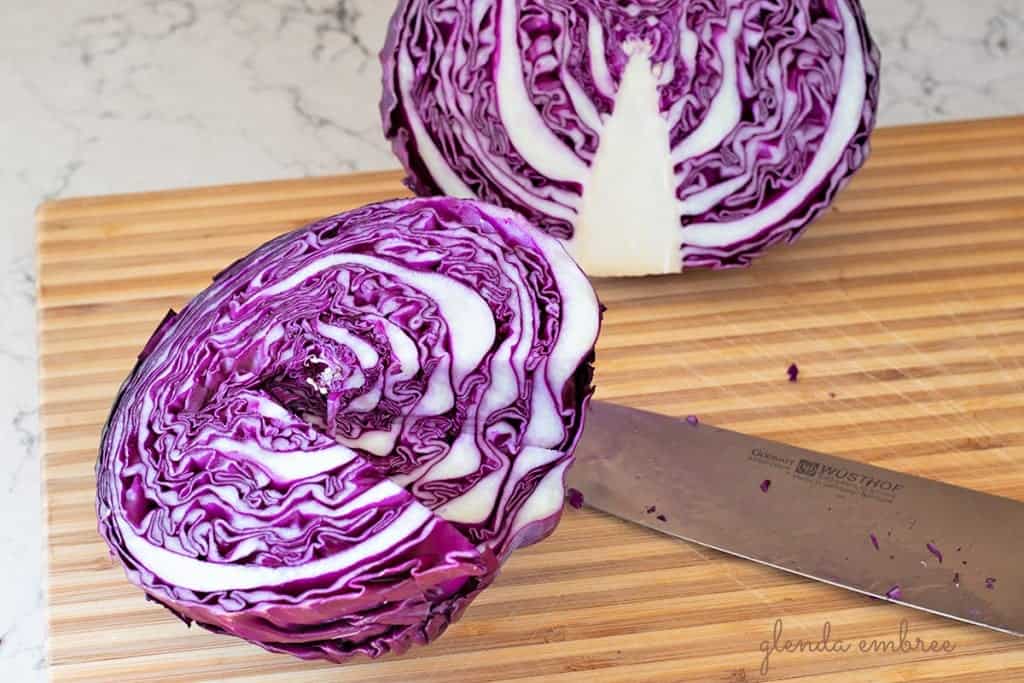 Just like green cab­bage, the pur­ple cab­bage has a cen­ter core. It's easy to see once you cut it in half. Cut around that core and remove it.
Now, turn the cab­bage over, plac­ing the cut side down, on your cut­ting board. Slice the cab­bage into very thin strips.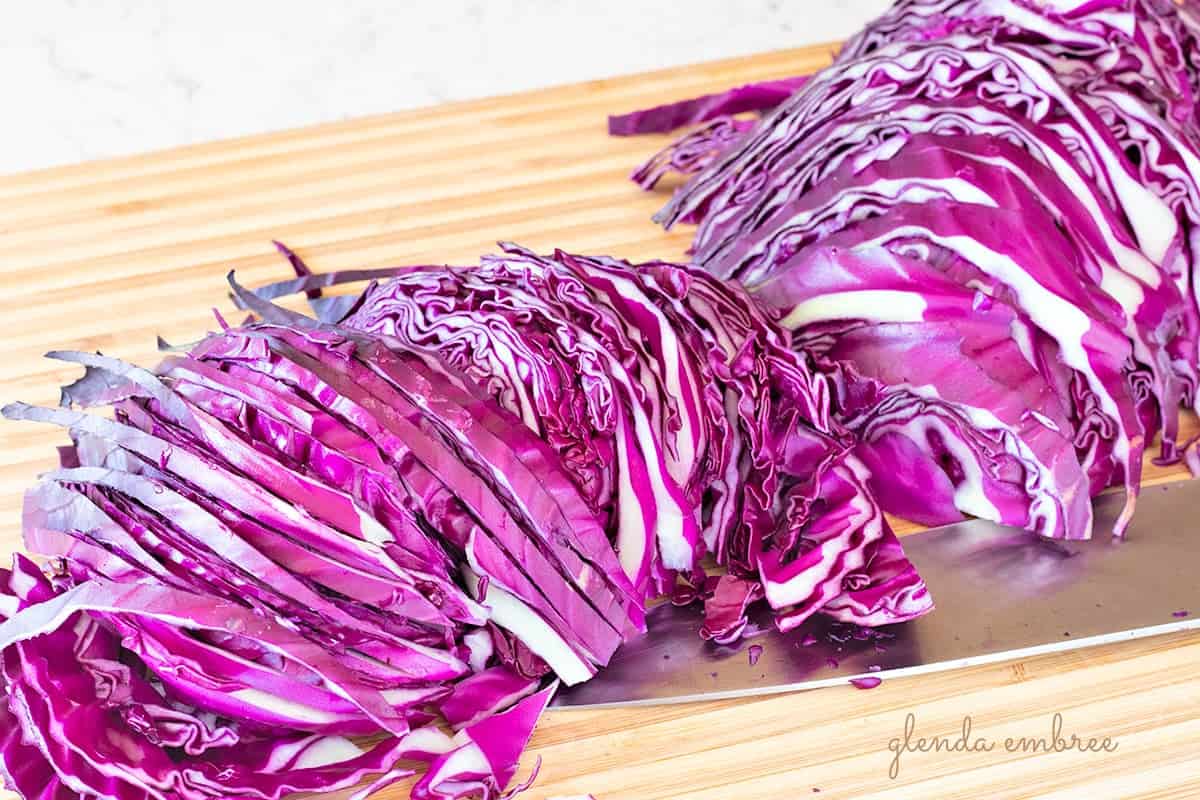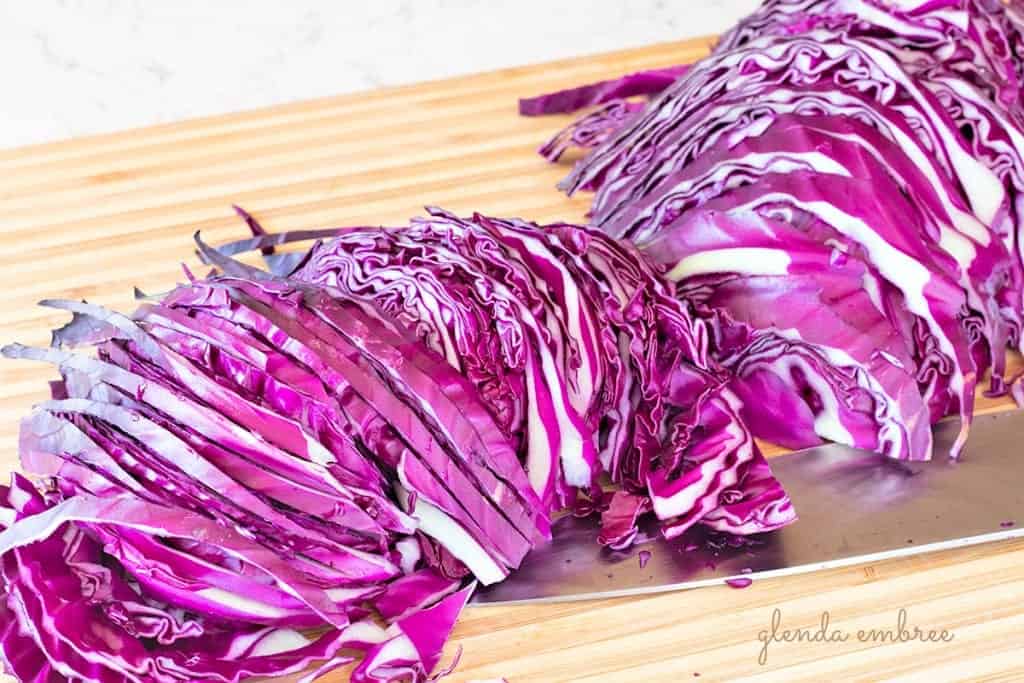 Now, turn your cut­ting board so you can cut the cab­bage in the oth­er direc­tion. Cut­ting the long strips into thirds or fourths makes for more man­age­able, bite-size pieces after the sal­ad has mar­i­nat­ed. Place the cut cab­bage into a large sal­ad bowl that has a lid. I try to use glass, since that ruby col­or may trans­fer to your bowl if you use plastic.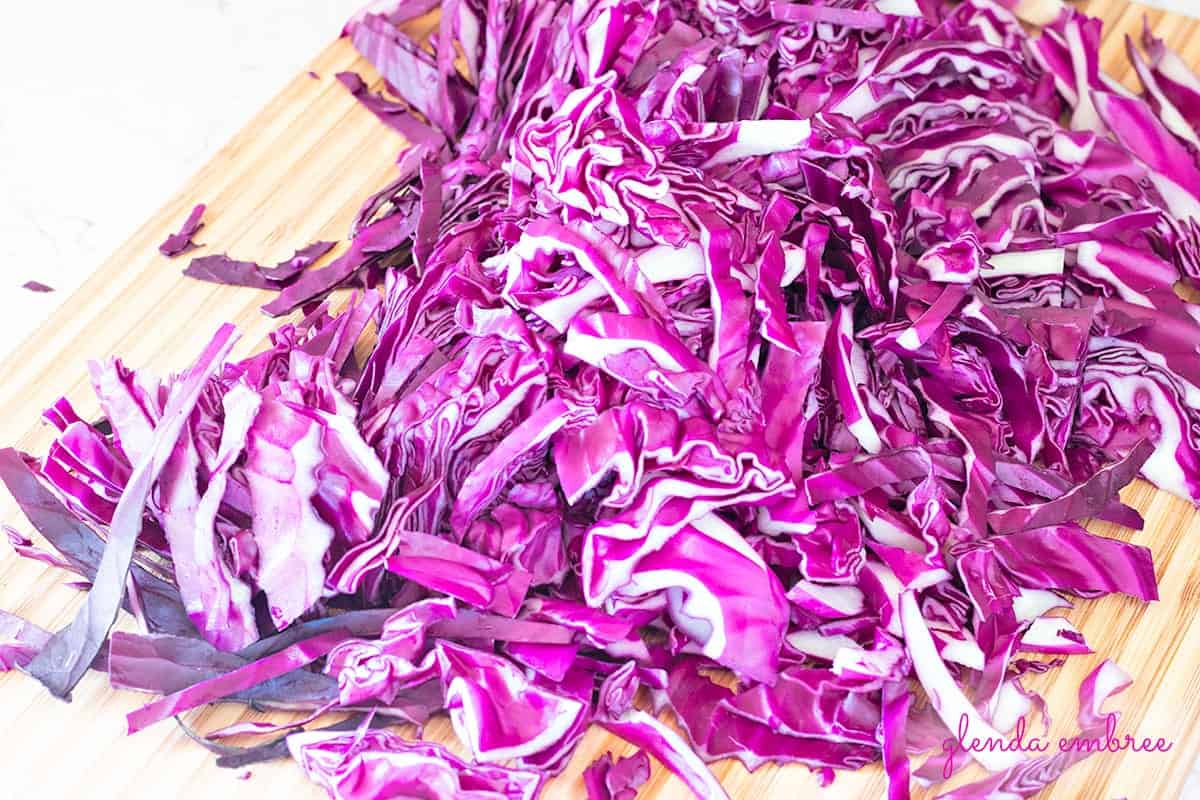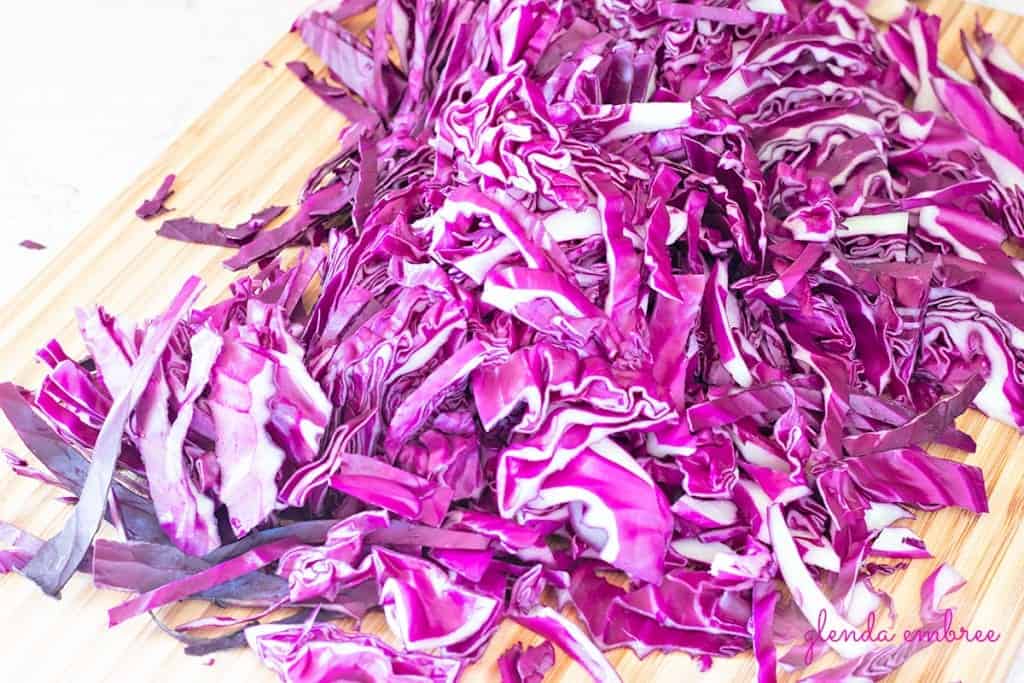 Use a small red onion or cut a large one in half or thirds. We love pick­led red onion, so half is more my speed. Cut the onion into very thin slices and then cut the round slices into thirds or fourths to cre­ate thin, short strips of red onion. Add the onion to the cab­bage in your sal­ad bowl.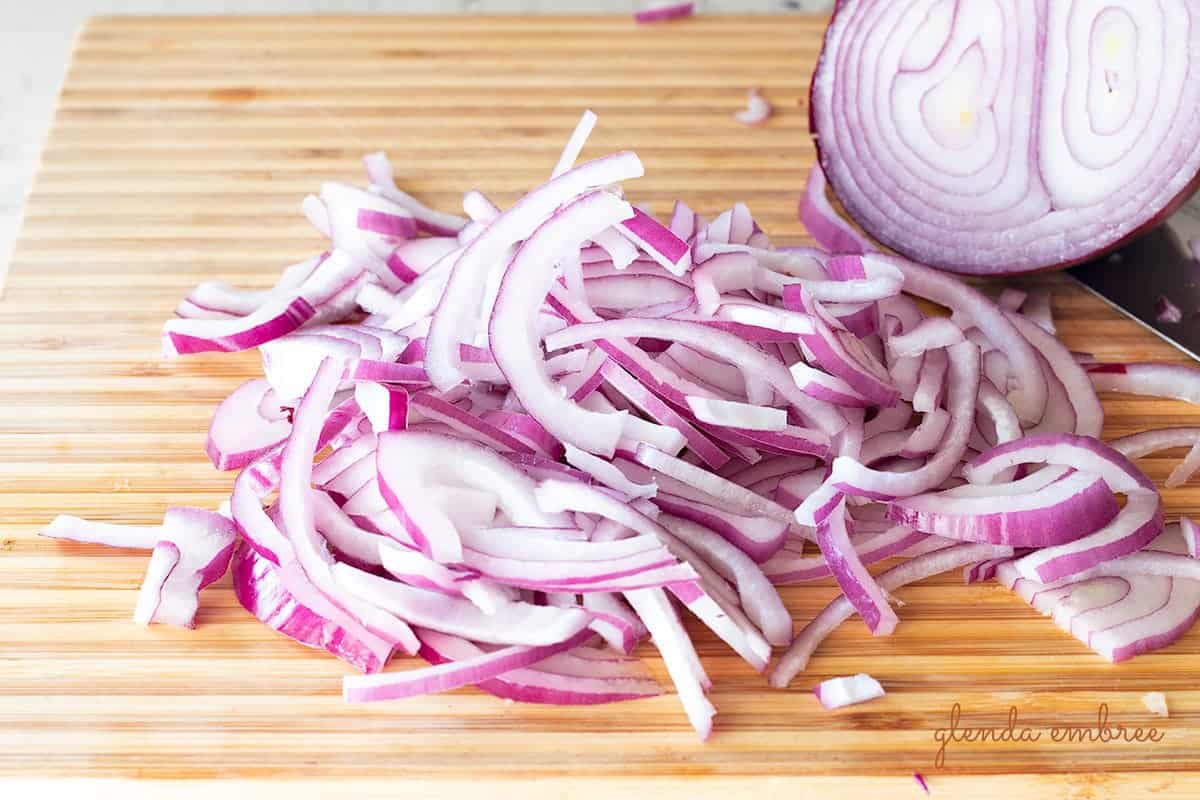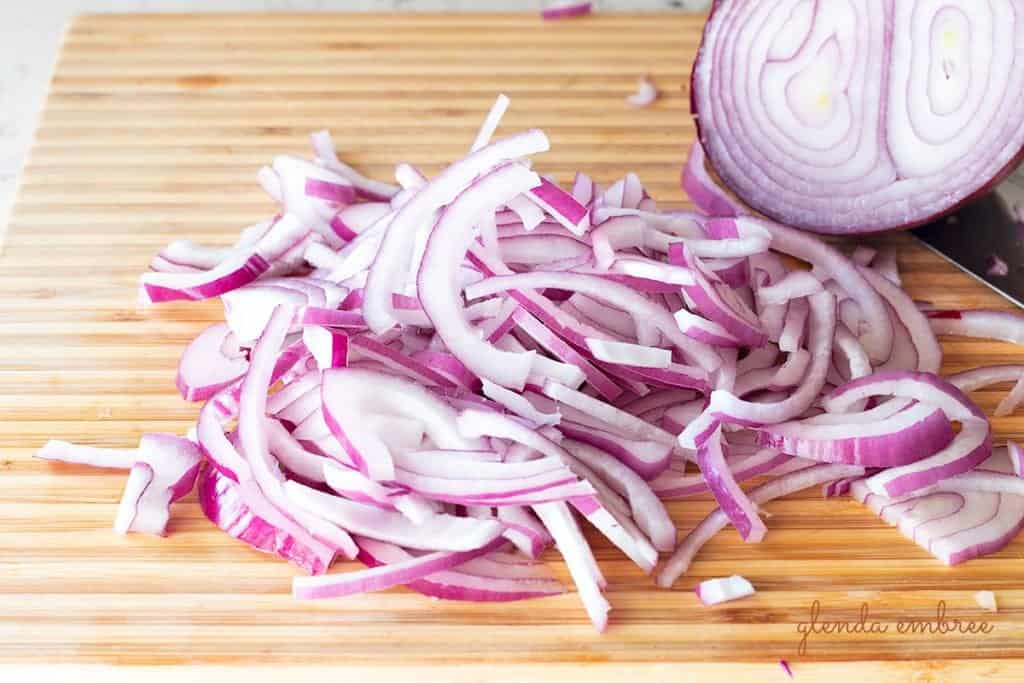 Tips for Handling Raw Beets
The good news? The col­or is gor­geous. You can even use beet juice as nat­ur­al col­or­ing for your East­er eggs!
The chal­lenge. These WILL stain your hands. It will wash and wear away in about 24 hours, but there will be stains. If that will be a prob­lem, grab a pair of dis­pos­able kitchen gloves to pro­tect your hands.
The juice from the beets can also stain coun­ter­tops and cut­ting boards (any­thing porous, real­ly). Wipe it off imme­di­ate­ly to pre­vent it from soak­ing in and leav­ing a stain.
To avoid any issues, I typ­i­cal­ly work over a piece of parch­ment or waxed paper when I peel them. And for grat­ing, I put parch­ment paper over my cut­ting board.
Peel the rough out­er skin off the beet. Then use the largest hole side on a *box grater, to grate the beet. Lift the parch­ment paper and slide the grat­ed beet into the bowl with the cab­bage and onions.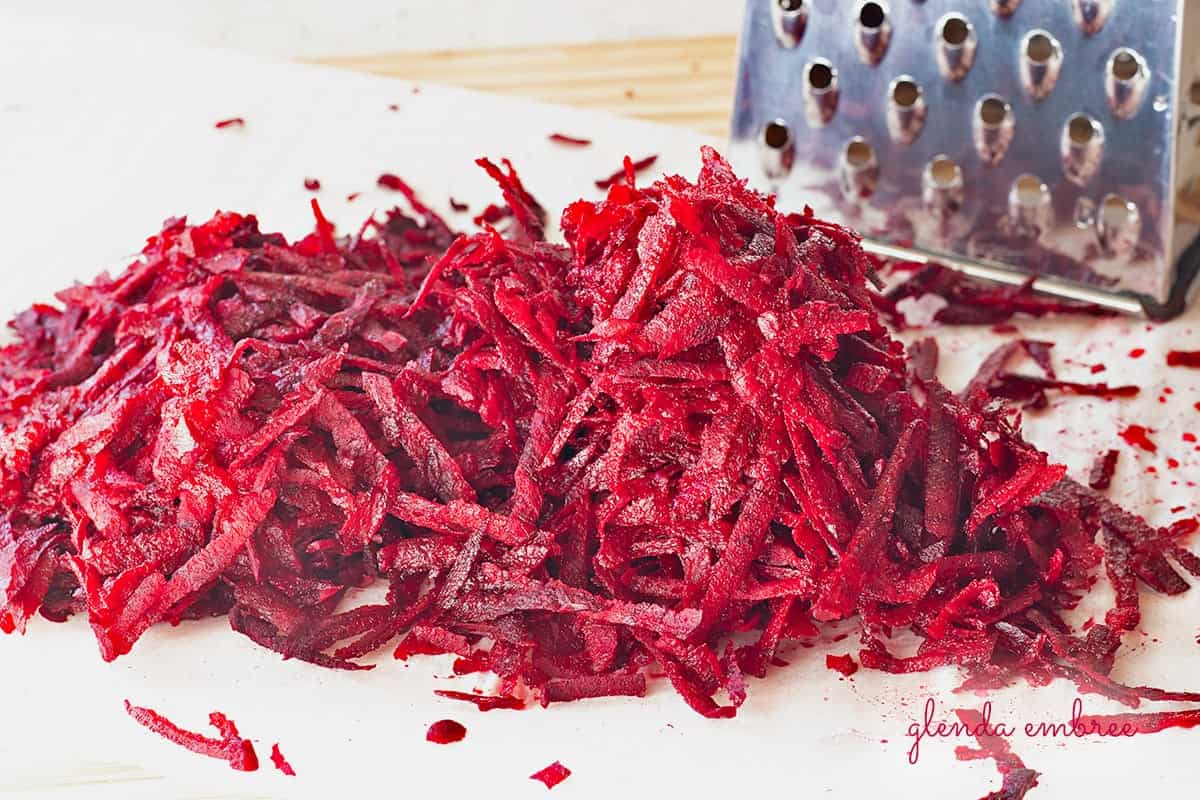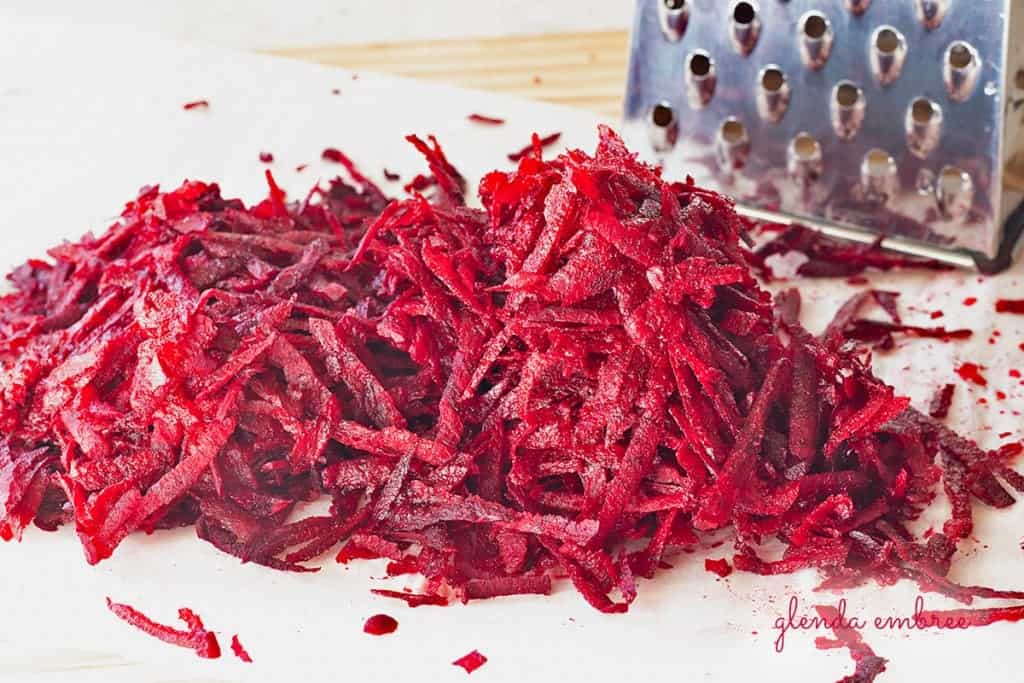 Cut the radish­es for Ruby Coleslaw into thin slices and then halve them.
Remove the stem and seeds from the bell pep­per and cut it in half. Wrap the oth­er half and store in the fridge for anoth­er recipe. Cut the bell pep­per half into thins strips and then halve them to make them more bite-size.
Add the radish­es and bell pep­pers to the sal­ad bowl with your oth­er veg­gies. All that's left to do is whisk up the yum­my dress­ing and pour it over the coleslaw, so it can begin marinating.
Make the Dressing for Ruby Coleslaw
This dress­ing is pret­ty stan­dard for mar­i­nat­ed sal­ads and veg­eta­bles. It needs an acid, a healthy oil, a small amount of sweet and some herbs and spices for sea­son­ing. You can whisk it up in a bowl or shake it up in a tight­ly cov­ered pint jar. Do what's eas­i­est for you.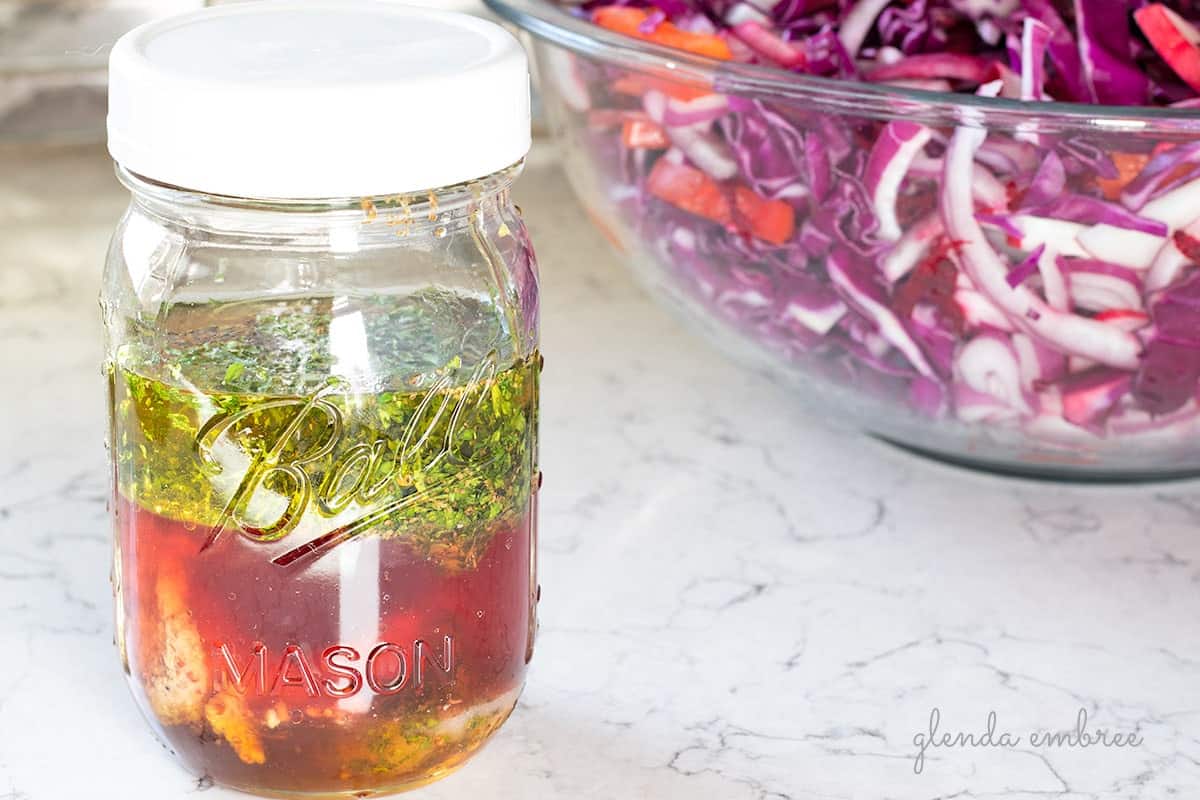 I almost always use avo­ca­do oil for dress­ings, since it real­ly does­n't inter­fere with any of the oth­er fla­vors. Olive oil DOES have a stronger fla­vor, but it would also be a good choice for this dress­ing if you enjoy it.
Apple cider vine­gar is the one I most often have on hand, but also love this dress­ing with red wine vine­gar. Some­times, I even use half and half.
I choose raw local hon­ey as the sweet­en­er sim­ply because I try to avoid processed sug­ar where it makes sense. It's in enough oth­er foods that I buy or bake, so I don't also need it in my sal­ad dressing.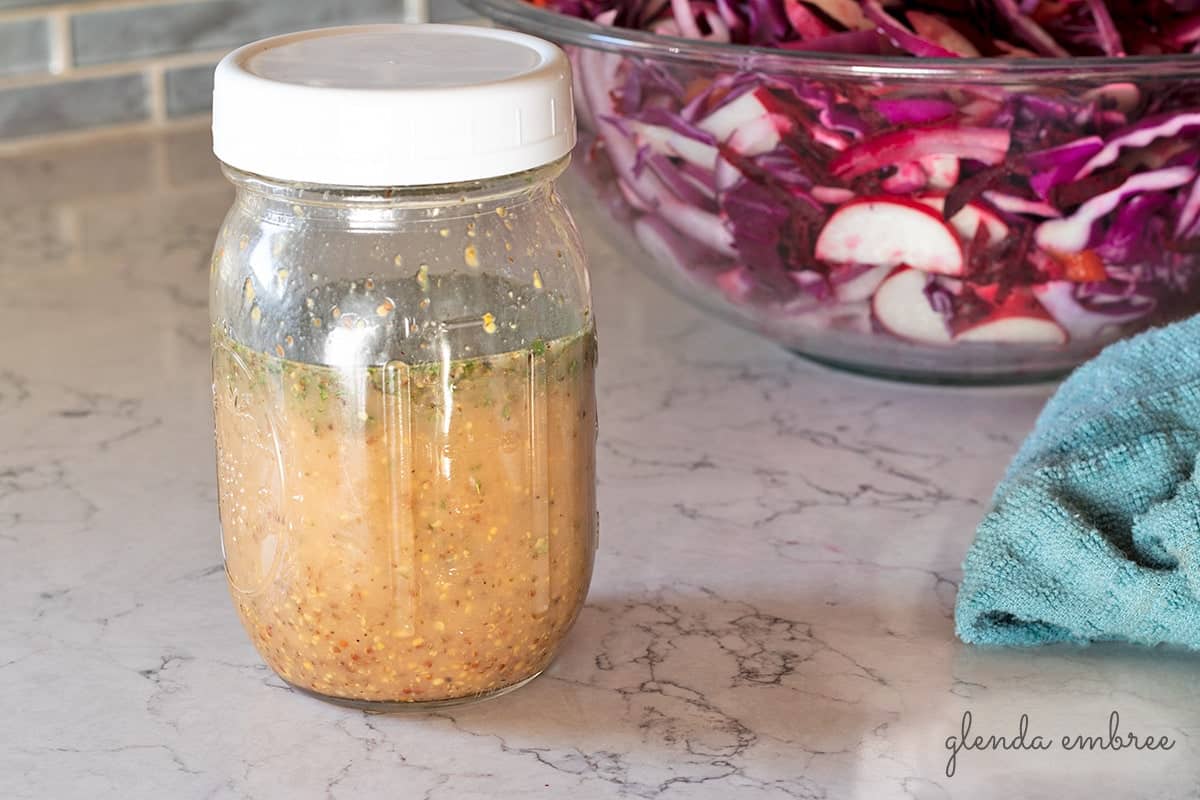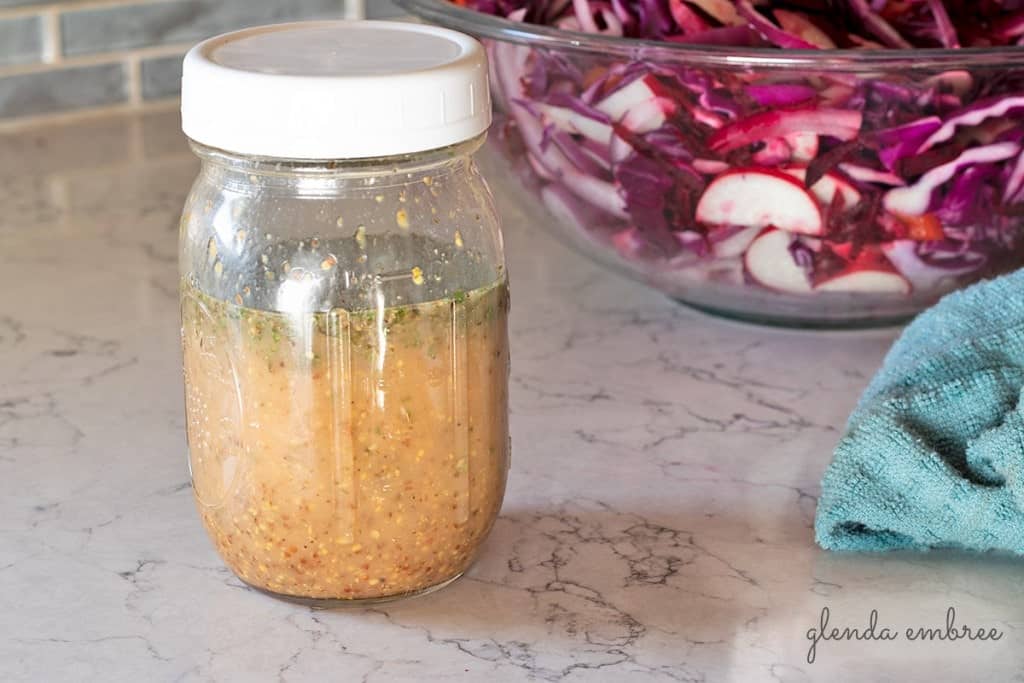 I also add stone ground mus­tard for an extra zing of acid and flavor.
The herbs and sea­son­ings are sim­ple: salt and black pep­per, cel­ery seed and parsley.
Place every­thing into your bowl or jar and whisk them, or shake them, until every­thing is combined.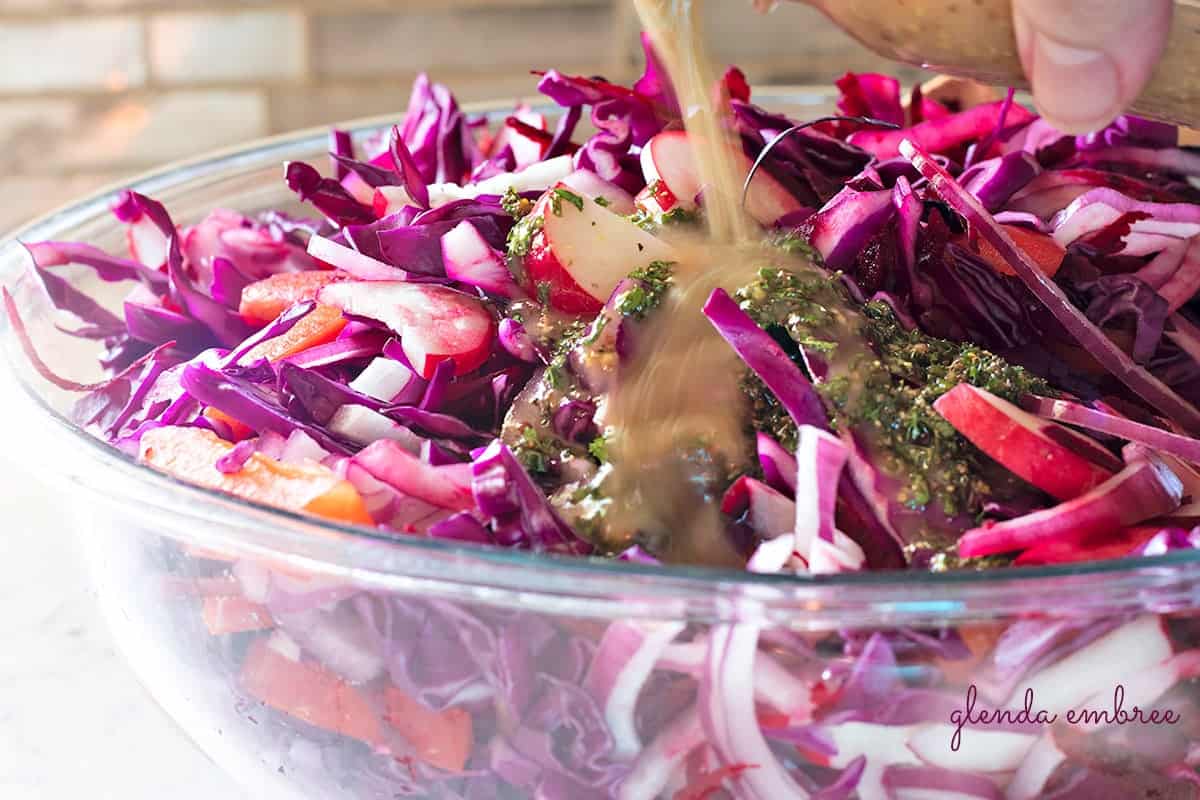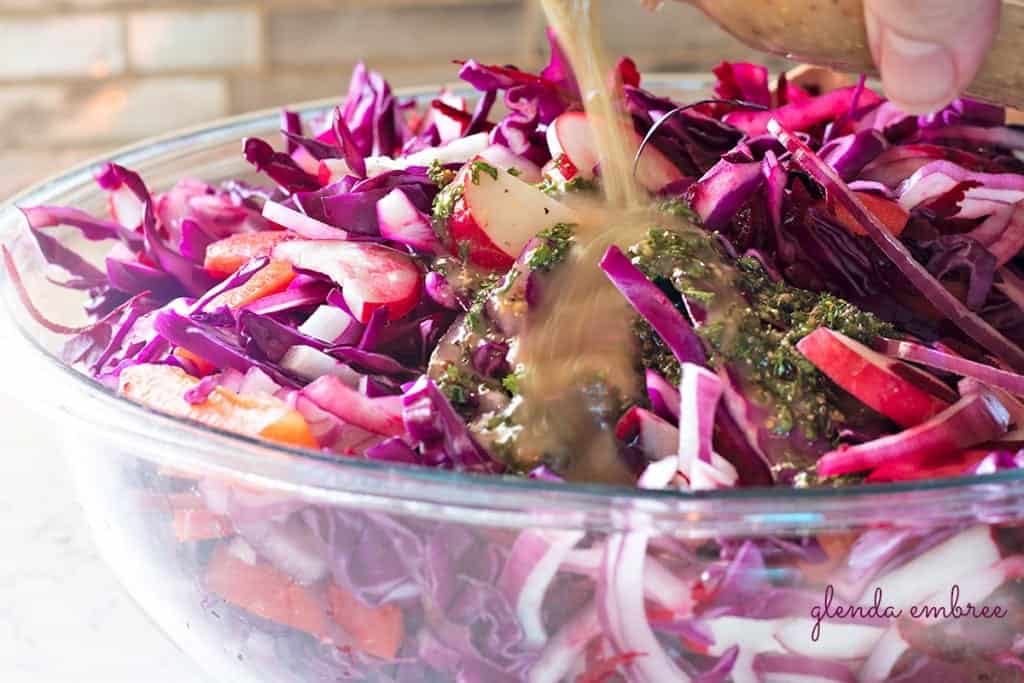 Pour the dress­ing over the sal­ad. Stir to coat all the cut veg­eta­bles and then cov­er the bowl and let it sit in the fridge for a min­i­mum of 4 hours. Hon­est­ly, the best fla­vor will be after 8 or 10 hours or overnight.
You'll be treat­ed to a gor­geous ruby col­ored sal­ad the next time you open that bowl. The beets will have added not only their high nutri­ent val­ue, but also their col­or to every veg­etable in your slaw. The whole sal­ad will take on a jew­el-tone ruby col­or. And thus, the name.
Add Ruby Coleslaw to your meal rota­tion this sum­mer for scrump­tious, refresh­ing fla­vor, pow­er­house nutri­tion and beau­ty on the plate.
Print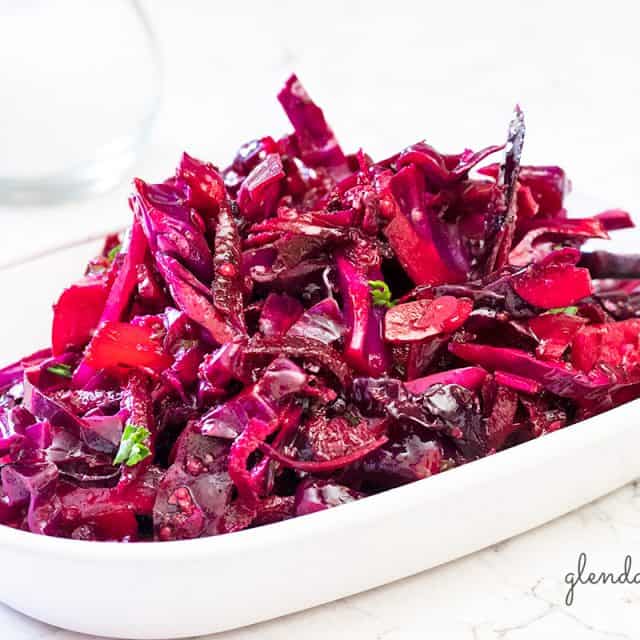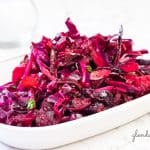 Ruby Coleslaw
---
Author:

Total Time:

15 min­utes

Yield:

10

serv­ings

1

x
Description
You only need about 15 min­utes to prep this scrump­tious and beau­ti­ful coleslaw. It will need to mar­i­nate for at least 4 hours, but as with most mar­i­nat­ed veg­eta­bles is at its pre­mi­um best after being in the fridge overnight. Per­fect for pic­nics, bar­be­cues and sum­mer gatherings.
---
For the Slaw:
1/2

a medi­um red cab­bage, shred­ded or cut into thin slices

1

small red onion, thin­ly sliced

5

radish­es, halved & then thin­ly sliced

1

medi­um beet, peeled and grated

1/2

large red bell pep­per, cut into thin strips
For the Dressing:
1/2

cup

of avo­ca­do or olive oil

1/2

cup

red wine vine­gar or apple cider vinegar

1/4

cup

raw organ­ic

hon­ey

2

Table­spoons

stone ground mustard

2 Table­spoons

dried pars­ley (or

1/4 cup

fresh chopped parsley)

2

tea­spoons

of cel­ery seed

salt & pep­per, to taste
---
Instructions
Cut the head of cab­bage in half and remove the core in one half. Store the oth­er half in the fridge for a future recipe.
Lay the cored cab­bage half, flat side down, on a cut­ting board. Cut the cab­bage in very thin slices. Then turn the board and cut through the slices the oth­er way, cut­ting them into thirds or fourths, so they are more bite-sized pieces.
Peel the beet. Dis­card the peels and grate the beet on the largest holes side of your box grater.
Slice the onion in half and store one half for lat­er use. Place the flat side of the oth­er onion down and then cut it into thin slices. Sep­a­rate the slices into indi­vid­ual strips.
Cut the radish­es into thin slices and then halve them.
Remove the stem and seeds from the bell pep­per and cut it in half. Wrap the oth­er half and store in the fridge for anoth­er recipe. Cut the bell pep­per half into thins strips and then halve them to make them more bite-size.
Add the radish­es and bell pep­pers to the sal­ad bowl with your oth­er veggies.
Make the dress­ing by plac­ing all dress­ing ingre­di­ents into a mason jar. Cov­er tight­ly and shake until ingre­di­ents are blended.
Pour the dress­ing over the coleslaw and toss to coat all the veggies.
Store the coleslaw in an air­tight con­tain­er in the fridge to allow the veg­eta­bles to mar­i­nate. Overnight mar­i­nat­ing will yield the best fla­vor, but a min­i­mum of 4 hours is absolute­ly necessary.
Prep Time:

15 min­utes

Cat­e­go­ry:

Sal­ad, Side Dish

Method:

Mar­i­nat­ed

Cui­sine:

Amer­i­can
Key­words: cole slaw, slaw, cab­bage, beets, radish­es, red onion, red bell pep­per, salad
More Delicious Salads
Deli­cious and Sim­ple Bean Salad