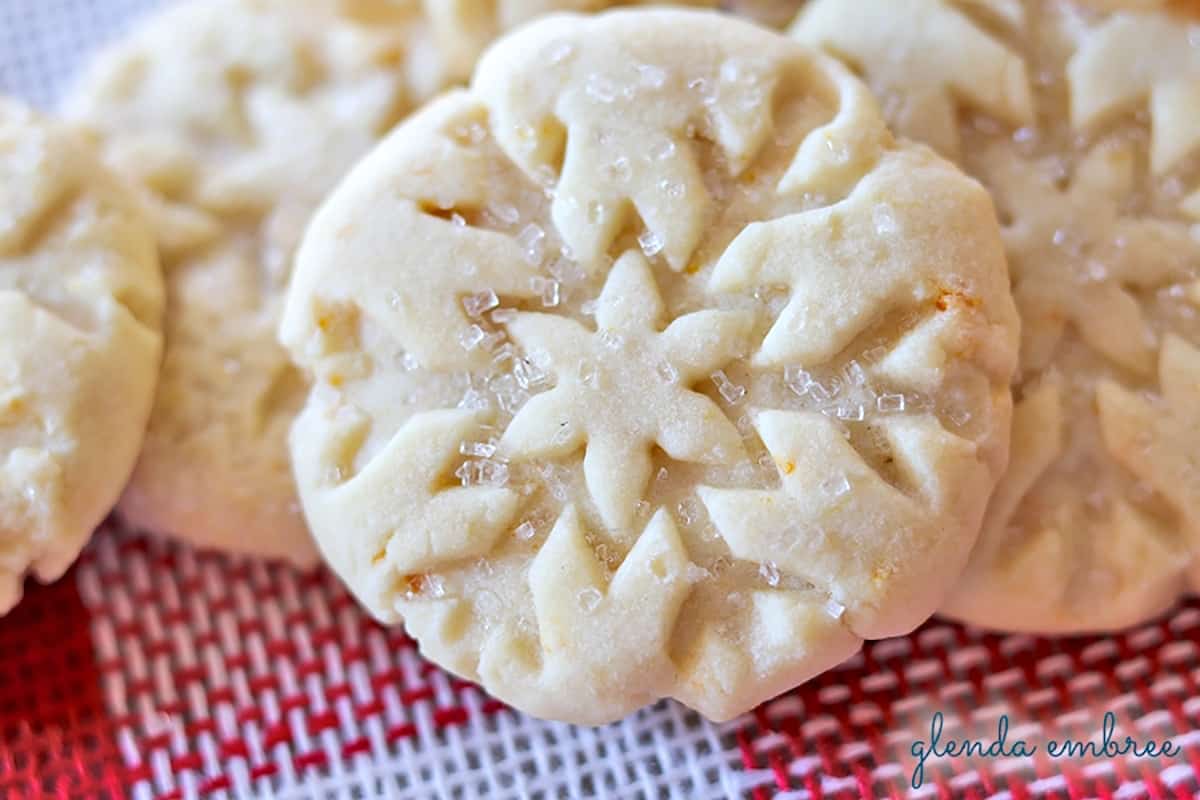 When I think of orange shortbread cookies, I picture those swirly cookies that show up in holiday tins around Christmastime. As a kid, I liked them, but there were so many other cookie options that they didn't really hold my interest.
My Orange Shortbread Cookies are melt-in-your-mouth delicious. They're simple and they're not overly sweet. The hint of citrus is what sets them apart and makes them so special. The crisp/soft cookie just sort of melts away as you chew. And you're left with a lingering citrus-y sweetness.
As I have gotten older, I've discovered that the not overly sweet part has so much more appeal, for me. There are so many sweet and rich foods swirling around us over the holiday season. Sometimes it's just too much. I have found these luscious Orange Shortbread Cookies to be sweet relief!
I hope you'll enjoy them too.
Print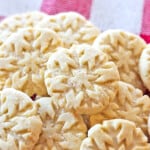 Orange Shortbread Cookies
---
Author:

Prep Time:

20 min

Cook Time:

20 min

Total Time:

40 minutes

Yield:

3

dozen

1

x
Scale
Ingredients
2

cups

butter, softened

1

cup

powdered sugar

3

cups

flour

1 1/2

cups

cornstarch or arrowroot powder


2 Tablespoons

orange zest (zest of

2

or

3

large oranges)
---
Instructions
Cream butter, powdered sugar and orange zest in the bowl of a food processor or stand mixer.
Add the cornstarch and flour and mix to combine. The dough will come together, first, as crumbly and sandy.  Continue mixing and it will become a smooth dough, that breaks apart into large clumps.  It will not hold together as one large ball.  The dough is drier than regular cookie dough.
Roll the dough into balls in the palm of your hand, pressing them into a smooth symmetrical sphere. Balls should be about 1 1/2 inches in diameter with no cracks in them.
Place the balls on an ungreased cookie sheet and flatten using a fork or the bottom of a glass.  I had a snowflake insert for a cookie cutter that worked well.   Use any decorative imprinter you have to flatten the cookies to a thickness of 3/8″.
Bake at 300° for 20 minutes.
Remove from oven and leave on cookie sheet for 3 minutes before putting them on the cooling rack.  Allow to cool completely and then store for 24 hours before serving.
These cookies are so delicious and delicate. They will melt in your mouth when you take a bite.  Waiting 24 hours to serve them is important, so they don't crumble before they get to your mouth.   Patience will be a deliciously rewarded virtue!
---
Category:

Dessert, Cookies

Cuisine:

American
How to Make Orange Shortbread Cookies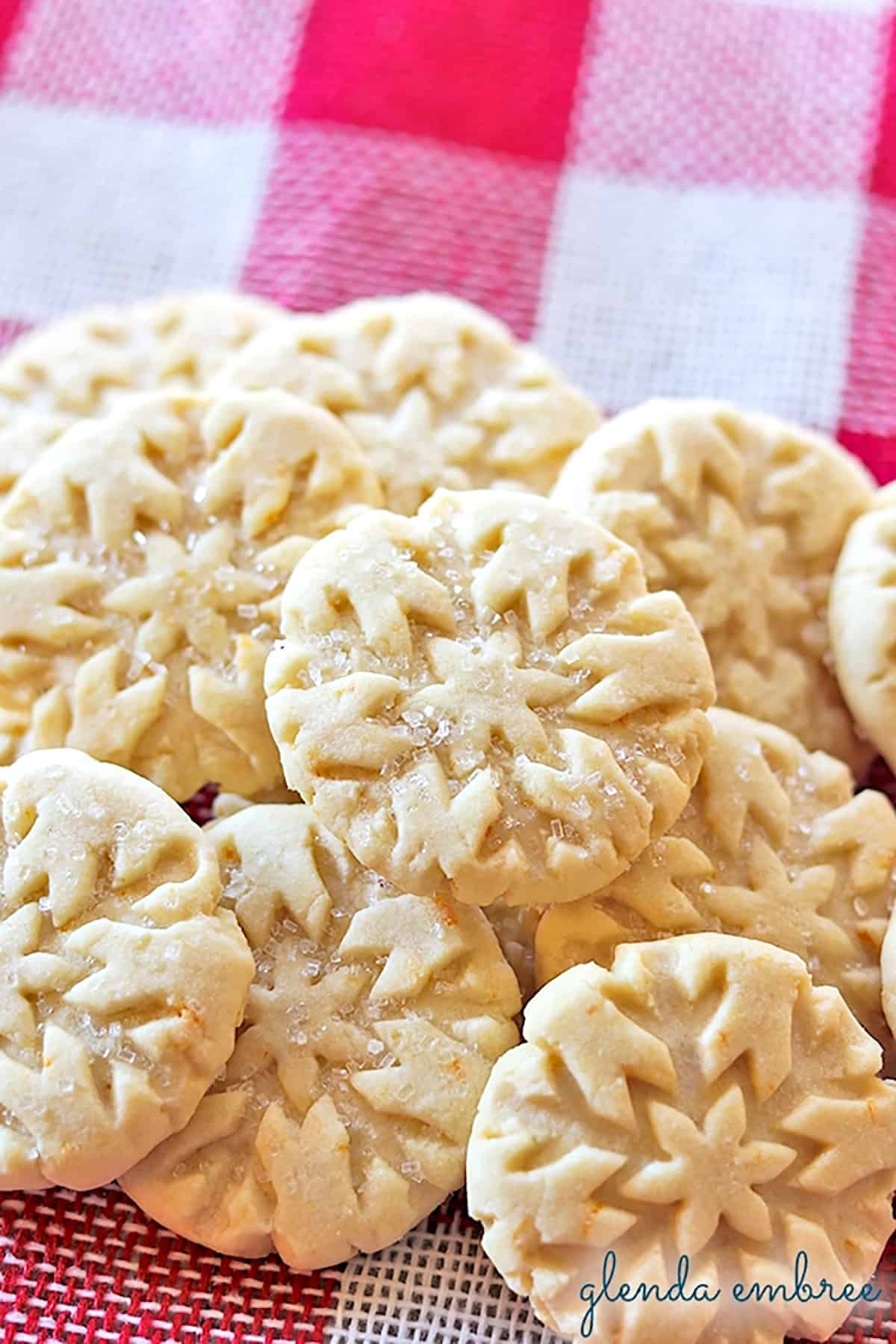 Start by zesting two or three oranges to get 2 Tablespoons of zest. Save the oranges in the fridge, to eat or juice, later on. They'll keep in the crisper drawer for 2 or 3 days with their zest missing.
The rest of this recipe is so simple. You won't believe how easy Orange Shortbread Cookies are to make!
Cream together the butter, sugar and orange zest. You can mix these by hand or in a stand mixer. I made quick work of it in my *mixer.
Now, add the flour and cornstarch and begin combining them with the butter mixture. At first, it's going to look crumbly and sandy as the dough starts coming together. Keep mixing. You will see larger clumps of smooth dough starting to come together. It will seem drier than regular cookie dough and that's right. You did everything perfectly!
Baking and Decorating Orange Shortbread Cookies
To form the cookies, roll the dough into 1 1/2 inch balls. Place them on a greased or lined cookie sheet.
Next you need to press them down until they're about 3/8 inch thick. You can use the tines of a fork, the bottom of a glass, even a meat mallet to press the cookies and create a design. I had a snowflake insert from an old cookie cutter and I used that for my press. Get creative. I'll bet you have things in the house that would make cute designs.
It is completely optional, and not part of the recipe, but I like to sprinkle the pressed cookie dough with sparkling sugar at this point. It adds just a touch of sweetness and crunch to the cookie and creates a "sparkly" appearance.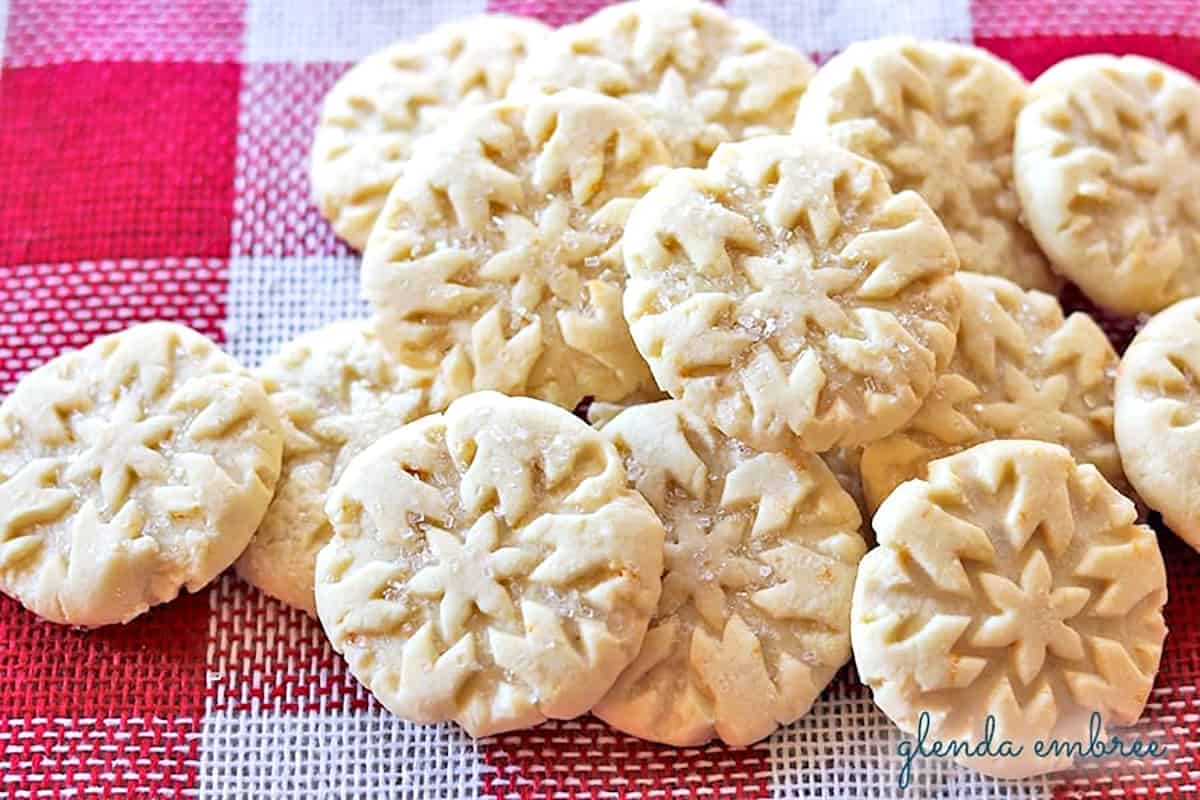 Once the orange shortbread cookies are pressed out, bake them for 20 minutes at 300°.
When they come out of the oven, they'll still be pretty delicate. I set the tray on a cooling rack and let it be while I get a new pan of cookies ready for the oven. By the time I finish, the cookies are ready to be transferred from the tray to the cooling rack.
These are best served completely cool and are the perfect complement to a cup of tea or hot cocoa. In my opinion, Orange Shortbread Cookies are not just for Christmastime. I think they would be an excellent "every day" cookie, since they are less sweet and are really so versatile.
I hope you'll enjoy the easy recipe for Orange Shortbread Cookies as much as I do! Happy Tuesday, my friend!
More Cookie Recipes from the 12 Days of Christmas Cookies Event
Here are three more DELISH cookie recipes from our 12 Days of Christmas Cookies blogger event.
And, if you're looking for even more cookie recipes to add to your holiday repertoire, check out my recipe for these yummy Soft Chewy Ginger Cookies.