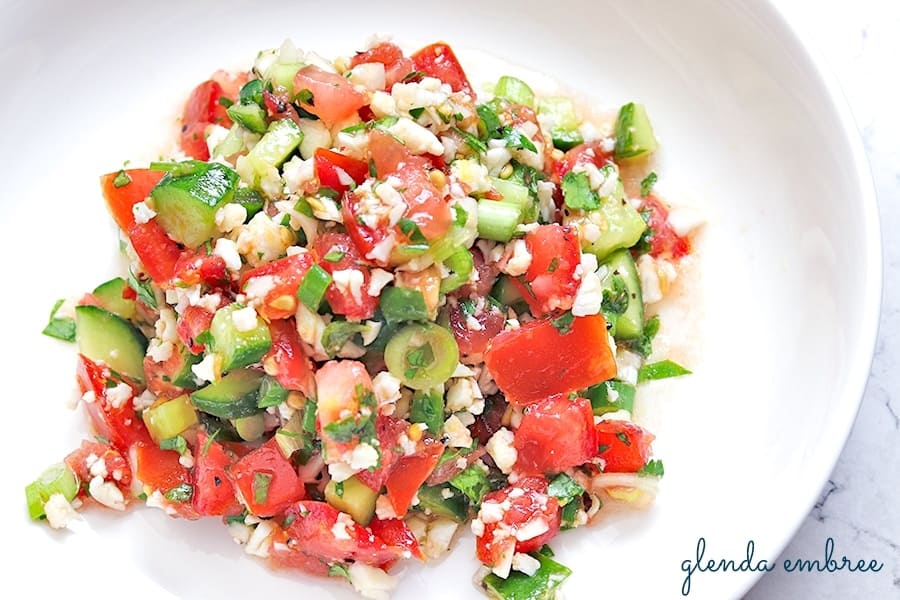 This delec­table gluten-free tab­bouleh sal­ad is crisp, light and refresh­ing. A sim­ple cit­rus dress­ing brings all the won­der­ful veg­gie fla­vors togeth­er. It's grain-free, sug­ar-free and Whole30 com­pli­ant. My recipe makes enough to have left­overs on the sec­ond day. This beau­ti­ful vari­a­tion on tra­di­tion­al tab­bouleh makes a love­ly side dish or appe­tiz­er, but is equal­ly per­fect as lunch.
To make the dish gluten-free, I omit­ted the bul­gur wheat and replaced it with fresh, crunchy, riced cau­li­flower. It was a won­der­ful solu­tion to find­ing a way to put this deli­cious sal­ad back into a grain-free diet. The results have my taste buds doing a hap­py dance!
This recipe is a 10 minute, toss-togeth­er. Chop some veg­gies and toss in a bowl with a sim­ple 2‑ingredient cit­rus dress­ing. It's real­ly that easy. The sal­ad should sit for about 30 min­utes before serv­ing, so the dress­ing has a chance to mar­i­nate the veg­eta­bles and meld the bright, fresh fla­vors. My Gluten-Free Tab­bouleh Sal­ad would be a per­fect com­ple­ment to any meal. Enjoy!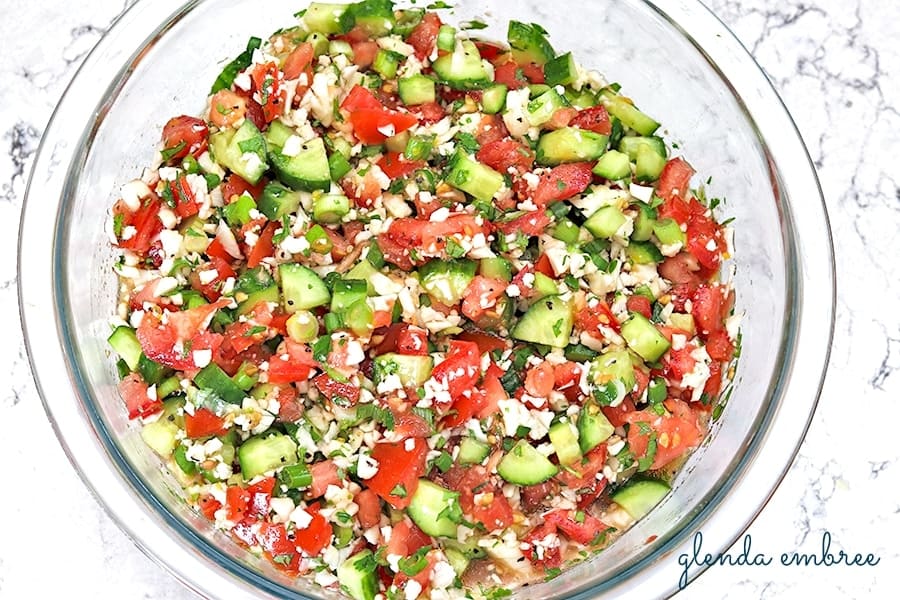 Print
Gluten-Free Tabbouleh Salad
---
Author:

Prep Time:

10 min

Cook Time:

0 min

Total Time:

10 min­utes

Yield:

8

-

10

serv­ings

1

x
Scale
Ingredients
2 cups

riced cau­li­flower, (raw, not frozen)

3 cups

toma­toes, small diced

2 cups

cucum­ber, small diced

3/4 cup

green onions, chopped thin

1/2 cup

fresh pars­ley, cilantro or mint, minced (a com­bi­na­tion works, too)

1/4 cup

avo­ca­do or olive oil
juice and zest of 2 lemons, (about 1/3 cup)
salt and pep­per, to taste
---
Instructions
Zest, and then, juice the lemons.
Mix oil, lemon juice, salt and pep­per by whisk­ing togeth­er in a small bowl.
If your local mar­ket does­n't sell fresh­ly riced cau­li­flower, just buy a head and rice the cau­li­flower by grat­ing or puls­ing in a food processor.
Dice toma­toes, cucum­bers, onion.
Mince the herbs. You can use pars­ley, cilantro or mint. A com­bi­na­tion of any and all of them works well, too.
Choose a sal­ad bowl and add all your prepped veg­gies and herbs. Stir to even­ly dis­trib­ute them through the salad.
Pour the lemon dress­ing over the sal­ad veg­gies and stir to coat the entire sal­ad in the dressing.
Cov­er and refrig­er­ate for at least 30 min­utes to allow fla­vors to meld and veg­gies to marinate.
Serve cold.
Cat­e­go­ry:

Sal­ad, Side Dish, Vegetable

Cui­sine:

Amer­i­can
How to Make Gluten-Free Tabbouleh Salad
The steps to prepar­ing this deli­cious sal­ad could­n't be simpler.
Zest and juice the lemons.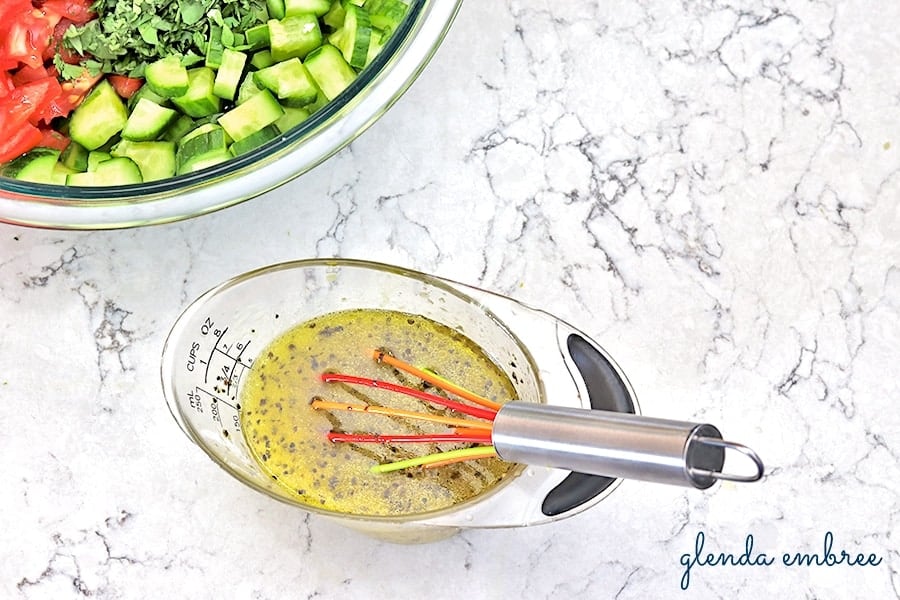 *Affiliate Link
*Whisk togeth­er olive oil and lemon juice to make the cit­rus dress­ing. Add a lit­tle salt and pep­per, to your own per­son­al taste.
If you don't have a bag of fresh­ly riced cau­li­flower, grate a head of cau­li­flower or pulse it in a food proces­sor to pro­duce the cau­li­flower rice. I can actu­al­ly buy it, pre-riced in the pro­duce sec­tion at our local store, now.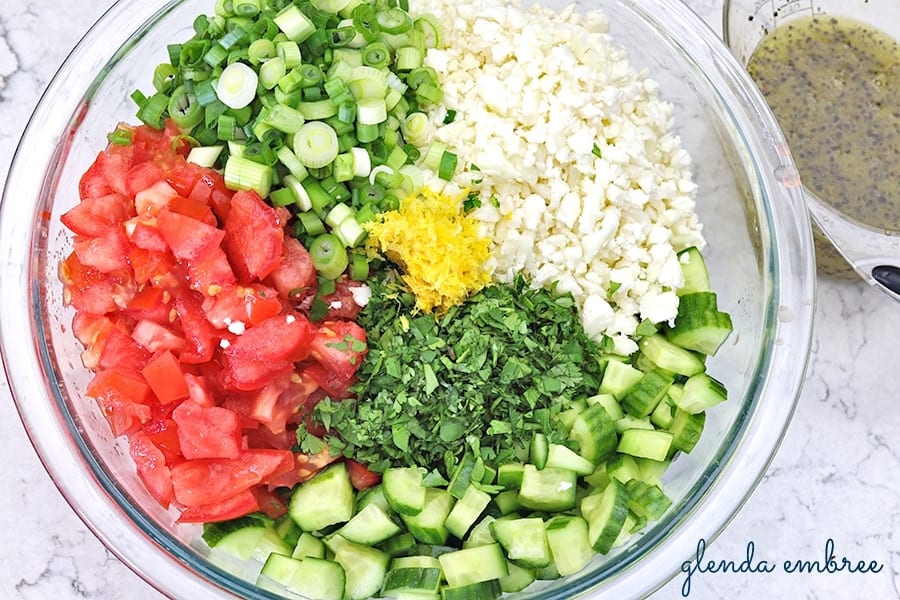 Small dice your veg­gies and mince the herbs you select. I used all cilantro, this time, because it's what I had on hand. Fresh pars­ley and mint are also beau­ti­ful in this dish. Both add a deli­cious, new fla­vor dimen­sion to this love­ly Tab­bouleh Sal­ad. Choose any of them, alone, or use them in com­bi­na­tions to cre­ate your own per­fect fla­vor profile.
Com­bine the veg­gies, herbs and dress­ing in a sal­ad bowl. Cov­er the sal­ad and allow it to mar­i­nate in the refrig­er­a­tor for at least 30 min­utes before serv­ing. It's real­ly that easy! You're going to want this sal­ad on the menu every week!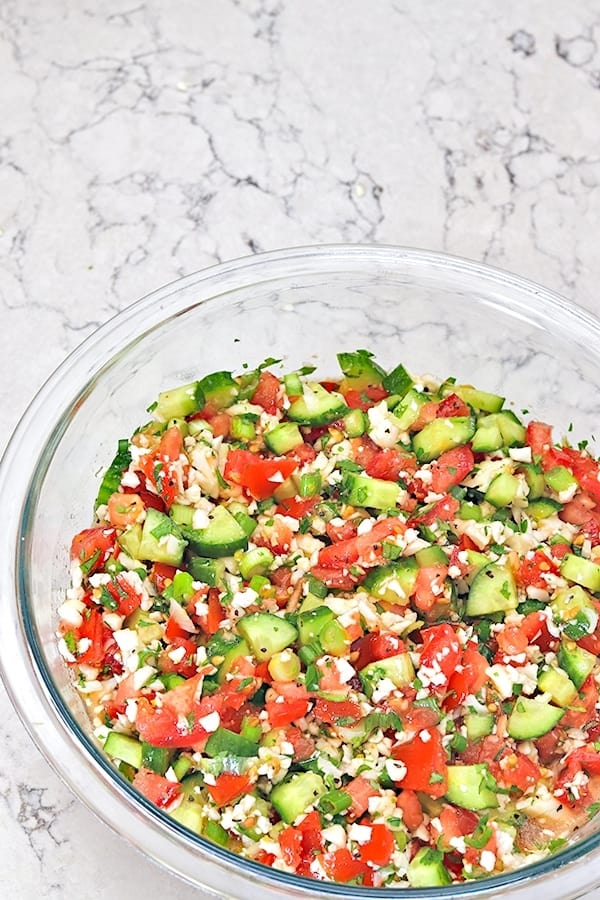 More Popular Side Dishes
Best Easy Home­made Broc­coli Salad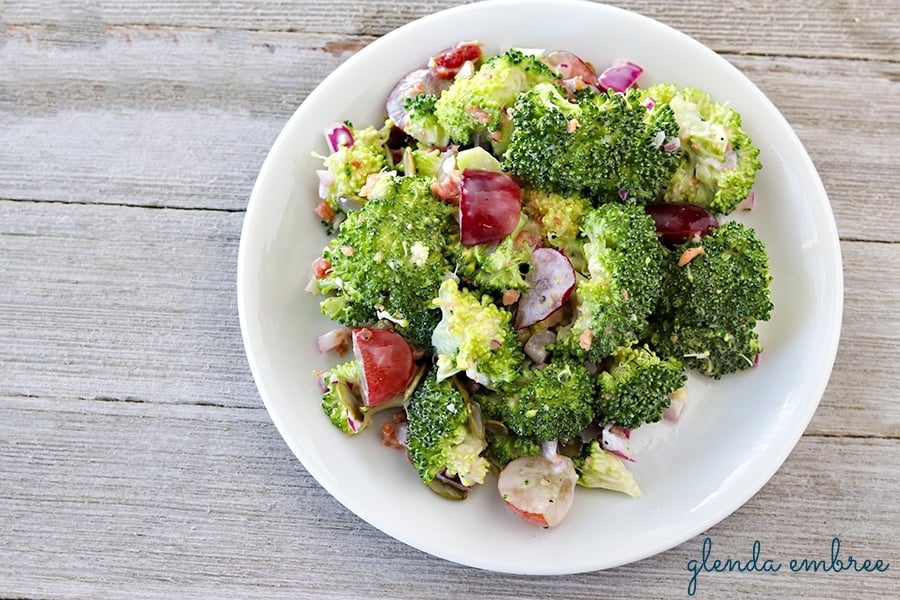 Home­made Crock-Pot Creamed Corn