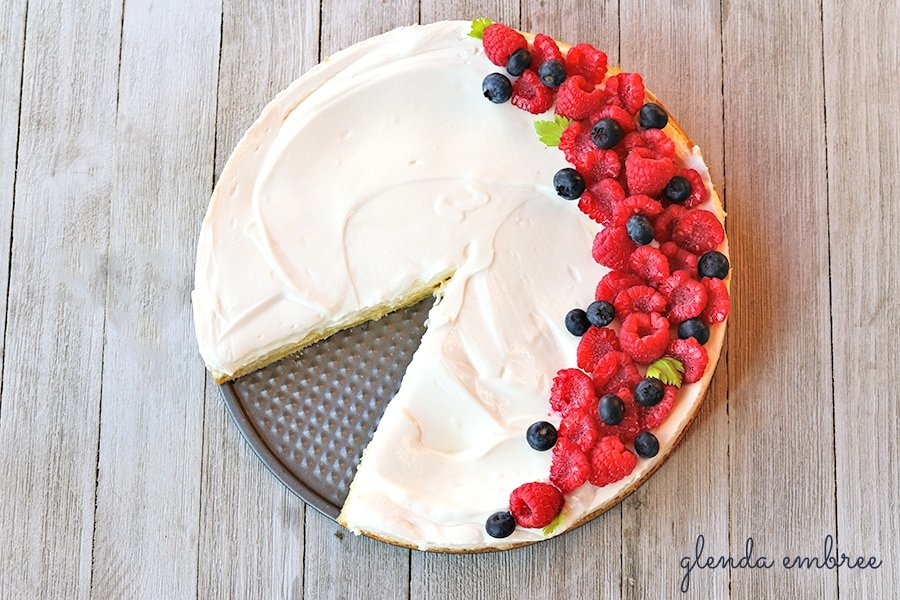 For my family, my Easy Delicious Cheesecake is the standard all other cheesecakes are measured by. It's one of our favorite desserts for birthdays, holidays and special occasions.
Cheesecake is one of those things that people are very particular about. There are the purists for whom only a traditional New York cheesecake will do. And then, there are those who don't want to be tied to the oven and opt for completely no-bake cheesecake options. I, and therefore my family, fall somewhere in the middle.
My recipe IS a baked cheesecake, but nothing about it is traditional. A couple of my kids won't eat any other cheesecake – only this one. I've never had a guest that didn't feel this beautiful dessert is absolutely scrumptious. I'm guessing you're not only going to love how simple it is, but will enjoy the rich, creamy flavor as much as we do!
Unique, Delicious and Easy: Best Qualities in a Homemade Dessert
It's the easiest, most indulgent cheesecake you'll ever bake. This delicious dessert can be baked in a regular 9×13 cake pan or a 10″ springform pan. There's no need to worry about a water bath in the oven. And, it's made with limited ingredients: 3 for the crust, 4 for the filling and 3 for the sour cream topping. You will literally have it baked and in the fridge, cooling, in about 45 minutes! Easiest cheesecake ever!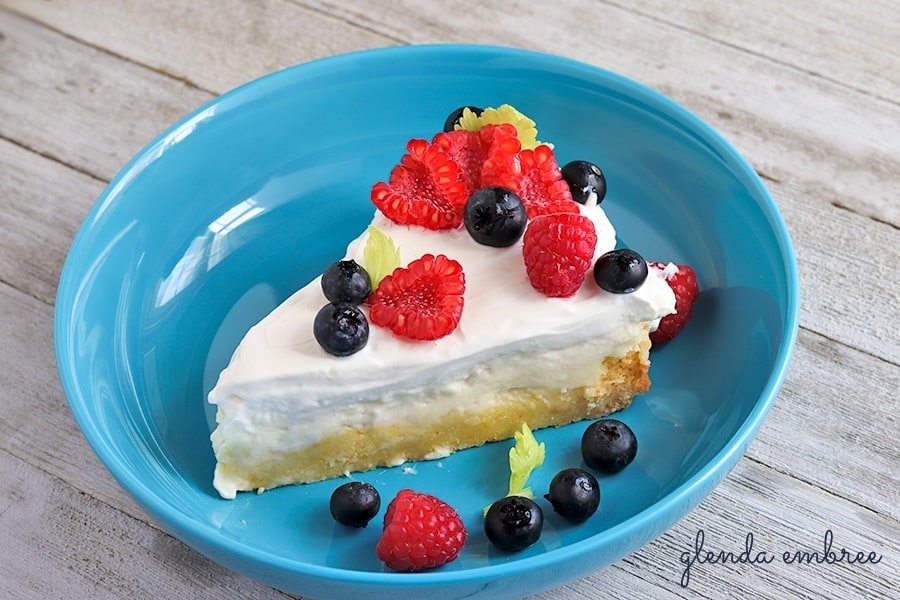 This decadent cheesecake starts with a crust like no other. It's basically a soft, chewy sugar cookie!
That uniquely delicious crust is topped with a creamy filling. The smooth cream cheese filling is flavored with my homemade vanilla (or your favorite high-quality vanilla).
The final luscious layer is a tangy-sweet sour cream topping.
Create your beautiful cheesecake design with fresh fruit. Or opt to spoon on thick, fruit-studded pie filling. Drizzling on chocolate and caramel with sprinkles of nuts is another scrumptious option. My Easy Delicious Cheesecake is a recipe that will stay at the front of your recipe box. It will be requested, often, and it's a recipe you'll make, again and again!
Enjoy!
Print
Easy, Delicious Cheesecake
---
Author:

Prep Time:

15 min

Cook Time:

25 min

Total Time:

40 minutes

Yield:

12

–

18

servings

1

x
Description
This extraordinarily easy and delicious cheesecake has a "cookie" crust that sets it far and above any cheesecake you've ever eaten.  You'll have it baked and chilling in about 40 minutes, from start to finish.  Once you've tried it, all other cheesecakes will be measured against this beauty!
---
Scale
Ingredients
For the Crust:

1

yellow cake mix

5 Tablespoons

butter

1

large egg
For the Filling:
2

(8 oz) pkgs cream cheese, softened

2

large eggs

¾ cup

sugar

1 Tablespoon

homemade vanilla (or other high-quality vanilla)
For the Sour Cream Topping:
2 cups

sour cream

¼ cup

sugar

1 Tablespoon

homemade vanilla (or other high-quality vanilla)
Options For the Fruit/Decorative Topping:
Cut fresh fruit or berries of your choice

1

(21oz) can fruit pie filling (your choice of flavors)
Fudge and/or Caramel Topping for Drizzling
chopped nuts
whipped cream
---
Instructions
Preheat oven to 350 degrees.
Mix cake mix, egg and butter for crust, with an electric mixer, until they are incorporated and crumbly. Press into an ungreased 9×13 pan OR an ungreased *10″ springform pan.  Set the crust aside.
For the filling, beat the cream cheese, eggs, sugar and vanilla on medium/high speed with an electric mixer. Continue beating until the filling is smooth and creamy.  Pour filling over the crust in your prepared pan.
Place the cheesecake in the oven and bake at 350 degrees for 20-25 minutes or until the cheesecake is set in the center.  (You'll be able to, lightly, touch the center with your finger and feel that it is no longer liquid-y.)
Remove the cheesecake from the oven and set on a wire cooling rack to begin cooling while you mix the sour cream topping.
Stir together the sour cream, sugar and vanilla. When fully mixed, spread the topping over the warm cheesecake.
At this point, I place my cooling rack in the refrigerator and set the cheesecake on it.  Leave the cheesecake in the fridge to cool and firmly set for at least 4 hours.  It should be cold and fully set before trying to remove it from a springform pan or trying to cut it.
Once cool, it's time to decorate your cheesecake and add that next layer of flavor that will elevate it to a truly special dessert.  There are so many options for doing this:
The simplest, and a well loved option, is canned pie filling.  You can add it to the entire cake or each individual piece as it's sliced.  Doing them individually allows you to have two or three options for guests to choose from. 
Drizzling fudge and caramel topping and sprinkling with chopped pecans is an elegant and rich topping for a special occasion.
My personal favorite is an arrangement of fresh fruit and/or berries.  Again, you can decorate the entire cake or individual slices.  Fresh fruit has a great balance of acidity and tartness that's great for cutting through the creamy richness of this scrumptious cheesecake.
Whipped cream is a decorative option that is beautiful piped around the edges, whichever topping you select.
Get creative and enjoy how simple it is to create this delicious and elegant dessert!
---
Category:

Dessert, Cheesecake

Method:

Baking

Cuisine:

American
Keywords: cheesecake, dessert
*Affiliate Link
How to Make an Easy Delicious Cheesecake
My easy, delicious cheesecake recipe is made in three simple stages – crust, filling and topping.
The crust really sets this luscious dessert apart from the crowd. It bakes up to be something like a soft, chewy sugar cookie and it's so easy to make. A yellow cake mix, a little butter and an egg are all you'll need to whip up this sweet, tender crust. Buzz it together with a mixer. Press it into the bottom of a 9×13 baking pan or a *10″ springform pan. Then set the crust aside, while you move on to your filling.

Mixing the filling is what you would expect, if you make a lot of cheesecake. Beat together cream cheese with eggs, sugar and vanilla. Pour the filling over the crust in your baking pan and pop it all in the oven to bake until the filling is set. There will only be minimal, if any, browning.

The topping for my easy, delicious cheesecake is another unique feature of this recipe. Whip together the sour cream, sugar and vanilla. Spread the topping over the dessert, shortly after it is removed from the oven. The cheesecake will still be warm.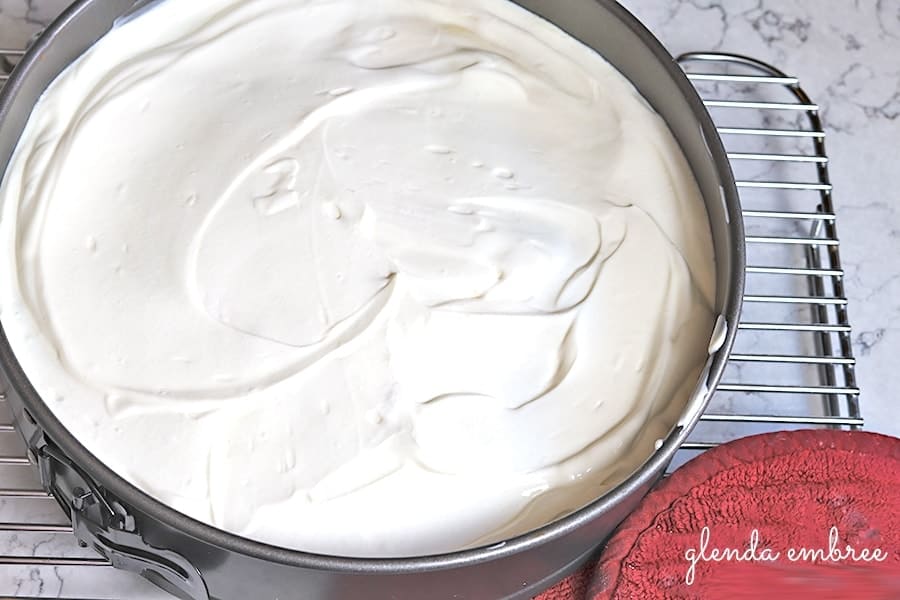 Chilling the Cheesecake Before Serving
Once the sour cream topping layer is gently smoothed over the top of the warm cheesecake, it's time to refrigerate it. The yummy dessert will need to cool and set up for at least 4 hours, before serving.
I like to set the *cooling rack in the fridge, then set the cheesecake on top of it. Allowing the cool air to circulate around it on all sides helps to cool it more quickly and evenly.
When the cheesecake is completely set and cold, it's ready to be sliced and served. Choose the decorative toppings you want and use them to complete the entire Easy Delicious Cheesecake or to decorate individual slices as they are served.
Enjoy!