Chick­en Crunch­wrap Supreme grilled sand­wich­es are crispy, crunchy, cheesy chick­en deliciousness!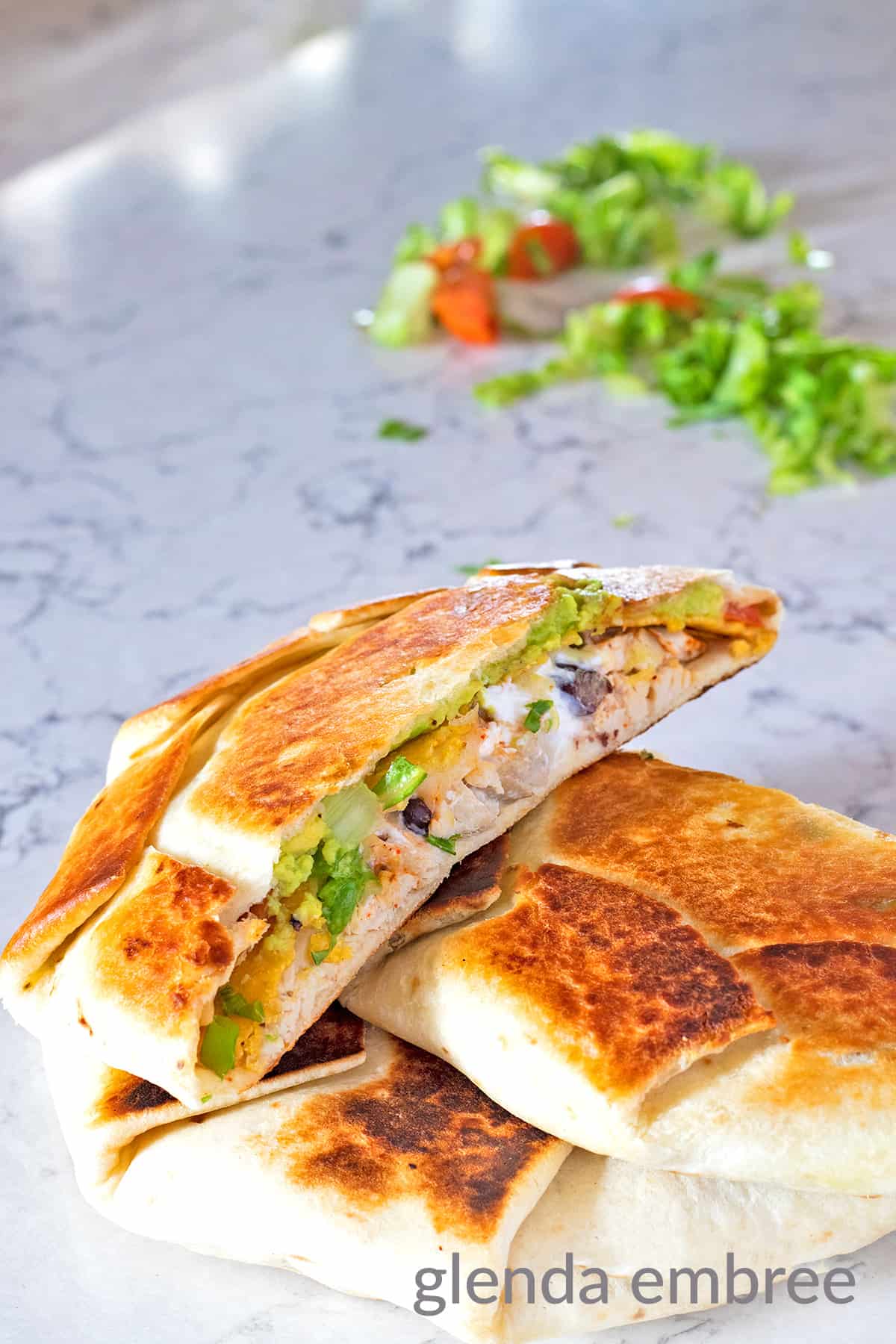 Think savory, spicy and creamy fill­ings, plus, fresh veg­gies that are so easy to cus­tomize and change up to fit your fam­i­ly's per­son­al pref­er­ences. I'm get­ting hun­gry think­ing about it! lol
Plus, you can make four crunch wraps at home, faster than you can make it through a drive-thru.
That means not only will you save a ton of mon­ey, but din­ner will be made with your favorite fresh ingre­di­ents. Win­ner! Win­ner! Chick­en Din­ner. It's no joke!
The Ingredients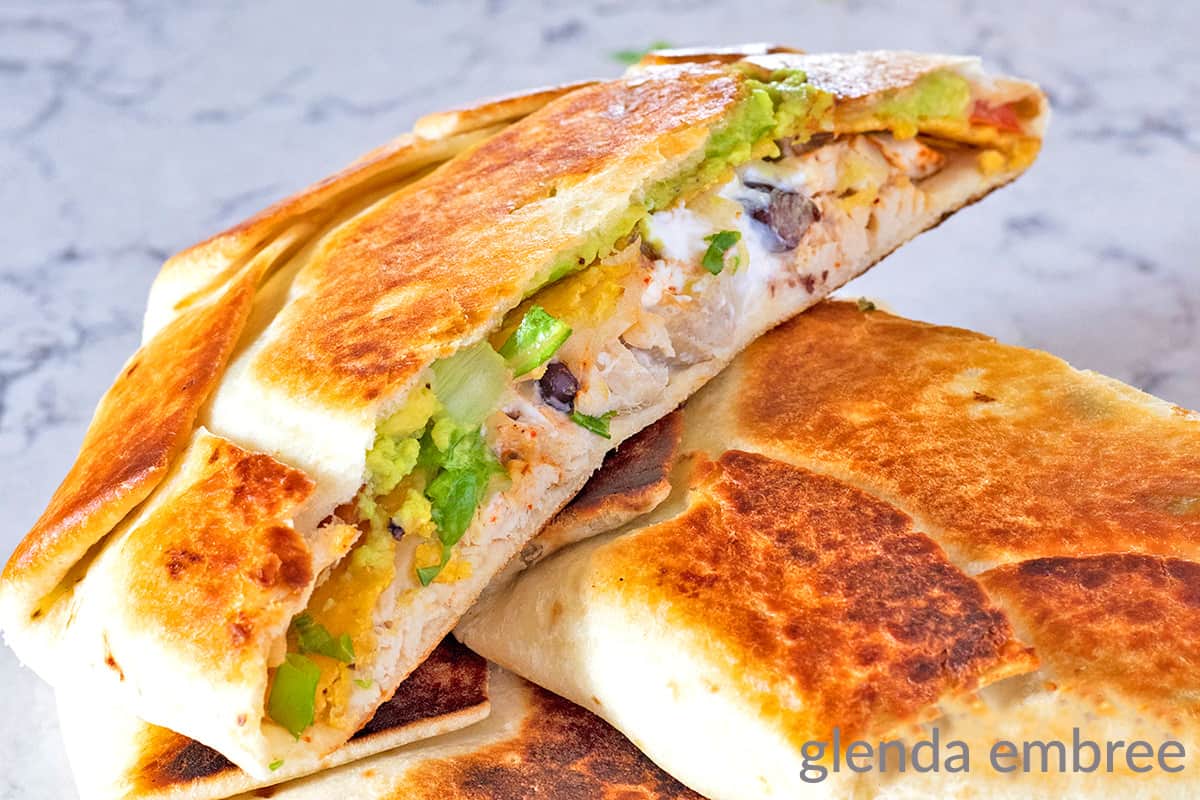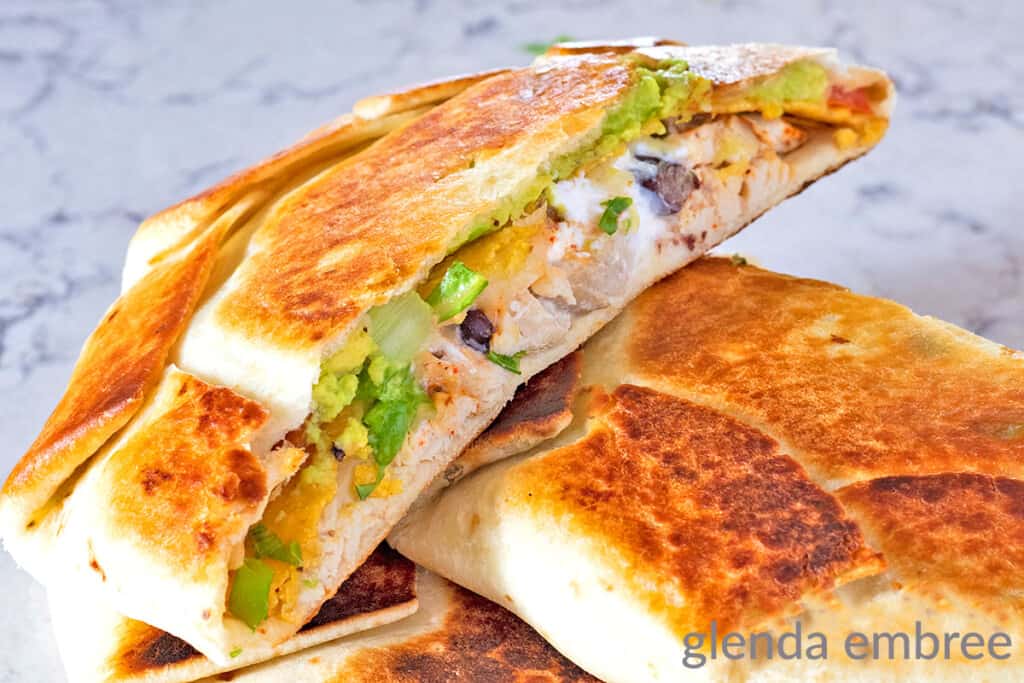 Bur­ri­to-size Flour Tor­tillas
Tosta­da Shells
Pre-cooked Chick­en (see options below)
Black beans
Sour cream
Let­tuce
Toma­toes
FAQs
Do I real­ly need bur­ri­to-size tor­tillas?
Yes. You def­i­nite­ly do need bur­ri­to-sized tor­tillas. No sub­sti­tu­tions, here, real­ly. Being able to get the oth­er ingre­di­ents in, espe­cial­ly the tosta­da, depends on the tor­tilla being large enough. You won't be able to ful­ly fold the tor­tilla around the oth­er ingre­di­ents and seal up the crunch wrap with a small­er tortilla..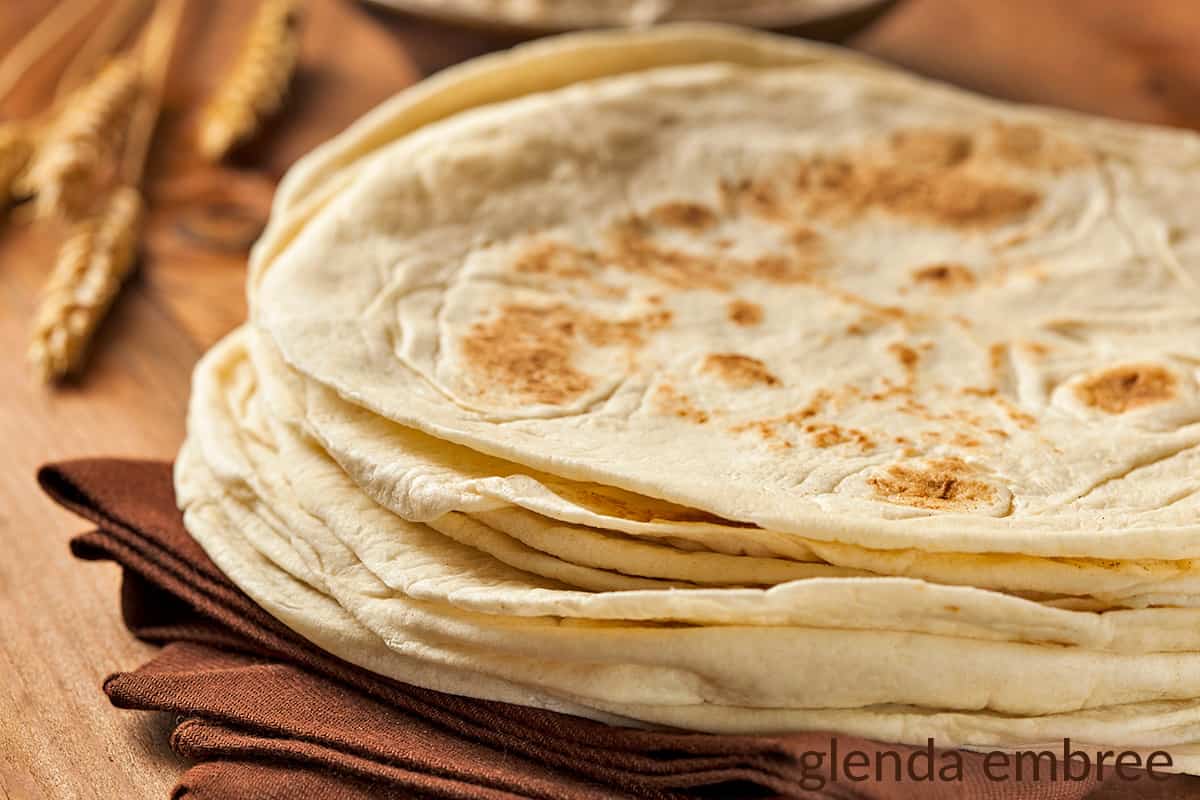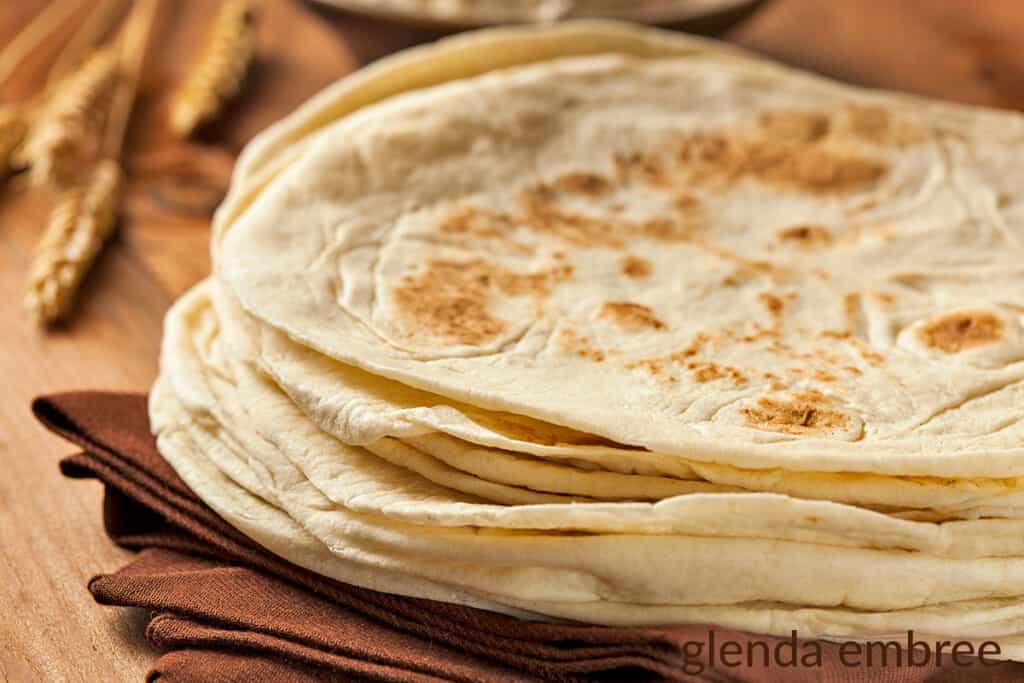 Is there a sub­sti­tute for tosta­da shells in a Chick­en Crunch Wrap Supreme?
The tosta­da IS the crunch in this recipe. I've nev­er tried using any­thing else. I guess in a pinch you could try a sin­gle lay­er of tor­tilla chips. Though I have absolute­ly no idea if it would work. I high­ly rec­om­mend buy­ing tostadas or mak­ing your own.
What Are Tostada Shells?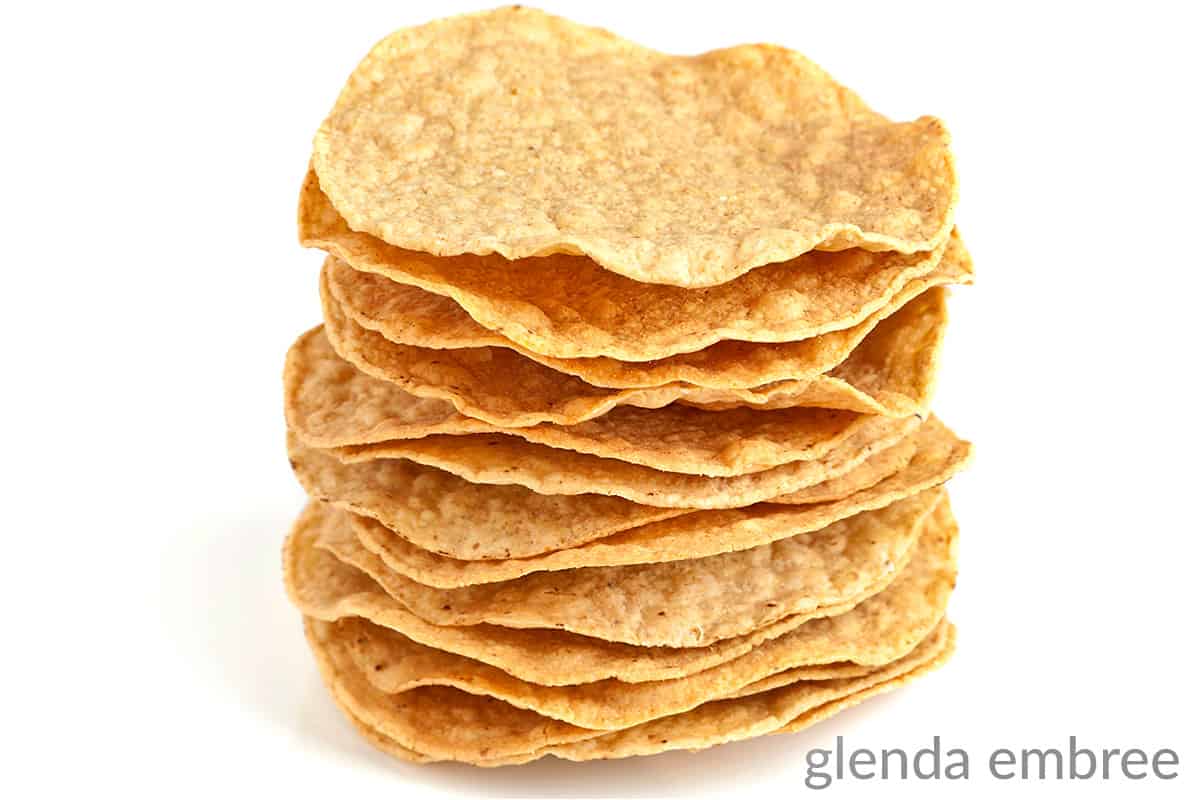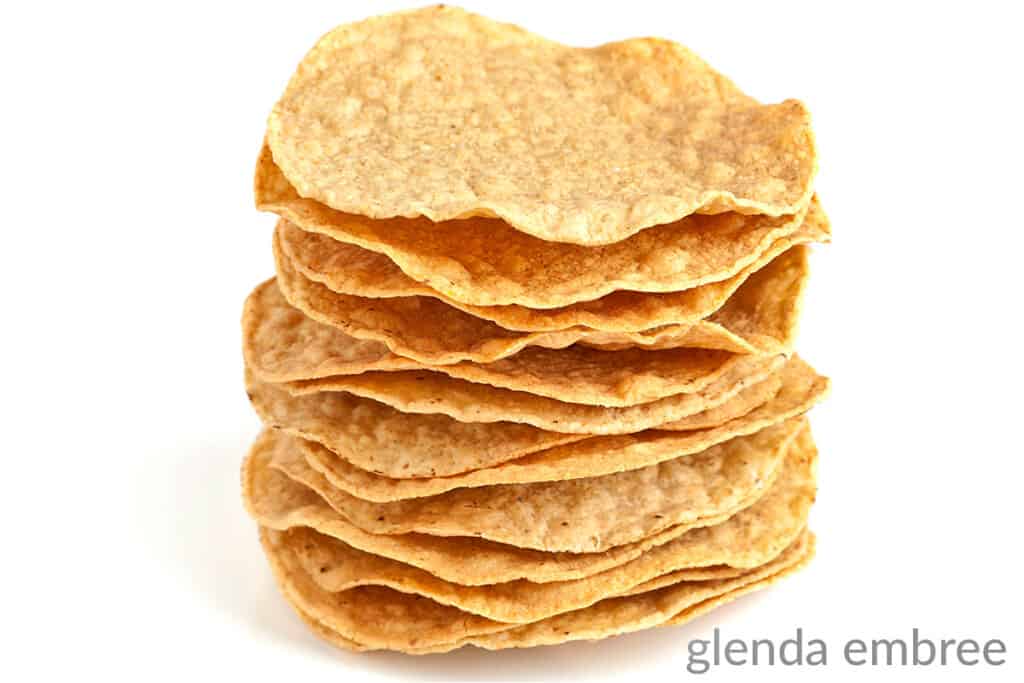 Fried (or some­times baked) whole corn tortillas.
Tosta­da shells are very crisp and they are the CRUNCH in your crunch wrap.
I buy them pre-made right next to all the oth­er tor­tillas in my gro­cery store.
Quick and easy is what I'm going for, here, but you could def­i­nite­ly buy your own 6‑inch corn tor­tillas and fry or bake them up to make tosta­da shells.
Do I Have to Use Guacamole?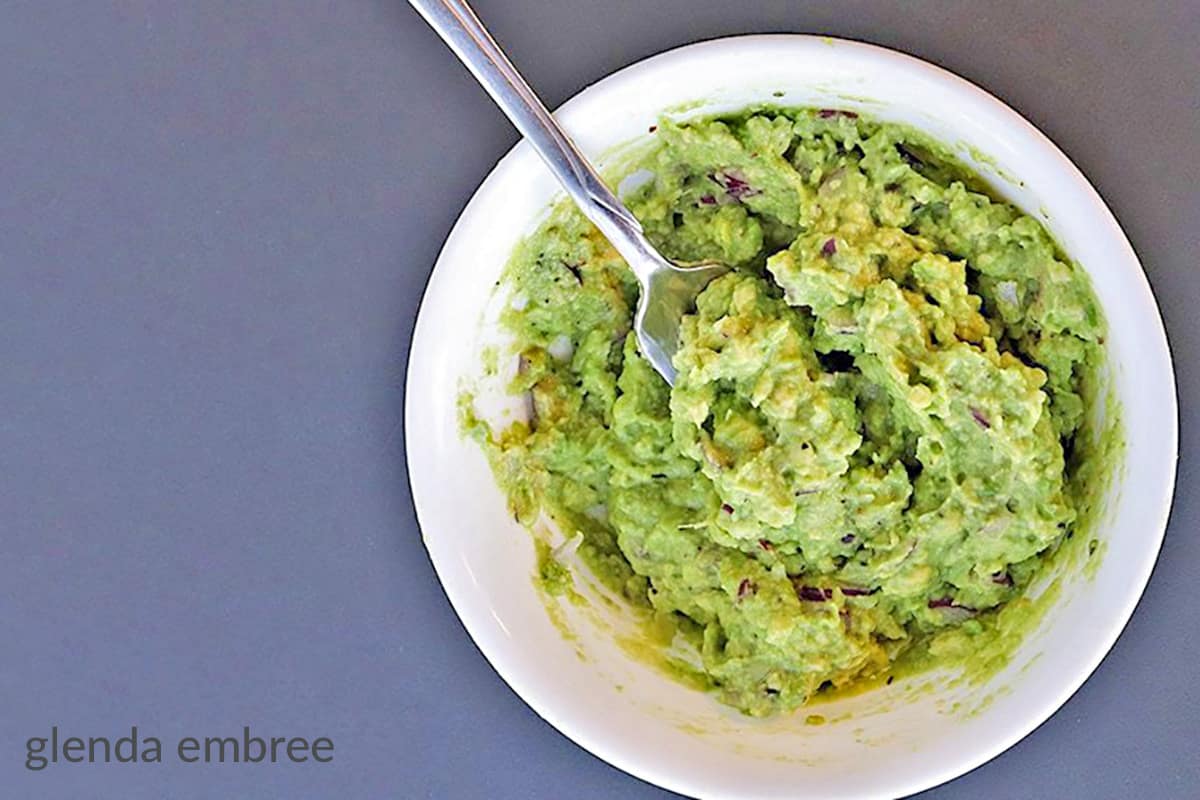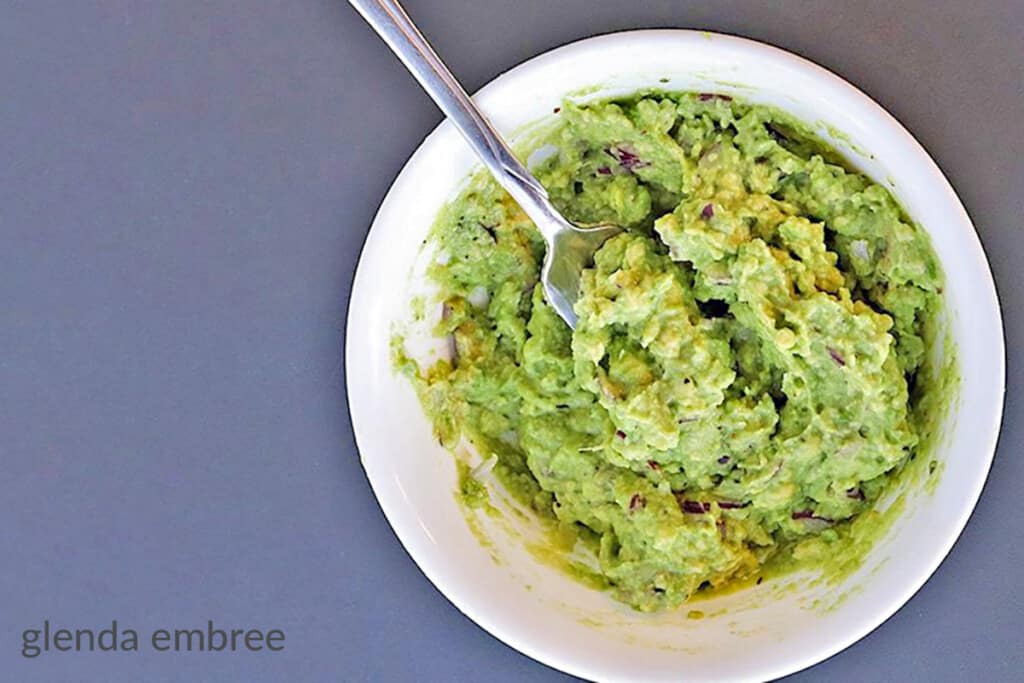 If you don't have any, or don't care for gua­camole, you can try sub­sti­tut­ing some­thing with a sim­i­lar tex­ture or consistency.
The gua­camole is going to be used as the "glue" to hold the chick­en crunch wrap together.
Now, that you have me think­ing about pos­si­ble sub­sti­tu­tions, I think I know what could work.
Home­made refried beans could be your answer. I have an easy slow cook­er recipe for the best refried beans you'll ever eat. If you do use them, I hope you'll come back and leave a com­ment to tell m how it worked out for you.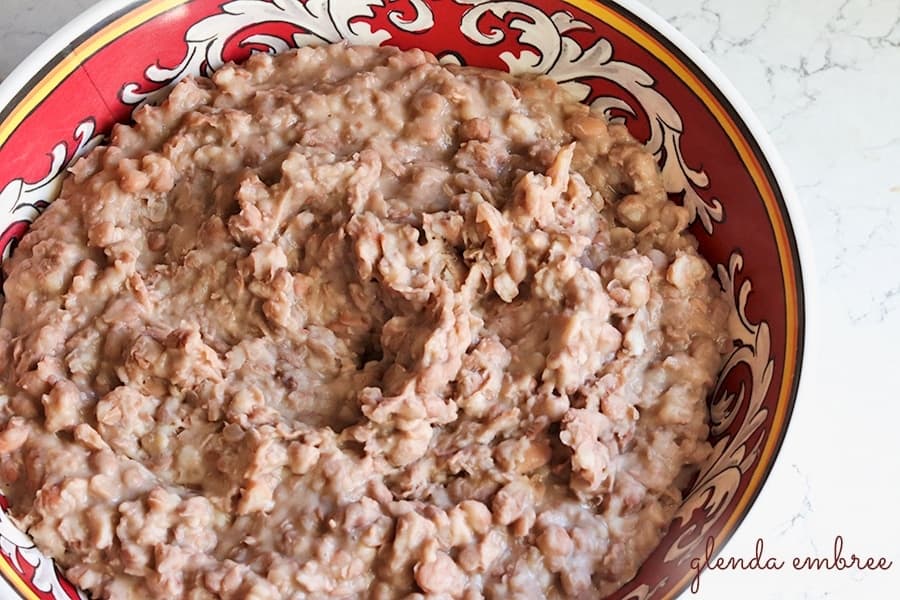 The chick­en in Chick­en Crunch Wrap Supremes needs to be pre-cooked.
If you use any of my batch cook­ing chick­en recipes then you may already have pre-cooked chick­en in the fridge or freezer.
If you don't, then you can grab a rotis­serie chick­en for anoth­er quick and easy solution.
Try these batch-cook­ing chick­en recipes for opti­mum results. (Click images or use links under image gallery.)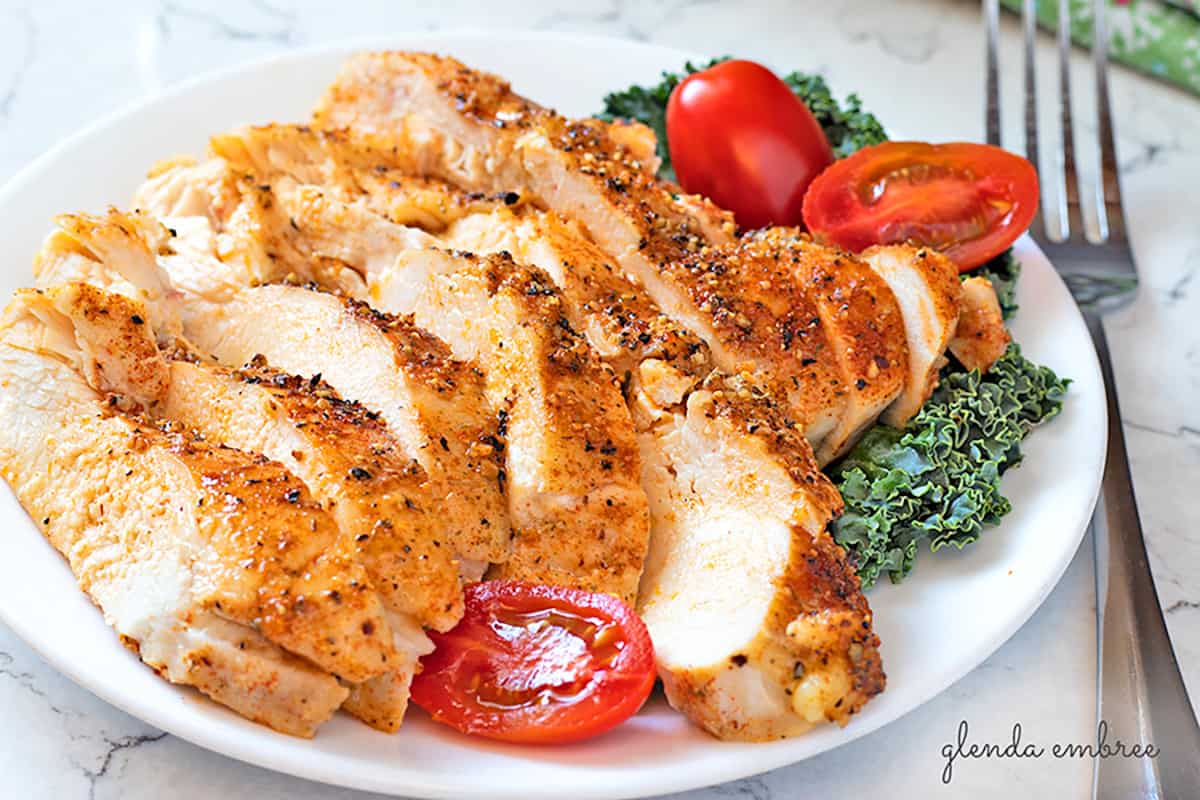 Taco Seasoning vs Southwest Seasoning?
If you buy com­mer­cial brands, it will vary from brand to brand. You'll have to care­ful­ly read labels to know the ingre­di­ents you're get­ting. But you can def­i­nite­ly count on them con­tain­ing fillers and anti-clump­ing agents.
If you're using my sea­son­ing blend recipes for Home­made Taco Sea­son­ing and Home­made South­west Sea­son­ing then the dif­fer­ences are sim­ple to explain.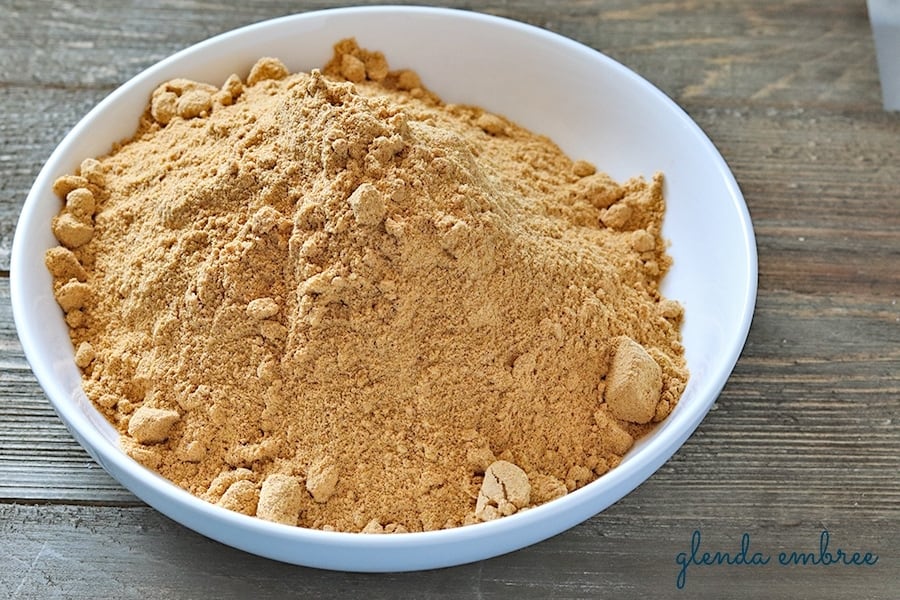 My taco sea­son­ing recipe is fair­ly mild when it comes to spici­ness. And, you'll notice a nut­ty, cheesy under­tone that you don't get in com­mer­cial brands. That's from nutri­tion­al yeast. This is the best mild taco sea­son­ing I've ever eaten.
My South­west­ern sea­son­ing is much more spicy. I would say prob­a­bly medi­um. It's smoky and herba­ceous and like the taco sea­son­ing has no added sug­ars or fillers. They are both gluten free.
How to Make a Chicken Crunch Wrap Supreme
When you first start think­ing about it, how to fold a crunch­wrap can seem a lit­tle intim­i­dat­ing. Luck­i­ly, it's very simple.
So, don't over­think it. Just fol­low these sim­ple fold­ing instruc­tions and your home­made crunch wrap supreme will be done in no time.
Warm the flour tor­tillas in the microwave to make them soft and flex­i­ble. Lay them out on the counter.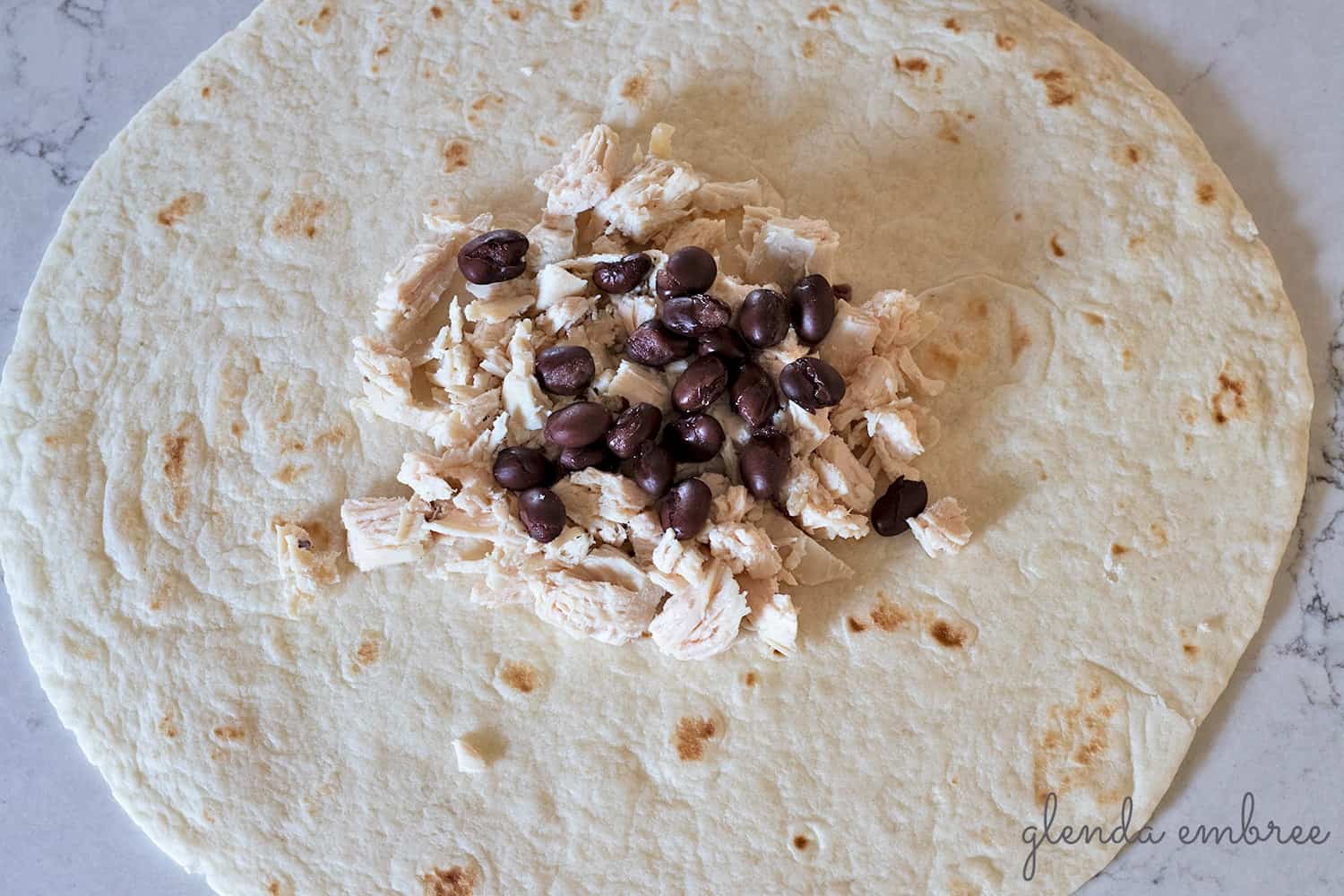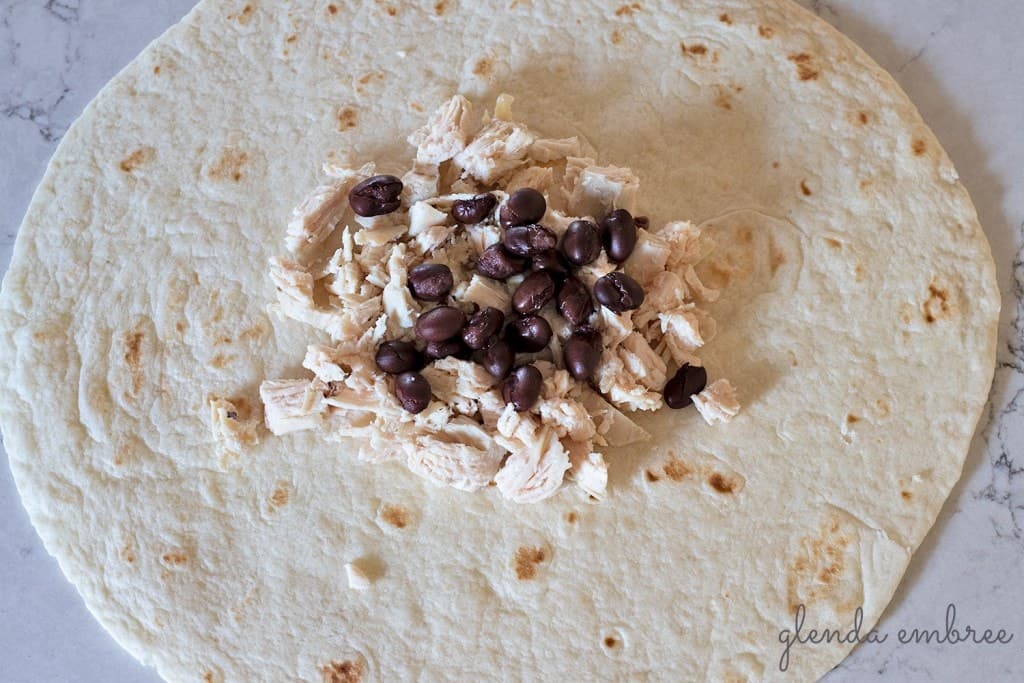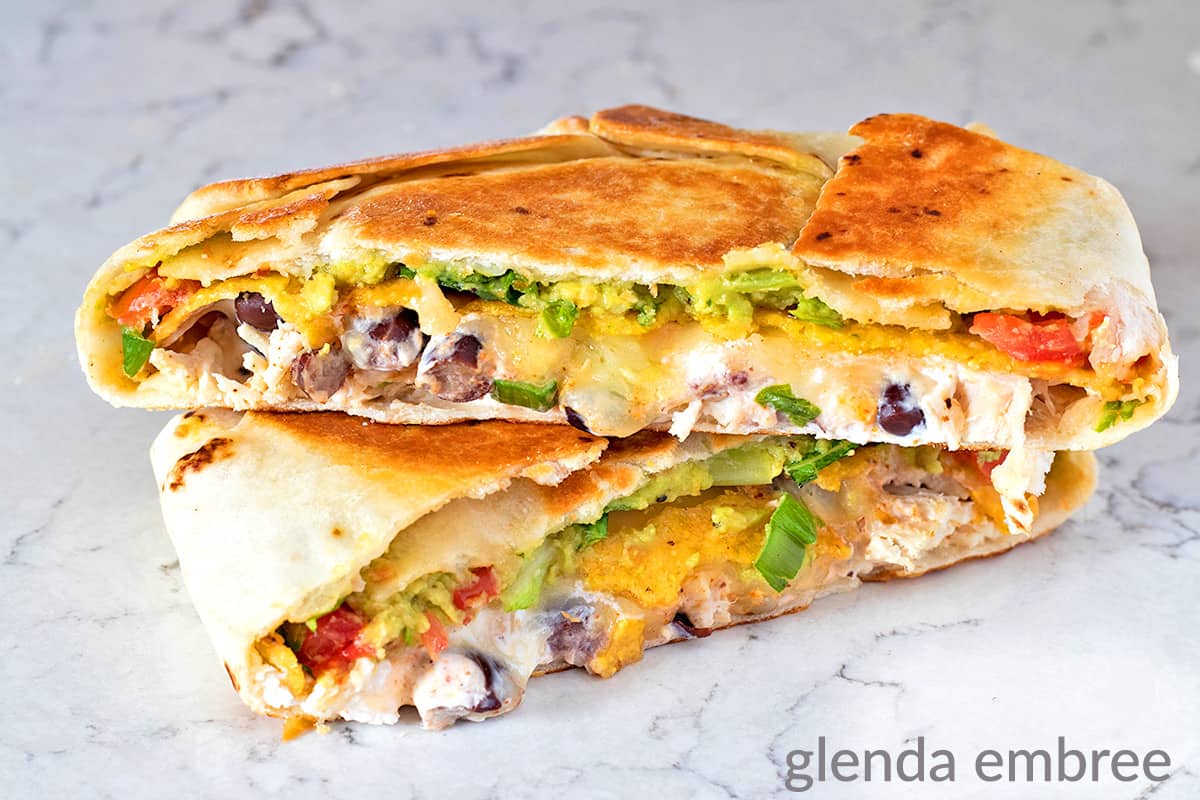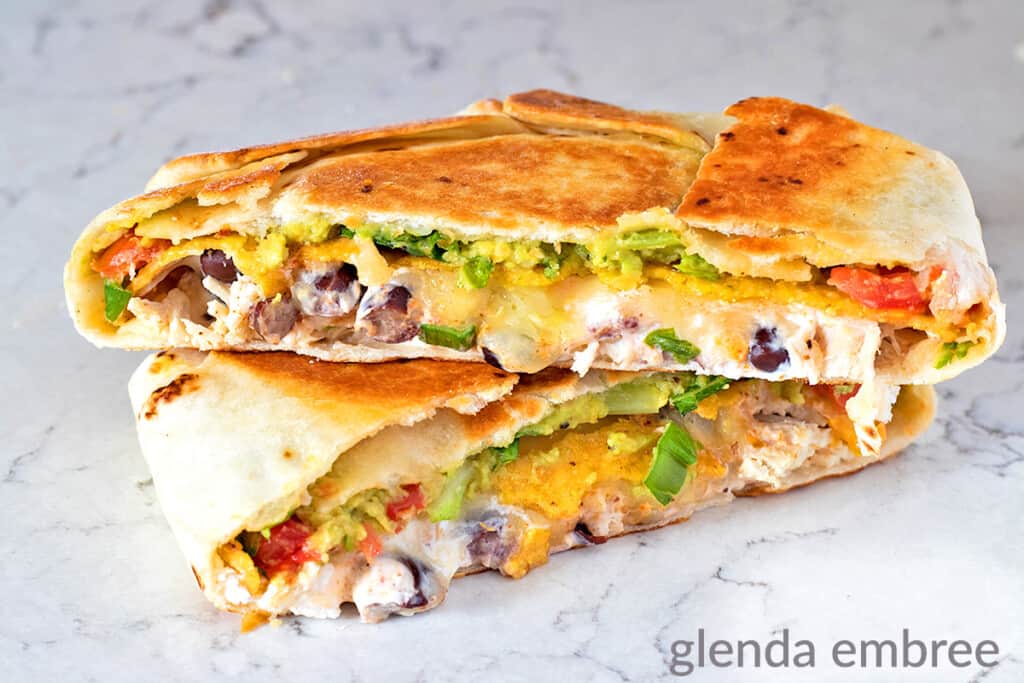 Deliciously Customizable
As I said, this recipe should be a "start­ing point" for you.
It's beg­ging to be cus­tomized to the indi­vid­ual who'll be enjoy­ing it and the ingre­di­ents you have left­over or in the fridge. Use your imag­i­na­tion and make it your own.
A quick and easy lunch or din­ner that the whole fam­i­ly will love!
Have a won­der­ful­ly blessed week­end! Make loads of mem­o­ries with the peo­ple you love most!
Enjoy, my friend!
Print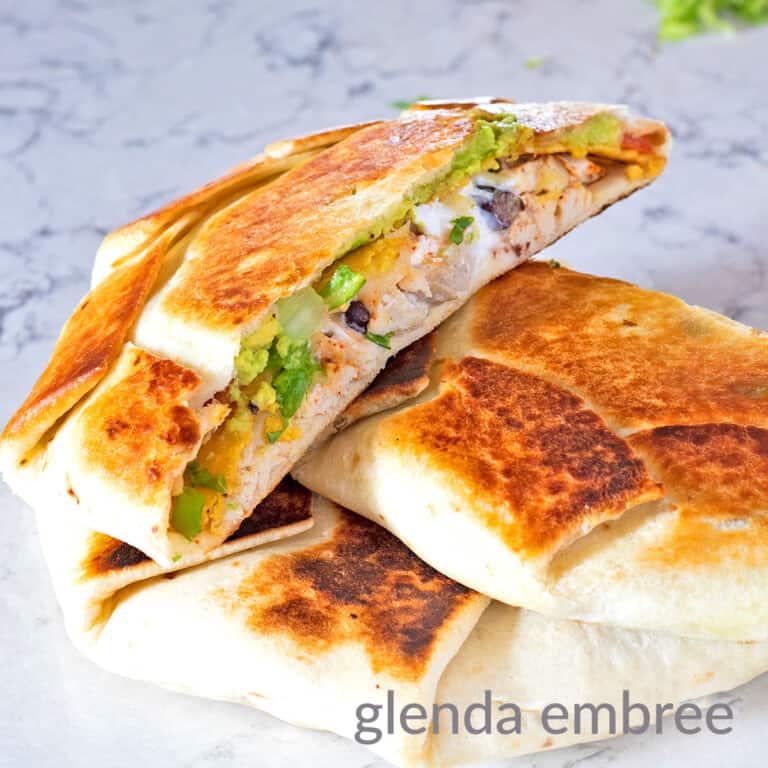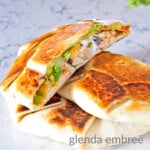 Chicken Crunch Wrap Supreme
---
Author:

Total Time:

20 min­utes

Yield:

4

crunch­wraps

1

x
Description
No need for fast food when you can make it quick­ly and deli­cious­ly at home! Crispy, crunchy exte­ri­or and fla­vor­ful, savory fill­ing. Crunch Wraps are so ver­sa­tile and the fill­ing can be changed up to use what you have on hand.
---
5

bur­ri­to-size flour tortillas

4

corn tosta­da shells

1

large chick­en breast, cooked and diced or shredded

1

(14.5 oz) can black beans, drained

1 1/3

cups

Mon­terey Jack cheese, shred­ded (any cheese you love)

1/2

cup

sour cream

2 tea­spoons

taco sea­son­ing or South­west­ern sea­son­ing (I use home­made.)

4 Table­spoons

shred­ded lettuce

4 Table­spoons

diced tomatoes

2

green onions, thin­ly sliced

1/2

cup

gua­camole (any brand, I used my home­made)
---
Instructions
Warm the flour tor­tillas in a stack in the microwave at full pow­er for 20 sec­onds. You want them soft and flex­i­ble, so they're easy to work with. Lay four tor­tillas out on the counter, assem­bly line style.
Add 1/3 cup diced chick­en to the cen­ter of each flour tortilla.
Over the chick­en, add 1–2 Table­spoons of black beans.
Add a 2 Table­spoon dol­lop of sour cream over the beans and chicken.
Sprin­kle 1/2 tea­spoon of taco sea­son­ing over the filling.
Now cheese. Add 1/3 cup of shred­ded cheese over the sour cream and taco seasoning.
Press a tosta­da over the top of the fill­ing. Press gen­tly, but firm­ly, to spread every­thing out to the edge of the tostada.
Now, add 1 Table­spoon of shred­ded let­tuce on top.
Next is 1 Table­spoon of chopped tomatoes.
Top every­thing off with 1/2 a green onion, thin­ly sliced.
Cov­er the top of each crunch wrap with 2 Table­spoons of guacamole.
Cut the fifth flour tor­tilla into wedge-shaped quar­ters. Lay one of the quar­ters on top of the gua­camole in each of the four crunch wraps you're build­ing. This tri­an­gle will help seal your crunch wrap and pre­vent fill­ing leakage.
Begin fold­ing the edges of the large tor­tilla up and toward the cen­ter of the crunch wrap and over that quar­tered tor­tilla. Work all the way around the crunch wrap, pleat­ing and fold­ing until the it is com­plete­ly closed.
Heat avo­ca­do oil (or but­ter) in a skil­let. When the oil is hot, place a crunch wrap, folds down in the hot skil­let. Heat about 1 minute or until the bot­tom is crispy gold­en brown. Flip the crunch wrap and brown the oth­er side. I actu­al­ly press down on the crunch wrap as it's cook­ing to be sure most of the sur­face stays in con­tact with the skillet.
Remove from the skil­let and con­tin­ue by cook­ing the oth­er three crunch wraps.
Enjoy with your favorite sal­sa, que­so or sour cream for dip­ping if you want. We eat them, just like a sandwich.
Notes
Real­ly make these deli­cious grilled sand­wich­es your own. Add chopped olives, jalapeno, corn, cheese sauce, cilantro or any of your favorite taco top­pings. Every­one can cus­tomize their own crunch wrap.
Prep Time:

15 min­utes

Cook Time:

5 min­utes

Cat­e­go­ry:

Main Dish, Sand­wich, Chicken

Method:

Stove Top

Cui­sine:

Amer­i­can
Key­words: crunch­wrap, crunch wrap, chick­en, grilled, sandwich
More Quick and Easy Dinner Ideas
Here's a beau­ti­ful and deli­cious wrap idea from Paula, at Call Me PMc, too. Give her yum­my Chick­en Bacon Wrap a try.