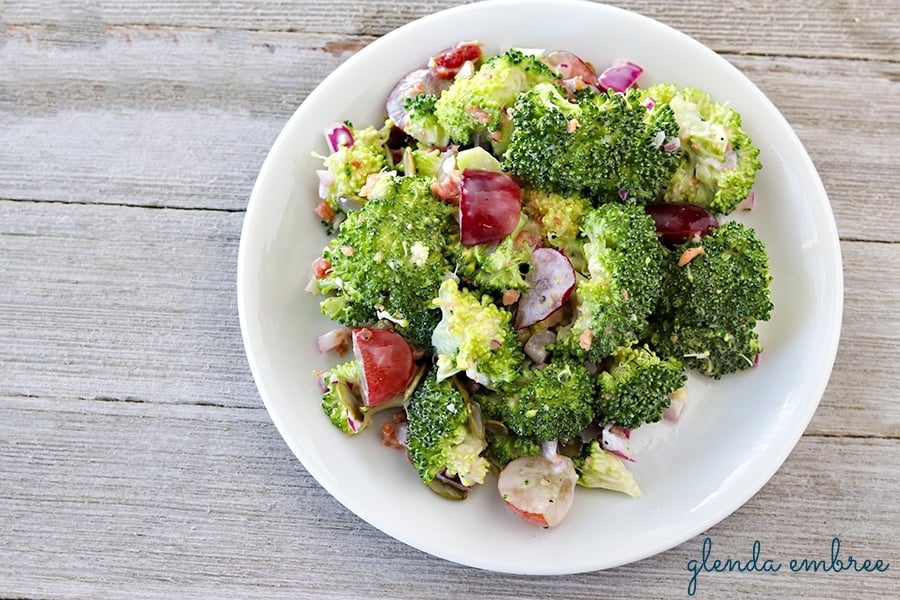 Hands down — this is my favorite Broccoli Salad of all time. Five ingredients and a homemade dressing, fabulous flavors and textures, PLUS you can make it ahead, to save time! What's not to love?
If you're looking for something simple and a little lighter to add to your holiday menus, you can't miss with this colorful and delicious salad. A tiny investment of ingredients and time nets a huge win on your hostess-with-the-mostest rating!
What's In Easy Broccoli Salad?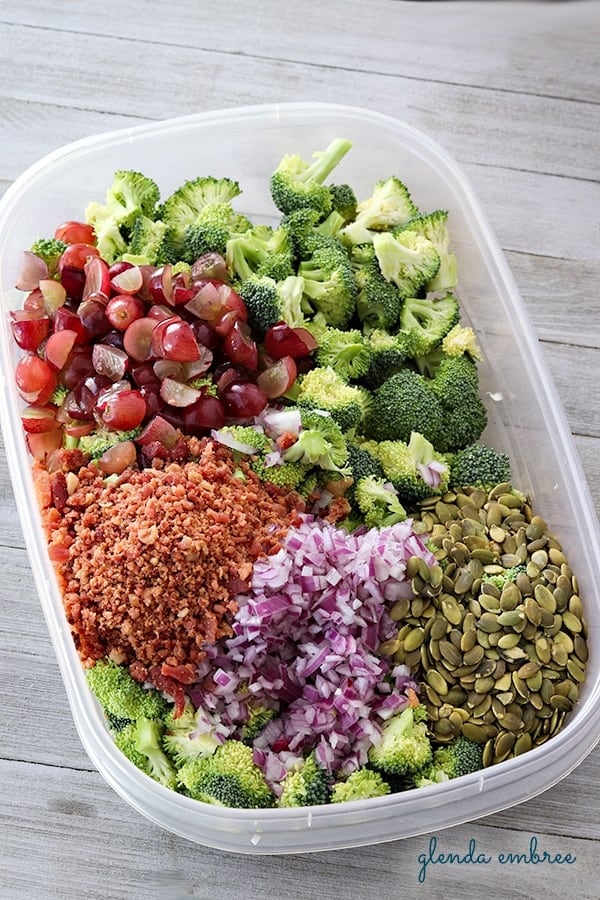 Broccoli Salad recipes are everywhere. You won't have trouble finding one if you are googling recipes. But, this one is special. It's so simple. It literally comes together in minutes. And the flavors. Oh, my goodness, the flavors! You have the crispy, crunchy, green veggie goodness of the broccoli. There's a hint of smokiness from the bacon. Then add in that touch of savory umami that only onions can bring to a party. Yum!
I didn't stop there, though. When I pulled this recipe together, I wanted it to have a pop of sweetness to complement the savory salad and tangy dressing. Enter red grapes. Pumpkin seeds round out the taste and texture explosion, adding their own pleasing crunch. Seriously, friends, this is not only delicious, you're going to feel pretty good about eating it!
Adding Bacon to the Salad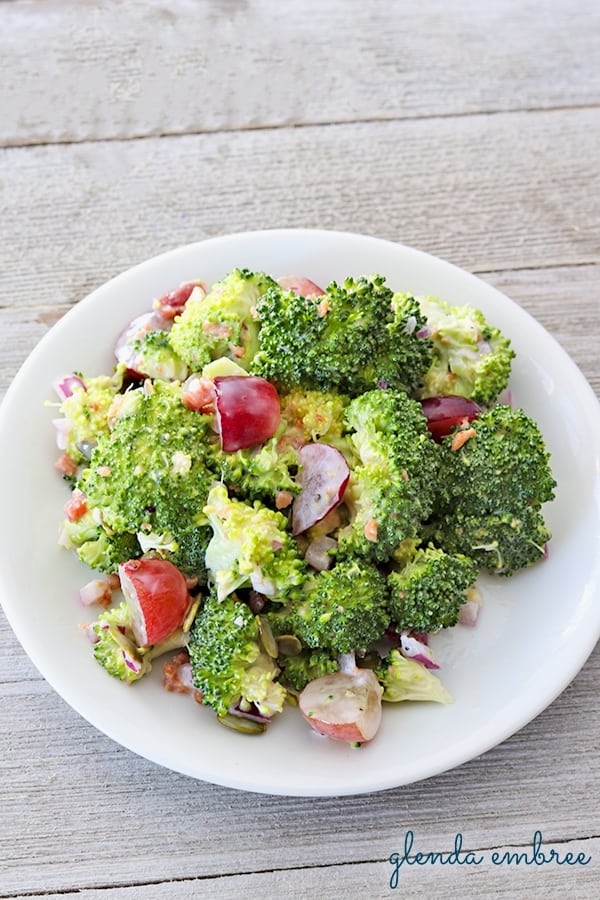 You could make this a vegetarian dish by leaving out the bacon. You decide for your own family. Personally, I love the smoky, salty flavor it contributes. And this recipe uses a small amount.
And speaking of small amounts, bacon can be pricey. If you're like me and it's not something you always have on hand, you don't have to buy an entire package of bacon for one recipe. It's, often, a more cost-effective and time saving option for me to buy a bag of real bacon pieces (bits) for recipes like this. Real is the operative word. Don't grab those hard little fake bacon bits. You can actually purchase different size packages of pre-cooked real bacon, already crumbled for recipes. I pick them up in the condiment aisle, next to salad dressing and croutons, at my local Walmart.
So, you decide. To bacon, or not to bacon? I vote yes!
How to Make the Best Easy Broccoli Salad
Cut fresh broccoli florets into bite-sized pieces. I also like to cut the grapes into quarters, or at least halves. Mince up the onion, too, while you're doing all your prep-work.
Put the broccoli, grapes, bacon, pumpkin seeds and onion into a large salad bowl. This is a good-sized salad and will be enough for at least 12 people. A larger bowl or container that will give you plenty of room to mix it, will work best. (I love using the gallon-size *Rubbermaid TakeAlongs for salads and cold side dishes. They can be stacked one-on-top-of-the-other in the fridge to maximize my shelf space. They work great for storing cookies, brownies, dinner rolls and left-overs, too.) Toss and combine the ingredients and then set the salad aside, to make the dressing.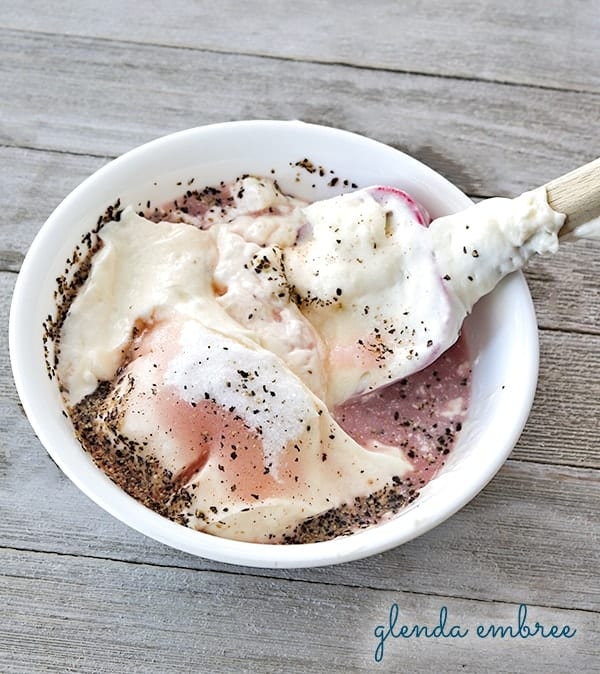 Homemade Dressing or Bottled?
If you have a favorite creamy vinaigrette-style dressing, go ahead and use it, if it saves you time. I prefer to make my dressing, so I can get the perfect balance of creamy, tangy and sweet.
It also makes the PERFECT amount for this salad. With a bottled dressing, the temptation will be to overdress the salad, in the beginning. Instead, it's best to let the salad marinate for several hours. The veggies will "weep" into the dressing creating more dressing volume and moisture.
My recipe uses ingredients that are always in my fridge and pantry, so it comes together in a flash. I mix mayo, red wine vinegar and sugar with a little salt and black pepper. That's it! So easy, but so yummy.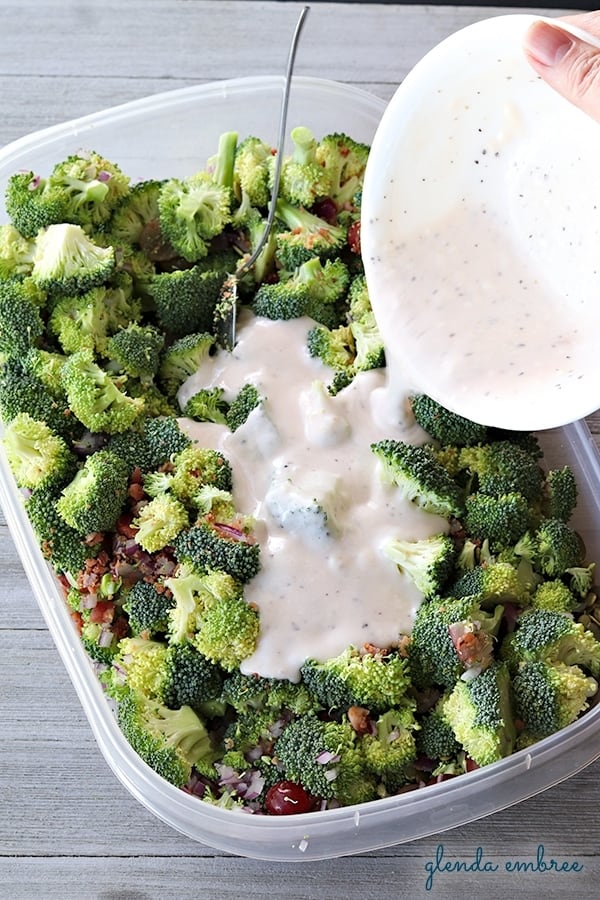 Mix the dressing into the salad and stir long enough to be sure everything is evenly coated. As I mentioned, it will seem like there's not enough dressing. I promise. There is. Cover the salad and pop it in the fridge to marinate for at least four hours. The longer it sets, the more flavorful and delicious it becomes.
Enjoy!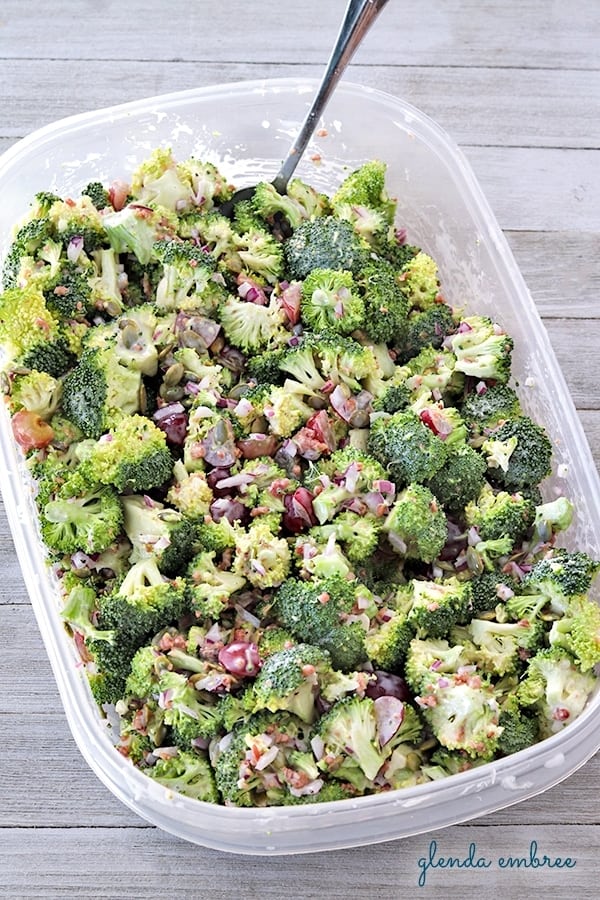 Print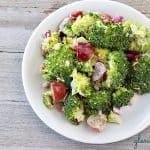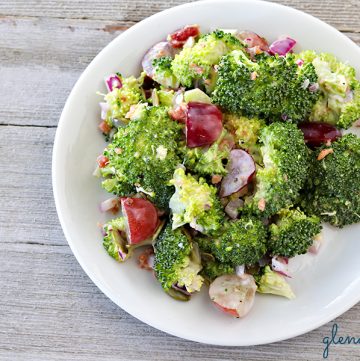 Broccoli Salad
---
Author:

Prep Time:

15 minutes

Total Time:

15 minutes

Yield:

12

servings

1

x
Scale
Ingredients
For the Salad:
8 cups

fresh broccoli florets, cut into bite-sized pieces

1

small red onion, minced

2 cups

red grapes, cut into quarters

1 cup

pumpkin seeds (pepitas)

1/2 cup

bacon bits
For the Dressing:
1/2 cup

red wine vinegar

1/3 cup

sugar

2 cups

mayonnaise
salt and pepper, to taste
---
Instructions
Wash and cut the broccoli and grapes.
Mince the onion.
In a large serving bowl mix the broccoli, grapes, onion, bacon pieces and pumpkin seeds.  Set aside.
Mix the dressing by whisking together the mayonnaise, vinegar and sugar.  Add salt and pepper to taste.
Pour dressing over broccoli mixture and stir to combine.
At first, you will feel like this is not enough dressing for so much salad.  The salad will seem only lightly coated.  That's perfect.  Trust me.  The veggies will "weep" as the salad marinates in the fridge, creating more moisture and adding to the dressing.  This creates a light, refreshing salad that will absorb all the tangy, sweet elements of your dressing and enhance every nook and cranny of your salad.  In four hours, your salad will be fully dressed.
Cover the salad and allow it to sit in the refrigerator for at least 4 hours.  Overnight is even better.  The flavor becomes more delicious the longer it sits.
---
Category:

Salad, Side Dish, Vegetables

Cuisine:

American
Need some more Vegetable and Side Dish ideas for your holiday menus? Take a look at my Sweet Potato Casserole Recipe!