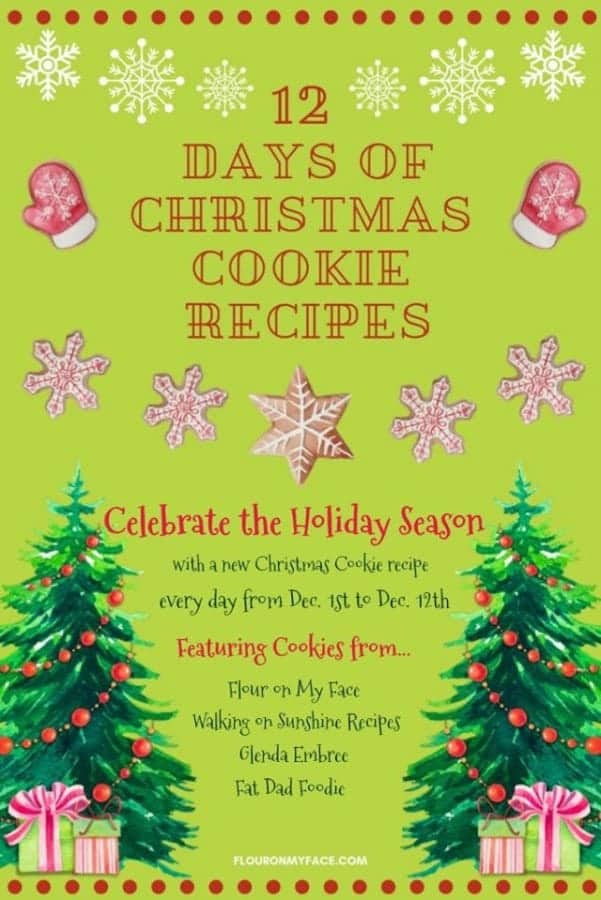 12 Days of Christ­mas Cook­ies recipes is here! Woot! Woot! For each of the next twelve days, I will share a new Christ­mas cook­ie recipe. And the great news is, three oth­er fab­u­lous blog­gers are doing the same thing! There will be recipes from my friend Arlene, at Flour on Your Face; from Lois at Walk­ing on Sun­shine Recipes; and from Lenny at Fat Dad Food­ie. Get your recipe box ready. You're gonna want to col­lect them all!
The four of us love our read­ers and enjoy shar­ing fun gifts with you when we can. 48 Christ­mas cook­ie recipes are def­i­nite­ly a great start to hol­i­day giv­ing. But, bak­ing all these cook­ies has made us feel hol­i­day fes­tive and inspired us to cre­ate a fun cel­e­bra­tion, too. So, from the four of us, to all of you, it's a hol­i­day give­away to remem­ber. Dur­ing the 12 Days of Christ­mas Cook­ies event, we will be spon­sor­ing a give­away for a gor­geous Kitchen-Aid mix­er!!! Be sure to enter at the bot­tom of this post!
12 Days of Christmas Cookies Recipes: Day 1
Are you feel­ing fes­tive, yet? Then let's get this par­ty start­ed! My first cook­ie recipe in the 12 Days of Christ­mas Cook­ies event is CHOCOLATE CRINKLES. They are fudgy, chewy, choco­late deli­cious­ness and one of my fam­i­ly's all-time favorite cook­ies. They are well received in gift bas­kets and on Christ­mas dessert tables. You'll be a hero wher­ev­er you serve them! Be sure to grab the recipe and get the links to the oth­er blog­gers' first-day cook­ie recipes, HERE.
THE GIVEAWAY
ENTER THE 12 Days of Christmas Cookies
KITCHENAID MIXER GIVEAWAY
One lucky win­ner will receive a KitchenAid Arti­san Series 5‑Qt Stand Mix­er with Pour­ing Shield!
FEATURES OF THE KITCHENAID ARTISAN SERIES STAND MIXER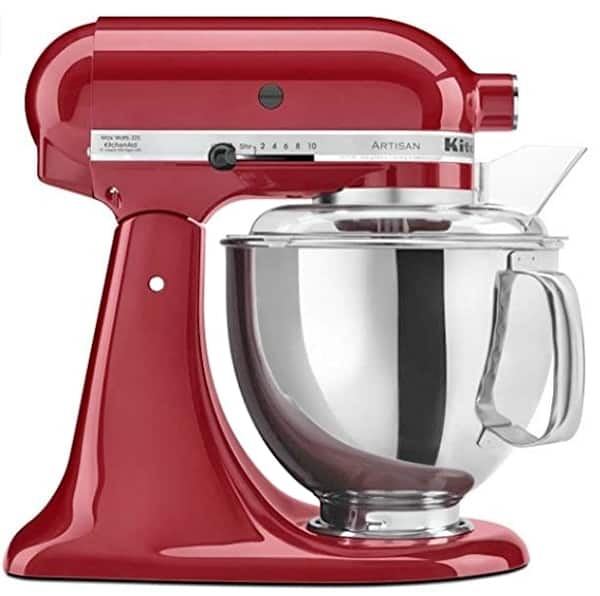 10-speed slide con­trol ranges from a very fast whip to a very slow stir
Includes Flat Beat­er, Dough Hook and Wire Whip
Pow­er Hub for Addi­tion­al Attachments
Unique Mix­ing Action
Assem­bled with Pride in Greenville, Ohio.Electrical: 60 Hz
Choose from all the col­or options to find the one that best match­es your style and personality.
The pow­er hub turns your stand mix­er into a culi­nary cen­ter with more than 15 option­al attach­ments available.
5‑Qt. stain­less steel bowl with com­fort­able han­dle offers enough capac­i­ty to mix dough for 9 dozen cook­ies or 4 loaves of bread in a sin­gle batch.
59-Point Plan­e­tary Mix­ing Action means 59 touch points per rota­tion around the bowl for thor­ough ingre­di­ent incorporation.
The tilt-head design allows clear access to the bowl and attached beat­er or acces­so­ry so you can eas­i­ly add ingre­di­ents for a recipe.
Pow­er­ful enough for near­ly any task or recipe, whether you're stir­ring wet and dry ingre­di­ents togeth­er, knead­ing bread dough or whip­ping cream.
Includes coat­ed flat beat­er, coat­ed dough hook, 6‑wire whip and 1‑piece pour­ing shield. The flat beat­er and dough hook are dishwasher-safe.
Offi­cial Rules and Con­di­tions for the 12 Days of Christ­mas Cook­ies Give­away:
One win­ner will be receive a KitchenAid Arti­san Series 5‑Qt. Stand Mix­er with Pour­ing Shield (Val­ue $279.00 USD).
Open to US res­i­dents adults 18+.
One (1) win­ner will be chosen.
Prize must be claimed with­in 48 hours of announce­ment or a new win­ner will be drawn.
Prize will be deliv­ered via Amazon.
All entries will be verified.
This give­away is in no way asso­ci­at­ed with Face­book, Pin­ter­est, Twit­ter, Insta­gram, Raf­fle­copter, Ama­zon, KitchenAid or any oth­er enti­ty unless oth­er­wise specified.
Give­away ends Decem­ber 12th, 2019 at midnight.
Blog­gers are not respon­si­ble for the deliv­ery of the prize.